Mykonos Churches That You Simply Can't Miss | Kivotos Hotels
September 27, 2022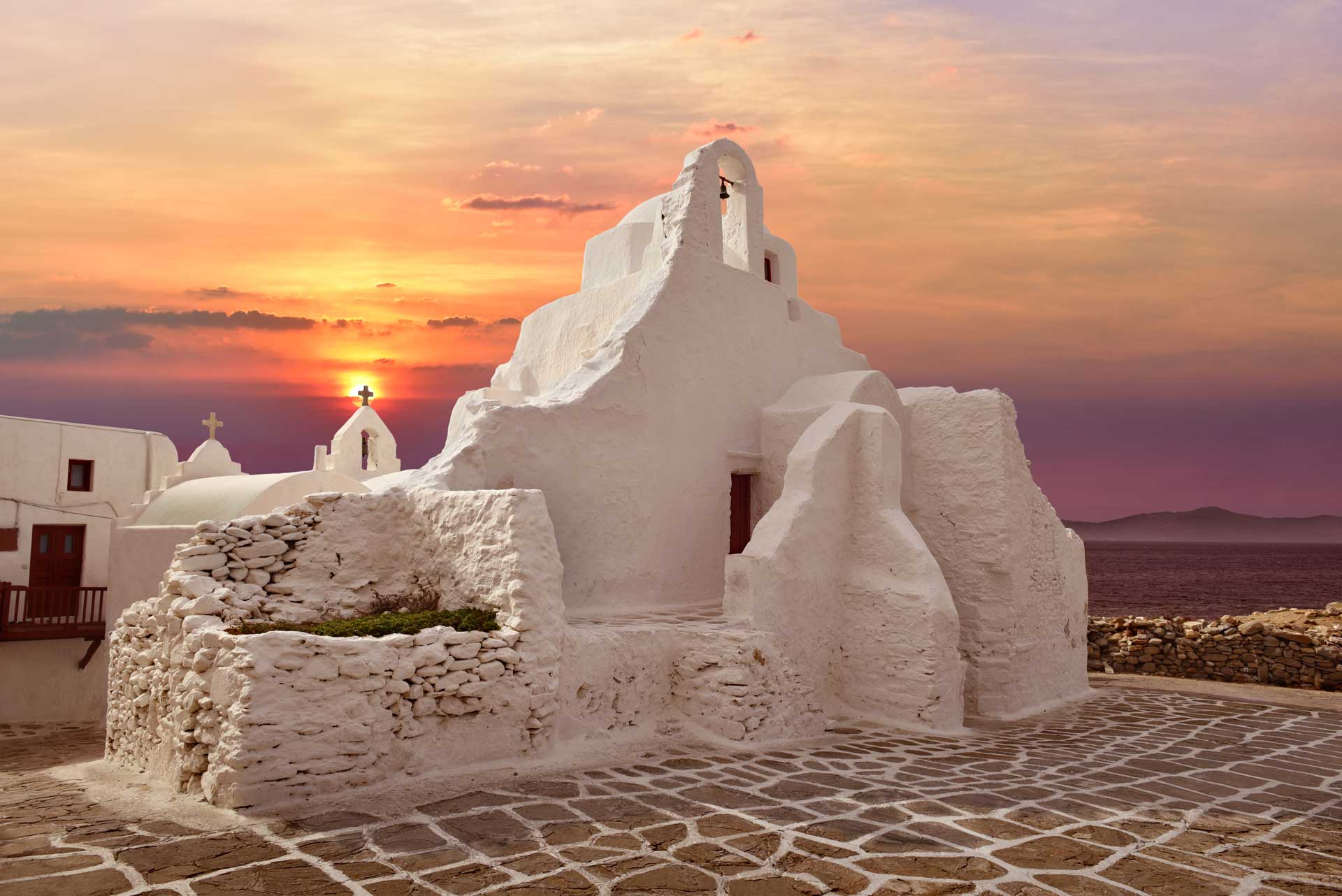 The Queen of the Cyclades is known for its beautiful beaches, cosmopolitan vibes, superbly luxury services, and lively nightlife. But what's less well-known about the island is its incredibly rich history of churches, chapels, monasteries, and other religious sites. Here are some of the most popular Mykonos attractions for those excited about learning more about their favourite destination's cultural and historical past!
Exciting Facts about the Mykonos Churches:
The Myconian landscape is dotted with around 800 votive chapels – a tradition that started way before WWI, when the island already had more than 300 chapels. This means that almost every family on the island has its own chapel!
Some chapels have been designed by the Ministry of Culture as historical monuments, featuring simple lines and blue or red arched roofs.
In Chora alone, one can find 60 or more chapels!
The relatively small island of Mykonos also has a plethora of monasteries with fabulous religious pieces of Mykonos art and great architecture, such as 17th-century Agios Panteleimonas Monastery, 18th-century Paleokastro Monastery, and Agios Georgios Monastery.
The now Chora cemetery was once home to a famous 18th-century religious school called Agios Loukas that also served as a monastery, according to some accounts.
Agia Kyriaki
Agia Kyriaki is one of the most picturesque Mykonos churches located in Ano Mera, a prominent suburb of the bustling capital. The church was built as a Byzantine basilica with three beautiful naves and a stunning dome, which, sadly, collapsed during an earthquake in the 18th century. In 1773, it was rebuilt by the inhabitants of Ano Mera who used materials from nearby churches (Agia Paraskevi and Agios Nikolaos). Today, you can still see parts of the original church's architecture including its vaulted roof with amazing Gothic-style arches on top.
Panagia Tourliani Monastery
This scenic monastery dates back to the 11th century and is located in the village of Ano Mera, on the southeastern side of the island (about 20 minutes from the beating heart of the island). Dedicated to the Virgin Mary, who is honoured with special feasts in August and September each year, it was founded in 1688, during Turkish rule.
Over time, though, it fell into disrepair and eventually collapsed under an earthquake. In 1660 CE, locals rebuilt the church. According to another account, though, it was renovated by monks from Mount Athos, who also brought with them many relics from their own monasteries.
The church is a single-aisled basilica with three imposing domes and an altar apse covered with icons depicting scenes from Christ's life and miracles (e.g., feeding five thousand). The interior decoration is simple yet rich: The high dome frescoes depict angels carrying staffs or flags; there are also portraits of saints, including John Chrysostomos himself as well as several bishops whose relics were brought here—and whose names appear on the gold inscriptions above the doors that lead into their rooms.
Panagia Paraportiani Church
Also known as the Church of the Resurrection or the Church of Virgin Mary, it is located in the Kastro region near the Chora. The church was built in 1854 (the construction started in 1425, though), and has a bell tower that was added after the original construction, while it even features a separate belfry with two bells: one from 1753 and one from 1830.
What is unique and special about this religious site is the fact that it consists of five smaller chapels, constructed between the 14th century and the 17th century, namely Agios Efstathios in the middle of the complex, and Agia Anastasia, Agios Sozon, and Agios Anargyros (the oldest one, built in the late 14th century) chapels surrounding it. On top of all these, you find Panagia Paraportiani church, looking like a dome. Another equally important part of this church is its historical significance, as it was used as a shelter for women and children during the Ottoman invasion in 1822.
Agios Charalambos' Church
Agios Charalambos' Church is a beautiful Orthodox church tucked near the vibrant port of the island and the Old Village (just behind the iconic windmills). Built in 1725, its interior decoration has changed several times since it was constructed  - most recently during a restoration in 1962-1963, when all murals were taken down and moved to another location so they wouldn't be damaged by humidity or tourists walking through them with wet shoes.
If you decide to pay this religious site a visit, be prepared to take in magnificent views of the island and panoramic vistas of the glistering Aegean Sea from its adorable terrace as the small chapel sits right above the waterfront!
Agios Nikolaos' Church
Agios Nikolaos is a post-Byzantine chapel sitting patiently on the waterfront (at the Old Port of the island) offering spectacular seascapes and coastal views. Built during the 14th century, the traditional Greek Orthodox religious site is open to visitors and is made of stone and marble. Dedicated to the protector of sailors and fishermen, Agios Nikolaos (Saint Nikolaos), it impresses with its enchanting dome that rises way above the building and the many beautiful mosaics adorning its interior spaces.
While inside, expect a minimal interior with a few icons of the Apostles and Virgin Mary. If you wish, you may also light a candle and pray for the health of you and your loved ones. As for its exterior, it blends perfectly with the Cycladic architecture the rest of the island follows, featuring whitewashed walls and an azure dome that blend with the Mediterranean sky and the blue of the archipelago seamlessly.
Little Venice Orthodox Church
Not many people know about this little church that is tucked in the island's capital city, Chora, on a small hill overlooking the harbour. The church was initially built in 1623 and its name was then "Saint George". Later, it underwent several renovations until 1854 when it reached its current form with a dome roof and bell tower. The last major renovation took place in 1884. Today, it is a fascinating addition to the already idyllic and quaint Little Venice waterfront neighbourhood, adding to the area's overall sense of peacefulness and tranquillity.
Church of St. Paraskevi
The Church of St. Paraskevi is a small church located on the West Coast of Mykonos, in Kalo Gonia village. It is one of the most important monuments on the island and it was built in the 16th century. It's dedicated to Saint Paraskevi, a saint from Asia Minor who has been canonised by both Eastern Orthodoxy and Roman Catholicism. In this church there are also some interesting wall paintings that date back to 1820-1850 years ago, which have been restored recently with funds provided by private donors as well as sponsorship from local businessmen.
Church of St. George of Kounoupas
Kolumbos (Church of St. George) is on the road to Ano Mera, and can be seen from a distance. It was built on the hill overlooking the village of Kolumbos in 1776 by a wealthy family, who dedicated it to St. George. Today, it has become one of the most popular Mykonos churches that tourists flock to visit.
The church is open for visitors and has an impressive bell tower in its Instagram-pefect courtyard. As for its interior, it is decorated with frescoes depicting scenes from both Biblical stories and local legends that have been allegedly passed down through generations by word-of-mouth before being recorded as drawings in a particular 19th-century book.
Other post-Byzantine Mykonos churches in Chora with elaborate rood screens, bewildering architecture, and lovely icons also worth a visit:
Zoodochos Pigi (the metropolis)
Agia Kyriaki
Panachra
Agios Nikolaos of the Harbour
Agia Eleni
Also, 17th-century Panagia Lozaria in the Alefkandra region. Of course, it is impossible to create at least a decent list with the most notable and must-visit chapels in the Island of the Winds or pick the best of them among 800+ equally beautiful ones without requiring tens of pages! So, feel free to explore the island on your own, and see which one caresses your soul the sweetest!