How to Plan an Unforgettable Mykonos Cruise
April 11, 2022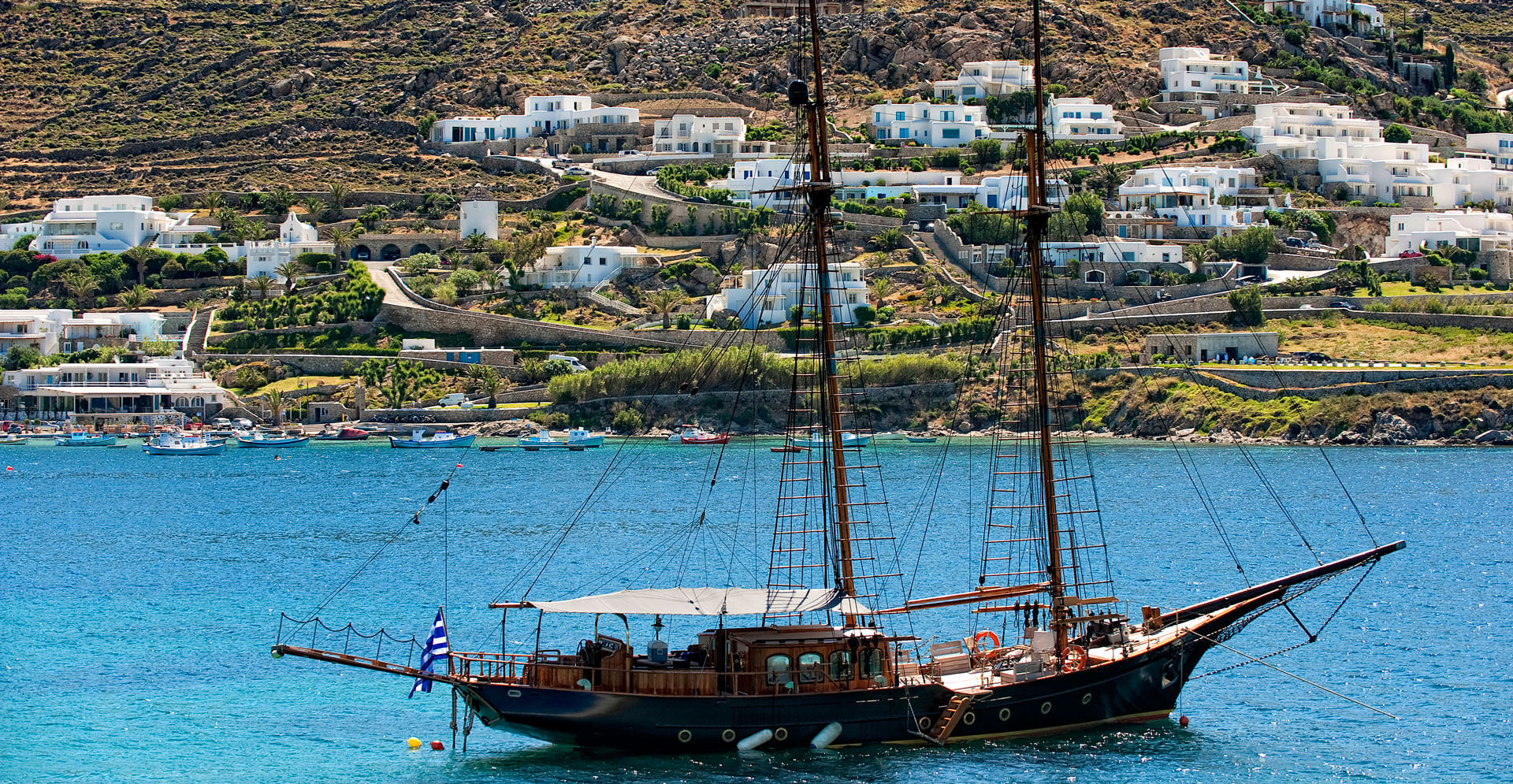 With magnificent fine sand beaches, a gorgeous coastline lined with sugary shores, cloudless skies, idyllic views of the Aegean Sea and its grandeur, and crystalline, azure waters, Mykonos is so much more than the most popular party mecca in the Mediterranean with an unmatchable nightlife and impressive levels of luxury. Being a Greek island epitomising all the allure that comes with that, the Queen of the Cyclades can literally steal a visitor's heart with its sublime seascapes, which can best be enjoyed with a Mykonos cruise. This guide will help you create the most memorable cruises and boat tours by going through various factors that can influence your sea adventure.
Mykonos Boat Trip Options
As with every other aspect of the vibrant Myconean lifestyle, abundance describes your quest for Mykonos cruise excursions. A first consideration is, of course, the destination or route of a cruise, the organising of which can determine the quality of your overall experience.
Beach Cruises
One of the most rewarding ways to have an unforgettable Mykonos cruise is by opting for a beach-hopping adventure, where you can visit the most celeb-favoured beaches of the south or more remote shores, coves, and bays. With a luxury yacht, catamaran or the Kivotos Hotels schooner that's provided exclusively to our guests, you may sail the calm waters of the archipelago and drop anchor at the most populated beaches with an intense cosmopolitan flair or dive into the refreshing waters of more isolated spots along the shoreline. Snorkelling, diving, and swimming are just some of the ways to subject yourself to the irresistible magnetism of the island!
Delos Cruise
Delos is a remarkable island and a prestigious cousin of the cosmopolitan Island of the Winds that serves as a significant archaeological site with a profound spiritual, cultural, religious, and commercial power in the ancient times. With ruins of ancient temples dedicated to god of light and music, Apollo, and his twin sister, Artemis, goddess of the moon, the wilderness, and wild animals, along with sacred lakes, the infamous Lion's Gate, and other monumental antiquities, it's no wonder that it's been declared a UNESCO World Heritage Site.
Feel free to embark yourself on a once-in-a-lifetime experience, as Delos is the largest natural insular archaeological site in the world, and welcomes visitors to pristine sugary shores and a land drenched in history and myths featuring ancient gods and Greek mythological heroes.
Cruise to the other Cyclades Islands
Any Mykonos cruise could be complemented with a Mykonos boat trip to the other islands in the Cyclades complex. Indeed, you could combine a yacht tour of your preferences with a short visit to Santorini to admire its gorgeous sunset, Tinos and be amazed by its natural beauties and religious sites, as well as vibrant Naxos, lively Paros, and picturesque Syros. In fact, there are 19 principal Cycladic islands to choose from, each attracting in their own special way and for their own special reason.
Sail to more peaceful destinations
For more quiet, and tranquil experiences, the Mykonos cruise excursions that include a stop at the less touristy Cyclades islands are a dreamy deal for you. In this case, you could consider a cruise to the islands of Rineia, Donousa, Koufonisia, Schinoussa, Makronisos, Gyaros, or Eschati, and prepare yourself for unique, absolutely spellbinding moments and adventures. Quaint villages with very few inhabitants (if any) and a relaxed pace of life, stunning beaches, Instagrammable spots, and family-run tavernas serving mouth-watering seafood and local tastes are some of the characteristics of these lovely dots on the map.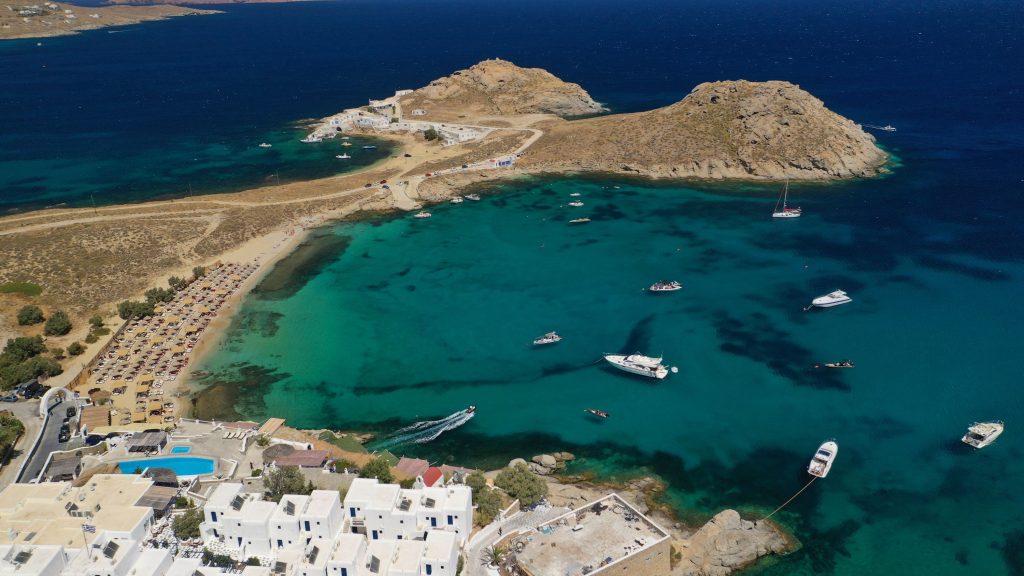 Types of Cruises – Choosing the Level of Privacy
Yachting in Mykonos with a crewed motor vessel is, without a doubt, an exquisite option that will create indelible memories for you. At this point, you can also filter your aquatic ventures based on how private you want them to be. The majority of cruise tour agents on the island offer semi-private and private cruise options. So, besides the typical boat trips with a specific number of participants (usually quite large), you could join a cruise with a smaller group size (semi-private) or even ask for something that's completely private, for you and your loved one(s). Now, depending on the benefits/extras provided by each cruise tour operator, you can enjoy from a BBQ and meals prepared onboard the yacht to the finest champagne labels and other amenities.
The Most Exclusive Cruise Experience
Undeniably, the most relaxed and private cruise in Mykonos is with Prince de Neufchatel, the Kivotos Hotels-owned 25-metre schooner that can accommodate up to 6 people in three luxurious en-suite cabins and sail with up to 30 people. The elegant yacht is fully crewed and skippered and is available for weekly or daily cruises to rocky islets, remote shores, and nearby islands. It's a superb way to ensure you have all the world-class facilities of your stylish suite or private villa following you in the open sea.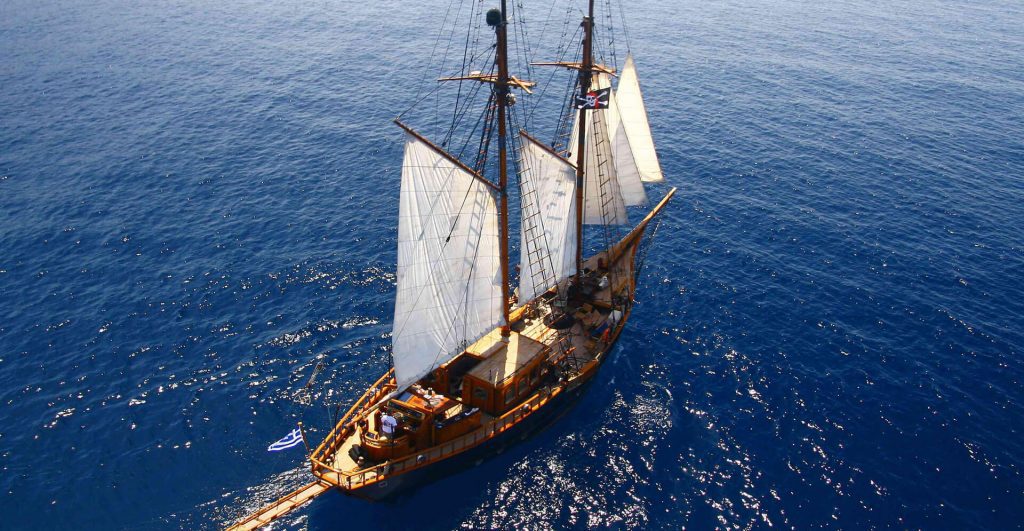 Daylight or Evening Cruises
Whether you decide to go for a day-time cruise or a boat trip in the early evening hours, expect an explosive awaken of the senses as your eyes are bombarded with the most spectacular sights of this world-famous tourist destination. The scenery is phenomenal and becomes the perfect natural background for you to be able to feel the magic of the moment, when the brightest star in our galaxy fades away and gives its place to the silver moon or sprouts behind the horizon, ready to warm the world with its radiant light.
Mykonos Sunset Cruise
Among the many different ways to introduce yourself to the incredible sights circling the Island of the Winds is a Mykonos sunset cruise. Ideal not only for couples and honeymooners, but also groups of friends and families with a romantic soul, it is definitely something to try, even once. The tango between the reds, oranges, and yellows that takes place just before the sun disappears behind the whitewashed houses and the blue horizon is a mind-blowing spectacle not to be missed.
Most sunset boat trips start from the scenic Platis Gialos port and make a parallel journey along the charming shoreline, while stopping at Ornos, Psarou, and other renowned beaches, before heading to the open sea and the nearby islands of Delos and Rhenia. As you sail the transparent waters, you'll be able to get a good look at the enchanting Little Venice and take in the allure of the imposing Windmills, and other magical trademarks, at just the right time for the dreamiest views.
Another thrill that open up for you when going on a sunset cruise is the fact that you can head to the most animated parts of the island and join an after-dark beach party for as long as you wish, before you return to you chic yacht and share a glass of the finest champagne with your partner or beloved persons.
Day Cruises 
Practically any itinerary mentioned above can make a great day-time cruise. Let's keep in mind that nothing can take away or diminish the bliss and dream-like sensation you'll get from a cruise, even if the weather conditions are not in favour of the trip. Although the climate is very mild and the Greek archipelago is usually calm, northern winds may blow in the Cyclades, which could make the sea bumpier than usual. In this case, you may opt for a shorter boat trip around the island and feel the vibes of the vivid and utterly exciting beaches, rather than sailing in the open sea. Finally, depending on the cruise agent you select, it is possible to create your own perfect itinerary and include all the must-see places depending on your particular preferences and wishes.
Final Thoughts
This is an illustrative guide to plan the perfect sailing trip while taking into account some basic factors that can colour your endeavours with the brightest, most ravishing hues. Undeniably, getting a taste of the captivating island with a sea view is an experience that can amplify anything else you live while visiting it. If you need any assistance with organising a private boat trip to Mykonos with Prince de Neufchatel or another local cruise, we will be more than delighted to help in the creation of unforgettable holidays in the beating heart of the Cyclades!