Honeymoon in Mykonos: The Ultimate Guide
May 20, 2022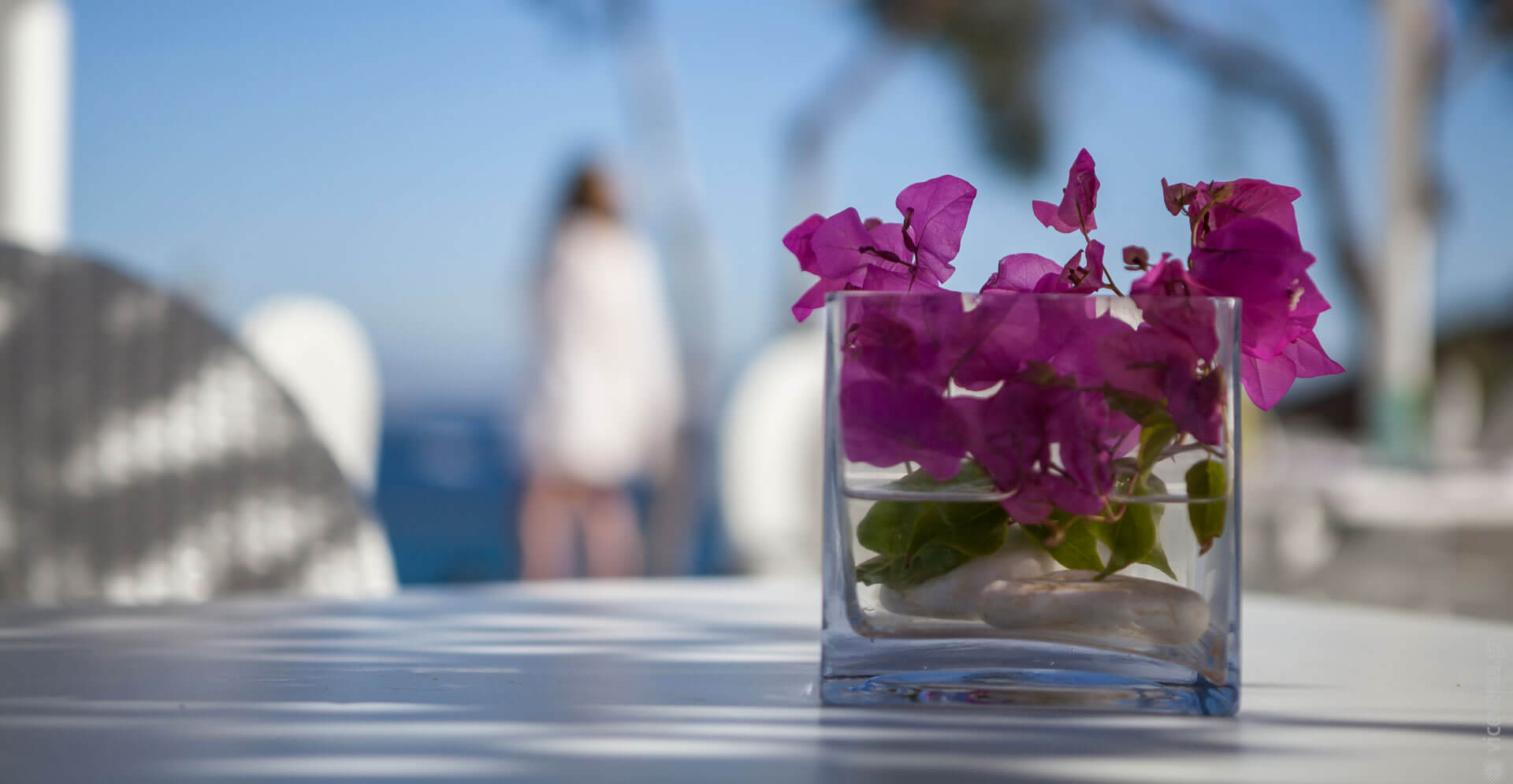 Mykonos is, without a doubt, a top summer destination not only among a-lists and party-lovers but also those appreciating its VIP lifestyle and the Greek-island natural beauties, including crystalline seas, sugary beaches, delicious cuisine, romantic sunsets, small, whitewashed houses with fuchsia bougainvillaea-framed balconies, cobbled alleys, vibrant nightlife, luxury resorts overlooking the glistering Aegean Sea, and private, heart-warming experiences.
No wonder the Queen of the Cyclades is one of the most highly sought-after places on earth to celebrate a couple's union. Indeed, a honeymoon at the Queen of the Cyclades delivers on a perpetual promise – to sprinkle your short or longer stay with golden dust so you get back with nothing but indelible memories with you, and an eternal, deep love for this picturesque speck in the Mediterranean.
Honeymoon in Mykonos – What to do and see
The list of exciting things to do on the island is pretty much endless and its length depends on the type of adventure you want to live. However, some things are must-live staples that will enhance the overall experience.
Wander through the Old Town
Mykonos Town (aka the Chora) with the cobblestone, maze-like streets is the lively centre of the island and is the best place to start your sweet time with your significant other. Expect chalky, cubic-shaped houses with blue doors and shutters, flower-lined porches, and authentic Cycladic aesthetic everywhere you look. Here, you will find everything, from milky-white chapels and cafes to seafront tavernas, restaurants, pubs, and bars. And, let's not forget the commercial heart of the island's shopping scene, Matoyianni street, which hosts designer boutiques, souvenir shops, and so many more.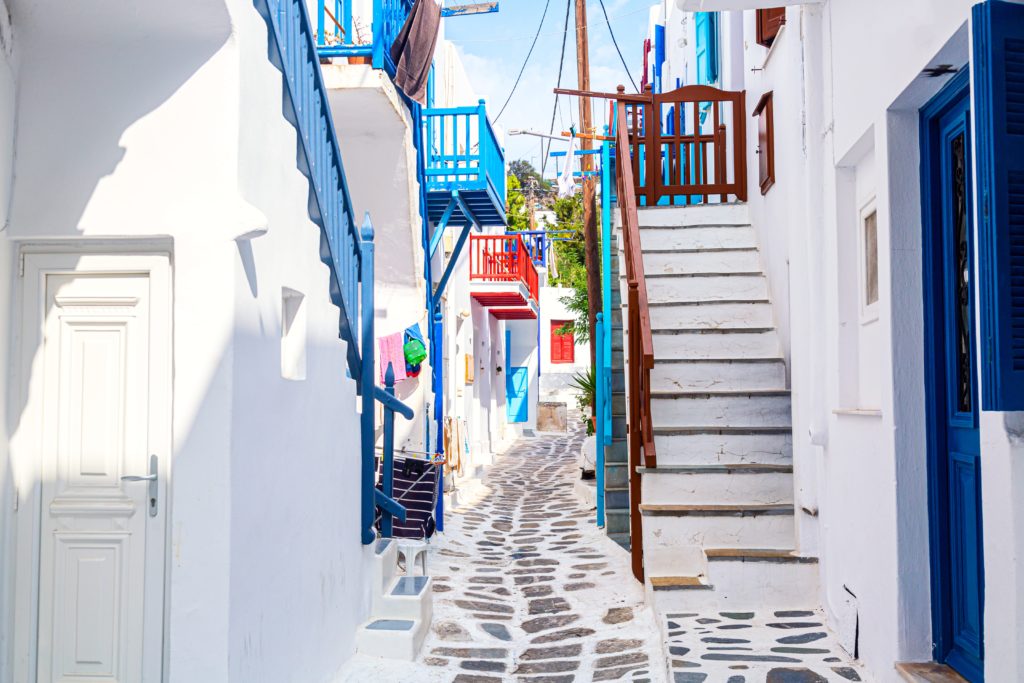 Admire the idyllic seascapes from the Windmills & Little Venice
The Windmills is a local trademark a short walk from the Chora. Sitting cosily atop a hill, right above the water, they are a popular attraction not only for its historical background but also the scenic Mykonos sunset views you can get from up there. Built in the 16th century, they offer you the chance to see how the islanders used to grind wheat to make flour by harnessing wind power back in the day. In operation for more than three centuries, the Windmills are now idle, with some of them being privately-owned and others been converted into open-to-the-public museums.
And, if you would fancy embellishing your evening with a cocktail at a beach-front cafe or bar just before the sun slides behind the horizon, offering the most mind-blowing light spectacle seen by human eyes, Little Venice is where you need to be. The beloved neighbourhood is, indeed, one of the most romantic places in Mykonos. It lies right next to the Windmills and enchants with its Venetian architecture and the colourful multi-storey houses with the wooden balconies suspending above the waterfront. Undeniably, a honeymoon trip would definitely be incomplete without at least a stroll in this adorable region.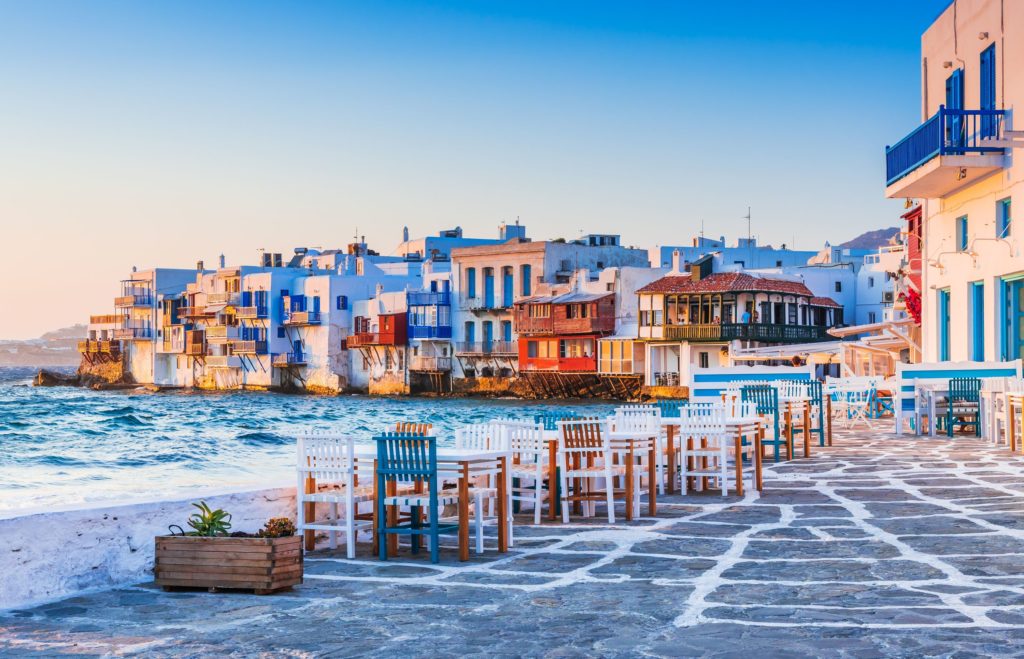 Visit Panagia Paraportiani Church
Even if you are not too much into religious sites, Panagia Paraportiani is certainly not to be missed. In reality, it is not a single church like all the others you have probably already seen, rather than a complex of five different chapels, built one almost on top of the other! To make things even more exciting, its architecture is so exemplary that the infamous Le Corbusier (a renowned architectural pioneer) once wrote that after he had seen Panagia Paraportiani church, he knew that he himself hadn't built anything worthwhile! As for the chapel's name, it comes from the Greek words "Para" ("next to") and "Porta" ("door"), after its location (between a castle's side door and the sea). Absolutely fantastic, in every aspect!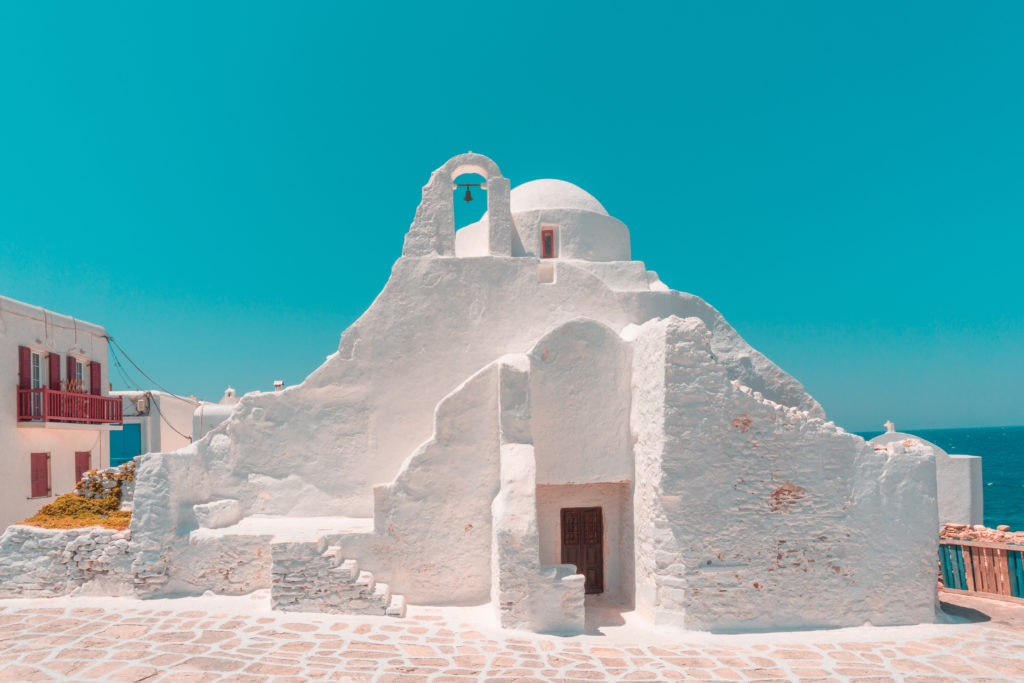 Party like no tomorrow
The diversity and intensity of the animated Mykonos nightlife has reached the corners of this planet. Beach clubs like Cavo Paradiso, Skorpios, Nammos, and Super Paradise are excellent arenas to let out your party-loving side and enjoy night-long dancing, drinking, and music from international DJs. Such beachside venues even feature thematic events and celebrations, enabling guests to indulge in hedonistic ventures and a wide range of experiences, depending on how wild or laid-back they want these to be!
Speaking of more relaxed endeavours, the nightlife in the vivid capital is just cut for you if things like a chilled glass of champagne at a rooftop bar, a refreshing cocktail at a seafront bar, or Margaritas at a coastline-facing club is up your alley.
Visit Delos Island for a dive in sheer majesty
Delos island is declared a UNESCO World Heritage Site and attracts thousands of visitors annually due to its profound energy (once the spiritual and religious centre of the Mediterranean), adorable, sandy coastline, azure waters, and, of course, its ancient ruins. Be prepared to be greeted with an imposing temple of ancient god Apollo, sites dedicated to goddess Artemis (Apollo's twin sister), a Sacred Lake, the infamous Lions' Gate (with lions that resemble the Egyptian Sphinx) and others.
And, if you love dipping your toes in golden sand and swimming in emerald seas, then a short sailing trip to nearby Rhenia island is a must-do for sure, even if you only have a couple of hours to spare. That being said, though, you can also watch a soul-pleasing sunset from amidst the sea, while on a yacht cruise to other Cyclades islands, like Tinos or Santorini!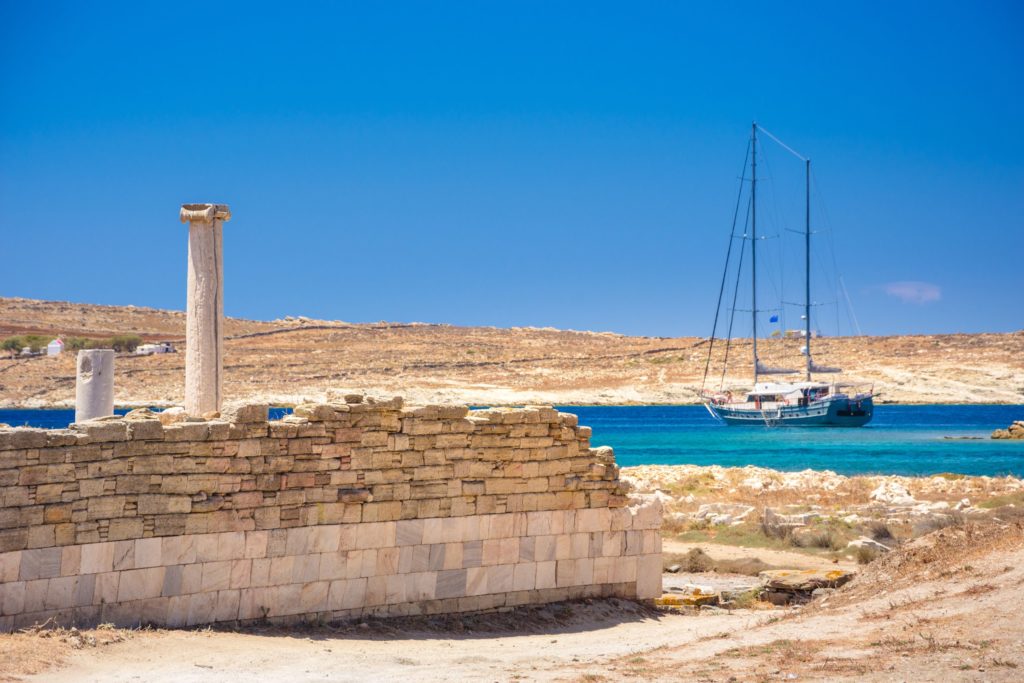 Go on a sailing cruise
Discovering the hidden treasures of the island is one thing. But, getting a sea perspective of the hypnotic appeal of the Cyclades Queen offers an entirely different thrill. So, grab your significant other and spoil yourself with private dining onboard a luxury yacht at sunset or even go on an island-hopping cruise and visit other stunning siblings, such as Santorini, Naxos, and Paros!
And, if you want to take this one step further, we suggest a private helicopter ride over the beautiful island or to other neighbouring destinations.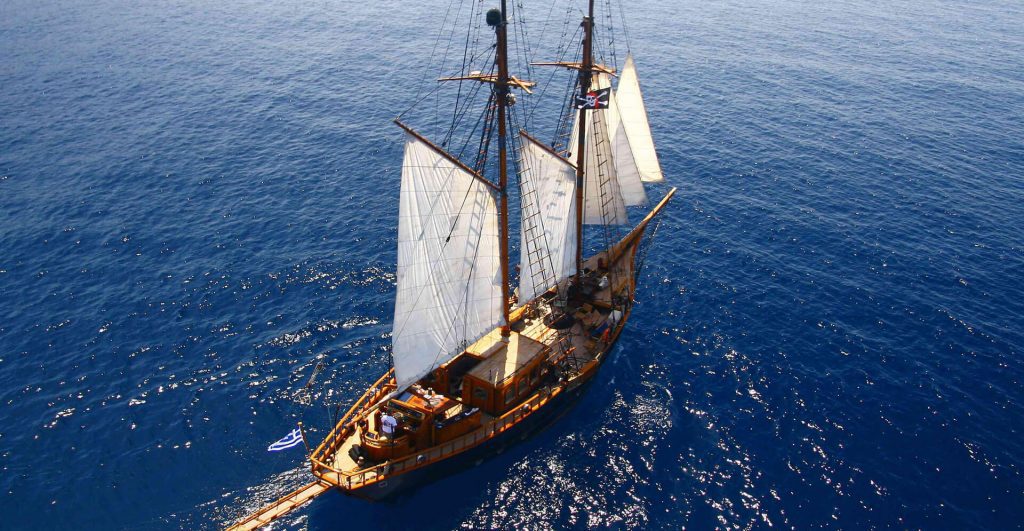 Pamper yourself with luxury services
Whether you have booked an elegant, deluxe suite with a private pool and fantastic sea view or a stylish, archipelago-facing, private villa with an infinity private pool, expect nothing but 5-star services at Kivotos Hotels & Villas. Besides the top-tier accommodation, though, you can also indulge in a spa-like experience at the hotel-owned wellness centre, and share a relaxing and rejuvenating couples' massage, among others. And, if you feel like spending some together-moments with your partner, away from the partying crowds, you are certainly invited to the Kivotos saltwater pool, the private sugary beach, the on-site fitness centre, or the private yoga classes offered exclusively to our guests!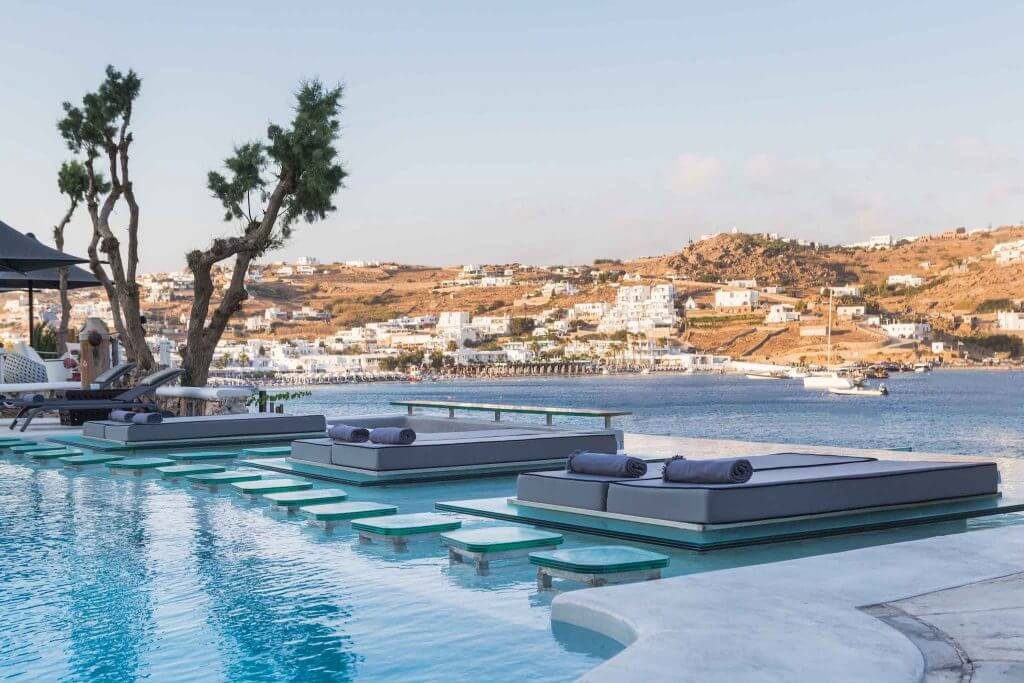 Honeymoon in Mykonos  - Where to swim
Once again, where you choose to spend your daytime hours is directly associated with which side of the Island of the Winds you desire to see. For example, for outrageously extravagant parties and younger crowds, Paradise Beach, Paraga, and Super Paradise beach are ideal (and nudism-friendly, if interested).
Celeb-favoured options include the cosmopolitan Psarou beach, which spoils with its sophisticated ambiance and elite environment. The same applies to Platis Gialos and Elia beach, two of the most extensive ones on the island, with watersports and a ton of tourist facilities, such as beach bars, tavernas and restaurants serving delicious Mykonian dishes.
For more peaceful endeavours by the sea, prefer shores of striking natural beauty like Agrari (a continuation of Elia Beach) – organised, with many water sports, umbrellas, and sunbeds, but less crowded than its other siblings. Panormos is another exceptional choice for private beach experiences. Somewhat secluded, Panormos will dazzle you with its pristine, Natura 2000-protected landscape, picturesque taverna, trendy beach bar, and the few restaurants preparing Mediterranean flavours and mouth-watering seafood dishes.
With more than 40 different Mykonos beaches along the magical coastline to explore, you'll definitely find the one that speaks directly to your heart, and share moments of passion, love, and romance with your significant other.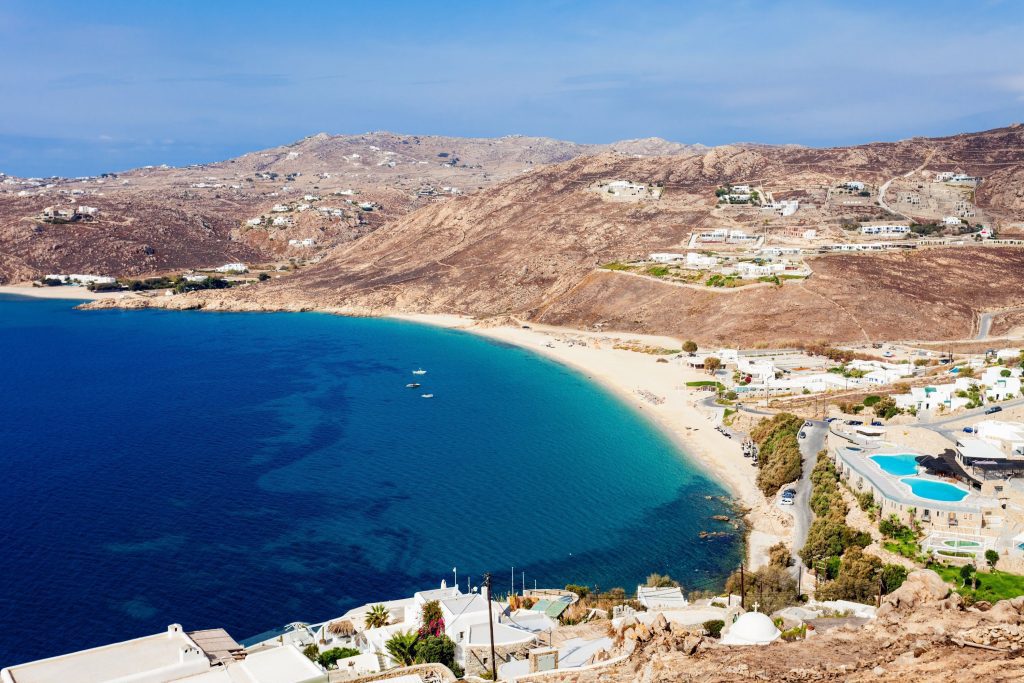 Honeymoon in Mykonos – What to eat
Dearly beloved for its local gastronomy, the Mykonos fine dining scene is a category on its own and can stimulate the senses like no other place. Culinary staples prepared with nothing but the freshest of ingredients and locally-grown produce open the doors to unique dining endeavours. Some of the must-taste local products are cold cuts, cheeses, and meats, like:
"Louza"  - A type of sausage made from the best pork fillet, flavoured with salt, oregano, and cloves.
"Kopanisti"  - A grainy and spicy cheese made from sheep and goat milk with natural curds that's left to ferment for several months.
"Tyrovolia" – A fresh, soft, white cheese that is widely used to make the local onion pie and other pies.
"Xinomyzithra" – A relatively stiff Mykonian cheese with a pleasing aroma that matches red sauces and pasta dishes perfectly.
"Dipyrites" – These are local barley rusks that can be stored for a very long time without losing their taste (once a signature delicacy for sailors).
"Mostra" – A delicious, double-baked bread made with barley rusks, hints of Kopanisti cheese, chopped tomato, and just the right amount of water. Feel free to drizzle some olive oil and garnish with capers and oregano. You can thank us later!
When it comes to the venues that can accommodate your gastronomic explorations, you could as well have an all-around experience at Kivotos Hotels. We may arrange for a candlelit private dining evening either at the hotel-owned sugary stretch of sand right in front of the elegant hotel or onboard our stylish schooner.
Of course, you can take this to your luxury suite or villa and enjoy a romantic dinner with your partner with sweeping views of the shimmering Aegean Sea spreading below your feet. The menu can be adjusted to your particular needs and desires, although our award-winning chefs are beloved for their creativity and exciting spins on traditional Mediterranean, Greek, and Mykonian dishes, always with utmost respect to the original recipes.
Final Tips
When packing your things, the best way to go is light clothes and flat, comfy shoes. High heels won't do, given the cobbled streets of the Chora and across the island overall. You may need to take a light jacket with you, though, as it may get a tad chilly after sunset, especially if the northern winds (aka Meltemia) blow.
One of the best times of the year to visit The Island of the Winds for a honeymoon is the high season (from late June to late August) if you fancy crowded places, a crazy party scene, and the most vibrant nightlife. We do recommend any time between April and mid-June for a honeymoon, though, as it is much less packed, with a more tranquil and calm atmosphere. Plus, you'll get much lower price tags on everything, from 5-star accommodation to dining. The same applies to the period between mid-September and mid-October.
Make sure you make the required reservations ahead of time, especially if you want to visit the Island of the Winds when it's at its peak season. The fact that many Middle East travellers prefer the beautiful Cycladic island for their holidays makes it a bit challenging to get in front of the line for a private tour or cruise.
Do consider heading to a fast food restaurant or local bakery for some hangover food  after a long night of partying, dancing, and drinking. There is even a special, hangover drink to get you back on track! Just ask the locals!
Need any assistance with your honeymoon stay and overall experience? Do not hesitate to contact the friendly and knowledgeable Kivotos front desk staff to have your requirements met so you live a dream in its full range!