Discover the luxury villa of your dreams
April 12, 2021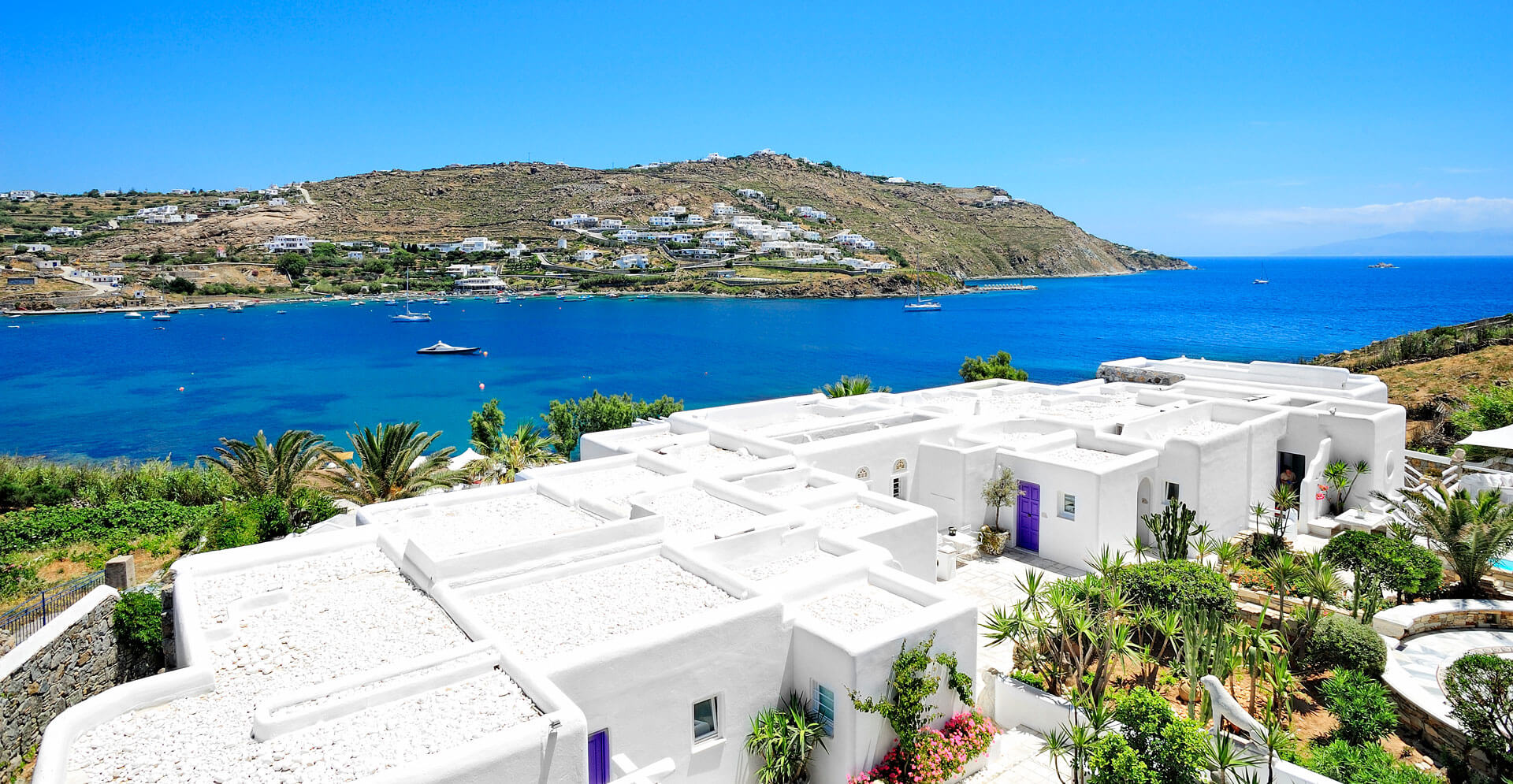 Are you longing for a peaceful getaway? An escape from your busy routine? Then you need to find yourself a Mykonos private villa and fly away as soon as possible!
Of course, with so many popular luxury villas in Mykonos, it is not always easy to know which one is the perfect match for you. However, if you have an eye for great design and a thirst for majestic sea views then you probably will not want to settle for just any of the available villas in Ornos Mykonos.
Surely you want each second of your vacation to feel amazing, right? To know that any luxury imagined is at your fingertips 24/7 and that your surroundings will always be topnotch and ready to take you on a journey to overindulgence?
Luckily, there are a few handpicked waterfront Mykonos villas where the living is super easy and ultra-chic! Two of the finest private villas in Mykonos are in Ornos Bay, just a few minutes away from Mykonos Town.
Keep reading to get a better idea of what it feels like to be a pampered guest at Kivotos Mykonos luxury villas.
Hideaway Villa – "It leaves you speechless."
Does an exclusive holiday retreat that is designed to make every moment special sound appealing? Well, this sea view villa boasts an artistic uniqueness that will take your breath away!
Namely one of the most cherished private villas in Mykonos, the Hideaway Villa has two spacious bedrooms, both equally gorgeous and seductively inviting, with luxurious linens and calming lighting.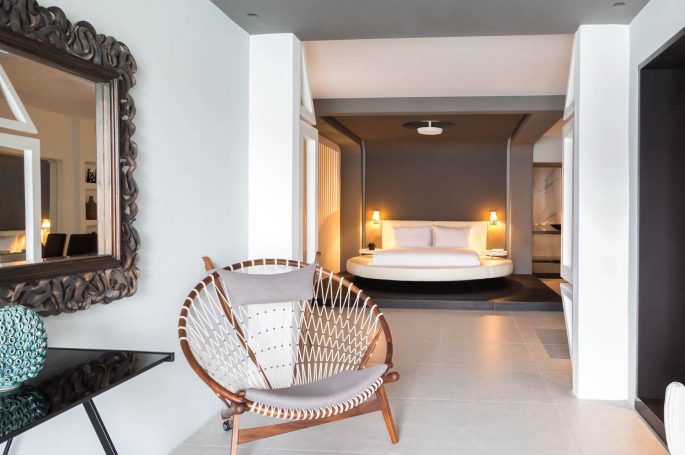 Thanks to its ingenious architectural design, from the moment you step foot, you shall be awed by the stunning furnishings and décor. Everything is meticulously arranged with nothing but your comfort and wellbeing in mind.
Once you cool off after the trip with a glass of something and leisurely unpack your belongings in the fabulous walk-in closet, you will most likely enjoy a quiet rest in the living area or on the outdoor shaded deck by the private infinity pool. There are comfy cushions, beach towels, sunbeds, a table, and chairs.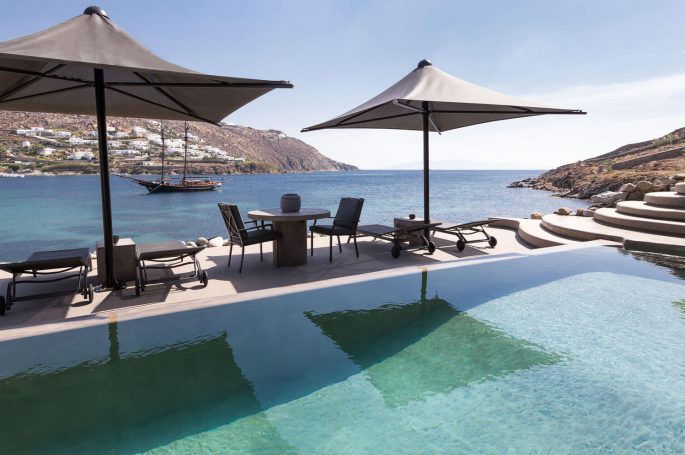 The view is so captivating you may very well end up having your first meal in Mykonos out there, overlooking the azure waters. Because that is the entire point of having room service at your disposal up until midnight is it not?
Then, after you have soaked up plenty of sunlight or starlight (depending on your arrival time!), you must, of course, check out your private Jacuzzi and steam cabin. Note that the bathroom is equipped with bath amenities- even bathrobes and slippers!
By now, you are probably picturing yourself on the private balcony with an evening cocktail in your hand as you gaze into the blue horizon before curling up under the silky soft sheets of the master bedroom as the sound of the waves sweetly lulls you to sleep.
What better way to end the first day of your vacation than in your very own Mykonos private villa!
Noah's Waterfront Villa- "It enchants your soul."
If what you feel you need right now is utter seclusion, supreme comfort, and serenity in a place you can call your holiday home, then Noah's Waterfront Luxury Villa with private beach is where you want to be.
Combine comprehensive knowledge of the concept of space with unparalleled aesthetics, and you get one of the most stunning luxury villas in Mykonos. This palatial establishment will instantly impress you with its architectural magnificence.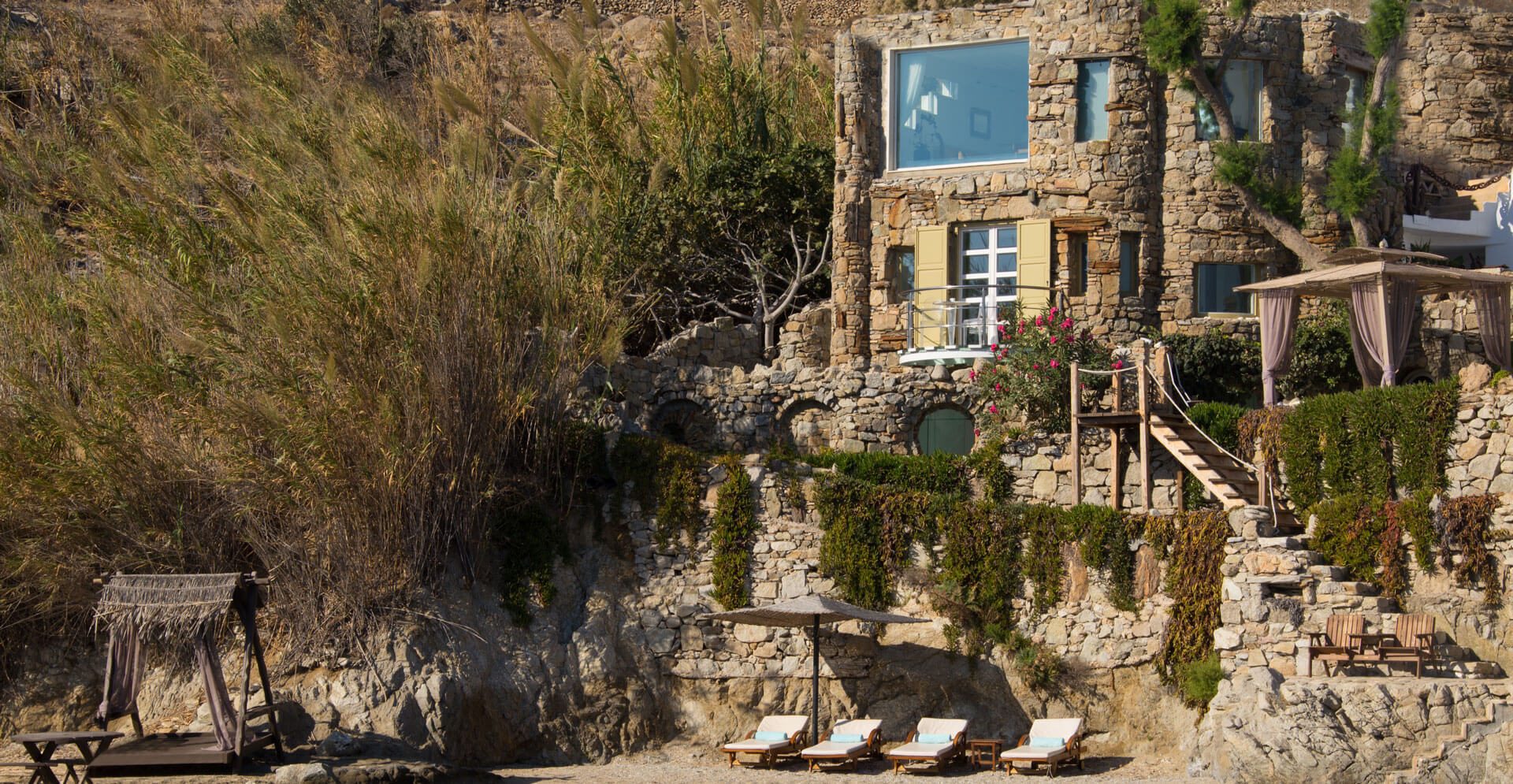 The villa has three levels (each with its bathroom and entrance), all beautifully furnished and easily accessible because- oh, how lovely- there is an elevator.
Picture it: you arrive at the waterfront villa of Kivotos Mykonos. You can hear the waves swishing up against the shore as if they are greeting you; the sun is warming your shoulders and there is a tray with some bubbly staring right at you.
As you savor a few sips, you glance out the window at Ornos Bay only to notice a couple of charming sailboats passing by, surrounded by countless shades of blue. Then, as you step out onto the balcony you notice the villa's private beach. There are loungers and umbrellas so you can spend hours there, just basking in the sun.
Also, throughout your stay, you get to enjoy private access to the hotel SPA as well as long sauna sessions as often as you wish- since there is one on the villa's ground floor where the lounge area is. And what comes after a steaming sauna experience? A dip in the gorgeous private pool that flows through the villa to the outside.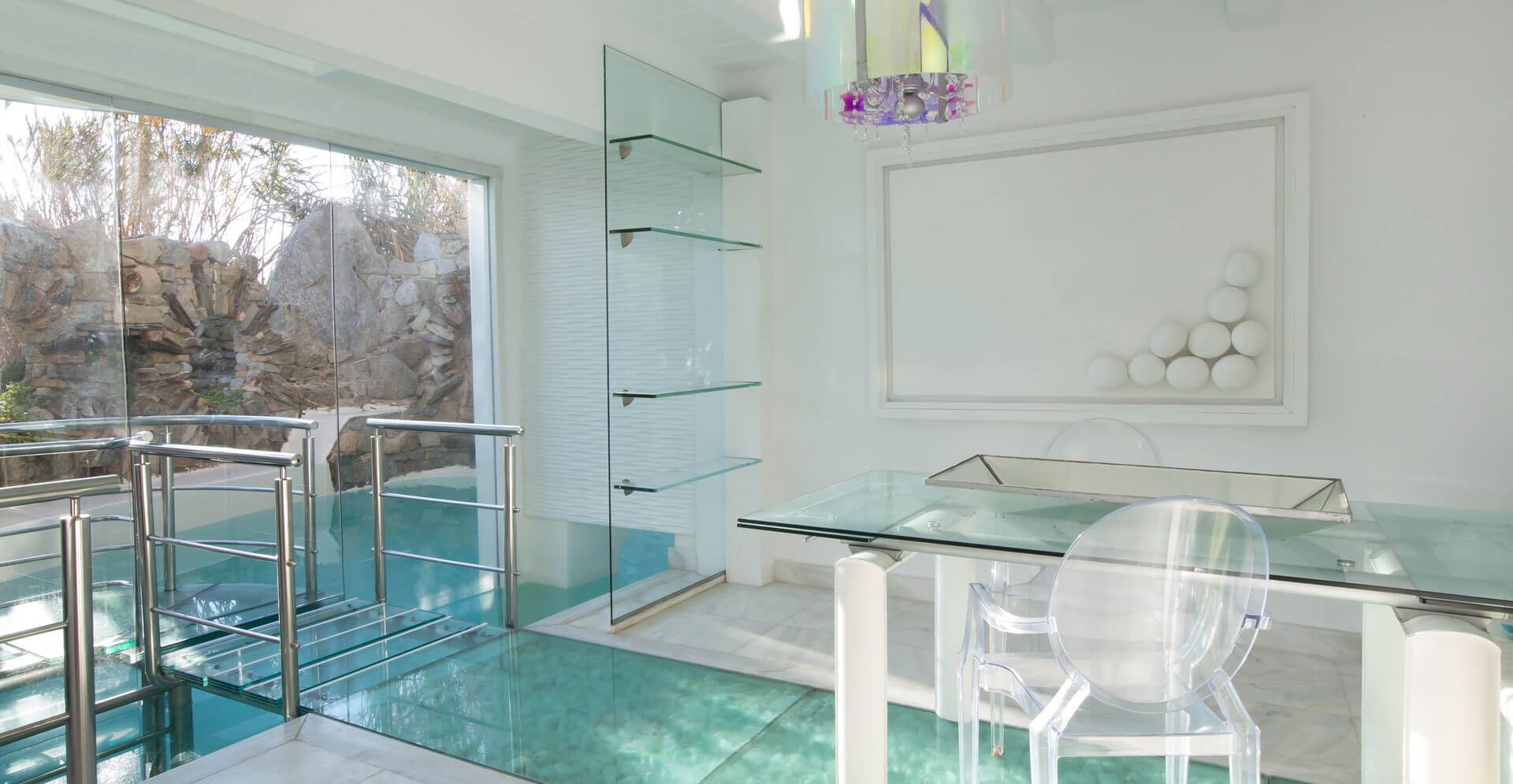 On the second floor, you shall find a beautiful dining area- perfect for romantic evenings and small gatherings. There is even a bar- if you feel like having some fun bartending! Nonetheless, there is a fully equipped kitchen where the villa's staff can prepare anything you like.
When it comes to luxury accommodation in Ornos Mykonos, you will find that the architecture of this sea view villa is so inventive it even has glass floors that add a rare touch of enchantment.
Are you ready to fly away to your own Mykonos private villa?
Ask yourself the following questions, and if you answer "yes" to at least one of them, then you are ready to live your own Mykonos extravaganza in an ultra-chic waterfront villa!
Do you want a stunning private pool you can jump into to anytime you wish?
Do you seek total seclusion and premium services?
Do you like the idea of hiding away in a luxury villa with private beach?
Do you desire exclusivity and privileged views?
Ultra-modern, artistically unique, and profoundly elegant, Kivotos Mykonos luxury villas invite you to experience an unforgettable escape from reality with the Mykonian sea literally at your doorstep. Vacationing in style would be an understatement!
Now, take a closer look at these magnificent villas in Ornos Mykonos.