Craving a luxurious holiday in Mykonos?
March 4, 2021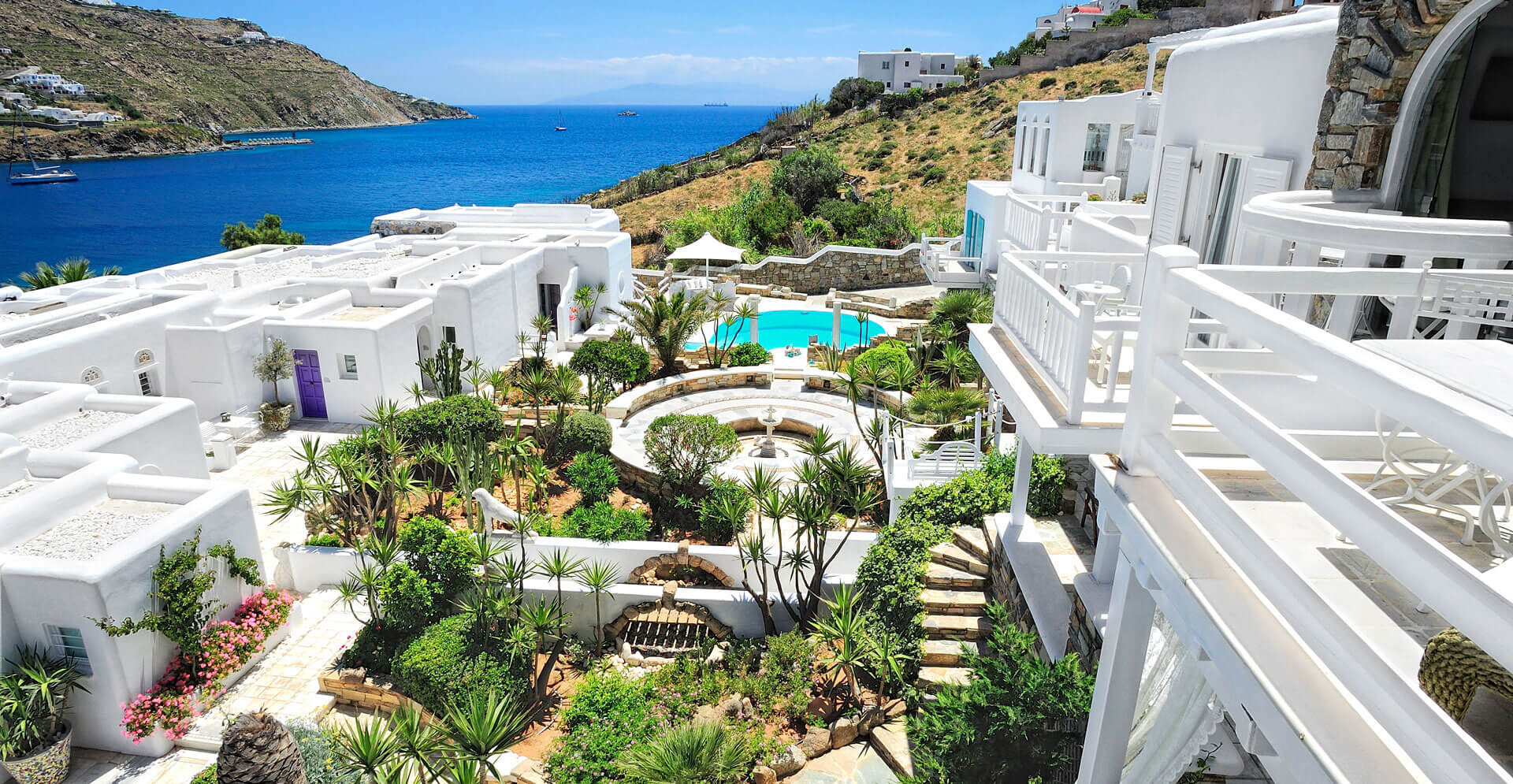 Discover some of the most attractive traits that make Mykonos Island such a desirable destination for admirers of high-end living.
In case you have not heard, this wind-kissed superstar of the Cyclades has been adored for decades by A-listers, jet setters, celebrities, and luxury seekers. If you love style and glamor, upscale beach life, and photogenic surroundings then this island is for you!
Read on for 7 reasons why you are going to love your stay in Mykonos. Tourism in Greece usually hits its record highs in July and August, so if you are still not sure where to stay in Mykonos you will need to book ahead if you want to hideaway for the summer in a dreamy luxury hotel.
In Mykonos, you can experience private dining right on the beach, unwind in suites with outdoor hot tubs and private pools plus extra special perks that will transform your holiday break into an indulging escape from your everyday reality.
1. The Spirit of Mykonian Living
If you are wondering what it is like to lead a lavish Mykonian life, simply imagine spending a divine holiday enriched with ethereal vides and ample comforts.
A genuine Mykonos holiday is laid-back yet exquisite. Your daily routine will feel like a celebration of love and life; with delicious food and drink, mesmerizing beaches, stunning scenery, exciting nightlife, and all the "blue and white" magical moments you can think of!
Now, if you want to stay somewhere near the water in Mykonos plus avoid the constant hustle and bustle of the center, opt for Ornos which is ideal for families and couples. It has a sheltered sandy beach nearby (Ornos Beach), many restaurants and bars, and is only about a five-minute drive from Mykonos town's capital (Chora).
2. The Iconic Promenades
Where to go for a stroll in Mykonos you ask? If you have an eye for beauty and a heart for romance, then "Little Venice" may very well take your breath away! Witness the waves caressing the picturesque 100-year-old houses while you pose for an astounding photo at sunset.
As you stroll, laugh, and breathe in the crisp Mykonian air, you will most likely stumble upon the island's trademark windmills or come across a few of the hundreds of adorable churches dotted all over the island (like the Church of Panagia Paraportiani).
Continue your walk along the waterfront, visit the old port until you find yourself drawn back into the enticing labyrinth of narrow streets filled with bars, restaurants, and shops. Remember to pause for a glass of something by the fuchsia bougainvillea or in front of a timeless Mykonos blue door!
3. The Golden Salty Kingdom
Prepare to feel like royalty on the beaches of Mykonos! Whether your preferred activity is sun-worshipping, jet skiing, cocktail-sipping, or good old free-spirited sandy days doing whatever you feel like- Mykonos Beaches are the place to be! The waters are crystal clear, and the atmosphere is always gleaming with smiles and delight.
There are many beaches on the island (approximately 30). To name a few of the most popular ones, there's "Ornos Beach", "Platis Gialos", "Kalo Livadi", "Agios Ioannis", "Psarou Beach", "Paradise Beah", "Paranga" and "Elia". If you are into windsurfing "Ftelia" and "Kalafatis" are ideal.
After a bit of beach hopping, you shall find the sandy refuge that best suits your style and surrender to endless seaside luxury day in, day out!
4. The Rejuvenating Moments
A truly relaxing Mykonos holiday is meant to awaken all your senses and leave you feeling complete and content.
Seductive private dining nights, endless cocktails at a hip and classy pool bar, and, most definitely, revitalizing moments for your body and mind. Pamper yourself with massages, facials, hammam (steam baths), full-body scrubs… you name it! Mykonos is all about extravagance, even when it comes to relaxation and wellbeing.
Find your favorite sanctuary for the senses to fully rejuvenate your soul, body, and mind during your stay in Mykonos.
5. The Unique Shopping Experience
Mykonos is a shopper's wonderland! Roam the picturesque cobblestone streets of the town (especially Matoyianni Street) to uncover original and select items.
You will find exclusive brands, jewelry shops with contemporary styled pieces, local shops with trendy clothes and accessories, elegant handmade Greek leather bags and sandals, original souvenir shops, designer boutiques, art galleries, and more.
Explore the cosmopolitan streets of Mykonos and embrace your boho-chic look during your Mykonos vacation. Packages with your new purchases can most often be delivered to your suite or villa- so you do not have to carry your shopping bags all around town.
6. The Charming Heritage
Apart from fun and partying, there are plenty of cultural activities you can do during your holiday in Mykonos. Why not go on a wine and cultural walking tour around town? Or go on a day trip to Delos Island to marvel at the fascinating ruins of an ancient civilization?
There are even several interesting museums such as the Aegean Maritime Museum, the Archeological Museum, the Folklore Museum, and the Agricultural Museum. And of course, the windmills are a huge part of the island's heritage. There are many all over the island, but most of them are near the center of town (Chora). "Kato Mili" is the most well-known.
Also, there are some stunning monasteries with impressive architecture and design. Namely, the Monastery of Panagia Tourliani is remarkable but so is the Monastery of Paleokastro.
7. The VIP Attitude
Mykonos is the one place where you can go over the top in every way! From private yachting and dining to spontaneous visits to nearby islets or secluded beaches- everything has a VIP flare to it.
Enjoy luxurious sailing experiences as often as you please or float above the blue waters and sparkly white buildings on a private helicopter ride…
The surest thing is that your collection of memories will be overflowing with dazzling Mykonian days and nights! Simply because… Holidays to Mykonos town can be as extravagant as you wish with plenty of options when it comes to lounging, bathing, fine dining, and partying!
So, if you are already picturing yourself in chic and chill mode then it is time to find your ideal Mykonos luxury hotel and… start packing!