Santorini Nightlife: Myths and Facts
May 20, 2022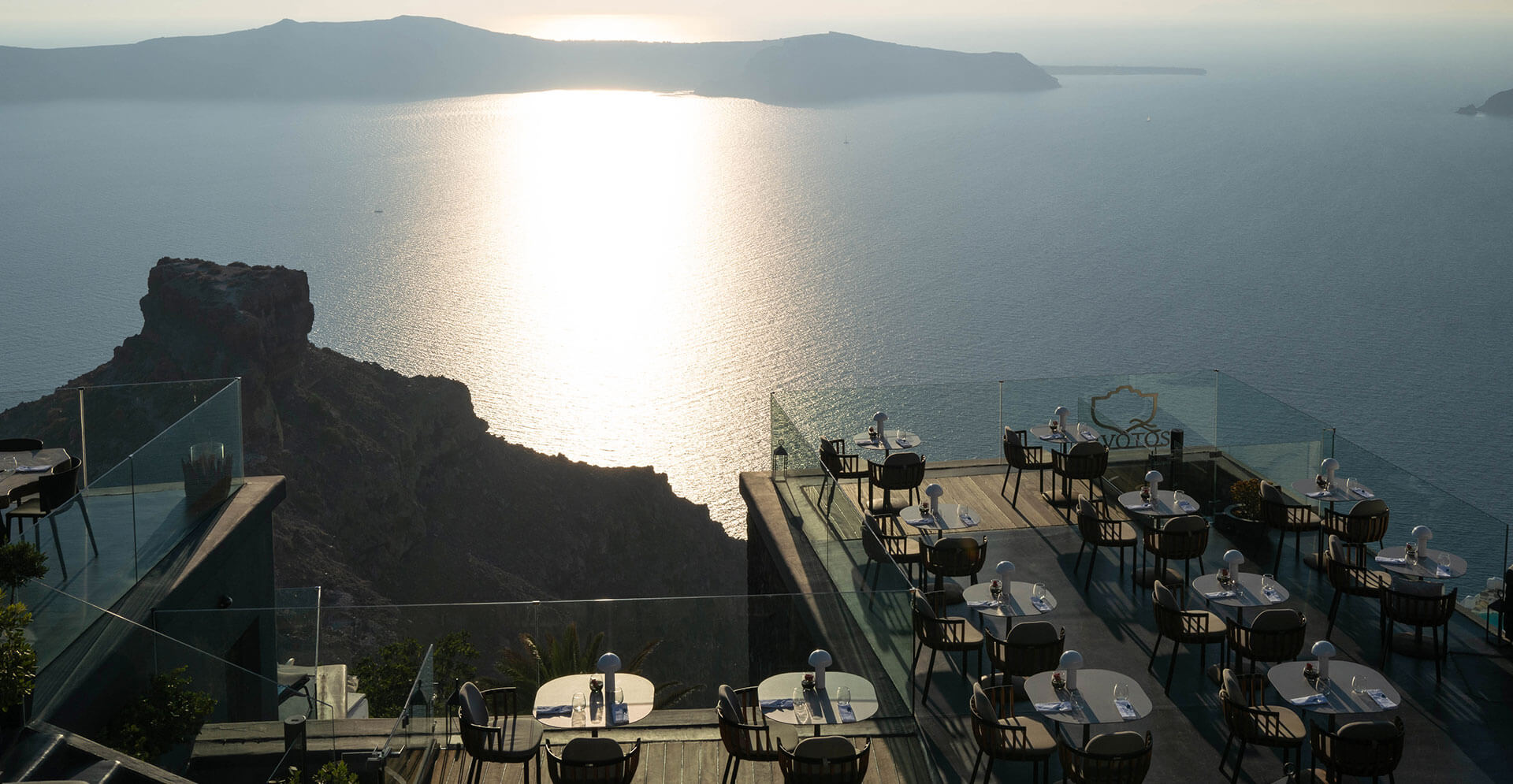 Known and beloved the world over for its romantic sunset views, unique volcanic landscape, and adorable Cycladic architecture, with the whitewashed houses and the chalky blue-dome chapels overlooking the glorious Aegean Sea, Santorini is, hands down, a top summer destination. But, what is often misunderstood about the beautiful Queen of the Cyclades is that she is also a vibrant Greek island with an exciting after-dusk arena. Indeed, the nightlife here might not be as legendary as its popular sibling, Mykonos, but it can be just as pampering and rewarding. Here are some facts about your nightly entertainment options here, whether visiting the island with your partner, friends, or even family!
Santorini nightlife – What to expect
You will certainly find something for every taste and desire on the island, from beach bars and cocktail bars to cafes and dance clubs. It all depends on the type of nightlife you wish to experience (laid back and chilled or more lively and animated).
Of course, don't anticipate the crazy and hedonistic parties hosted on Mykonos. Nevertheless, you won't be disappointed with the offered options here. But, if you must witness an absolutely wild party, then Mykonos is only a short cruise away! In this case, feel free to use the superbly elegant and stylish Kivotos Hotels-owned schooner and hop on to the cosmopolitan cousin!
That being said, the island is also home to numerous gourmet restaurants and tavernas serving delicious Santorian cuisine and Mediterranean flavours with exciting spins that skyrocket any gastronomic venture. In fact, the island's fine dining scene is exemplary, given the many Michelin-star venues and the award-winning chefs putting their signature on local dishes, and not only.
Santorini nightlife – Where to go
Most people think that the island lacks any serious after-dark activities. That's a myth. Heading to the vivid capital, for example, will easily introduce you to an impressive range of things to do when the sun slides behind the horizon. The majority of clubs and bars are there, providing opportunities for night-long fun. As for the times you don't fancy going out, you can always give yourself the VIP experiences and fantastic seascapes provided by THE BAR or MAVRO restaurant- both located right within the Kivotos Hotels premises.
However, you may want to move to the shoreline, and join a beach event. In this case, consider the beaches of Kamari, Perivolos, and Perissa for the most intense endeavours and some of the most chic waterfront experiences.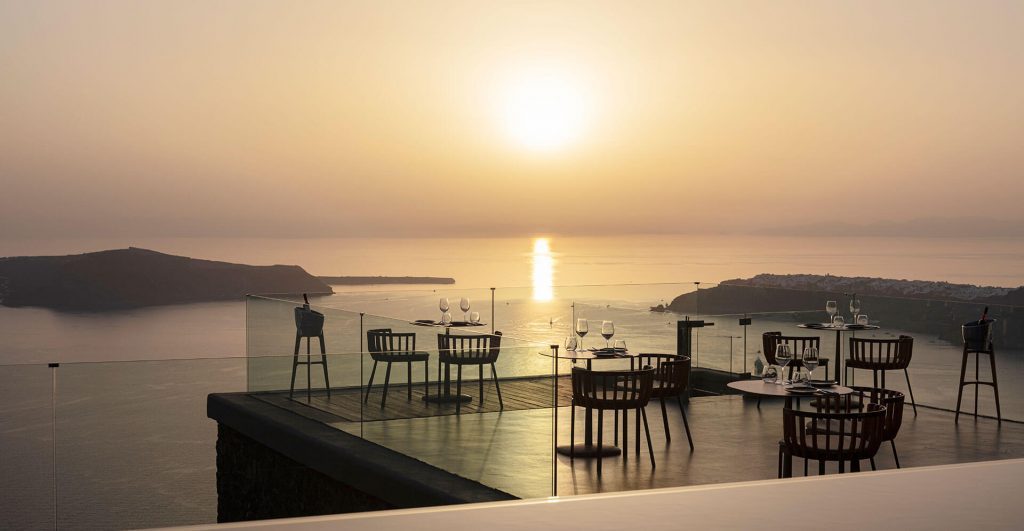 Santorini nightlife – Are there parties?
Absolutely! Many Santorini bars, such as Jojo and Wet Stories, host parties featuring famous DJs, who boost visitors' adventures with upbeat vibes and music from all genres. Besides the live sessions with the international disc jockeys, though, you'll be greeted with tons of other parties that are scheduled throughout the summer. Just don't brace yourself for events that require showering with champagne! These are extremes related to the neighbouring island!
Regarding the closing times of the local venues, most of the bars and clubs in Fira usually close around 3:00 am. The beach bars tend to close around midnight. However, everything revolves around the season and the crowds at the time. In other words, they will remain open later when busy! Now, if you crave dancing, drinking, and partying till the wee hours, then do head to the nightclubs that will accompany you until the early morning hours!
Santorini entertainment – What is a must 100%
Bear in mind that the major Santorini bars are rather small, which means that they tend to be packed and crowded, especially during the high season. What is impressive about them, though, is that things change so fast with these venues through the night that you will never have a moment of boredom!
So, a Santorini beach bar or club in the heart of the island might be dead around midnight and be jam-packed an hour later (and the other way around)! Therefore, the best course of action is to choose a venue based on your mood and your privacy needs and join the action! Bar-hopping should definitely be part of your daily adventures here!
Kick-starting your after-sun experiences – The best bars and clubs
If you love the idea of having your toes in the sand and your hand holding a refreshing cocktail or drink, then a beach bar like Tranquilo with the chilled atmosphere, Latin parties, tasty snacks, and the live shows will fit you like a glove.
Other exciting options are famous JOJO (you can even get a cabana on the beach and enjoy some beach time), Wet Stories (its giant bean bags, lounge chairs, sunbeds, and volleyball court offer a great seaside experience, too), and the recently renovated Chilli Bar, which will entice you with their relaxing vibes, spicy cocktails, friendly staff, and great food.
Want a super-romantic and tranquil setting? Consider SeaSide by Notos beach bar and its annually updated cocktail list (even private dining options) for hours away from the crowds and the loud noises, next to a sugary shore. The same relaxing ambiance awaits at the Theros Wave beach bar at the White Beach (aka Vlychada Beach), which may capture your heart forever with its exotic scenery.
Best cocktail bars to start your evening explorations:
MoMix – Its unreal interior, electronic tunes, and molecular mixology will blow your mind!
Casablanca – A great cocktail lounge bar at Fira to hang out with friends with a relaxing setting, funk/house/soul tunes, and a beautiful balcony. The Guardian even voted it as one of the best bars in Europe!
Lioyerma – A bar with an utterly cosy atmosphere and some of the most pristine Santorini sunset views! Located at Oia, it is the perfect place to end a fab day!
PK – Also known as Palia Kameni cocktail bar, it bewilders with the captivating Caldera panoramas, which you can enjoy with a glass of the finest local wine, a cup of delicious coffee or a tasty cocktail!
Kira Thira – A fantastic jazz bar in the heart of Fira that has been spoiling visitors with homemade sangria and jazz music for all ages and tastes since 1976!
Koo Club – One of the most popular clubs on the island with one bar inside, three bars outside, and a huge dance floor. If you want to relax or share romantic moments with your partner, you can always have your drink on a sofa under the palm trees and have nothing but the star-lit sky above your head.
Of course, it is impossible to create an exhaustive list of all the must-visit entertainment venues and keep it under tens of pages! Places like Crystal Lounge Bar, Franco's Bar, Tango Bar, Myros Bar, Katharos Lounge, Two Brothers Bar, Murphy's Saloon, The Highlander, Mamounia Club, and Tropical Bar will also caress your senses and let you indulge in the lively night scene. Bet you will discover many more as you go about your fun summer days here!
Tips for Dreamy Nightly Ventures!
To maximise the entire after-sunset experience, here are some details to keep in mind:
Walking around the island with stilettos and high heels is a challenge, given the narrow cobblestone streets in Fira, Imerovigli, Oia, and the rest of Santorini. So, only attempt if you have great balance! This goes not only for your evening activities but also your daily endeavours. Better wear shoes with a thicker heel, such as wedges!
Your after-dark explorations can end with a great hangover treat from a local bakery. You will find many of them open 24/7 and serving from handmade sourdough pizzas and pastries to sandwiches, savoury treats, and anything in between! Also, look for mouth-watering gyros sandwiches at the main square of the village you have spent the night in. You'll feel like yourself giving you a pat on the back for diving into such a culinary pleasure!
You can't expect buses to run at night (after a certain time), so you will have to either take a taxi, walk back to your hotel (if you have entertained yourself within a walking distance from it), or opt for private transfer services and have your chauffeur drive you to wherever it is you want to return to after an intense night out.
Final Thoughts
Spellbinding volcanic panoramas, amazing sunsets, idyllic shores, charming whitewashed architecture, and a nightlife that will definitely leave you fulfilled to the bone are some of the things that await in Santorini.
Indeed, the undeniable Cycladic queen pampers visitors with many different entertainment options, so they can spoil themselves with a refreshing cocktail or drink, in a quiet or busy venue, romantic spots, either chill-out or loud atmosphere, and music pleasing all preferences, per their liking.
In other words, whether you are a honeymooning couple, partying group of friends, or a solo traveller thrilled to meet new people during your summer holidays, she has you covered!