Honeymoon in Santorini: What you Should Do
June 22, 2022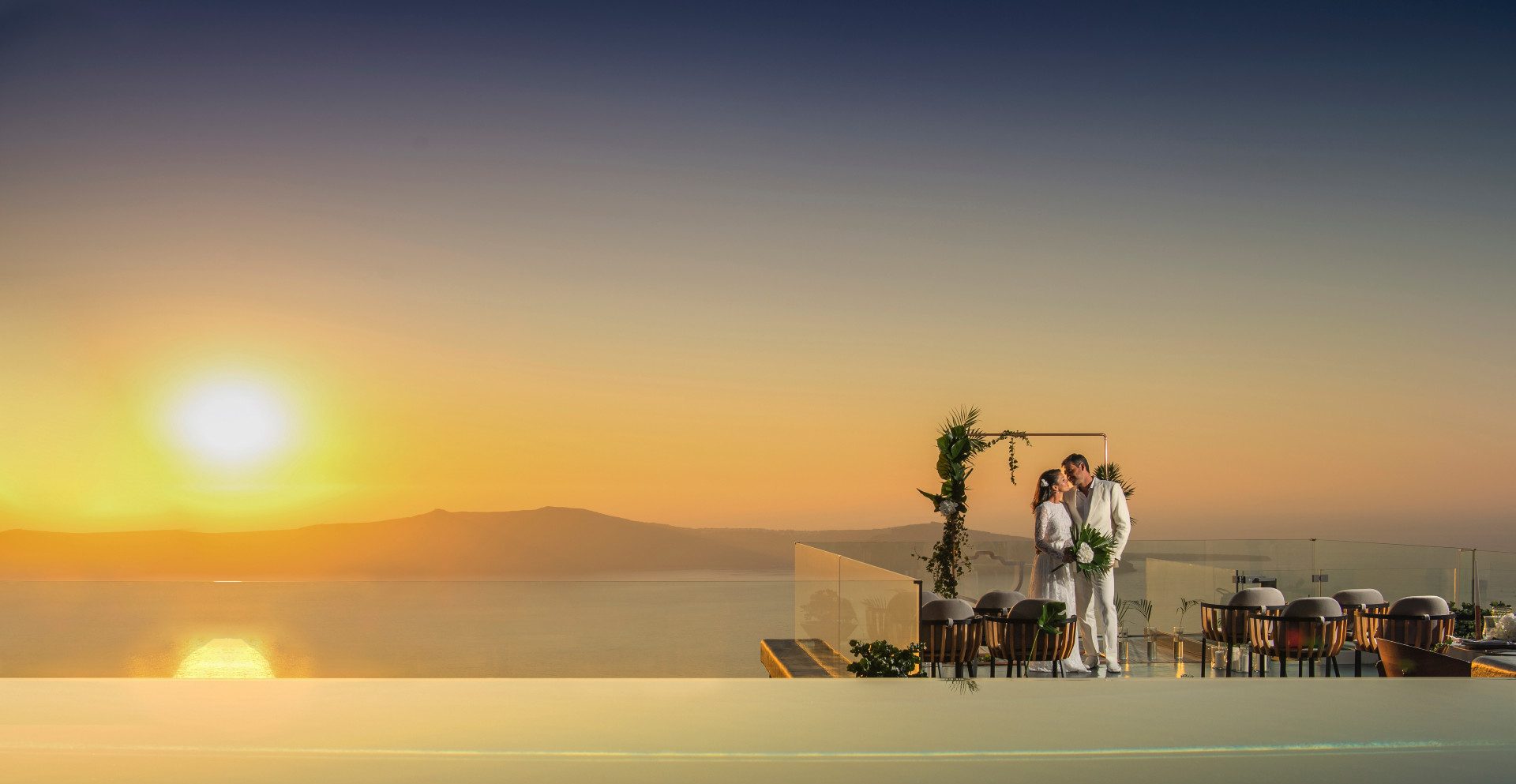 Welcome to Santorini as newlyweds! Chances are you have already been here before, as a dating couple, so you know the levels of romance and amour exuded from every single volcanic stone and spellbinding seascape! But, even if spending your honeymoon in Santorini has been a wish fulfilment for you – a wish you are about to turn into a wonderful reality – you will soon find out why this adorable Greek island holds such a high place in couples' hearts – just married, soon to be married, and otherwise! Below, is a guide to help make this the most perfect experience for the two of you and write the first pages of your shared life with the most vibrant colours, with every step in the unbeatable style, exoticism, and glam of this glorious speck in the Mediterranean.
Start the day with a Champagne breakfast in your elegant suite
Your luxury Kivotos honeymoon suite (or private villa) is the dreamiest place to recharge and relax after the wonderful wedding, while allowing us to spoil you with our signature Champagne breakfast. Feel free to indulge in absolute bliss and tranquillity as we serve you your preferred breakfast selections at the comfort of your indoor hot tub, lower-level dining room, captivating balcony that pampers with sweeping views of the glistering Aegean Sea and the stunning coastline, or even your sun lounger by the main Kivotos pool and rooftop terrace (it can be accessed via a private staircase directly from your suite). Obviously, Kivotos Hotels is much more than just another hotel with a private pool and exclusive VIP services and amenities – it is a giant step towards dream fulfilment, no matter how extravagant or royal-like that deep desire really is.
Book a sunset cruise
No honeymoon in Santorini can ever be complete without signing up for a romantic cruise around sunset. Your luxury boat trip can be as customised as you wish, with many private sailing options in Santorini enabling you to admire the staggering coastline, swim in some of the most idyllic beaches with the colourful volcanic sand, such as the famous White and Red beaches, and pull into other local attractions, including the Hot Springs, just before you pass by the imposing volcano. Your sunset cruise can be combined with a candlelit dinner and even a longer trip to other nearby Cyclades islands, such as Mykonos and Paros. In any case, expect to be mesmerised by the unique light show and calm swirling of the warm reds, oranges, and pinks that will paint the horizon, moments before the sun slides behind the Mediterranean horizon!
Go on a wine tasting Santorini venture
The Queen of the Cyclades and its unique volcanic topography are giving the world some of the most internationally acclaimed and award-winning wines. For that reason, a wine-making and/or wine-tasting experience is not only a must, but an endeavour that can leave you with unbelievably romantic memories.
Most of the local wineries, including the world-renowned Santo Wines Winery, among others, offer fully organised wine tours with expert oenologists and guides paired with a dinner for two at a caldera-facing garden or a terrace with stunning views of the sea or the island. The village of Pyrgos is in the heart of Santorini's wine-growing Santorini region, which makes it a great starting point for superb wine-tasting adventures.
Have a sunset honeymoon dinner
Besides savouring a glorious sunset in Oia, Fira or Imerovigli, you can also try other alternatives that will fill your heart with the same excitement and continuous flow of cosy feelings and sensations as you watch the last rays of the sun caressing the whitewashed houses and the blue-domed churches around you.
From a light lunch to a decadent dinner, your options are limitless here. So, you can bag a table in a picturesque taverna and eat like a local, with mezedes and delicious seafood dishes starring the evening or opt for a special occasion dinner at a top-quality restaurant (either within the Kivotos Hotels premises or elsewhere on the island) with spellbinding views, and sample local cuisine with an interesting spin that adds to the overall gastronomic journey.
Alternatively, you may have a private chef prepare a beautiful dinner for just the two of you, which will be served at your terrace-set table, onboard the Kivotos Hotels-owned luxury schooner, or your suite/villa balcony as you enjoy a fine pre-dinner drink or cocktail. After your exquisite dining experience, you can sink into the lavishness of your private jacuzzi and continue your evening with a total relaxation of the body and mind.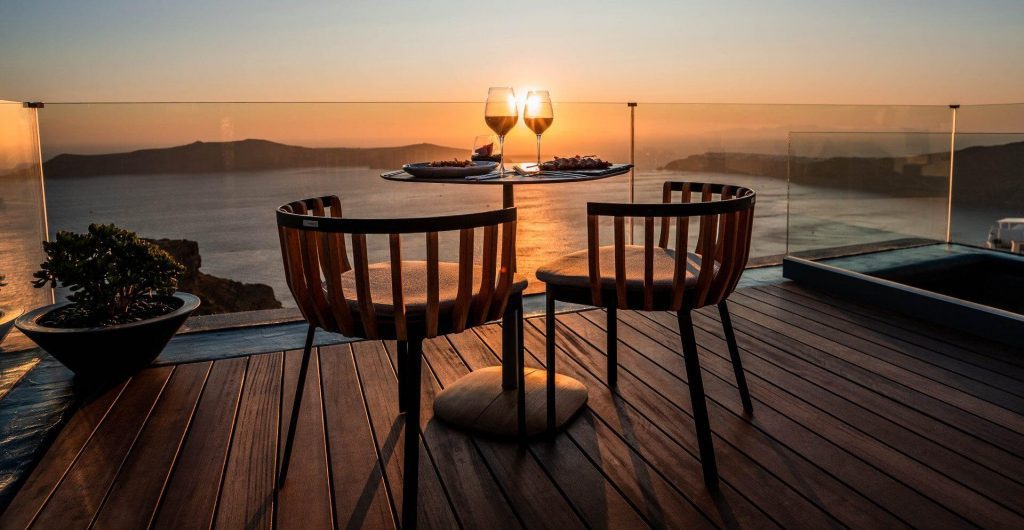 Melt away stress with a relaxing in-house massage
Kivotos Hotels offers wellness services that rejuvenate the senses and help recharge your batteries after a long and responsibilities-packed winter or a full day exploring the charms of this alluring Greek island. Delivered in either the specifically designed extra-luxury, spa-like area within the Kivotos Hotels premises or your stylish suite or private villa, you can revitalise yourself and breathe new life into every molecule with an in-suite or in-villa couples massage by the hands of qualified professionals, followed by a glass of the best champagne labels and superior views of the enchanting archipelago. You only pick the preferred therapy per your desires and needs and leave the rest on the experienced hands of the hand-picked massage experts.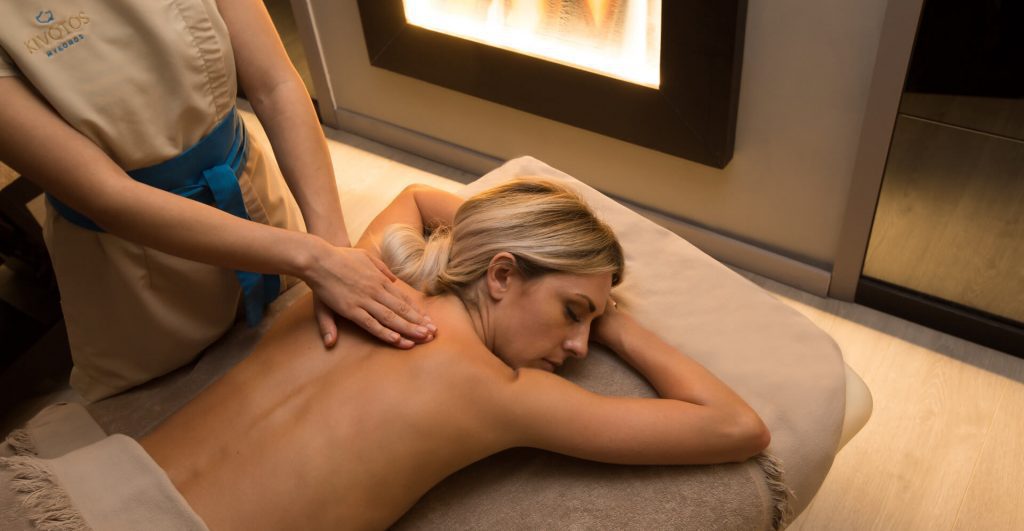 Book a private beach cabana
The coastline of Santorini is adorned with adorable beaches of unparalleled natural beauty and appeal. Featuring red, white, or black volcanic sand, colourful pebbles, azure waters, an incredible aquatic universe full of schools of fish, reefs, and underwater cliffs, shipwrecks, and caves, and a rugged landscape enveloping the pristine shores, everything is extraordinary and unique. In this magical setting, you can claim your fair share of beach fun and relaxation by booking a private cabana in a popular beach bar and treating your palate with refreshing cocktails and light snacks.
And, if you long for some more privacy away from the crowds, do consider exploring more remote and isolated coves and seaside locations that make perfect spots for couples enjoying their sweet time on the Greek island.
Go horseback riding on volcanic shores
One of the most romantic and, at the same time, exhilarating things to do on a honeymoon in Santorini is to gallop along the sandy shores of the island and get off the beaten track on horseback. And, if we can make a small suggestion here, we recommend Eros Beach for this particular type of experience. It is a secluded, southern, pebbly shore (it's actually a continuation of the cosmopolitan Vlychada beach) that will capture your heart with its stunning white-brown, wave-carved cliffs that create an almost unrealistic and totally heavenly scenery.
Within the area is also a lovely stone-and-wood beach bar and restaurant with a romantic and chilled atmosphere, ambient music, hammocks, swings, and sofas to enjoy your cocktail or meal. No wonder Eros is also a beloved wedding location on Santorini!
Besides horseback riding on Eros beach at sunset, you can also explore other nearby hidden corners of the island via a private excursion that can even be paired with champagne and canapes on the beach, skyrocketing a one-of-a-kind honeymoon experience!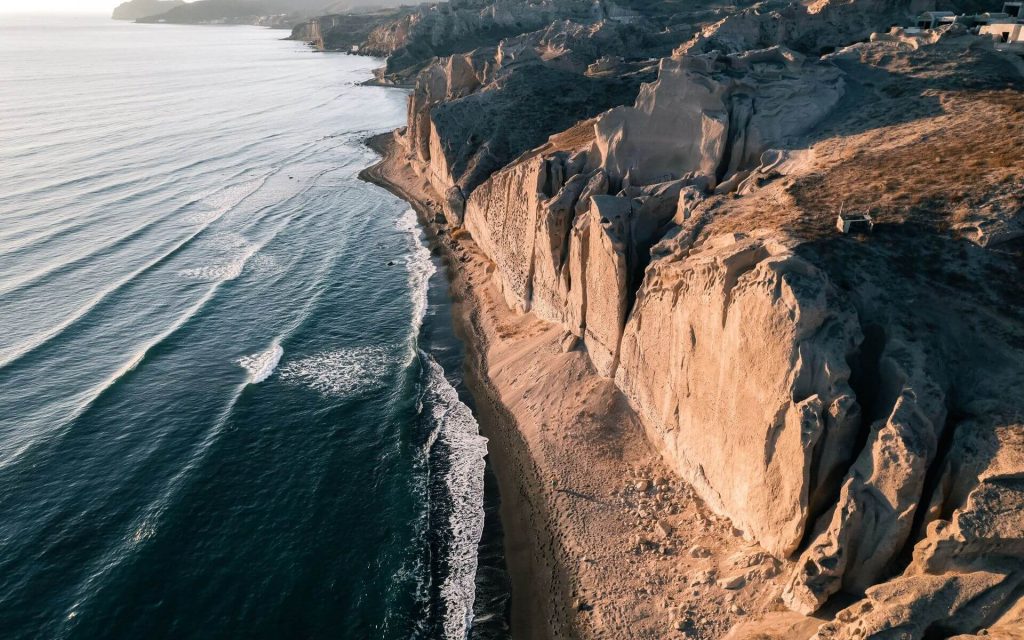 Bonus Options for Fairy Tale-Like Honeymoon Experiences
Have a romantic stroll along scenic villages, like Pyrgos and Oia and dive into the timeless beauty of the enchanting island as the gentle sea breeze caresses your skin.
Enjoy a movie under the star-lit sky in the local open-air cinema which has also been voted one of the most romantic ones in the Mediterranean.
Have a honeymoon photo shoot by a professional local photographer who will arrange a private photo session at top locations around the island.
Walk the Oia-Fira hike and cherish some precious moments with your significant other while treating your eyes with supreme sights and seascapes.
Join the Santorinian nightlife. Although not as vibrant as that of its close relative and neighbour, Mykonos, you still have plenty of more-than-satisfactory options to choose from, depending on the intensity and type of nightly venture you are after. From sharing a quiet cocktail at a seaside bar to joining a lively event at a beach bar or sipping your champagne or wine at a rooftop garden, the silver moon will make everything even more hypnotising and bewitching!
Have a private island tour with a private driver and guide whisking you around the island. Such excursions can be fully personalised so visit the places you want and usually range between 4-6 hours, depending on your requirements and needs. It's also a superb way to enjoy a stress-free experience (since you won't need to drive a single mile) and get a real insight into the history and culture of the island from a local professional guide!
Final Notes
Given that many activities and tours get quickly filled with participants, it is best to make your reservations some months in advance if possible, especially if having your wedding on the island as well. That way, you may get lower rates for practically everything, from accommodation to tailored trips and tours. Of course, there is no hard and fast rule here.
Of course, you can certainly come to the island and book the trip or another experience that interests you at that given time, or have us make the needed arrangement for you as we collaborate with a plethora of local businesses to maximise the gratification of our guests' stay!