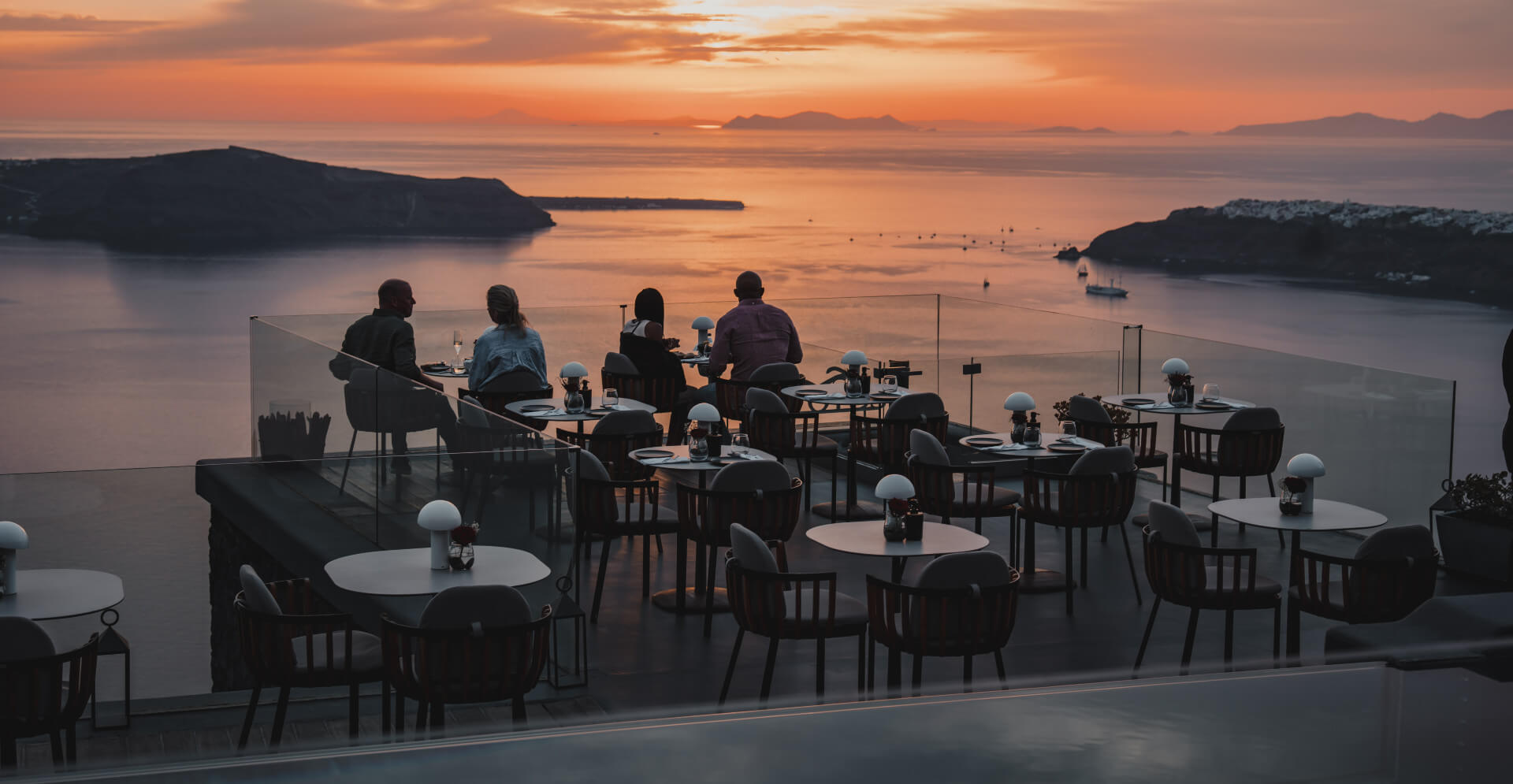 Luxury Dining & Drinking In Santorini
EXQUISITE DRINKING & DINING EXPERIENCES IN SANTORINI
Santorini is celebrated for its tasty delicacies, such as fava (split-pea dip), fried white aubergines, tomato balls, courgette balls, baked kalamari, and sun-dried tomatoes which can be sampled at the traditional taverns and restaurants throughout the island. You should always accompany your meal with a few glasses of famous Santorini wine.
MAVRO restaurant
Taking its name from KIVOTOS' unorthodox colour scheme, MAVRO restaurant offers the perfect Santorini setting to enjoy award-winning chef Dimitris Katrivesis' harmonious fusion of tradition and innovation. Based on fresh ingredients that come straight from the heart of the Aegean Sea, our dishes celebrate the island's rich traditions in bold and thrilling ways for a sophisticated gastronomic experience that unfolds against the magical backdrop of Santorini's iconic volcano and world-famous sunset. Due to limited availability a reservation in advance is mandatory.
The Dark Side of the Moon Experience
The Full Moon Experience
The Half Moon Experience
Bar Bites
THE BAR
The Bar is the perfect spot to enjoy sophisticated drinking, while admiring unparalleled views of the sea and the magical sunset of the island.
PRIVATE DINING
Let our chef prepare a delicious meal for you to enjoy in the privacy of your suite or villa overlooking the breathtaking views of the Aegean Sea and
Santorini's world-famous sunset
. Enjoy a romantic candlelit dinner with your significant other or a delicious meal with your family and friends. The menus of Summer Season 2022 are available at
www.mavrosantorini.com
. For reservations please contact us at
reservations@mavrosantorini.com
or call us at +30 22860 28490.
SUNSET EXPERIENCE
Experience the sublime spectacle of Santorini's world-famous sunset from the vantage point of our terrace hovering above the Aegean Sea. Sit back, relax and enjoy the extraordinary technicolour views in a setting of pure elegance as you savour a glass of your favourite wine or champagne in the company of your loved ones. Combined with a curated program of Sun Rituals, a mystical celebration of the sun's primal powers, this is an experience you won't forget. Come for the views, stay for the experience. Sunset experience only with reservation (lounge area) 18:30 to 20:30
DAY EXPERIENCE
Spend your day in our pool terrace perched on the most scenic spot of Santorini's caldera. Enjoy panoramic views of the volcano from the comfort of your sunbed, dip into the pool for a refreshing swim, indulge in refreshing drinks and seductive cocktails, and quench your appetite with our sumptuous selection of bites and snacks. From raw oysters, ceviche and crab rolls buns, to olives, chickpeas and cheese, our pool bar menu celebrates fresh local ingredients and Mediterranean flavours as well as offers classics like Waguy mini burgers and sweet delights.
CHAMPAGNE BREAKFAST IN BED
Start your day in paradise in ultimate indulgence with our signature Champagne breakfast. From shimmering sea and volcano views to sparkling sunshine gold champagne, unwind in the comfort of your
private suite
or villa whilst we serve your preferred breakfast selections.