What is the Best Beach in Santorini?
September 2, 2022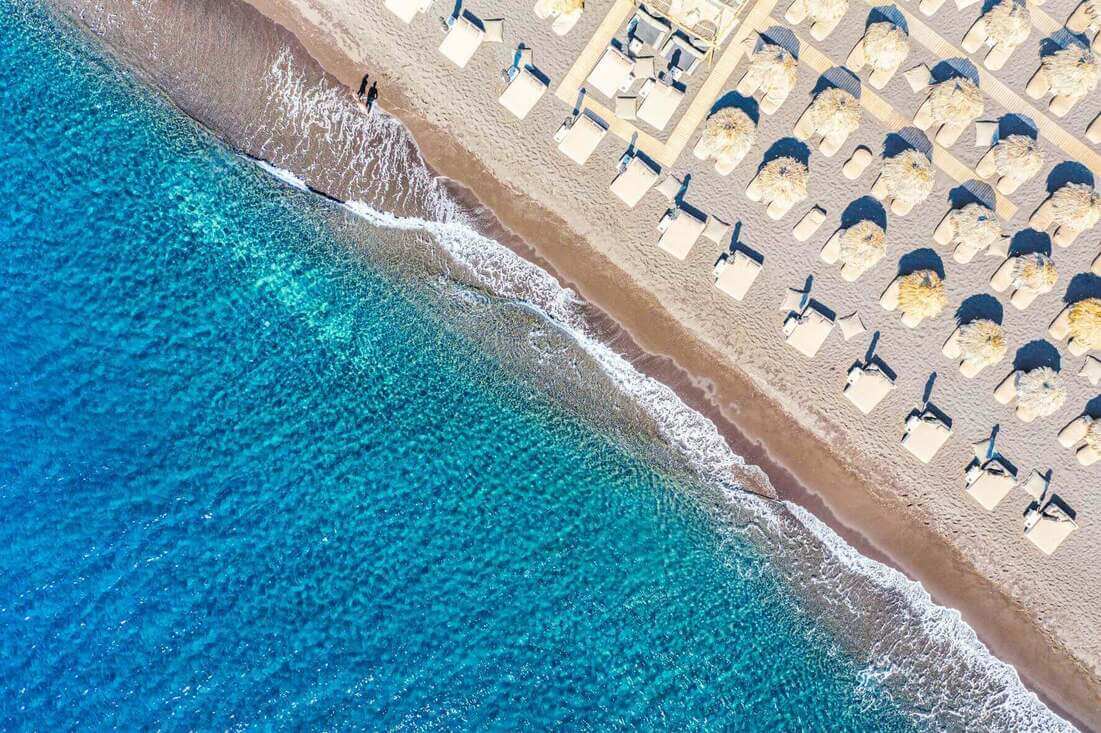 Santorini is unique in every single aspect, including the way it welcomes its visitors to its shores. Although far from the idyllic, fine-sand beaches of its closest relative and neighbour, Mykonos island, it dazzles with a unique coastline featuring volcanic sand, crystal clear, azure waters, a heart-stopping natural setting, unbelievable seascapes, surreal backdrops, and the most romantic sunset views. When it comes to which is the best beach in Santorini, nobody can answer the question better than you as it all depends on the type of seaside experience you seek.
How to Choose the Dreamiest Santorini Beach
What kind of vibes do you ideally want to get from your coastal adventures? What experiences are you after? For instance, for a resort atmosphere and a cosmopolitan flair injected in your beach endeavours, the shores of Perivolos, Perissa, and Kamari are ideal. They come loaded with restaurants, tavernas, bars, and cafes, where you can enjoy delicious food or refreshing cocktails till the midnight hours (if not more into the night), many places to rent beach chairs and umbrellas, and great spots to swim and soak up some warm rays. Plus, they are close to the island's capital, Fira or Thera or Thira, and its vibrant nightlife.
For more relaxed, private, and peaceful moments by the sea, the beaches of Koloumpos, Eros, and Baxedes will satisfy your requirements to the fullest. Tucked amidst a natural, rocky scenery, overlooking the magnificence of the Aegean Sea, they pamper with a profound sensation of utmost relaxation and bliss. Preferred by locals, families with small children (due to the warm, shallow waters), and couples alike (for their secluded location), they manage to epitomise romance and serenity.
Finally, you can treat your eyes with iconic vistas of the Caldera (the Santorini volcano) from nearly all the western coast spots. Or you may choose to stay at Kivotos Santorini Hotels at Imerovigli and soak up the pristine volcano panoramas, alongside the captivating sea views from the balcony of your luxury suite or villa, before you head to a nearby volcanic-sand beach in Santorini.
That being said, below is a list with six of the top shores on the island that can cater to the needs, desires and requirements of even the most discerning traveller.
1. Kamari (aka Black Sand) Beach – Family-friendly and trendy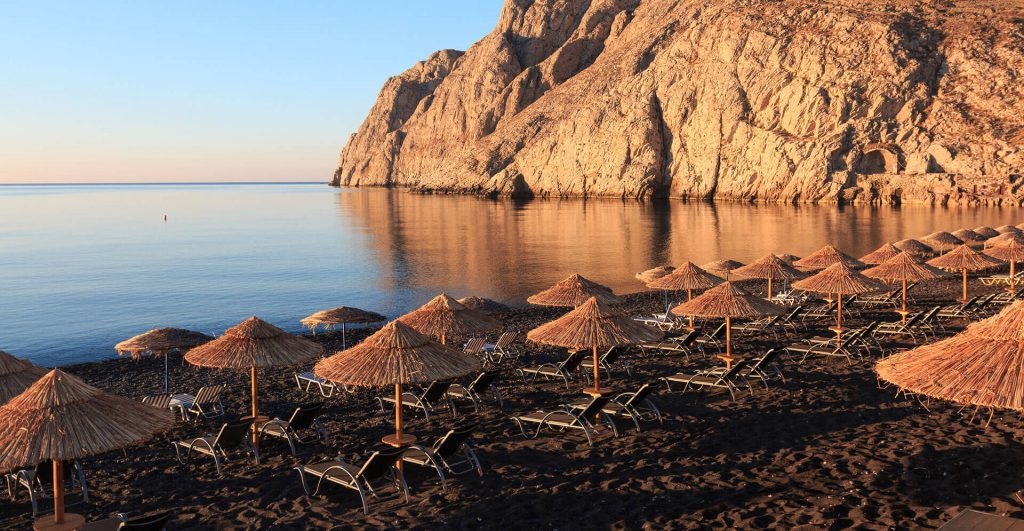 This is a super busy and primarily family-oriented shore at Kamari village with pebbles and transparent, cobalt waters. Kamari is one of the most organised shores on the island, featuring beach clubs for all ages, a mini-golf course, an open-air cinema, and lots of beach chairs and umbrellas in the surrounding areas and the main path along the Kamari coast.
As for its natural landscape, it is distinguished by the imposing Mesa Vouno mountain, which separates Kamari from Perissa, another hugely popular shore, and offers unsurpassable sunrise views from atop the hill. And, if you make it to the top, you will also come across some ancient ruins, relics of the island's turbulent past, when it was nearly brought to total extinction after a massive and catastrophic volcanic eruption in the 1600s BC.
Tips:
To get from Kamari to Perissa and vice versa, you could either hike from one shore to the other over Mesa Vouno or use the water taxi that connects those two with several rides per day.
Kamari is far enough from the noise and bustle of the capital, yet close enough to the airport, and the closest to the caldera and Fira with buses heading from Fira to Kamari every 15 minutes.
Do consider strolling along the seafront path at Kamari in the evening hours and enjoy not only the staggering views but also a refreshing cocktail or tasty meal at one of the many casual places there offering precisely that!
2. Perissa Beach – The northern end of the longest shore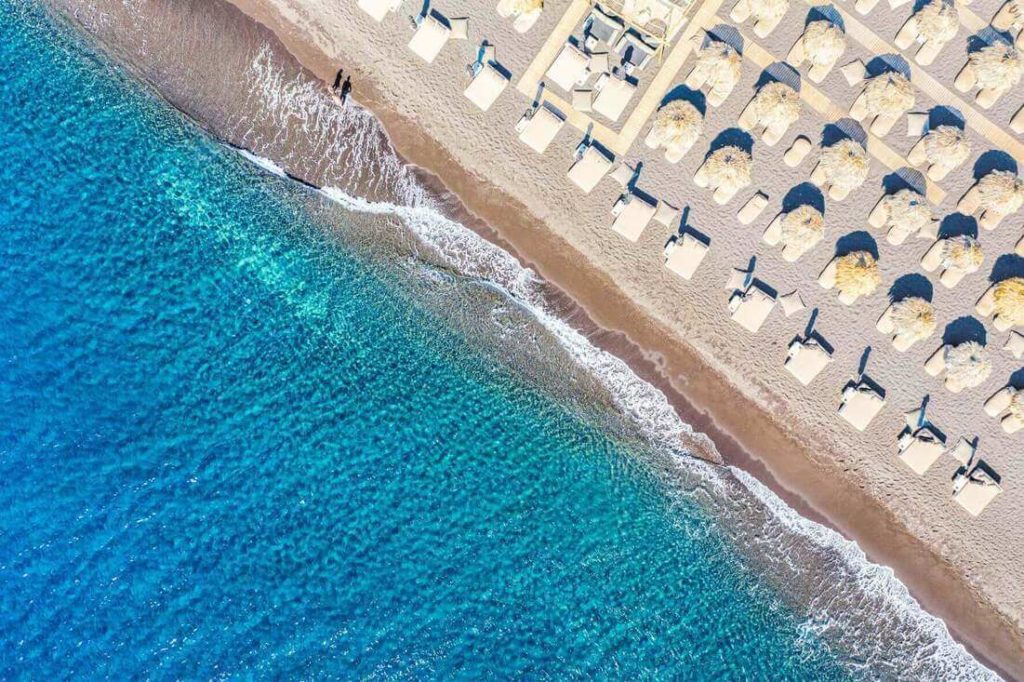 Perissa is a great spot for swimming in Santorini and the northern part of a huge, sandy coast – with the shore of Perivolos occupying the southern end. You will find an inviting mix of volcanic sand and pebbles, with more fine sand greeting you the further you move towards the Perivolos side. Although it is mostly family-friendly, it does satisfy fun seekers with several beach clubs that offer evening excitement and a vibrant atmosphere (though they close earlier than in the capital).
Expect lounge music, famous international DJs, relaxing couches, amazing vibes, lots of sun beds to relax, and even a beach volley court and plenty of water sports to amplify the thrill of the moment! Now, if you would rather experience something quieter and more private while visiting Perissa, we suggest heading to the south as it gets progressively more peaceful and isolated. For a wide range of tourist facilities, such as restaurants, tavernas, accommodations, water taxi stops, and shops, you'll need to be close to the northern end of Perissa.
To get to Perissa, you can take the bus from Fira and reach the shore within 20 minutes. Or you can have a private chauffeur drive you there from your elegant Kivotos Hotels suite or stylish private villa.
3. Perivolos Beach – Upscale and Refined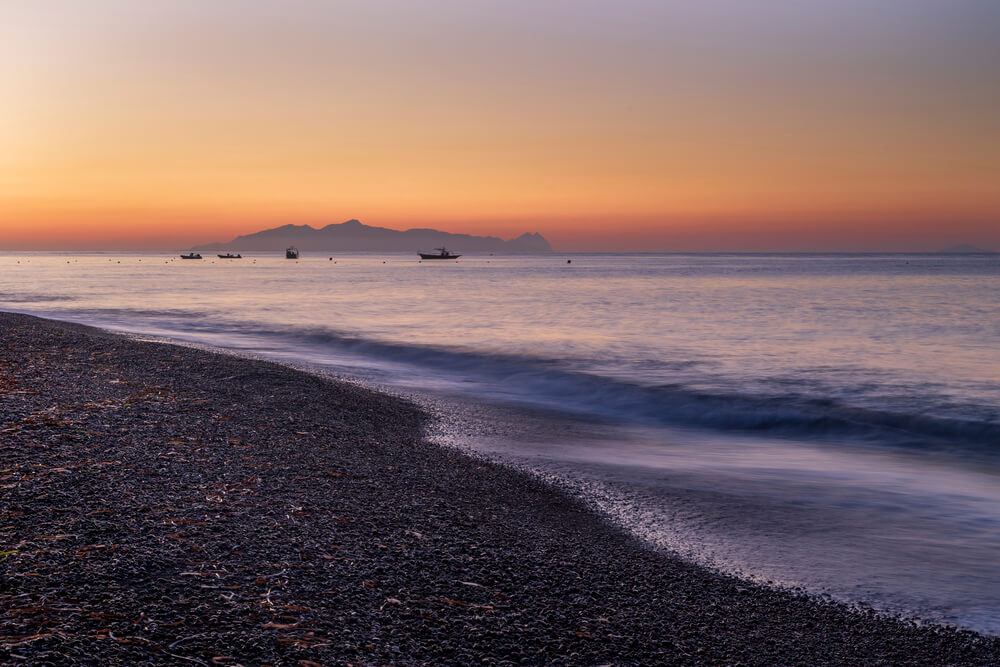 Moving to the southern end of Perissa, the shore changes its name to Perivolos (after around 1.5km to the south) and welcomes sun worshipers with high-end beach clubs, luxury resorts, crystalline waters, sun beds, umbrellas, fine dining restaurants, and a sandier coast (it remains pebbly in some sections, though). However, the hotels here lack the captivating Caldera views of other accommodation facilities, like Kivotos Hotels, as they literally sit on the shore. That being said, Perivolos is a much preferred option among those looking for more relaxing and quiet holidays (compared to Perissa) as Perivolos is a bit further from the loud and busy Perissa restaurants and bars.
And, as already mentioned above, the further you walk to the south, the more privacy you get (chances are you'll have long stretches of sand all to yourself).
4. Red Beach – Stunning in every way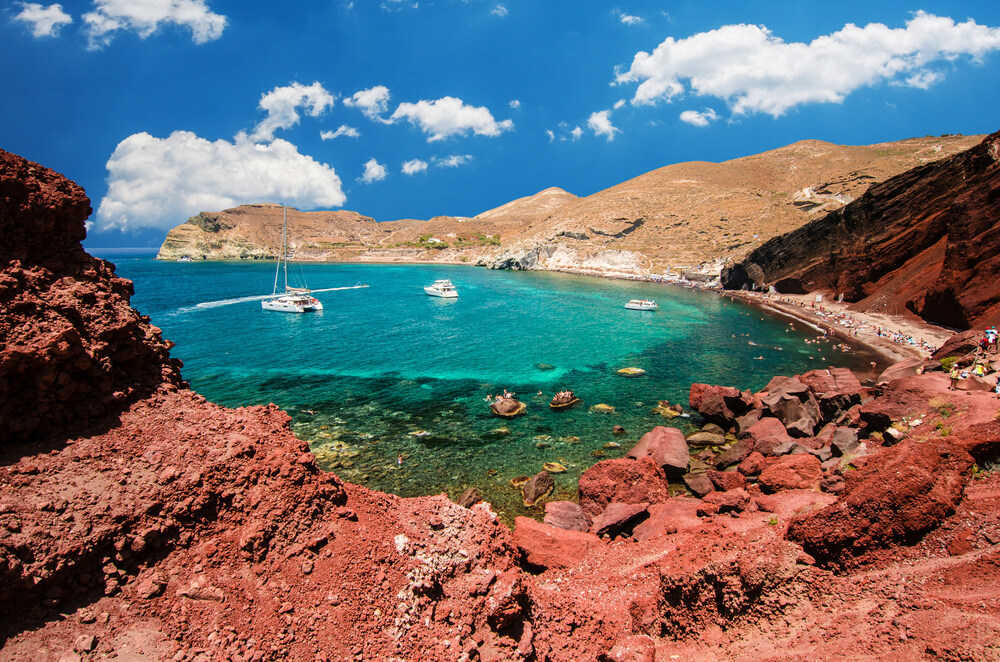 Arguably one of the most alluring, unique, and famous shores on the island, with a mind-blowing red backdrop painted by the red volcanic pebbles, sand, and rocks (from the ancient volcano lava monoliths) that surround the crystal clear waters. With a scenery that's hard to find elsewhere in the world, it is probably the best beach in Santorini for snorkelling, diving, and swimming while feeling as if walking on Mars! Speaking of swimming, don't be surprised if you feel streams of warm water embracing you. These come from the aquatic thermal springs in the underwater area!
The shore itself comes with umbrellas and sunbeds that you can rent, as well as some free space for your own umbrella. Plus, canteens where you can buy water, coffee, and snacks. Finally, several vendors walk along the seafront selling fruits and delicacies like donuts! It should also be noted that this is a great spot to enjoy the sea and the sun clothes-free.
Tips:
When southern winds blow, this place is ideal for windsurfing.
The infamous Akrotiri archaeological site is just 5 minutes away and definitely worth a visit for the incredible story it shares with visitors. Once, it was such a popular hub with pioneering technologies and forward-thinking community organisation that it has been associated with the Lost Atlantis!
This is not a flip flops-friendly shore as the path leading to the sea is narrow and quite rough and steep. So, ensure you wear a pair of comfy walking shoes.
5. Monolithos – Kind-friendly and wide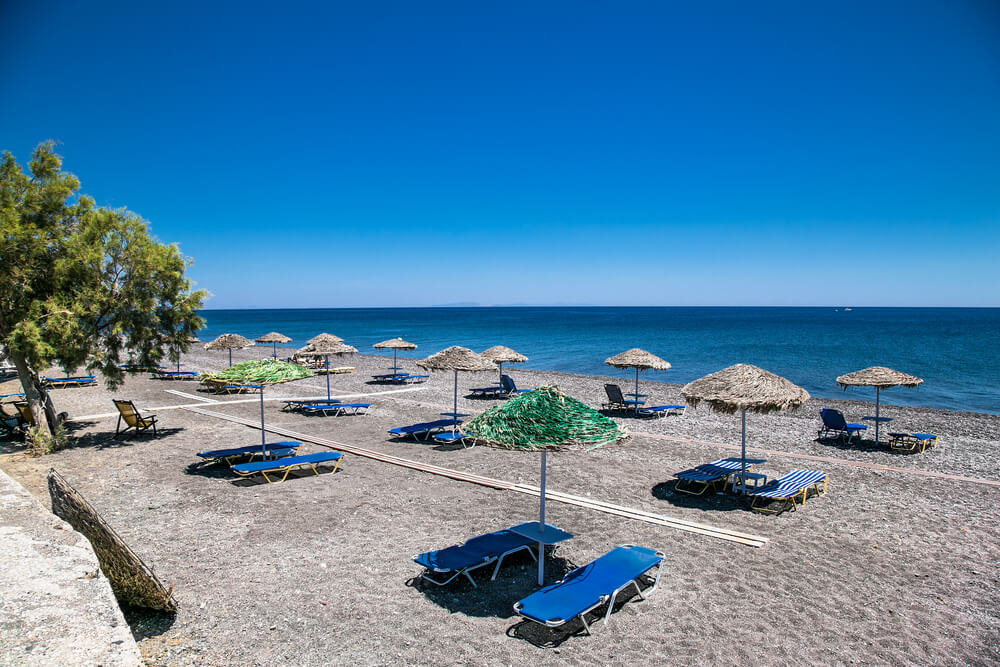 A few kilometres north of Kamari lies Monolithos, a shore with shallow and transparent waters and perhaps the nicest sand on the island. If you have small children and want to make sandcastles, this is, indeed, the dreamiest place for it! Offering more laid-back and soothing experiences, it only has a handful of restaurants, tavernas serving delicious fresh fish, and hotels, but does provide a wide and long stretch of sand with things like a kitesurfing school, umbrellas, sun beds, and kids' play areas. And, despite being so close to the airport, nothing seems to disrupt the sense of seclusion and privacy exuded from this location.
6. Vlychada Beach – Unusual in its own way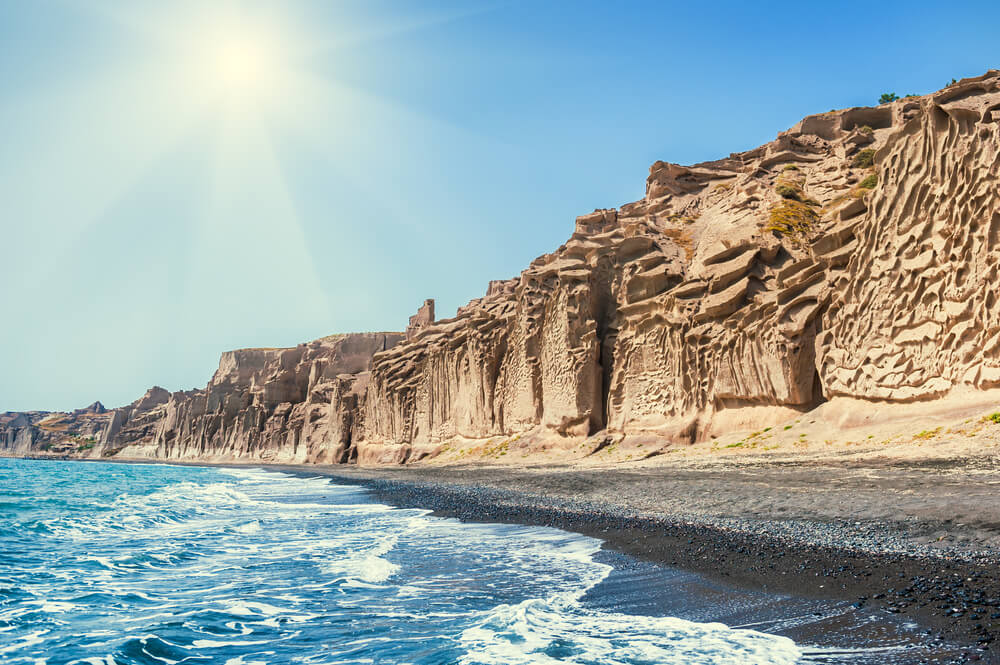 Characterised by raw natural beauty, Vlychada is one of the most peculiar shores on the island, pampering visitors with an almost unreal landscape, where massive, white, moon-like shaped cliffs and coarse black volcanic sand dominate. Vlychada feels magical and totally relaxing, while enabling you to experience the privacy you seek even if there are plenty of people around. This is because the shore is so big that it can accommodate hundreds of visitors without ever feeling packed.
And, if you are wondering, you won't find things like a noisy Santorini beach bar or water sports facilities here. Nevertheless, you'll be provided with lots of sun beds and umbrellas (on rent), a small scenic port on the southern end of the shore, and a few restaurants that epitomise seafood and fish dishes. Plus, a nudism- and gay-friendly section at the far north of Vlychada.
As for the two large chimneys you may see at the end of Vlychada, these belong to the old tomato canning factory (now operating as a Tomato Museum) - a must-visit, especially if you are into a place's cultural and historical background!
Final Thoughts
The quest to find the best beach in Santorini is far from over. But, at least, now you have a pretty good idea of the options opening up for you. Feel free to explore this magnificent Greek island by yourself and discover more of its fantastic shores that will fit your desires like a glove, though.
Have questions or need any kind of guidance? The friendly Kivotos Hotels front desk staff is always ready to help you live the dreamiest vacation at the Cyclades Queen. So, please do not hesitate to address the Kivotos Hotels Reception with any concerns of inquiries!