What should you visit in Mykonos Chora?
December 17, 2021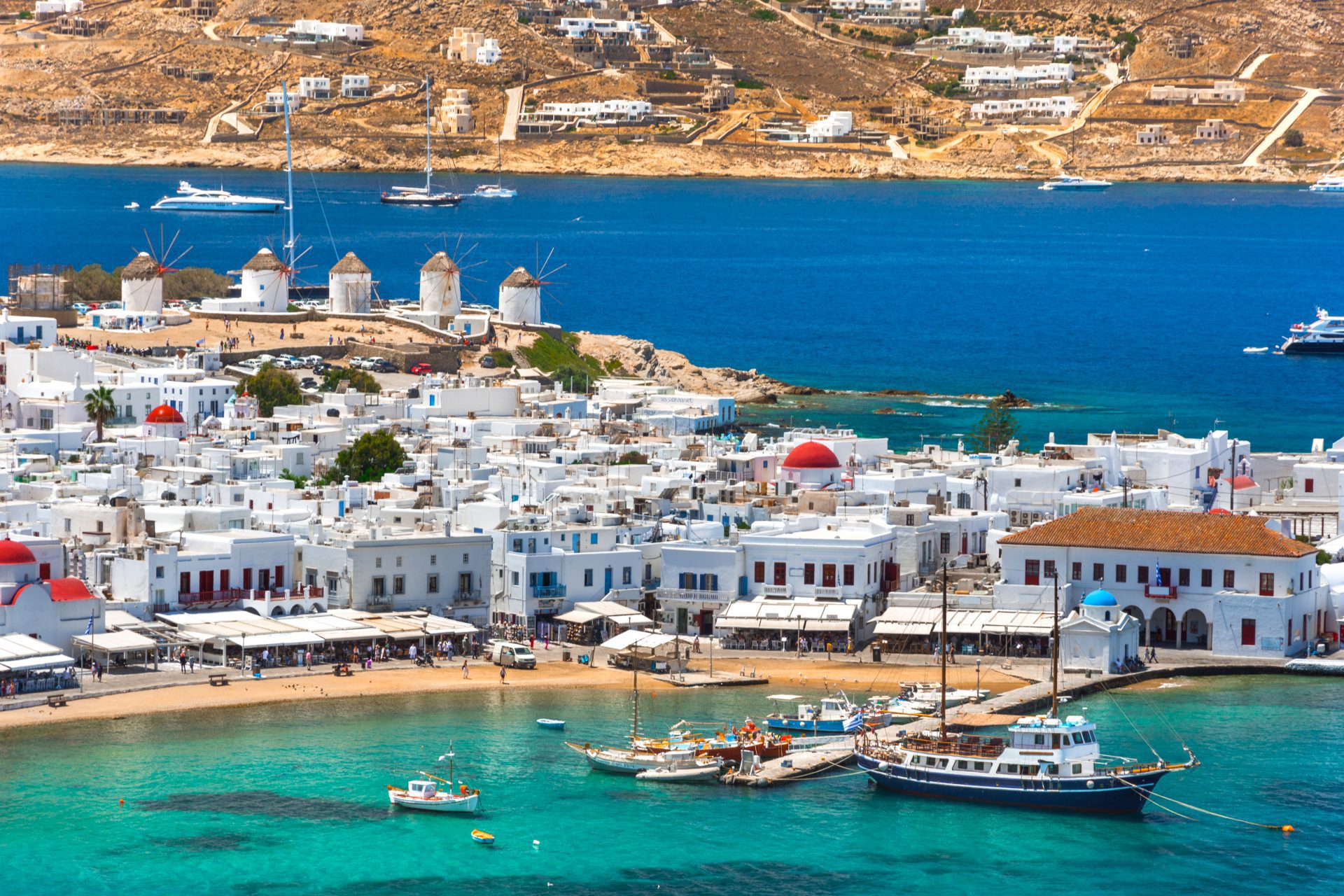 Mykonos is one big cosmopolitan party Mecca and a land that hosts unprecedented levels of luxury and night fun throughout. But, its pulsing heart definitely lies in Mykonos, Chora – the vibrant capital that has it all. Also called Mykonos Town, Mykonos Chora is home to a wealth of local attractions that gather the attention of millions every single year. From whitewashed Mykonos churches basking under the glorious sky to imposing Mykonos windmills overlooking the shimmering Aegean Sea, the Queen of the Cyclades has a lot of ways to make you fall in love with her eternity. Some of the places that will reward you with heart-filling moments and captivating views are:
The Mykonos Old Port
A postcard-pretty spot in Mykonos Chora that used to be the main Mykonos port until around 15 years ago. Today, all the commercial ferry boats and sea jets dock at the New Port at Tourlos area, leaving the Mykonos Old Port with its unbeatable charm and much less noise and hustle for visitors to enjoy a relaxing time by the sea. While strolling the waterfront, you'll probably notice many private luxury yachts having dropped anchor here due to the key location of the Mykonos Old Port (close to practically everything, from popular beaches to restaurants and shops).
That aside, the Mykonos Old Port is also just a short walk from the restaurants, bars, and clubs of Mykonos Chora, which means that you can spoil yourself with a combination of romance, entertainment, and excitement. Lastly, Mykonos Old Port is also a meeting point for almost every single organized Mykonos cruise (i.e., to Delos island) and walking tour available on the island.
Tip: Want a taste of the authentic Mykonos lifestyle? Come very early in the morning to catch the local fishermen returning with their night's catch. You'll see many islanders in the surrounding kafeneia enjoying their morning coffee, laughing, and chatting about current affairs and ready to offer you a smile and a piece of delicious onion pie!
The Mykonos Windmills
They are one of the most quintessential Mykonos features, narrating stories about the island's virile past and history. Occupying a hilltop location on the outskirts of Mykonos Chora, the Mykonos Windmills can be seen from quite afar, looking like sleeping giants once used to grind wheat using wind power. Today, 16 of them remain, while some are now private residences or museums (i.e., the Bonis Windmill). Feel free to walk to the 16th-century landmarks with the cylindrical shape, thatched wooden roofs, and snow-white colour and soak up the pristine seascapes you'll get from up there or let them take you to an inviting time travel and introduce you to their unique and timeless appeal.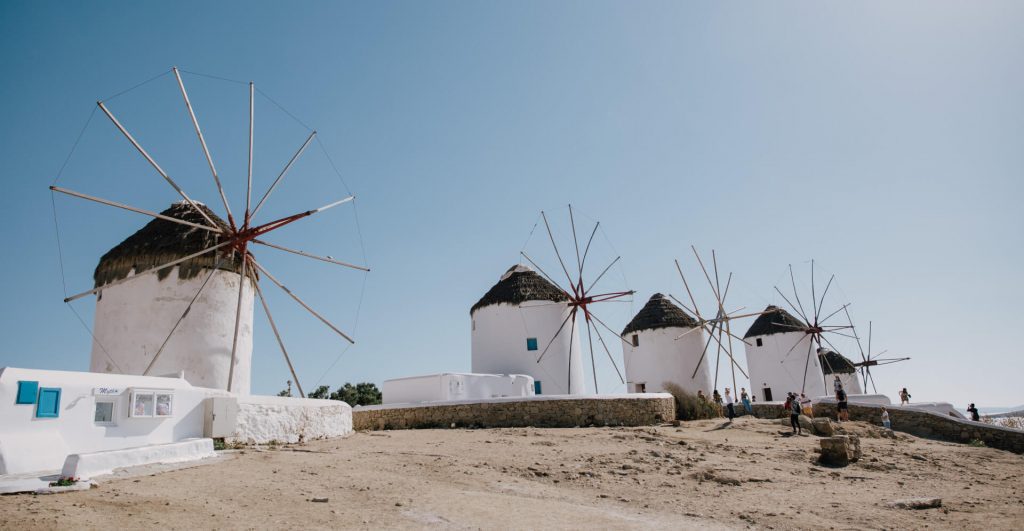 The Mykonos churches
Already adorned with around 60 cubic-shaped, milky-white, votive chapels, the islanders living in Mykonos Town continue to demonstrate their devotion to God by building more chapels with the passing of time. Today, it is estimated that Mykonos island has more than 600 small churches; some of them have even been declared as historical sites by the Greek Ministry of Culture.
In the neighbourhood of Mykonos Chora lies one of the most photographed Mykonos churches – Panagia Paraportiani. Its extraordinary, awe-inspiring beauty and the fact that it's a remarkable two-storey architectural complex make Panagia Paraportiani unique across the entire world. What's exciting about Panagia Paraportiani is that it comprises five different chapels, one built on top of the other!
Other equally impressive Mykonos churches in Mykonos Town are the post-Byzantine Mykonos churches of Zoodochos Pigi (the cathedral), Agia Eleni, Agios Nikolaos, and Agia Kyriaki that captivate with their detailed wood-carved rood screens and centuries-old religious icons.
Having said that, the outskirts of Mykonos Chora is also home to several monasteries, such as 16th-century Panagia Tourliani Monastery and 18th-century Paleokastro Monastery that dazzle with their grandeur, extensive collections of important religious relics and icons, and marble sculptures.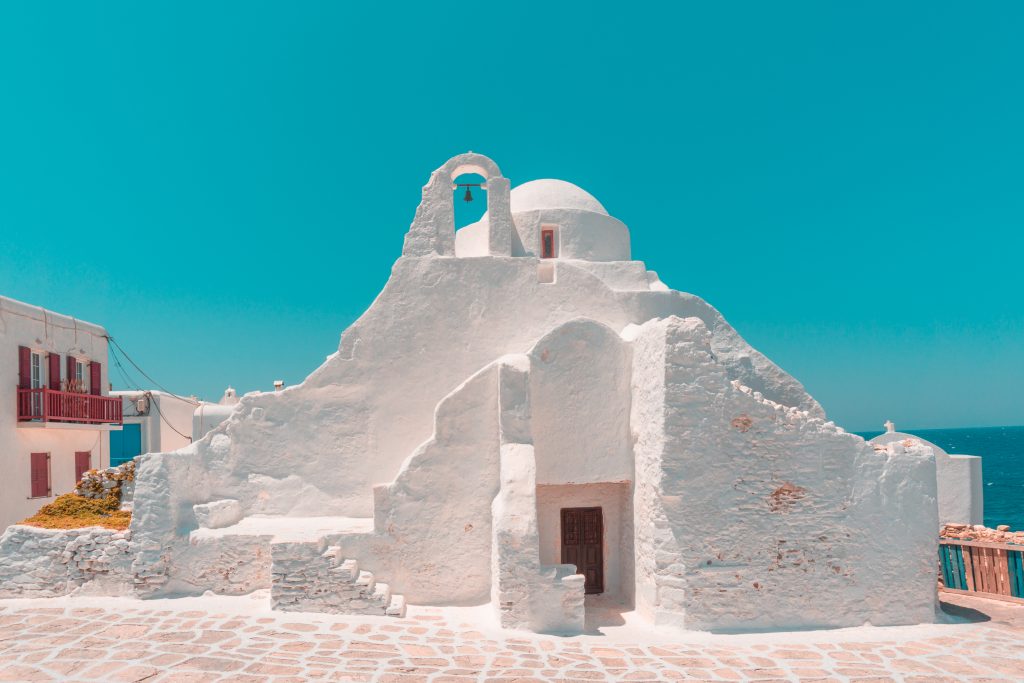 Mykonos Town
Mykonos Chora is a spectacle on its own. Charming maze-like cobbled streets lined with adorable, whitewashed houses greet you with the alluring aroma of the bougainvilleas that decorate their balconies. All sorts of shops, from souvenir stores to luxury boutique shops, fine dining restaurants, seaside bars, lively clubs, and waterfront tavernas serving delicious seafood and local dishes, comprise a splendid backdrop for unforgettable experiences. And, as you wander the narrow paths of the Mykonos Chora, do take a moment to soak up the views you'll get from each crossing leading down to the sea. They'll certainly make your heart leap with joy. Now, if you are after romantic sunset panoramas or sharing a cocktail with your partner, heading to the beachfront Little Venice neighbourhood is a must for sure. Otherwise, you can join one of the many parties that take place in the quirky clubs of the island capital and fill your pores with the legendary Mykonos after-dark fun.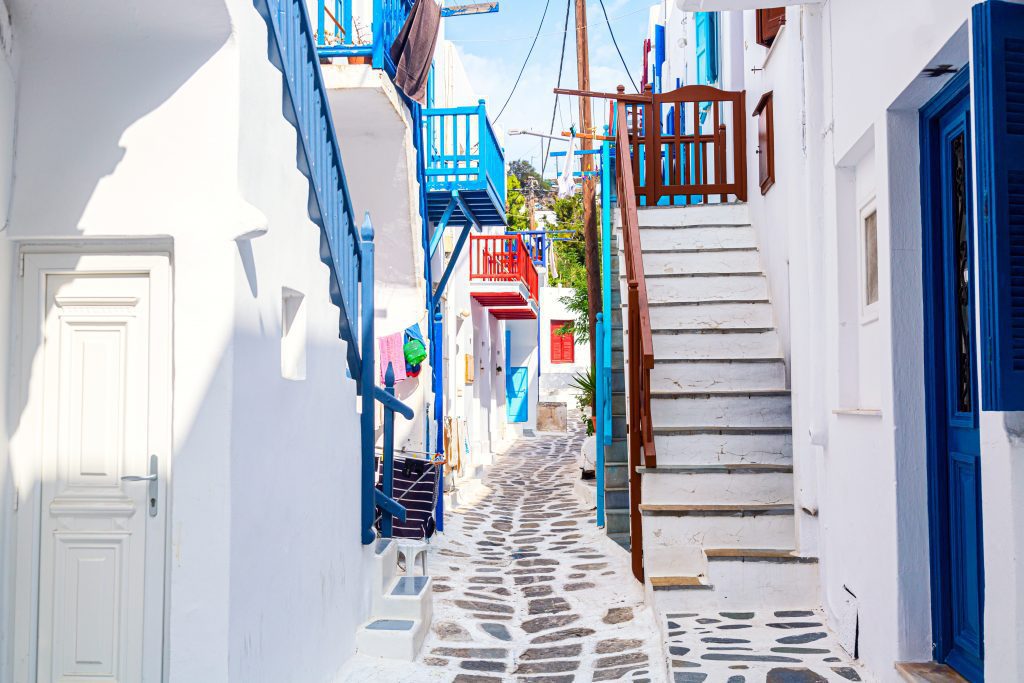 How to see more of Mykonos?
Besides Mykonos Town, you could also explore other corners of the island, such as its lovely villages, pristine beaches, secluded coves, museums, wineries, and water sports facilities. You may even want to sail to nearby Delos and Rhenia islands or visit more of the Cyclades islands. Whatever the case might be, a Mykonos cruise is an excellent option for your aquatic adventures, while a private half-day (or full day) walking tour will show you the most popular local landmarks.
Speaking of Mykonos cruise options, let's not forget Prince de Neufchatel, the Kivotos Hotels-owned luxury motorsailer yacht that is always ready to provide unique sailing adventures which match our guests' VIP lifestyle.