Why should you choose Kivotos for your honeymoon suite
September 27, 2022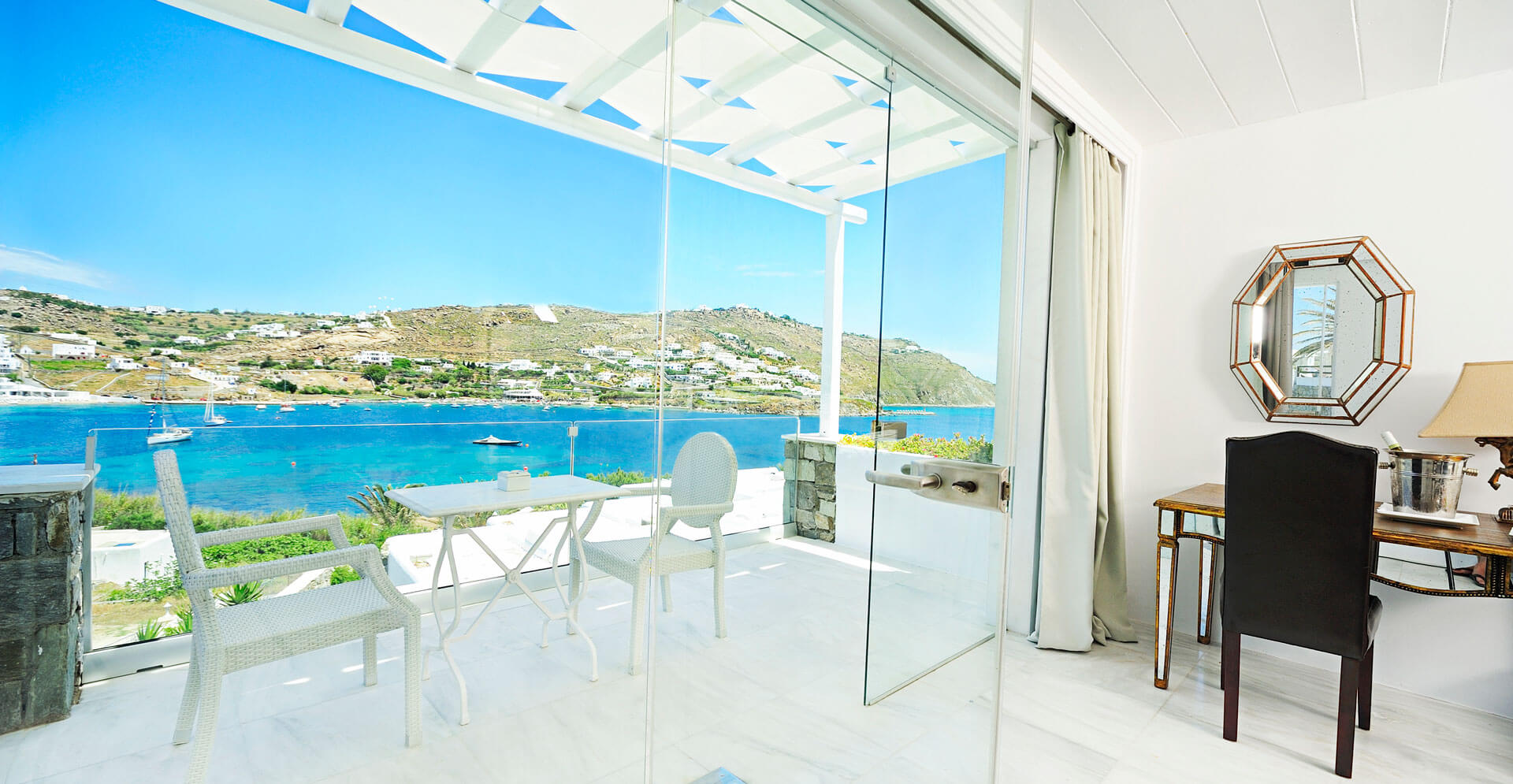 Mykonos is, hands down, one of the most idyllic summer destinations on this planet, enchanting visitors not only with its cosmopolitan vibes and the animated night scene, but also the scenic natural landscape and the many opportunities to create unique and indelible moments for you and your partner. No wonder the Queen of the Cyclades is an elite option for newlyweds!
Indeed, what can compete with the heart-stopping Mykonos sunset views as the sun sinks behind the Mediterranean horizon, manifesting a light spectacle that people across the world rarely get to see? Or wandering through scenic, cobblestone paths that are lined with whitewashed houses and balconies filled with purple and mauve bougainvillaeas? Or even climbing to clifftops where chalky, blue-domed chapels sit peacefully, waiting to spoil visitors with amazing seascapes?
This list could go on forever. The truth is that Mykonos is a dreamy place to spend your first days together as a married couple, In this new endeavour and the new chapter now opening up for the two of you, Kivotos Hotels is always honoured when selected to play a small part, delivering on its eternal promise to always fulfil its guests' desires and requirements with ventures, services, and amenities that far exceed their expectations! What makes a Kivotos honeymoon suite a separate world on its own?
The spectacular sea views
Whether you choose the luxury Honeymoon Suite, the individually-decorated Deluxe suite or the elegant Junior Suite, expect nothing but pristine and unobstructed views of the Aegean Sea. You can take your delicious and energising breakfast at your private furnished balcony and enjoy the warm sun caressing your skin as the light breeze goes through your hair. Or even have our chef prepare a special dinner for you to share in the privacy of your suite with views of the starry sky and the fishing boats with their twinkling lights dotting the shimmering archipelago and the charming Ornos Bay. Imagine waking up to exquisite sunrise panoramas or ending the day with stunning sunset views without having to squeeze yourself to fit popular sunset-watching spots with thousands of other visitors! It feels as if the sun is giving a show for your eyes only!
The stylish architecture and spatial design
Specifically designed to combine the best of two worlds – the charm of the classic with the appeal of the contemporary style – the Kivotos suites create a unique atmosphere that magnetises with the colour combinations, hand-picked artefacts, classic or ultra-modern furniture pieces (depends on whether you choose a suite or villa) that dazzle with their finesse and functionality, soothing lighting, hypnotising ambiance, open floor plan, and ingenious structural elements that ooze a sense of awe and subtle lavishness.
Following the one-of-a-kind architectural lines of Kivotos Hotels, its honeymoon suite is a stand-alone work of art, with meticulous attention to even the smallest detail. And, let's not forget that Kivotos Hotels is the only venue on the island whose guests are welcomed with a glass-front private pool, providing them with a unique sense of floating in the air!
Everything in and around the honeymoon suite has been designed for your utmost mind, body, and soul relaxation, which is why you will find options of varying square footage to suit your particular needs.
The impressive range of extra-pampering options
High-tech appliances, private Jacuzzis, luxuriously appointed en-suite bedrooms featuring a Queen or King bed, spacious sitting areas, LCD televisions with satellite channels, docking stations, autonomous A/C units, complimentary Wi-Fi, a fully-stocked mini-bar, luxury toiletries, walk-in closets, infinity pools, turndown services, daily cleaning, daily delivery of flowers and fruits, daily change of linens and towels, furnished terraces with outdoor furniture and sunbeds, and even private dining at the hotel-owned beach are just some of the amenities that can spoil you.
Plus, spa and wellness treatments at the Kivotos Hotels Spa that's located within the hotel's premises to unwind, relax, and recharge your batteries, as well as opportunities to take your sweetheart on a romantic Mykonos sunset cruise onboard Prince de Neufchatel, the stunning 25-metre extra-luxurious schooner that belongs to Kivotos Hotels and is available for exquisite Mykonos fine dining experiences to the resort's guests exclusively! While in the open sea, under the star-lit sky, you can have your private chef prepare a candlelit dinner with Mediterranean tastes and local wine or a champagne-filled BBQ with fish and seafood dishes.
The exclusivity and privacy
Whether you wish to traverse around the island and introduce yourself to its legendary party scene or slow down the pace and go for more laid-back experiences, your honeymoon suite can be your perfect refuge and the peaceful sanctuary you return to. In fact, it can be as private and exclusive as you want it to be, with varied suite and private villa options, so you can enjoy direct access to the crystalline sea and the sugary stretch of sand right in front of Kivotos Hotels, and moments where it will be just you and the gentle sound of the waves splashing to the shore at night.
Feel free to take an evening dive in your private pool, have a leisure stroll along the private sandy beach area just a few steps away from your villa, or spoil your palate with mouth-watering local and international dishes cooked at your fully-equipped kitchen by our chef - all that, without leaving the peacefulness and quietness of your upscale villa with the magnificent design that blends so harmoniously with the natural surroundings, and the gorgeous views of Ornos Bay.
Final Thoughts
If your dream holiday as a newly married couple also has other hues, tastes, and sensations, please do not hesitate to share these with us. Our front-desk staff and everybody working at Kivotos Hotels will be more than thrilled to give your escape just the flair that pleases your soul the most. And, we are proud to say that we have never failed to create experiences for our guests according to their heart's content. Thankful for being given the chance to be a small, yet absolutely endearing, part of this new road that starts for you two!