The Best Fine Dining Restaurants in Mykonos
September 2, 2022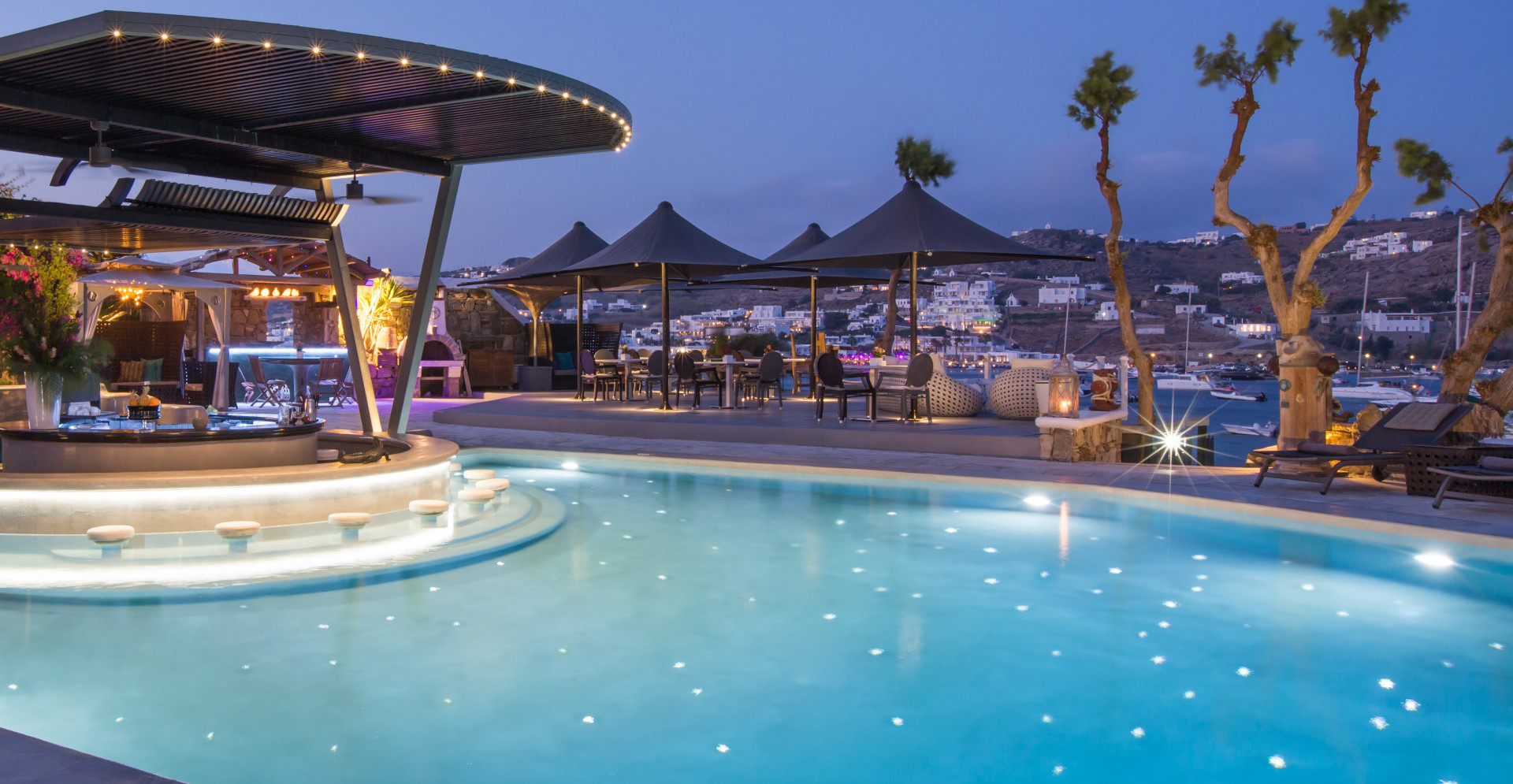 Mykonos is the island of unsurpassed luxury and unprecedented levels of pampering and spoiling, no doubt about that. And, besides the animated nightlife and the intense party vibes, it also entices with its superb gastronomy and fine dining scene. This guide will showcase some of the best places to eat in Mykonos for an amazing culinary experience featuring authentic Greek island tastes, Mykonean flavours, a VIP atmosphere, and inventive dishes that speak of the island's rich food traditions.
Funky Kitchen – Where creativity and contemporary blend with tradition
Funky Kitchen is, hands down, one of the best restaurants in Mykonos that always finds a way to surprise its guests. Coming forward with modern dishes and Michelin-star quality in every one, it manages to bewilder with its mouth-watering fusion cuisine starring some of the freshest ingredients. Although not merely as fancy and loud as its other counterparts, it stays hidden on a small alley in the scenic Little Venice region, waiting to hypnotise you with its terrace sea views, palate-satisfying seafood options, extremely well-thought courses, and a superb collection of Greek beers and wines.
To Maereio – Cooking and eating like a typical Greek
Meaning the place of the cook (or a cook's kitchen), Maereio is where you will find simple but absolutely delicious food in a Greek-style taverna. Being regarded as one of the most highly visited Mykonos Town restaurants, Maereio welcomes you with exquisite Greek cuisine, although you may need to book your table during the hot season months of July and August. Expect to be provided with a wide range of options, from Greek salad and moussaka to saganaki cheese and many local specialties. And, if you are lucky enough, you may happen to dine at Maereio while it hosts one of its traditional Greek music evenings. As for the portions, you will definitely won't be disappointed. Finally, price-wise, Maereio is on the cheap side, which comes as a nice surprise considering the island's high-end lifestyle.
Captain's – Mastering seafood and fish dishes
Captain's is a place that has found a way to highlight seafood and fish platters while spoiling guests with superior views of the shimmering archipelago. With tables waiting for you right at the seafront, feel free to try the seafood tacos, the steamed mussels, delicious ribs, chicken thighs, cod croquettes, marinated sardines, meatballs with yoghourt sauce, the traditional pie of the day, octopus in wine sauce, and the Mykonian sausage, to name a few! Prepared from the freshest of ingredients straight from the local market, Captain's is a beautiful venue with modern decoration and the hospitality the Greeks are so known for. Enjoy traditional Greek recipes the way our grandmothers used to make them, and accompany your dinner with local wines and heart-stopping desserts. Not the least bit pretentious, yet totally rewarding, with food made to share.
Souvlaki Story – From dawn to night 
Greece and souvlaki, as well as gyros wraps, have become synonymous with the best experience for street food lovers. And, Souvlaki Story is one the best restaurants in Mykonos to enjoy fantastic souvlaki skewers, juicy steaks, yogurtlu kebab, and falafel gyros wraps in massive portions and exceptional meat quality. To cleanse your throat in between your lucculan feasts, do consider having a look at their cocktails menu and choose one of the many available options, including great wine and champagne labels. Souvlaki Story is the go-to place after every adventure you live on the Island of the Winds, from a fun day on the beach to a wild clubbing night!
Appaloosa Bar Restaurant – A beloved meeting point for everybody
Owned by a Mykonos family, Appaloosa is a contemporary and almost magnetising restaurant-bar in the heart of the island, greeting guests with staples from Indonesia, India, and Mexico (also dishes made using local products). Appaloosa was founded in 1997 and is housed in a charming old Cycladic residence, featuring a small, lovely veranda. Shortly after it opened its doors to food lovers it became a favourite meeting point for visitors and locals alike, nearly year-round. Its motto? To offer shareable experiences that blend flavours, cocktails, and music from across the world, as a means to give diners the chance to live the fullest "going out" adventure! Before you go on and indulge in your delicious dinner, you may want to start with a refreshing glass of sangria or a Margarita and listen to some great vibes in a colourfully-decorated space with an easy-going ambiance.
Hippie Fish – Chic and elegant
We are talking here about one of the most stylish dining venues and one of the best restaurants in Mykonos serving appetising salads, fresh fish, pasta, seafood carpaccio, paellas, and a huge selection of cocktails. You'll find it at Agios Ioannis beach in a prime location next to the shore, providing exceptional seascapes and an unbelievably luxury setting where ultimate pampering is on the menu. Speaking of your options, besides the Hippie Fish signature dishes, the likes of steamed mussels with garlic and wine, katiki salad, and lobster spaghetti, diners can also enjoy authentic Japanese cuisine from the Sushi Bar, unique cocktails from the Mixology Bar, private dining on the beach, and even recreational treatments delivered to you on the beach by expert professionals. You simply let its irresistible vibes and laid-back atmosphere carry you away and share memorable (and romantic!) moments with your loved one(s).
Namah – The synonym for fine dining in Mykonos
Tucked within the premises of Kivotos Mykonos Hotels, Namah is one of the best restaurants in Mykonos with a view to the glistering Aegean Sea. If you decide to treat your taste buds with the delicious tastes offered at this elegant and tasteful meeting hub in the Cyclades Queen, expect nothing but excellence. High-end aesthetics, exquisite gastronomic experiences ready to please even the most discerning tastes, picturesque panoramas of the beautiful Ornos beach, fresh fish, and dishes from the international and Mediterranean cuisine are some of the factors that will make your footsteps lead you to Namah, every time fine dining is an non-negotiable prerequisite.
Nero Nero – Privacy at its finest
Nero Nero is one of the most luxury restaurants in Mykonos providing an entirely private stretch of sand where you can enjoy a candlelit dinner with your partner or even a small cocktail party with a select few friends or loved ones. Accompanying you with incredible tastes from the local, Greek, and international gastronomy, Nero Nero delivers on its promise for intimate dining moments by the sea, with nothing disturbing your peace than the sound of the gentle waves plashing to the sandy shore.
NOA – Fantastic sunset views
With influences from ancient Greek cuisine, the executive chef of NOA entices guests with his modern spin on classic Greek plates. Besides the delicious dishes NOA will pamper you with, expect live Greek music during the high season, and melodies from bouzouki, saxophone, and guitar swirling in the air as you enjoy a mouth-watering meal featuring seafood, fresh fish, and many more Greek staples prepared with the freshest of local ingredients.
Mediterraneo – The highlight of Italian cuisine on Mykonos
For incredibly palate-pleasing Italian food look no further. Mediterraneo is the go-to place in the island's capital to taste from traditional Italian salads and Napoli-style pizzas to authentic Italian pasta that will make you want to lick your fingers. Besides the Italian signatures dishes and flavours, Mediterraneo will also please you with some of the best Asian dishes (sushi included, of course), as well as senses-tempting desserts (the Nutella cheesecake will definitely give you a very good reason to start that diet next Monday!).
Karavaki – Sailing towards every foodie's eutopia
Meaning small boat in Greek, Karavaki is a beautiful restaurant sitting on a prestigious location in the Chora, behind the charming Old Town. As expected, you get to spoil your eyes with pristine seascapes and views of the coast and the Cycladic architecture of the island's capital. And, as you sit on the expansive terrace with the romantic ambiance and cosy setting and soak up the panoramas spreading below your feet, Greek plates will be accompanying you throughout this unique experience, presented in an incredibly creative way, starring fresh local ingredients and traditional Greek and Mykonean recipes handed down by our grandmothers.
M-eating – Providing all-around feasts for the senses
M-Eating is another respected player in the fine dining scene on the island, with every single dish offering pleasure to all the senses. With amazing attention to detail, in everything from the tasteful décor to the flavours presented to diners, this marvellous and elegant venue gets its inspiration from Greek staples that you can enjoy at the small garden, away from the buzzing street, or by reserving a front table for your culinary adventure and include some people-watching in this experience. Finish your meals with throat-gratifying cocktails or a drink from the long wines and spirits collection and see where the night will take you after this superb start of your Mykonos evening!
Without a doubt, your gastronomic ventures at the Queen of the Cyclades have a taste of regality, filling your table with authentic and traditional Greek aromas and flavours, and not only. All in magnificent settings, featuring a chilled and unpretentious atmosphere, the dining venues on this list give you every reason to want to come back and repeat the experience over and over again.