Psarou Beach: Mykonos' Trendiest Beach
September 2, 2022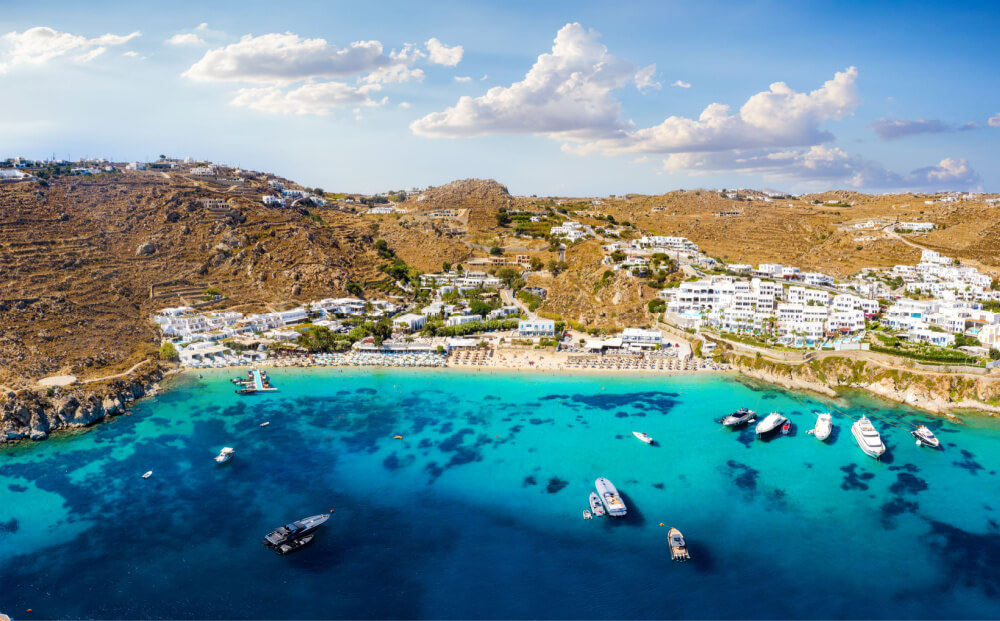 Absolutely adorned by celebrities and a-lists, Psarou Beach is a popular meeting point on the sugary coastline and a best beach in Mykonos. Extremely well-organised and chic, it offers a unique opportunity for glitterati-worthy experiences, cobalt waters, a sandy shore, a wide range of Mykonos watersports, and proximity to some of the best local attractions and sights, including Mykonos Town and the scenic Ornos bay, just a few metres from your stylish Kivotos Mykonos suite or elegant villa.
Whether partying or relaxing by the sea with a refreshing cocktail in hand, this is definitely a seaside mecca that has it all for unforgettable moments along the coast with views of the shimmering Aegean Sea. Indeed, this magnificent spot on the southern side of Mykonos will give your vacation just the right hue, taste, rhythm, and aroma and probably even far surpass what you had in mind before stepping foot on it.
Water Endeavours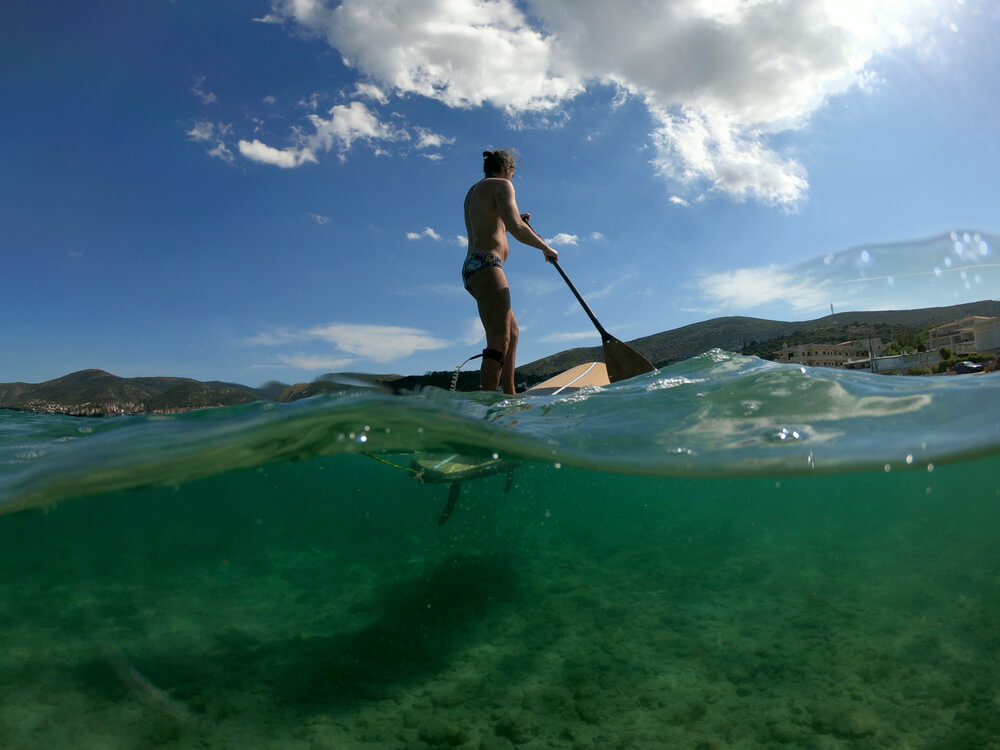 Being one of the top Mykonos watersports locations, Psarou Beach is the perfect place for aquatic endeavours, such as swimming, scuba diving, snorkelling, and fishing, as well as more adrenaline-packed activities, ranging from jet skiing and surfing to motor-boating. Plus, there is a diving school that will teach you how to safely explore the impressive undersea world of the island, with instructions and guidance from expert professionals. Once you get your certification from them, you will be free to throw yourself to submarine ventures on your own.
Of course, the shallow waters with the sugary seabed in this particular coastal region make it ideal for families with small children, who can play with the fine sand or splash in the transparent and incredibly azure Mediterranean Sea. And, if it gets a tad windy and you are not a windsurfing enthusiast, worry not. The 150-metre-long shore is well sheltered so all sun worshipers can enjoy their time on their sunbeds, under the rich shade of their umbrellas.
Mykonos Yachting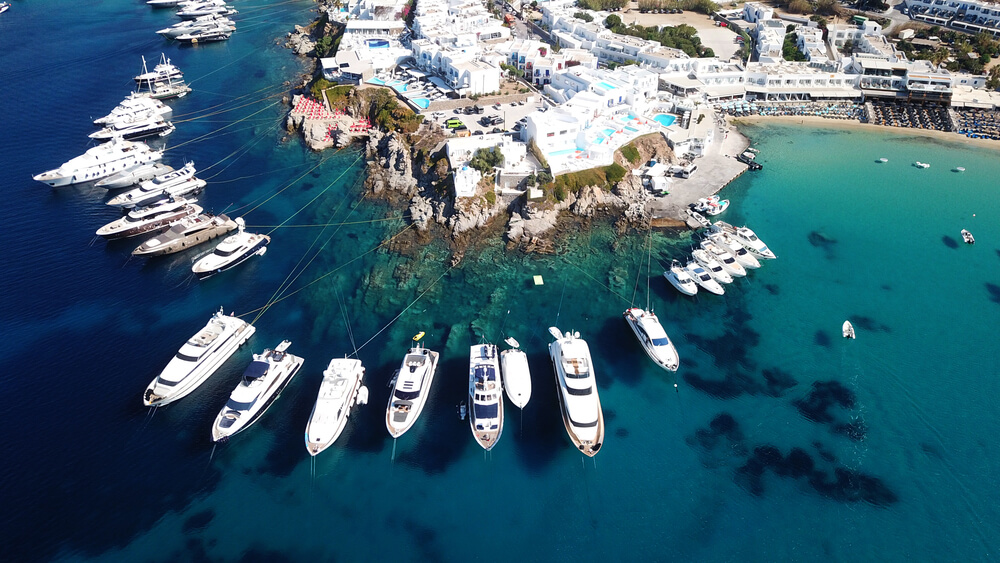 The fact that this specific part of the island's coastline is so well-shelter is one of the primary reasons why some of the most beautiful and top-notch yachts drop anchor here. This is also why the best and most popular yachting adventures start from here. You may rent a luxury catamaran, speed boat, or yacht and tour around the island or even visit more of its Cyclades siblings. In fact, a yacht charter experience will certainly reward you, whether you opt for a same-day, multi-day, thematic, private, or customised tour. Being able to visit remote shores and dive into the crystalline waters of the archipelago while watching the sun disappearing behind the cloudless sky will recharge your batteries for, well, probably, eternity!
Other Fun & Unique Experiences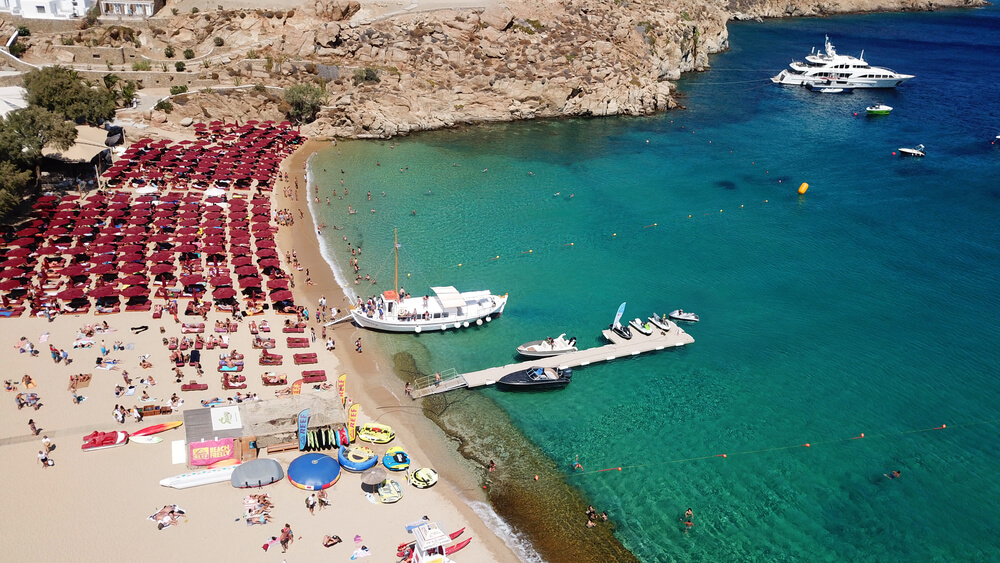 The list with the exciting things you can try here is much more fun than any other part of the island. For instance, you can workout your pilates or yoga while taking in Aegean Sea views or watch the sunset from your spin bike placed under a naturally shaded area. You simply pick up a class from the ones available and enjoy keeping up your routine with exceptional seascapes and the chirping of the birds around you.
You may also visit nearby Paradise and Super Paradise beaches, and dip your feet in their golden sand, soak up some warm rays, swim, or join one of their legendary parties or events – of the many that take place after sunset and last till the early wee hours! For more laid back seaside experiences, you could head to scenic Kalo Livadi shore, which gives out the same relaxed vibes as picturesque Ornos Bay, and invites you to a chilled outing.
Of course, almost all the major local attractions are within reach, including the Windmills, so you could arrange for a walking tour or cruise to see some or even all of the main ones.
Another great idea is to have a seaside picnic. Some local agencies organise such activities, which usually start at the Chora and take you to key sightseeing destinations before you end up having a tasty picnic with artisanal, homemade ingredients paired with excellent wine at the shore of your choice!
And, let's not forget the helicopter ride option, which will introduce you to an entirely new face of the island, with bird's eye views featuring expansive seascapes and panoramas of the coast and the archipelago, among many others!
From that point on, just use your imagination and see where it takes you as you spend leisure time at the beloved stretch of sand called Psarou!
Where to Eat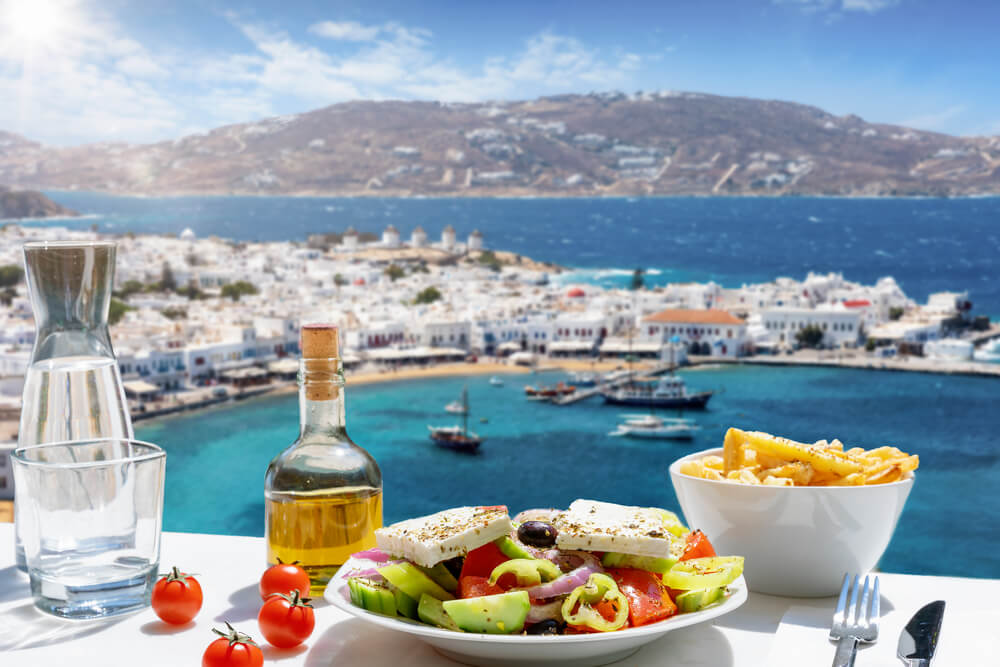 Also referred to as Nammos Beach, from the infamous Nammos restaurant (which also serves as one of the Psarou beach clubs with the most animated party scene), Psarou is one of the Mykonos beaches that will spoil you with its fine dining scene. The beachside establishment Nammos restaurant offers 5-star elegance via its stylish dining lounge that is like a hypnotising (and somewhat impossible to resist to) magnet for a-lists visiting the island from across the world.
Expect an inviting, and even exciting, blend of ultra-contemporary fusions, dishes with influences from Arabic, Greek, and Italian gastronomy, delicious risottos and pasta adorned with caviar and truffles, palate-satisfying smoked salmon, and many other exquisite tastes, along with freshly caught fish. After sunset, though, this premier dining venue transforms into a party hot spot, throwing events and themed nights with lots of champagne to drink or shower with and amazing fireworks displays.
Another place to savour food that skyrockets the senses is Kensho, also located along the beloved shore. Some of the must-try flavours are the pepper steak, the traditional Greek moussaka, and the delicious homemade spinach pie for a really top-tier meal, after sampling prawn tempura or another mouth-watering starter from the creative menu. To complement the entire experience, we strongly suggest trying the meatballs or the black cod, while the club sandwich is a great idea to satiate your hunger in the morning hours as you lay on the sand or indulge in seaside activities. Before you go, don't skip dessert! The Kensho Profiterol will definitely please those with a sweet tooth, and you are most welcomed to thank us later for this tip!
Aside from the two signature dining facilities here, you will also find plenty of tavernas in the vicinity serving palate-caressing seafood and fresh fish dishes, or you may return to your Kivotos Mykonos Hotels suite and either have a tasty meal at the comfort of your chic, sea-facing room or dine at the luxury Nero Nero restaurant within the Kivotos Hotels premises. As for ultimate private dining experiences, have us reserve our privately-owned stretch of sand or a spot at our very own elegant schooner, "Prince de Neufchâtel", and share a romantic and quiet candlelit dinner with your partner or loved one away from the crowds and prying eyes.
Getting there
The lively shore is within close proximity from nearly anywhere on the island. For example, it's around 7km (4.3 miles) from the New Port and around 3km (1.9 miles) from the airport. Regarding your transfer options, you may choose public transportation and catch a bus ride from various locations across Mykonos, such as the main airport terminal building or the central Fabrika bus station at the capital and hop on the bus from Mykonos to Platis Gialos, which also stops at Psarou. Then, you'll need to switch buses to reach the intended destination.
Of course, renting a car or asking for private transfer and chauffeur services are also handy options that will get you everywhere you wish with comfort, convenience, safety, and privacy. Most concierge or private transfer agencies on the island also offer pick up and drop off services so you don't need to move a finger to get around.
Final Tips
Before you book any activity at Psarou Beach, kindly consider things like sunbed reservation service due to the large number of people visiting it, especially during the high season (the months between late-June and mid-August). This will allow you to escape the long waiting list to enter the populous shore during the summertime and ensure a spot on it early on. As for the time in a day that you can claim more peacefulness and quietness next to the sea, that would be the morning hours, before the waves of tourists swarm the beautiful coast.
Want any kind of help to have a private dinner or a personal spa treatment at Kivotos Mykonos Hotels, or any other request that will bring you a step closer to your dream Mykonos vacations, such as an outing to the adorable Psarou shore? We are always here to work with you towards satisfying every demand, wish, and desire while spending your summer holidays at the bewitching (and undeniable) Cyclades queen.