Horse riding in Mykonos? Why is it worth it? | Kivotos Hotels
September 27, 2022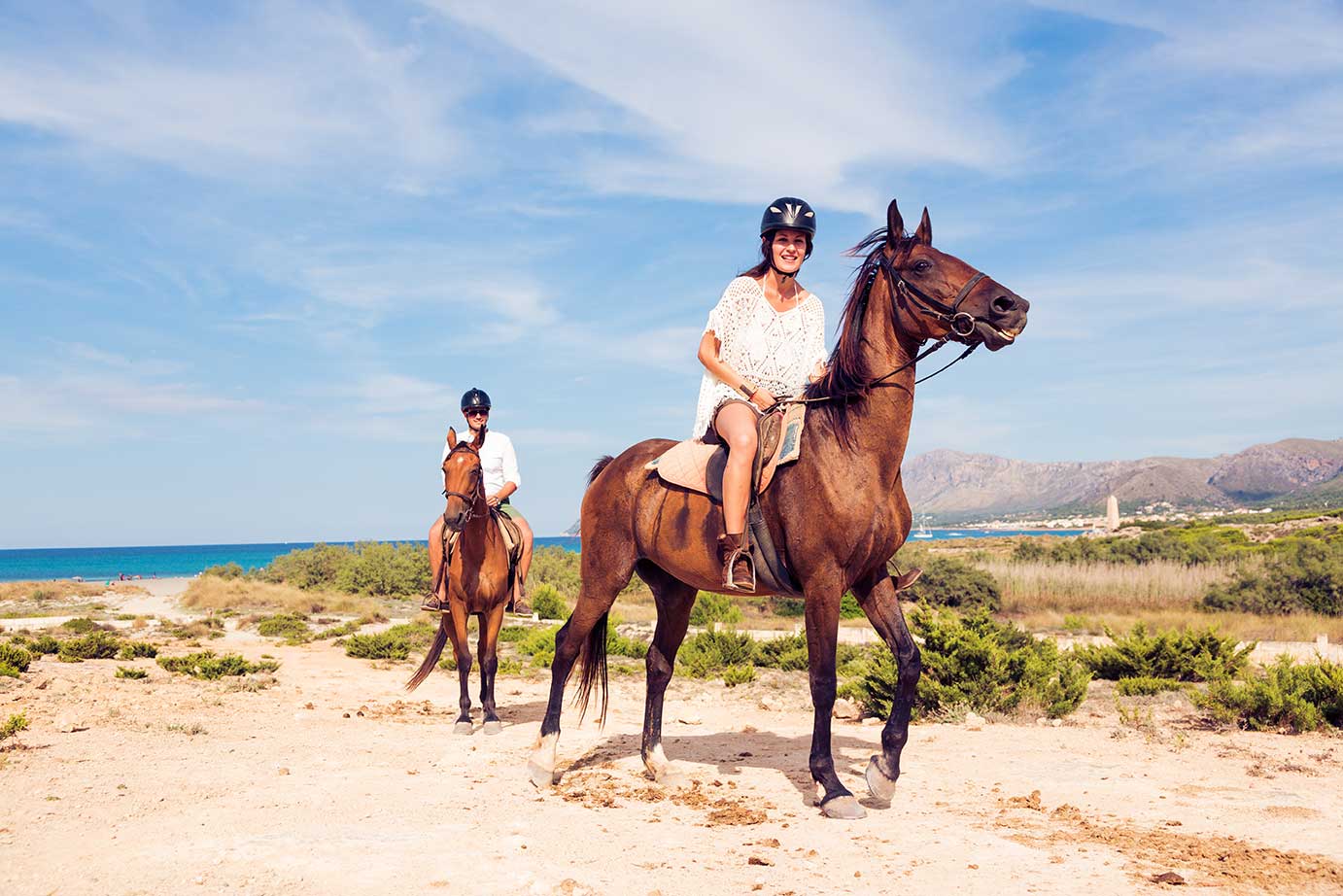 Hands down, horse riding is one of the most exciting and heart-pleasing things to do in Mykonos. and an unbelievably relaxing break from the partying evenings and extra-lively nights. Indeed, the Island of the Winds is perfect for such adventures given its wonderful landscape with the rugged countryside, scenic traditional villages with charming cobbled streets and picturesque seascapes and panoramas of the archipelago, and the idyllic, sugary coastline. Imagine being able to soak up all this irreplaceable allure on the back of a perfectly-trained and superbly friendly horse and the company of your partner or loved ones! But, besides an utterly soul-filling endeavour, Mykonos horse riding is also one of the most bonding Mykonos activities you could sign up for – bonding with one another, and bonding with nature, gaining all the physical and mental health benefits tied to it.
Who is Mykonos horse riding for?
In a nutshell, everybody can benefit from a cantering experience, including:
Couples wanting a romantic escape that can even be combined with a private beachfront dinner for two.
Families with teens looking for something different.
Nature lovers wishing to explore the island's natural beauties in the most unique way.
Friends topping their fun-o-metre by adding clopping adventures to their travel itinerary.
Families with small children interested in augmenting their sensory and mental capacities.
Travellers in search of alternative holidays and ways to go on with their Mykonos sightseeing plans.
Fitness enthusiasts that want to keep in shape and try something not easily offered in their homeland.
People that admire Mother Nature and grab every chance they have to strengthen their connection with the natural scenery while also being close to animals so gentle and regal as horses.
Everybody in need of improving their spatial intelligence and visual-motor coordination.
What to expect from your Mykonos horse riding ventures
First of all, you will have to decide what type of ride you desire. Do you want free, therapeutic, or guided horse riding? You could even select a horse carriage ride and something tailored to children, among others, depending on which equestrian centre you choose.
Then, a team of experienced and specialised professionals will provide you with all the guidance and training you need, always following all safety rules and paying utmost attention as you gallop along the shores or the inland Mykonos attractions to ensure you get the most our of this unique experience.
Now, if you are a beginner, worry not, as the professional guides respect and take into consideration each rider's specific needs and will give you instructions before you start cantering through the distinctive Cycladic landscape with all the needed safety equipment for a comfortable, relaxed, and pleasurable ride. In reality, no real experience is necessary. What is advised, though, is to come with close-toe shoes and long pants or leggings so your things do not get sore on the straps. But, even if you forget all about them, you will be offered towels or similar solutions to protect your legs, so nothing to sweat over here. Finally, free transportation services from and to your hotel are also available if required.
Your options
At the moment of this writing, one of the most popular equestrian centres on the island are Horseland, followed by Mykonos Horse. Judging by the offered services at this given time, you may opt for any of the following:
Equestrian learning in a safe and carefully designed environment for adults and children alike, with the guidance of experienced trainers.
Island explorations through beautiful paths and set itineraries (or most customised, to fit you specific needs).
Pony riding for small children up to 4 or 5 years of age with a personal instructor.
Therapeutic encounters to improve fitness and health as the horse becomes your best ally on the way to independence, mindfulness, and self-knowledge through therapeutic and educational riding.
Photo shooting sessions either in the premises of the equestrian centre or a location of your preference, be it for a wedding proposal, child's christening, a party, a portrait, a fashion (or another kind of) photo shoot, or simply something out-of-the-ordinary to post on your Instagram, Tik Tok, You Tube, or other social media profiles.
Horse breeding lessons to establish a connection with the horse before a free ride or therapeutic session.
Horse carriage rides.
Special packages that blend galloping with a more romantic experience.
Private endeavours that include champagne and having a private chef prepare a picnic for you to enjoy at a secluded shore that's been specifically set up with carpets, flowers, fairy lights, blankets, speakers, and bean bags for truly unforgettable moments.
Suggested Itineraries/Rides
A ride to Fokos Beach and the surrounding area is one of the most beloved tours that will take you through stunning farming areas with an impressive background featuring the rocky mountains and a terrain often dotted with charming animals, such as donkeys, chickens, and grazing sheep and goats. Once you reach the shore, be prepared for a spectacular sight, where blue in shades you might never thought existed and a Mediterranean horizon so bright and glorious, or romantic and scenic (depending on the time of the day you take on this tour), strip away all power from words that could be used to describe what reveals itself in front of you.
Of course, you may communicate your specific requirements and desires with the selected equestrian centre and have your dreamy holidays in every shape and form possible.
Tips:
If you want to canter and enjoy having the beach all for yourself, then do consider coming in the morning (specifically if you are an experienced rider).
For a more laid-back and relaxed approach, you may book an afternoon tour (great idea for less experienced riders).
If you wish to have more time to take in the beauty of the landscape and connect with the horses, or perhaps combine your tour with Mykonos activities like swimming, snorkelling, sunbathing, or enjoying a drink or lunch at a seaside taverna, then prefer a ride with a longer duration.
Sign up for a multi-hour tour if your plans include visiting any Mykonos attractions besides the selected beach.
You can always contact our friendly and knowledgeable front-desk staff for any assistance with booking a Mykonos horse riding venture for you and your most loved people!