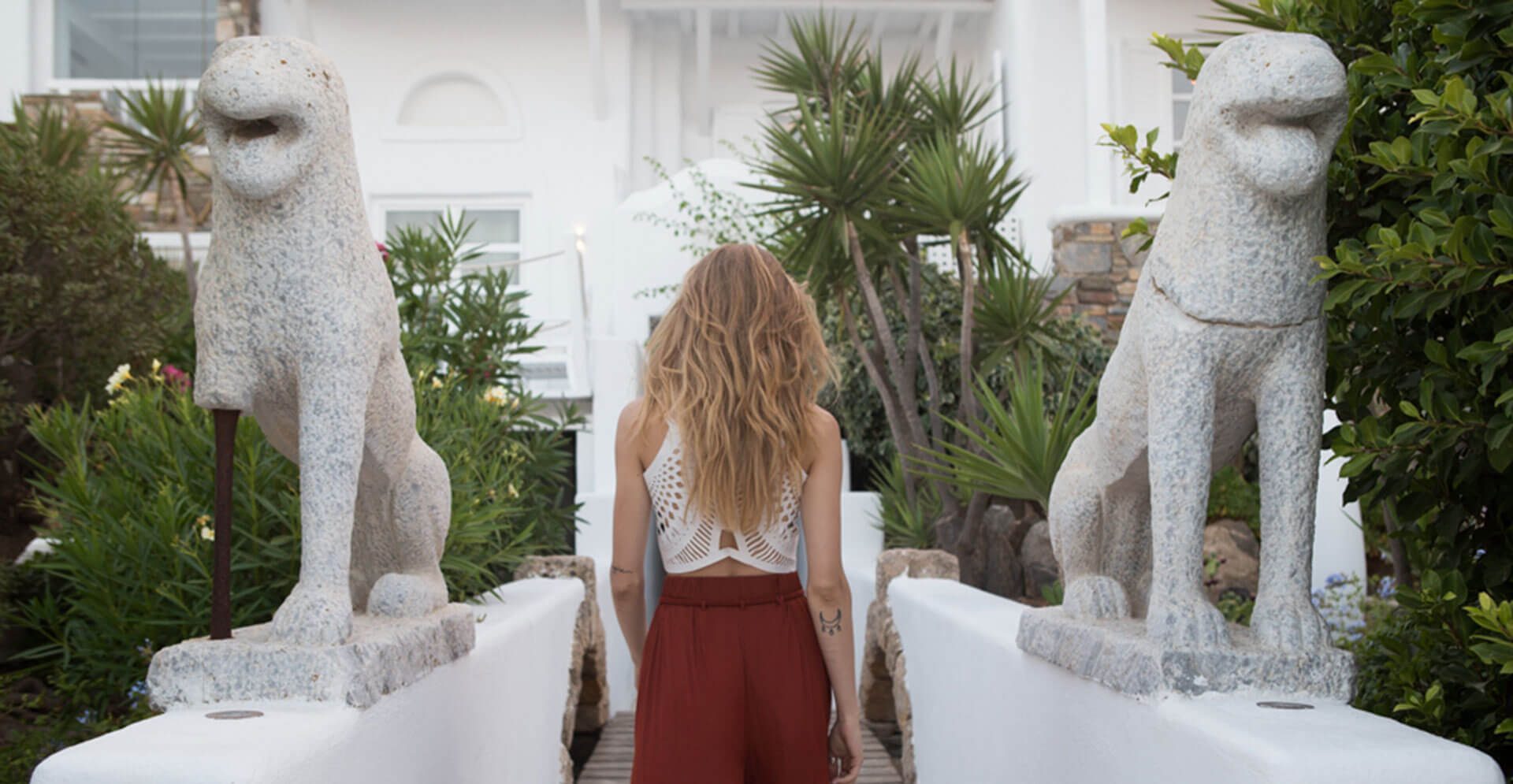 ACTIVITIES ON THE ISLAND
SIGHTSEEING
The breath-taking landscapes and beaches, typical of Cyclades, are not the only sights of the island. Sightseeing in Mykonos includes the local museums, traditional windmills, churches and manors, and archaeological sites with magnificent ruins dating back to antiquity. There are several sightseeing excursions to choose from and many enjoyable attractions to see in Mykonos: Sightseeing tours can be organized, with a guided bus, for visiting some of the island's most interesting areas, including beautiful beaches and a walking tour around Mykonos town. A private guided tour can also be arranged. A wine and cultural walking tour will guide you through Mykonos town's labyrinth of small, narrow streets; first to the Agricultural Museum, then the 6 famous windmills, and the Folklore Museum, located in an 11th century house as well as the Nautical Museum. Every Monday, Wednesday and Saturday a traditional boat departs from the southern coast of Mykonos proposing a full day cruise to the uninhabited island of Dragonissi and then back to the deserted beach of Frangias for swimming and snorkeling. Heading for the large beach of Kalafati and ending this beautiful journey at the Paradise Beach. An aesthetic tour of Tinos' countryside and rural villages is planned every Tuesday and Friday. A guided tour of approximately 3 hours can be organized on the famous historical Delos Island, the birthplace of Apollo and Artemis. Visit the ancient temples, the mosaic floor villas, the famous Delos "Lions", the amphitheater and so much more. Upon request a special Mykonos tour by Helicopter can be arranged.
THINGS TO DO
There are numerous activities offered on the island of Mykonos including:
Horse riding to Fokos or Mersini beach. An experienced trainer guides you around the scenic country hillside trails and paths. No previous riding experience is required.
Off road jeep tour of Mykonian back roads, to isolated beaches, the lighthouse, the old deserted mining town.
Water sport activities.
Kivotos' visitors also have the opportunity to enjoy the glamorous nightlife of Mykonos, one of the best in Greece. The island's cosmopolitan clubs as well as the colorful bars and cafes of 'Little Venice' promise an unforgettable holiday.