Why Kivotos Mykonos should be at the top of your honeymoon list
June 10, 2021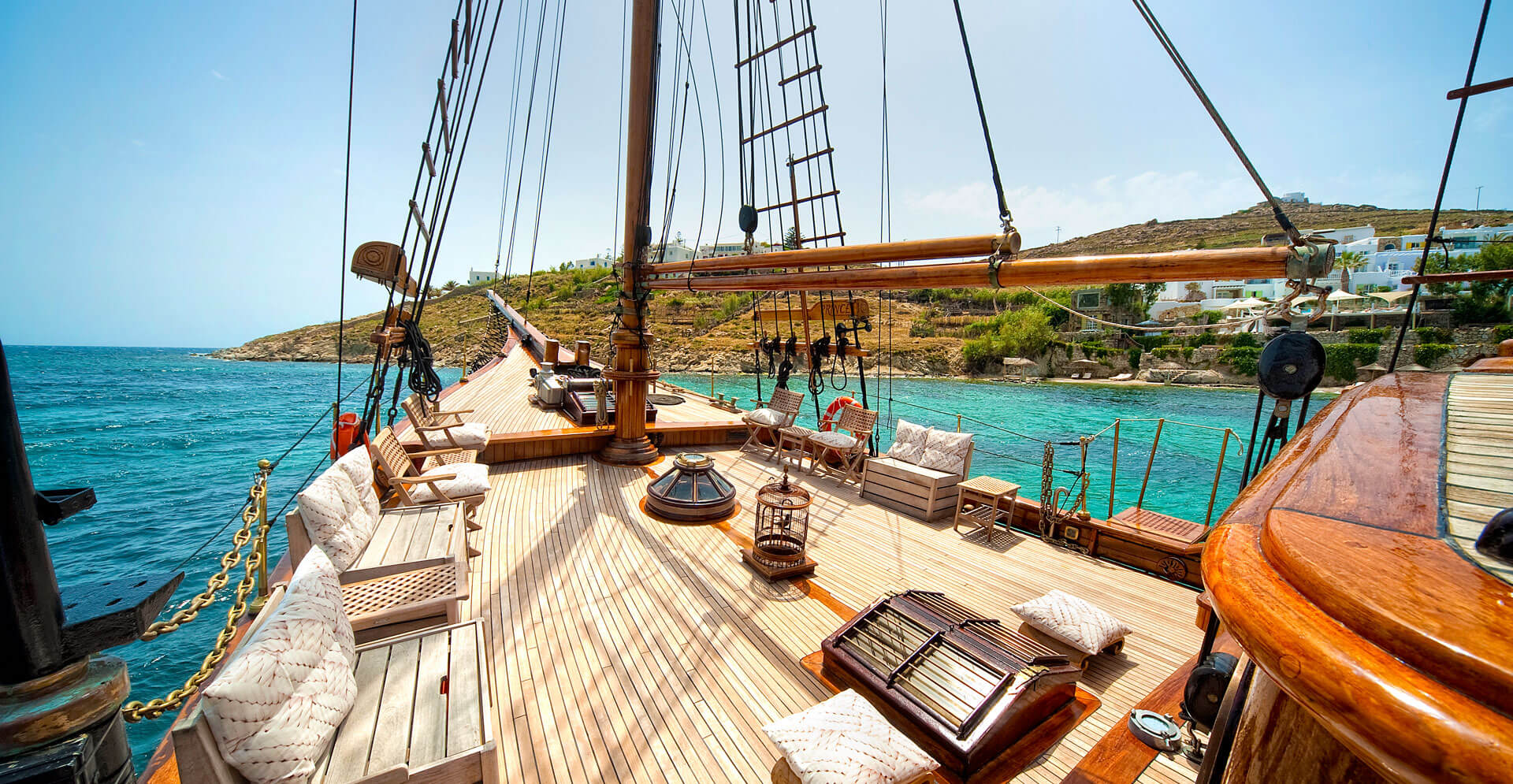 For almost all newlyweds, a romantic honeymoon somewhere tucked away in luxury and tranquility sounds splendid. Indeed, the very first getaway two lovers share should be an epic once-in-a-lifetime escape to absolute bliss.
Rightfully, Mykonos is a popular destination for honeymooners as it is an island that beautifully combines picturesque scenery and great beaches with high-end living and exciting nightlife.
But, of course, you need to know where to stay in Mykonos for honeymoon magic that will spoil and seduce you nonstop throughout your stay. Because- let's face it- when it comes to your honeymoon suite, everything must be perfect!
So, if a Mykonos honeymoon sounds ideal, finding the right spot to relax and let loose with your special someone is essential. Kivotos, one of the best honeymoon hotels in Mykonos, offers great Mykonos honeymoon packages that include added experiences on top of its excellent accommodation options.
Also, the hotel is in such a convenient area (literally only 5 minutes away from Chora, the town center) and even has a private beach for those who wish to enjoy some quieter beach days, away from the crowded coasts.
Kivotos is also an excellent place for couples to enjoy their first Mykonos romantic dinner, as one has the option of booking a table on a private deck right by the waters. The setting is picture-perfect, the lighting seductive, and the food enticing!
Read on if you are already feeling excited about your Mykonos honeymoon holidays at Kivotos and wish to discover why this luxury hotel is one of the most romantic places in Mykonos.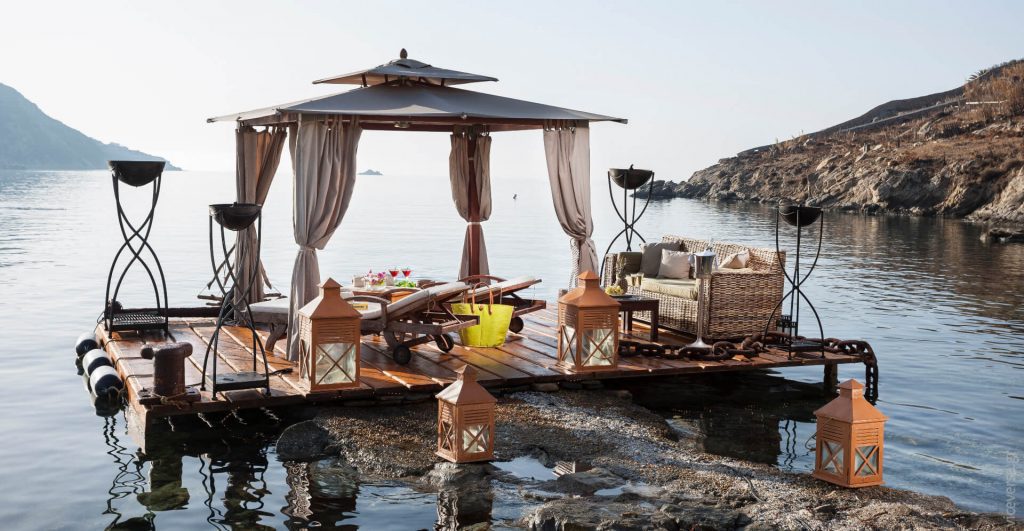 Fantastic Location
When it comes to your dream Mykonos honeymoon holidays, you are better off booking a luxury hotel that blends seclusion with convenience.
As a couple, surely you want to experience romantic moments in the privacy of your suite while still being able to head into town for a night out without giving it much thought.
Given that Kivotos Mykonos is in Ornos- a more peaceful area yet within proximity to the center- you get to enjoy the best of both worlds.
On some days, you might feel like lounging around on the private beach or soaking in your hot tub, while on other days, you may fancy a private cruise followed by a relaxing dinner served on your suite's terrace.
Hideaway in luxury or join in on the fun in town- the choice is yours- depending on your mood!
Incredible Honeymoon Suite
At Kivotos Hotel, you can stay in a luxurious Mykonos Honeymoon Suite designed to treat your senses to unlimited doses of delight.
The interiors of each suite are spectacular and ideal if you and your partner wish to enjoy carefree days lounging around in total privacy as room service caters to your every whim.
There are suites with sea views, suites with garden views, suites with private pools, and suites with outdoor hot tubs- the choice is yours!
One of the most romantic things to do in Mykonos is to watch the sunset with an ice-cold glass of something in your hand and your companion by your side…
To add an even more celebratory vibe to your stay, Kivotos offers special Mykonos honeymoon packages that even include tasteful decorations for your honeymoon suite.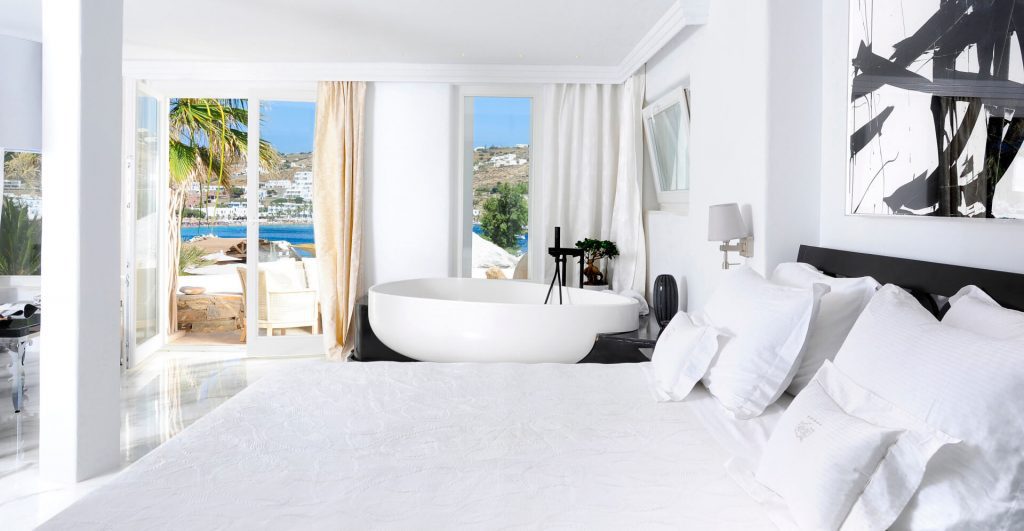 Private Sandy Beach
Vacationing on an island like Mykonos is all about enjoying the sun and sea! The island has many hip and gorgeous beaches visited by celebrities from all around the world. Naturally, honeymooners also enjoy their quiet time with each other.
So, if you are the type of couple that appreciates their privacy or if you like the idea of waking up and casually stepping out onto the beach, then you shall love staying at Kivotos Mykonos because you get exclusive access to a golden sandy beach.
Think about the marvelous days ahead of you… Not a care in the world… Emerald waters shimmering right by your side… Refreshments brought to you now and then to quench your thirst… That is the life at Kivotos!
And, for those long romantic beach days, remember your picnic basket- also included in Mykonos honeymoon packages.
Fine Dining Experience
A Mykonos Honeymoon goes hand in hand with the finest private dining experiences.
At Kivotos, you have the option of enjoying exquisite cuisine signed by renowned chefs. Enjoy original gourmet flavors beneath the stars with the sound of the waves accompanying your every sip of champagne.
Think about those evenings when it will be just the two of you, lost in each other's eyes with the deep blue sea as a backdrop and a delicious dinner prepared exclusively for you.
A private candlelit dinner on the beach is also included in the honeymoon packages. You may also decide to spend an evening on board the hotel's private yacht- ideal for an intimate Mykonos romantic dinner.
Harmony and Romance
Love is also about feeling invigorated, centered, and in peace with oneself.
Disconnect from the world and reconnect with your sweetheart during your Mykonos Greece Honeymoon by pampering yourselves with luxurious spa treatments.
The spa of Kivotos will enlighten your romantic Mykonos honeymoon by pleasing all your senses and uplifting your spirits with an array of treatments for every need and desire.
Imagine yourself spending a completely worry-free day being massaged, enjoying the soothing steam of the Hammam, or getting a premium facial treatment from the spa's expert staff.
By booking one of the special Kivotos Mykonos honeymoon packages you also get a 1-hour couples massage treatment in the hotel spa, as well as a manicure and pedicure treatment.
***
For honeymooners seeking romantic places in Mykonos, Kivotos is the ultimate option because the surroundings are profoundly alluring and atmospheric while the staff is extremely tentative to guests' needs offering an array of luxuries in the most discreet manner.
It is a place where couples can fully relax and enjoy themselves to the fullest. It is a marvelous gift of precious alone time with superior services and amenities.
Aside from the romance and finesse, you will encounter at Kivotos, from sunset drinks and private dining on the beach to all-day spa sessions for couples and yacht parties there are also many romantic things to do in Mykonos Town.
So, time to book your stay at one of the best honeymoon hotels in Mykonos to create those fabulous memories you and your loved one shall forever keep in your hearts!