Why clubbing in Mykonos is perfect for anyone
May 20, 2022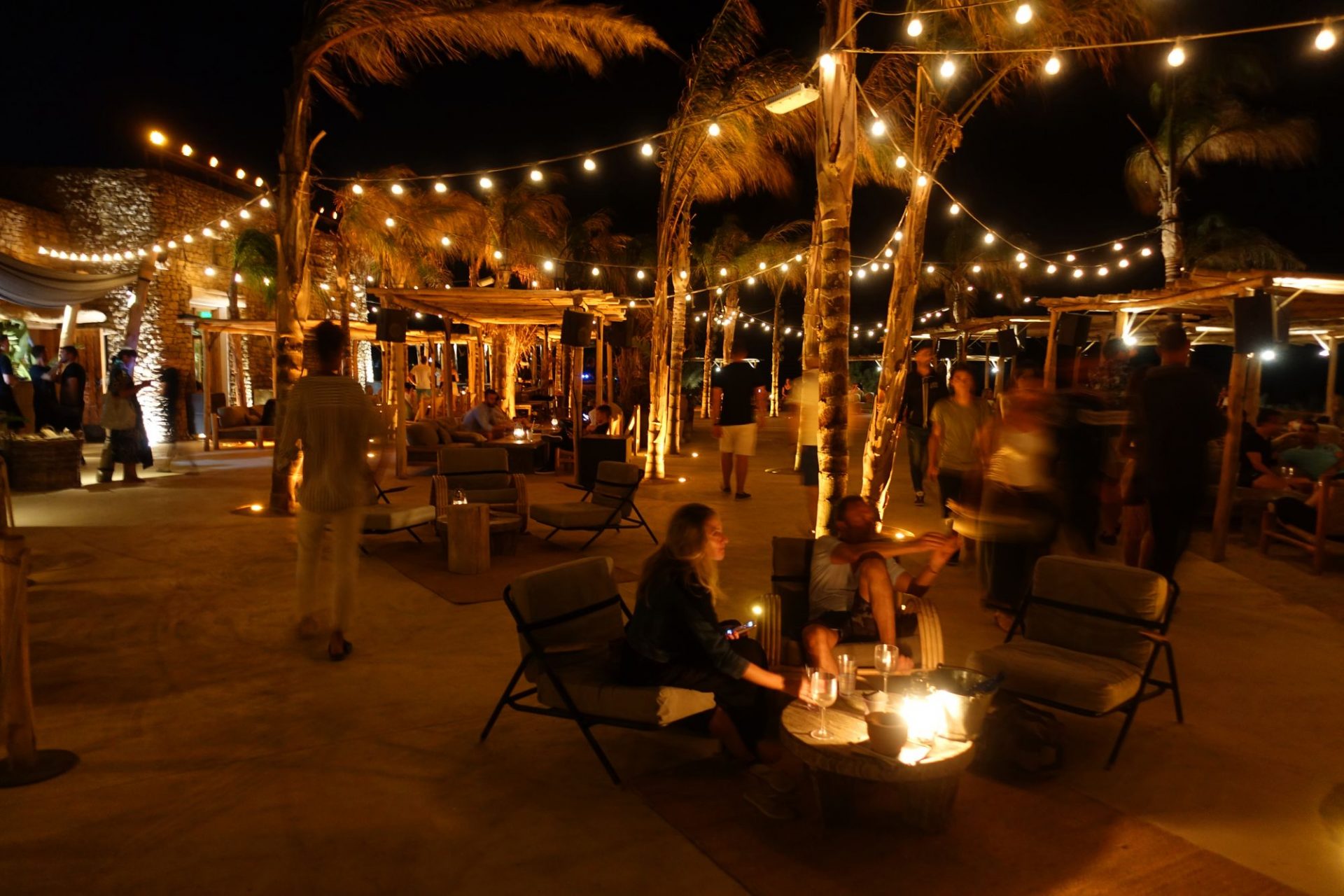 Besides the incomparable natural, Greek-island beauties, adorable Cycladic architecture, crystalline waters, stunning beaches, and glam lifestyle, Mykonos is known to the corners of the earth as the most cosmopolitan party mecca in the Mediterranean Sea. Enticing with countless party scenes, after-sunset activities, and options to entertain yourself and have fun, she is rightfully the Queen of the Cyclades, as many like to call her.
Read on and you'll soon find out why the island's nightlife is such a great fit for you, regardless of your needs, desires, and requirements! From open-air nightclubs and pubs to cocktail bars and bar-restaurants, this infatuating Greek offspring with the regal upbringing knows how to satisfy your every wish!
Mykonos Clubbing – Ways to have fun at Mykonos
It is all associated with what "fun" means for you. You could, for example, start with bar-hopping, settle in for the night at a beachfront restaurant and enjoy a steady flow of delicious wine and Greek appetisers, or even wiggle your toes in the sand with a bottle of hand-crafted beer and indulge in a relaxing evening under the star-lit sky. In this case, Mykonos Town – the island's capital – is a great place to have your boxes ticked, especially if heading towards the idyllic Little Venice area and the quaint restaurants and bars lining its waterfront.
As for the more romantic souls out there, catching the sinking sun at the serene setting of Caprice, perhaps the most famous cocktail bar in Mykonos with heart-stopping sunset views, is a superb experience worth trying out. The same applies to 180 Degrees Sunset Bar at Panigirakis Castle, which offers panoramic views of the shimmering Aegean Sea and an impressive collection of beverages and cocktails.
Want to take things to an entirely different level, when it comes to pampering yourself with a VIP  lifestyle and a fantastic night scene? Taking the Kivotos Hotels – owned luxury yacht out for the night will enable you to party the night away with your friends or loved one(s) away from the bustling crowds, while being spoiled with top-tier onboard services and the best champagne labels!
Last but not least, the coastline hosts the venues that have put the island on the map as the go-to place to party as wild as no human mind can comprehend! These will not only satisfy your liquor desire but also pump your veins with the fun the Island of the Winds is all about (after dark).
Mykonos Clubbing – Best Night Club Options
The bustling Chora (another name for the capital) gathers the majority of dance clubs, drag shows, night clubs, music bars for all preferences and styles, and cafes, and hypnotises with its amazing vibe and night-long parties. Among the many that guarantee an absolute ace time are:
Void – One of the newest additions to the intense local night scene, the sleek, three-tier venue with the night-sky ceiling, atmospheric lightning installation, two bars, ample dance floor space, and renowned DJs offers unforgettable moments in the after-evening hours.
Scorpios – An exceptional choice to have a Mykonos private party and steer clear from the madding beach parties. It is referred to as the ultimate hedonistic beach club on the island and operates as both a club and restaurant offering laid-back beach endeavours, international DJs, an exciting range of cocktails, and addictive nights.
Paradise – A luxury club on Paradise Beach and one of the most legendary Mykonos night club options that attracts thousands of fun-seekers. This open-air venue will accompany you till the wee hours and spoil you with a massive, centrally-located swimming pool, an exclusive VIP area, an exotic selection of drinks, and amazing themed parties.
Skandinavian – A famous bar and beach club in Mykonos that instils an intense and animated after-sunset party flair to your nightly adventures. Amazing cocktails, a nice patio area, an open-air dance floor, a stripper pole, a cosy environment, and amazing cocktails will walk you through the wildest nights on the island.
Astra – An inviting mix of a casual lounge (in the early evenings) and hip night club (as the night progresses), it plays live music from a variety of famous DJs. The elegant venue even provides spaces where you can have a break from dancing and drinking, before you get back to partying in a truly international style.
@54 – A cosy and unique option in the local entertainment scene that hosts both a dance club and lounge bar, serving a varied clientele. Expect a mind-blowing terrace with exquisite sunset views, cutting-edge décor, old-school disco music and a disco atmosphere overall, and theme party nights that excite. For the most intense fun, do consider coming here after midnight!
Cavo Paradiso – Also tucked in the laps of Paradise Beach, it is a luxury club and a major player in the local night scene. It will welcome you with a gigantic open-air club, the top EDM DJs, and an impressive collection of cocktails and drinks.
MONI – Founded by a group of experts on the local nightlife and created to make everybody feel at home, it delivers on its promise for different and memorable ventures, featuring master mixologists, VIP catering, international DJs, an out-of-this-world ambiance, and many more.
Babylon – A waterfront venue with both outdoor lounge seating (on a beautiful terrace) and indoor seats that often get sprayed from the occasional Mediterranean Sea waves. Babylon awakes around midnight and will blow your mind with a variety of music styles and many themed events and shows during the summertime.
Mykonos Clubbing – Best Bars & Bar-Restaurants in Mykonos
The list with the top after-dark entertainment options goes on and on. Here are the must-visit options if you are after adventures that combine stellar seascapes and a vivid nightlife.
First of all, Tropicana Bar is a fantastic cocktail bar in Mykonos' coastline (on Paradise Beach), bewildering visitors with sumptuous meals, exotic cocktails, an incredible collection of drinks, and beautiful surroundings. Plus, it will complete your beach experiences with facilities like deck chairs and umbrellas to relax and unwind. Plus, plenty of seaside events to keep you busy!
Other also thrilling choices include:
Kalua – Operating since the 1970s at Paraga beach with an exquisite clientele.
Montparnasse The Piano Bar - Perfect for more laid-back and romantic nights out with cabaret entertainment and superb views.
Galleraki Cocktail Bar – Do visit if you want an alternative destination that's housed in a 19th-century, whitewashed building, offering captivating views of the Windmills and great events.
Kastro's Bar – You'll find it in the Little Venice area. It serves as both a cocktail bar and coffee bar and is ideal for sober socialising and early evening drinks with great music and a balcony overlooking the vast Aegean Sea and the cobbled alleys of the island.
Lola Bar – Sitting in the beating heart of the Chora, it will capture your heart with the elegant environment, open-minded guests, friendly staff, cosy ambiance, laid back music, and superb cocktail collection.
Blu Lounge Cafe Bar – With magnificent views of the harbour and the Mediterranean sunset, this multi-functional, three-level, cafe-lounge bar even has a VIP area enabling a private party experience.
Nammos – One of the hottest and most alluring, celeb-favoured, beachside venues located at Psarou Beach, distinguished by 5-star elegance, opulent luxury, a formal dining lounge, and terraced sunset views.
Buddha Bar – A hot spot on the island for those wanting to immerse in Pacific Rim cuisine options that are fused harmoniously with Mediterranean gastronomy. The relaxed atmosphere and the sense-caressing tunes from the decks of the best-known DJs will accompany you through the night.
Of course, it is impossible to make a list with all the fab places to have fun on the island. Options like Funky Kitchen, Hippie Fish Beach Restaurant & Bar, Kiki's Tavern, La Maison de Katrin, and M-Eating are also worth exploring, among so many others. So, feel free to do some searching on your own and share your findings with us!
Best Private Partying Alternatives
Besides the venues that provide VIP and private partying experiences, Kivotos Hotels also gratifies its guests' desire for exclusive entertainment and fun, away from prying eyes and overly crowded places. Del-Mar, the most elegant swim-up bar on the island, awaits with a chilled ambiance, exotic cocktails, and a cool Mediterranean breeze.
Want beachfront dining ventures with sweeping sea views? La Pirate and La Meduse will both satisfy your wish for gourmet fine dining and pool-side fun.
As for completely private experiences, dining, partying, or otherwise, Nero Nero is where you need to be. The hotel-owned stretch of fine sand will make your dream for a small cocktail beach party or intimate gathering the most fulfilling reality for you.
And, you can always ask for a cruise onboard the stylish and 5-star Kivotos hotels schooner to enjoy an island-hopping or sea-partying adventure!
As already elaborated, no requirement is left unattended or unsatisfied with the impressively long list of the clubbing, partying, and entertainment options available here – whether you are after chilled and relaxed endeavours or more vibrant and intense!