The Top 5 Mykonos Excursions
March 1, 2022
Besides the cosmopolitan atmosphere, boutique shopping experiences, vibrant nightlife, lively party scene, and luxury accommodation, Mykonos welcomes visitors with a variety of other, fun activities and adventures.
Truth be told, everything feels so much different here, no matter how common. For instance, a simple walk through the cobbled, labyrinth-like streets of Mykonos Town is greeted with beautiful sugar-cube, whitewashed houses with flower-filled balconies, milky-white chapels with adorable blue or red domes creating a stunning backdrop against the blue sky and the azure sea, and, of course, unbelievable views of the Mediterranean Sea!
Dining is also another experience with a different flair in Mykonos, as you get the chance to treat your taste buds with absolutely mouth-watering seafood and local flavours at a seaside taverna with nothing more than the sound of the waves splashing on the shore!
All these options could even be part of enchanting Mykonos excursions that will pack you with unforgettable memories. Here are some ideas to consider when you visit the Island of the Winds!
1. A Mykonos Beach Tour
It would be inconceivable to visit such a magnificent Greek island and not hit its sugary shores! Mykonos enables you to choose between more than 30 different beaches, depending on your preferences and needs. Some are more touristic and organised while others are more secluded and not easily accessible – you get to pick your favourite ones! Now, you can access them either by car or a Mykonos luxury yacht charter. There are even taxi-boat services that you could use.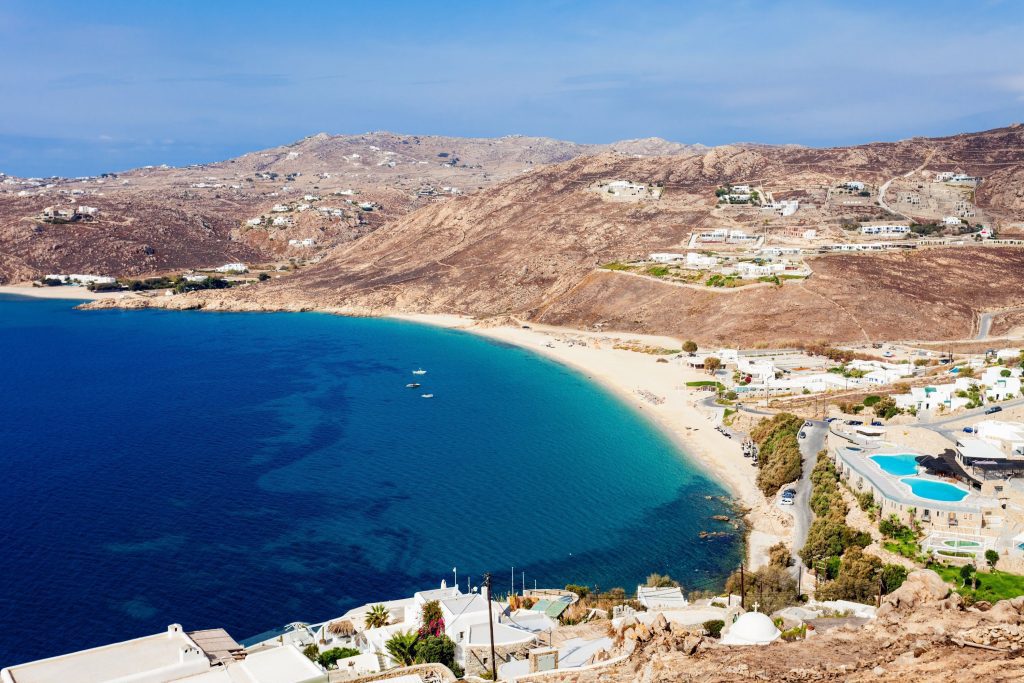 That being said, some of the most popular beaches are:
Platis Gialos – Tucked some 5 kilometres from the island's capital, it is a lovely, wide shore with an abundance of tourist facilities, including restaurants.
Psarou – A celeb-favoured beach with a cosmopolitan vibe just 5 kilometres away from the Chora (aka Mykonos Town). Besides the sandy shore and crystalline waters, you'll also get water sports facilities.
Ornos – One of the most beautiful and family-friendly beaches in Mykonos, just outside the capital (around 2km), with incredible waters and unsurpassable views of the Mykonos coastline and the sea.
Paraga – Also referred to as Paranga Beach, it is draped with high-spirited beach bars and restaurants, making it perfect for guests looking for shores with a party vibe.
Paradise – A lovely sandy shore with cyan waters located around 6 kilometres from Mykonos Town that hosts legendary parties at its beach bar and turns into a massive party-land after sunset.
Super Paradise – Paradise's twin, Super Paradise is another party mecca on the island (only with an even more animated ambiance). Before 3 pm, though, it charms with its natural beauties, crystal-clear waters, and the many water sports and tourist facilities.
Elia – Further in the outskirts of Mykonos Town (11 km southeast of the capital) lies the longest and perhaps the best organised Mykonos beach, with a plethora of water sports, as well as nudism options.
Agrari – One of the more private and quieter options nearly 10 km from the Chora, Agrari is a secluded shore with fine sand and pristine views. Once here, you'll probably be totally stunned by its natural charms and tranquillity.
2. A Mykonos Sailing Cruise
If you believe that visiting the beaches along the hypnotising Mykonos coastline is one of the best things to do in Mykonos, you are right. This type of experience could only be topped by a Mykonos cruise around the island or to nearby Cyclades islands, such as the magnetic Delos island or even the idyllic Santorini and wonderful Tinos and Siros islands.
With such breathtaking views and transparent waters, sailing Mykonos is for sure one of the most rewarding adventures you could ask for while staying here. This could be done with several different options, such as a Mykonos private tour using a Mykonos luxury yacht charter or catamaran and include anything from a Little Venice or Aegean sunset sailing cruise with lunch and swimming options to a south beaches cruise and Cyclades tour.
Now if you have little time and would like us to pinpoint just one place in the archipelago you definitely need to visit while sailing Mykonos, this would be Delos island. Declared a UNESCO World Heritage Site, it is a historical site from end to end with gorgeous sugary beaches, clear waters, and some of the best-preserved ancient ruins of a place that was once the commercial, spiritual, and religious centre of the Mediterranean. While there, you can also sunbathe, snorkel and swim in adjacent Rhenia island or enjoy a BBQ meal onboard your elegant boat.
Most sailing tour agencies in Mykonos even provide customised services to meet your specific requirements and fulfil your dream with personalised Mykonos excursions by sea. You could even talk to us about arranging a private and exclusive Mykonos cruise with our privately-owned 25-metre schooner, Prince de Neufchâtel, and expand on what luxury Mykonos excursions feel like!
3. A Mykonos Jeep Safari
The next best thing after opting for a Mykonos private tour to explore the absolutely stunning Mykonos coastline or the shimmering sea is discovering the hidden beauties of the natural Mykonos terrain. Its distinct morphology welcomes Jeep or 4X4 ventures, while the countryside promises authentic, traditional experiences and enables the opportunity to see Mykonos from an entirely different point of view.
Most Jeep safaris in Mykonos (if you choose to join an organised tour) include stops at scenic locations, either inland or around the coastline, where you can visit historical churches, picturesque ports and bays, isolated coves, trendy spots, quaint villages with chalky houses and blue, red, or green doors and shutters, and panoramic views of the island and the Aegean Sea. However, you could also create your own itinerary.
Looking for suggestions? A drive to Ano Mera village will allow you to see livestock raising and agricultural Mykonos area, as well as a community that lives its everyday lives away from the tourist crowds and the noise! The 1542-built Monastery of Panagia Tourliani is another must-stop for the superb collection of icons and the stunning courtyard, marble fountain, and bell-tower.
Along the way, you could even sample local delights (normally this is part of most Mykonos excursions) at local farms, such as chopped black olives with kopanisti cheese (local, spicy cheese), crunch, homemade bread, and tomatoes, accompanied by traditional oyzo or wine!
Finally, the beaches of Kalafatis, Kalo Livadi, and Agia Anna are usually included in a Jeep safari, but this is really up to you and what you want to experience during your inland tour. For that reason, you could request a private tour that may even introduce you to wine tasting and other activities as you drive by the countryside.
4. A Mykonos Hiking Adventure
Be it a half-day or full-day walking tour, expect to be amazed by the plethora of sights and local attractions waiting to spark your days. Normally, a Mykonos hiking tour starts from the adorable capital and takes you to the major landmarks, such as the imposing Windmills, the picture-perfect Little Venice region, the impressive Armenistis Lighthouse, and visits to hidden churches, small villages, and the infamous Three Wells, among others.
Of course, it all depends on what type of experience you are after. For that reason, a walking or hiking tour could be adjusted so that it provides extra perks like a cooking class that teaches you how to prepare traditional Greek food. It may also have stops to nearby beaches and water explorations as you pass dreamy locations and sites.
5. A helicopter tour
If you are not afraid of heights, then a helicopter tour is undeniably one of the most exciting things to do in Mykonos. It enables you to have bird's eye views over this spectacular island and its amazing landscape. Backed by rolling countryside, lovely sugary shores, an inviting blend of trail-crossed steppes and farmlands, and a glistering Aegean Sea, Mykonos looks so much more heart-stopping from above.
Note that a helicopter tour, like any other private tour option in Mykonos, can be individualised to provide the best experiences. This means that you can visit most local attractions or nearby islands (if you so choose) at ease, with a helicopter ride. This also means getting faster to your preferred destinations, while spoiling yourself with mind-blowing panoramas not many people get to see.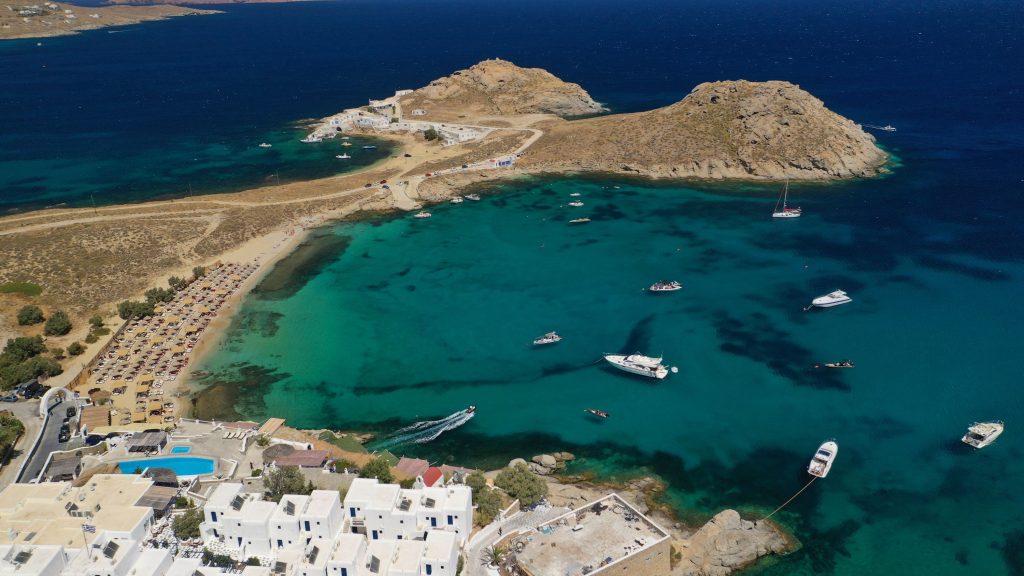 Final Thoughts
Obviously, there are not enough lines to describe the endeavours you can opt for in Mykonos. The best course of action? Take it day by day and plan your stay according to what feels best at each given time. There are certainly a lot of thrilling and even intoxicating adventures in the Queen of the Cyclades "explosive" arsenal!