The Best Scuba Diving Spots in Mykonos
June 22, 2022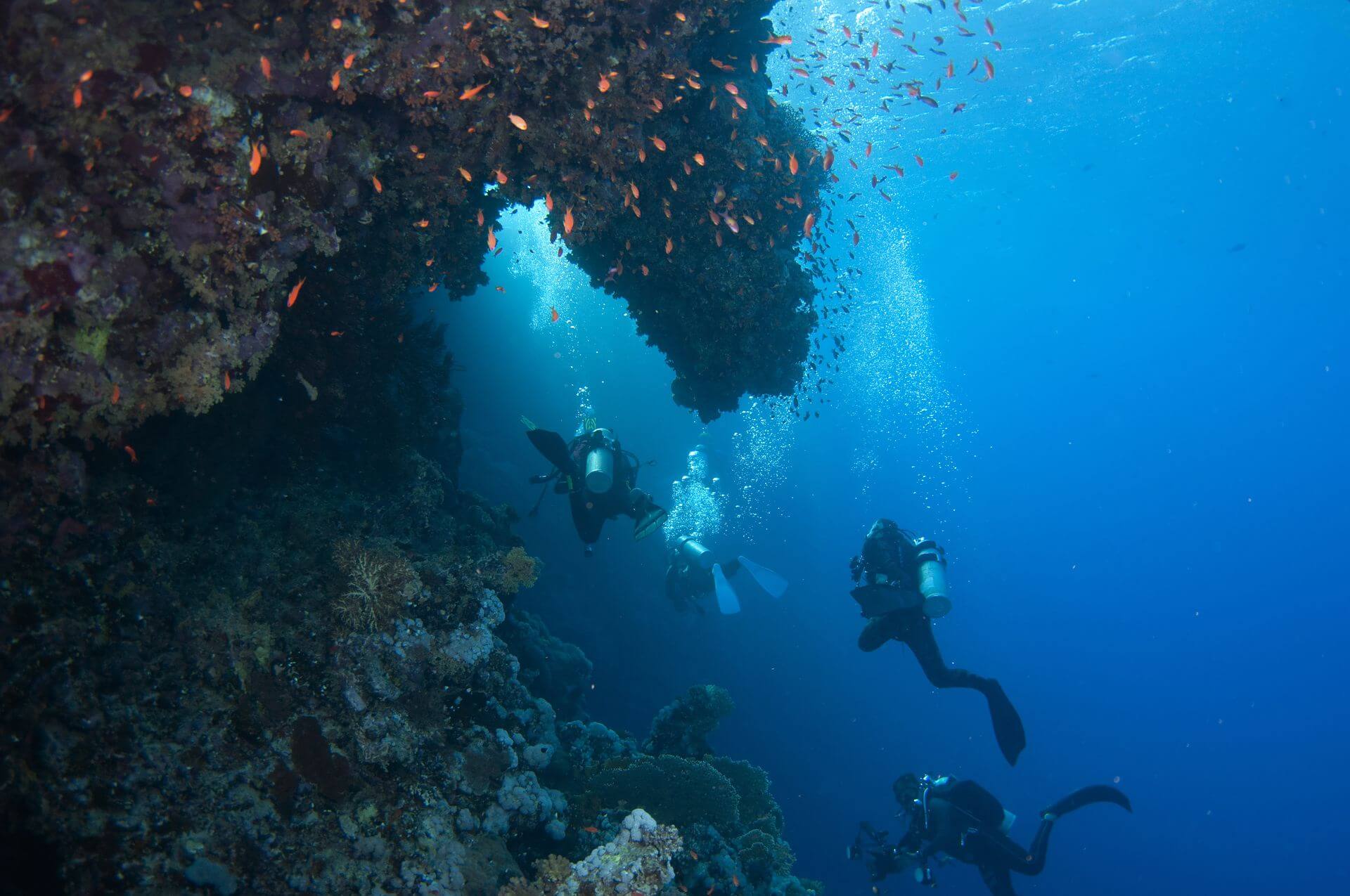 With absolutely transparent and turquoise-blue waters, alongside an interesting, colourful, and diverse sea fauna, the island of Mykonos is any diver's paradise. With a total absence of phytoplankton, water temperature between 18oC-24oC (60oF-74oF), and more than 25-50 metres (160ft) visibility (depending on the season and weather conditions), the Greek island is just as inviting a holiday destination underwater as it is above sea level. Add to all these the aquatic surprises waiting patiently to dazzle you with their peaceful prowess, having withstood the ruthless test of time, and you are in for a treat worth exploring to the bare bone.
And, yes, scuba diving in Mykonos is one of the best activities to do in Mykonos to complete your overall experience, especially if you love a pinch (or more!) of adventure and underwater-related things like exotic marine flora and fauna, reef dives, shipwreck dives, cave or cavern dives, and night diving, which takes everything to an entirely different level, providing an exceptional venture (with proper guidance, of course).
Below are the best spots for scuba diving in Mykonos for your reference!
The Peloponisos Shipwreck
Once referred to as the "Electric", the 64-metre-long passenger-cargo ship lies in absolute serenity on the northeastern coast of the beautiful Queen of the Cyclades. Although it's been nearly a century since it sank (in 1926), it still remains in great condition, although its bow and stern have now been separated and sitting on two different parts of the eastern shores.
If the idea of trying more challenging Mykonos activities seems appealing, then this dive is for you, as the weather conditions (the northern Meltemi winds often cause the sea to get rocky in this part of the island) here raise the adrenaline factors quite a bit. Plus, its depth is rather forbidding for inexperienced and rookie divers.
But, for those experienced enough to make this dive, the aquatic cosmos will undeniably compensate them for their daring endeavour. Expect nothing but sheer magnificence, as the multitude of marine life and the artificial reef that has been created from the Peloponisos shipwreck are truly magical.
The Kalafakiona Reef 
A superb and definitely one of the most compulsive scuba diving sites that deserve a place on your Best spots for fulfilling scuba diving in Mykonos list. This is where you will come across an amazing plethora of different schools of fish, including the Mediterranean Barracuda, as well as hundreds of smaller fish that have made the Kalafakiona Reef their home.
Once underwater, be prepared for a sight that will take your breath away. The seabed is full of ancient amphorae scattered all over the place, in various conditions – some are large chunks while others are smaller pieces. On top of everything else, the reef is also characterised by a peculiar morphology, featuring a rocky landscape, large pinnacles poking from the bottom, and a captivating submarine scenery. As for the maximum depth of the dive site, it's no more than 20 metres, making it ideal as a second dive option or for less experienced divers.
The Anna II Shipwreck 
Yet another wreck that draws the attention of divers every year tucked in the laps of the archipelago at a depth of around 25 metres (82ft). The 62-metre (203ft)-long cargo ship adorns the underwater universe on the southeast coast of the island and has held on to its unique beauty perfectly up to this day. Preserved in exceptional condition, the Anna II shipwreck is also an integral part of a hypnotising submarine land full of lovely reefs, sea sponges, and other sea-related prettiness and attractions.
Lia Beach & Lia Reef
Lia Beach is one of the sandiest and most idyllic Mykonos beaches that is beloved for its sugary shore, azure waters, and peacefulness. This off-the-beaten-path coast also provides two entirely different, but equally exciting, scuba diving adventures, depending on which part of the day you decide to explore its aquatic world. In the morning (and until the early evening hours), it feels and looks like most other dives sites, with lots of beautiful sea plants and schools of fish. When the sun sinks behind the whitewashed skyline, though, a clashing cosmos unfolds before your eyes, which justifies the island's reputation as the most animated party mecca in the Mediterranean!
If you dive at around 20-24 metres, Lia Reef will welcome you with an amazing plethora of nocturnal marine animals, a vibrant life, large numbers of nudibranchs, thriving forests of black and yellow sponges, and a heart-stopping range of schools of fish that can be seen swimming and doing their thing up to 40 metres below the surface of the sea (the visibility is perfect up to this depth). What is even more fantastic about Lia Reef is that it's a remarkable dive site for both advanced and lesser experienced divers.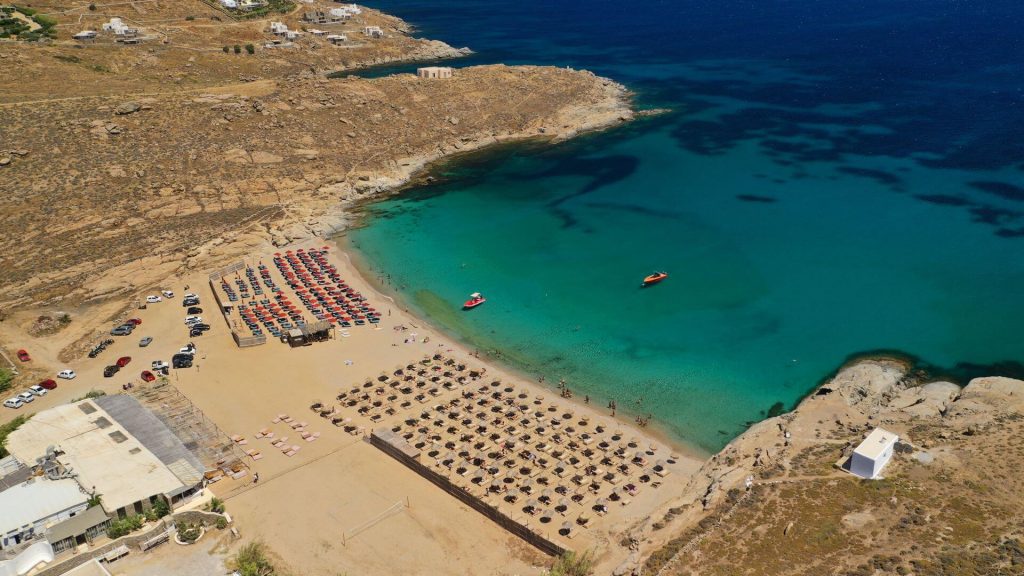 Agia Anna 
A superb spot for scuba diving in Mykonos with zero currents (hence, ideal for inexperienced divers), a mind-blowing topography, and unbelievable richness when it comes to its aquatic life. Not far from Lia Beach, Agia Anna offers a different kind of dive experiences.
Wall diving enthusiasts will love it here, as the site opens up at 4 metres (13ft) deep and can be easily explored up to 26 metres (85ft) deep. Along the way, you'll most likely rub shoulders with moray eels, sea urchins, octopuses, sea stars, and so many other underwater inhabitants who will playfully swirl around you as you discover more of this wonderful place. And, right next to the Agia Anna wall, you'll also lay eyes on another sleeping beauty – a shipwreck that sits a bit further from the dive spot.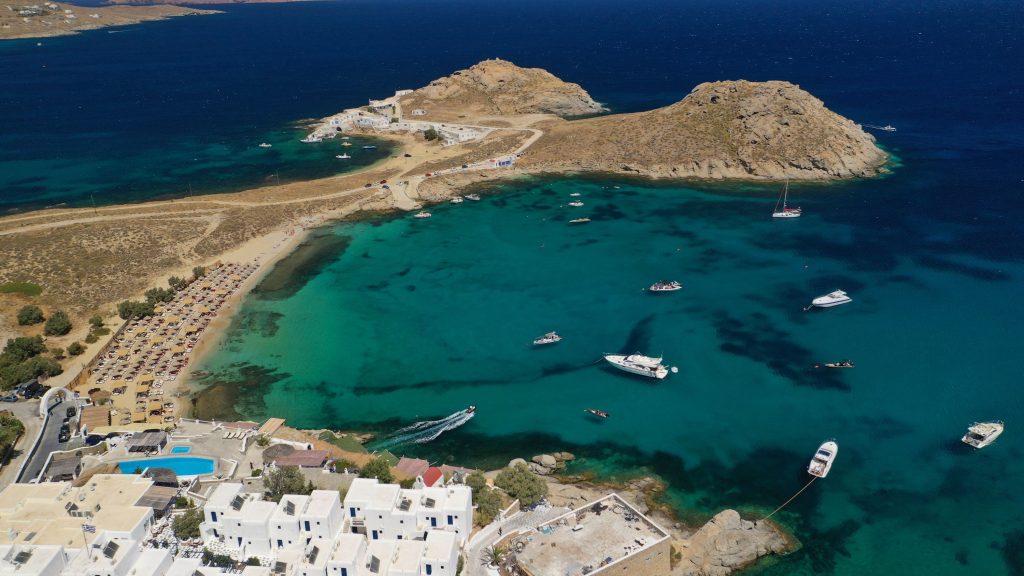 Dragonisi
Also called Tragonisi, this is a petite, rocky island near the Cyclades Queen that makes an excellent dive spot, especially if you are into things like underwater cave systems. This tiny earthly heaven is a protected nature reserve, so you are kindly advised to respect the ecosystem and be gentle with your aquatic endeavours. And, don't be surprised if you make eye contact with a Monachus-Monachus seal. They seem to be very fond of this particular place in the Mediterranean Sea and swim in tens in the waters around Dragonisi.
As soon as you dive into Tragonisi's crystal clear waters, you can't miss the entrances of the elaborate submarine tunnel network that is adorned with yellow sea anemones. And, if you think that these are rare to find, you are correct. This particular aquatic plant species lives exclusively in this part of the Island of the Winds. Having said that, diving in Dragonisi is quite challenging and should not be attempted by novice divers. You can try this experience if you are an advanced diver and always upon request.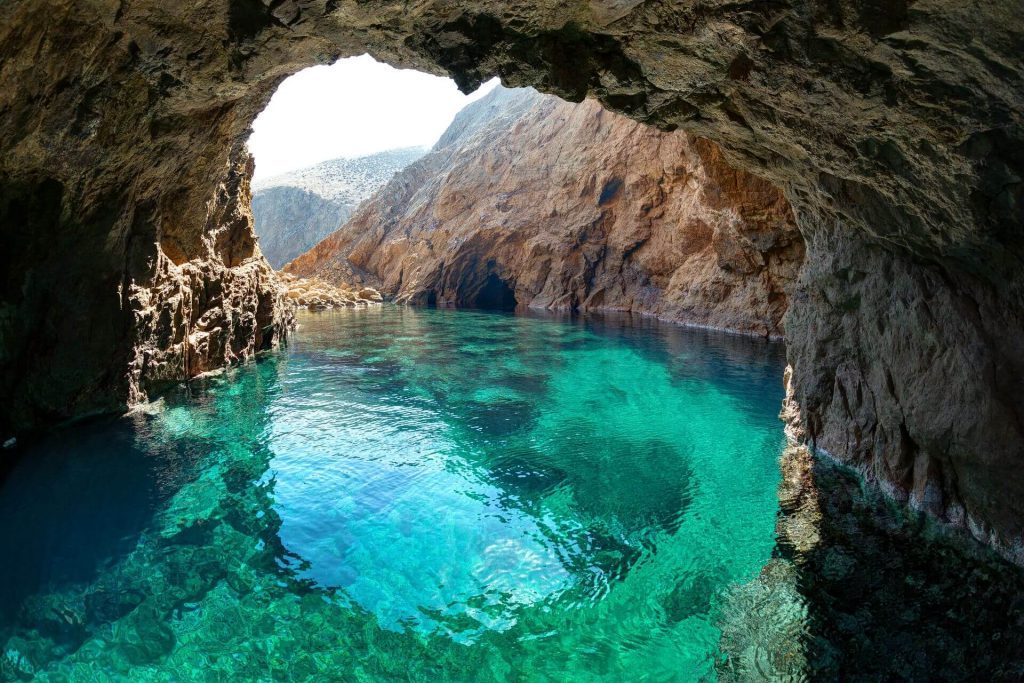 Prasonisia
With depths ranging from as little as 5 metres (16ft) and going all the way down to 18 metres (59ft), Prasonisia is a small island within close proximity from the coast of Mykonos and a great diving spot, irrespective of your experience level.
You can now easily get here by boat, as it has been recently allowed to dive at Prasonisia (it was forbidden to access these waters by the Greek government as a means to preserve the archaeological treasures that lie on the sea bed). And, as with other local dive sites, the Mediterranean Barracuda (among many other schools of fish) happily skim the waters, greeting strangers wanting to know more about their natural habitat. Now, if the ancient relics sleeping on the spot do not fascinate you that much, there are modern shipwrecks and antiquities also waiting to dazzle you.
Chtapodi Island 
This is the closest dive site to Ornos bay and your elegant Kivotos Hotels suite or private villa, which bewilders with its rich marine life. If you choose to traverse through this amazing underwater location, you can easily go down up to 25 metres (82ft) in depth and meet from yellow, black, and red sponges to seals mingling with other schools of fish. Chtapodi Island is a nice option for both experienced and rookie divers alike.
An excellent alternative option to scuba diving
For those that have never been underwater, scuba diving might feel a bit tough and demanding a venture. Although it is actually a great opportunity to see what it'd be like to live like an aquatic creature for a while, breathe underwater, and claim your share of the weightless exhilaration that accompanies the overall experience, you could start with something less challenging, such as snorkelling.
Snorkelling includes the adventure, serenity, freedom and excitement aspects of scuba diving, but you are doing it from the surface of the crystalline waters. For starters, we suggest trying a guided snorkelling tour (it is, admittedly, one of the most rewarding things to do in Mykonos if you want to build up the experience for a scuba diving venture later on).
Snorkelling is also a fab option for children that are not allowed to dive with scuba in the open sea (and, at the same time, an excellent pre-training experience for the little ones wanting to explore their options and possibilities).
Final Thoughts
Whether you visit Mykonos between late-May and mid-September, when the waters are the warmest they can be, or another time of the year, you certainly sign up for one of the most memorable endeavours of a lifetime when trying scuba diving or snorkelling in this blessed part of the world, especially when knowing that a chilled glass of the finest champagne and superior seascapes await at your luxury suite or stylish villa after you are done with your daily ventures.