Seeking luxury suites in Mykonos?
March 17, 2021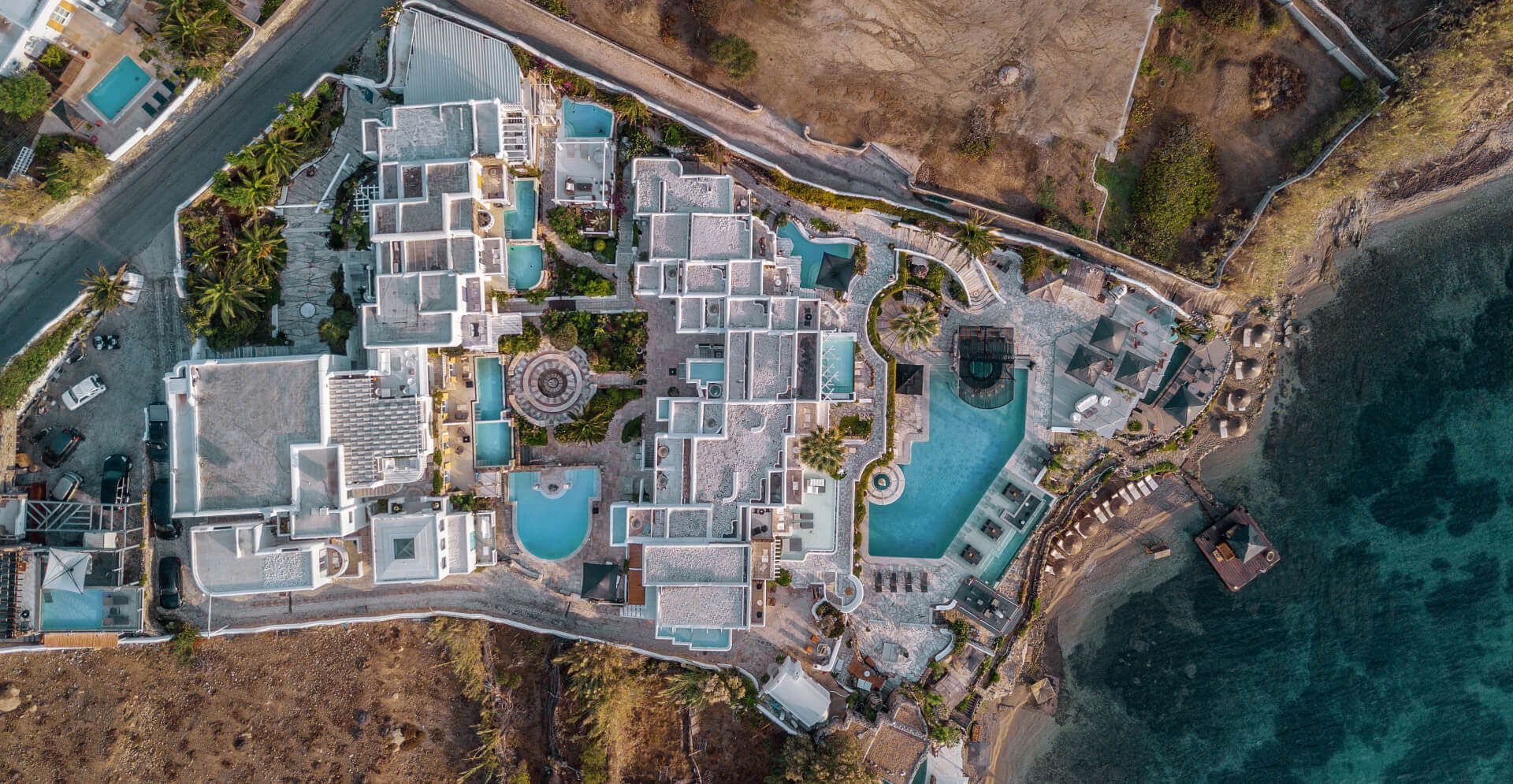 If you are seeking luxury accommodation in Ornos, Mykonos read on to discover a handpicked selection of superior Mykonos suites with private pools, outdoor hot tubs, and sublime comforts that will transform your holiday into a peaceful break from reality.
Experience an unforgettable stay at Kivotos: a fabulous luxury hotel in Ornos, Mykonos with some of the most spectacular sea view suites in Mykonos.
So many Suite choices
Overflowing with lavishness, Kivotos is one of the most famed luxury hotels in Mykonos. The hotel is blessed with outstanding architecture and interior design. Each suite is perfectly planned out and decorated with profound taste promising you a fantastic island escape.
Fancy waking up to a sparkling sea view each morning? Then the Mykonos superior suite sea view is an excellent choice. Or, if the thought of a midnight dip in privacy sounds delightful you might opt for one of Kivotos Mykonos' suites with private pool.
And, in case you want to spread out or simply need a little more space, there is a spectacular luxury two bedroom suite with pool. In Mykonos, the whole idea is to spoil yourself and let loose- so the best thing you can do is plan your stay at one of the top luxury hotels in Mykonos.
Here are some excellent sea view suites in Mykonos you should consider:
Deluxe suite with private pool in Mykonos
Prepare to fall in love with this picturesque holiday nest! Filled with uniquely designed furniture and décor, this spacious and bright suite is a wondrous place where all you will want to do is sit back, treat yourself, and daydream…!
Once you set foot in the deluxe suite of Kivotos Mykonos, you shall instantly feel overwhelmed by its beauty and charm. Comfort is a top priority: The King bedroom, large sitting area and bathroom with a hot tub combined with all the high-tech appliances and gorgeous furniture will make you feel more at home rather than at a hotel.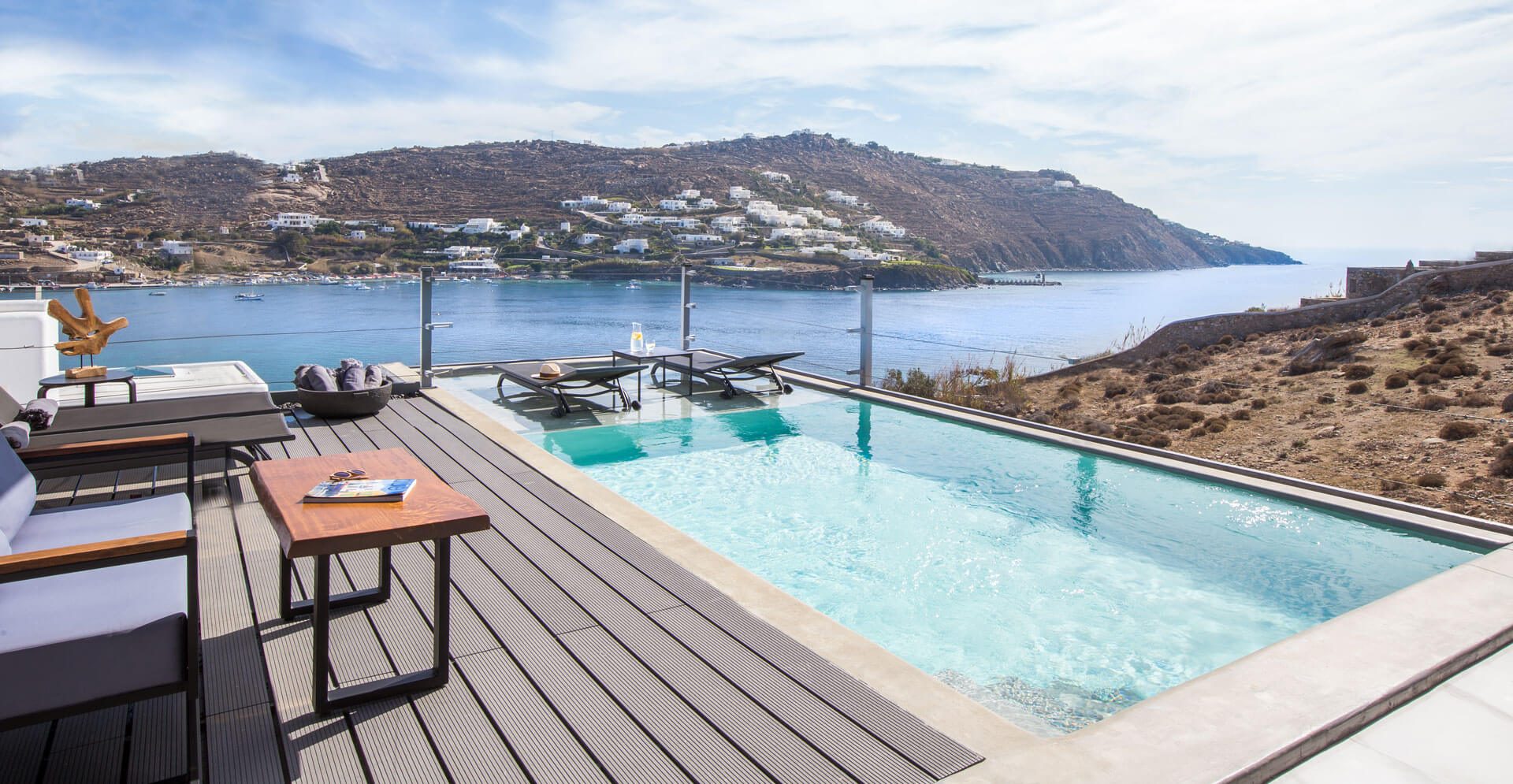 Also, the outdoor lounge area is amazing! You have got your private pool at your disposal, a lounging area to have breakfast or dinner at, and spectacular sea views to admire 24/7.
Everything is taken care of in such detail- whether it is fresh fruits and flowers brought to you daily or indulging room service on repeat day after day!
Just imagine yourself completely relaxed and pampered in your very own deluxe suite with private pool in Mykonos…
Luxury 2-bedroom suite with pool in Mykonos
If you are looking for an even more grand and spacious suite in Mykonos, the Two Bedroom suite with private pool at Kivotos is sublime!
It all begins from the very moment you arrive and are greeted with a welcome glass of champagne! Then, you gradually discover all the lavish amenities and services like the hot tub in the bathroom, the luxury toiletries, and 24-hour room service as well as the hotel's incredible spa facilities.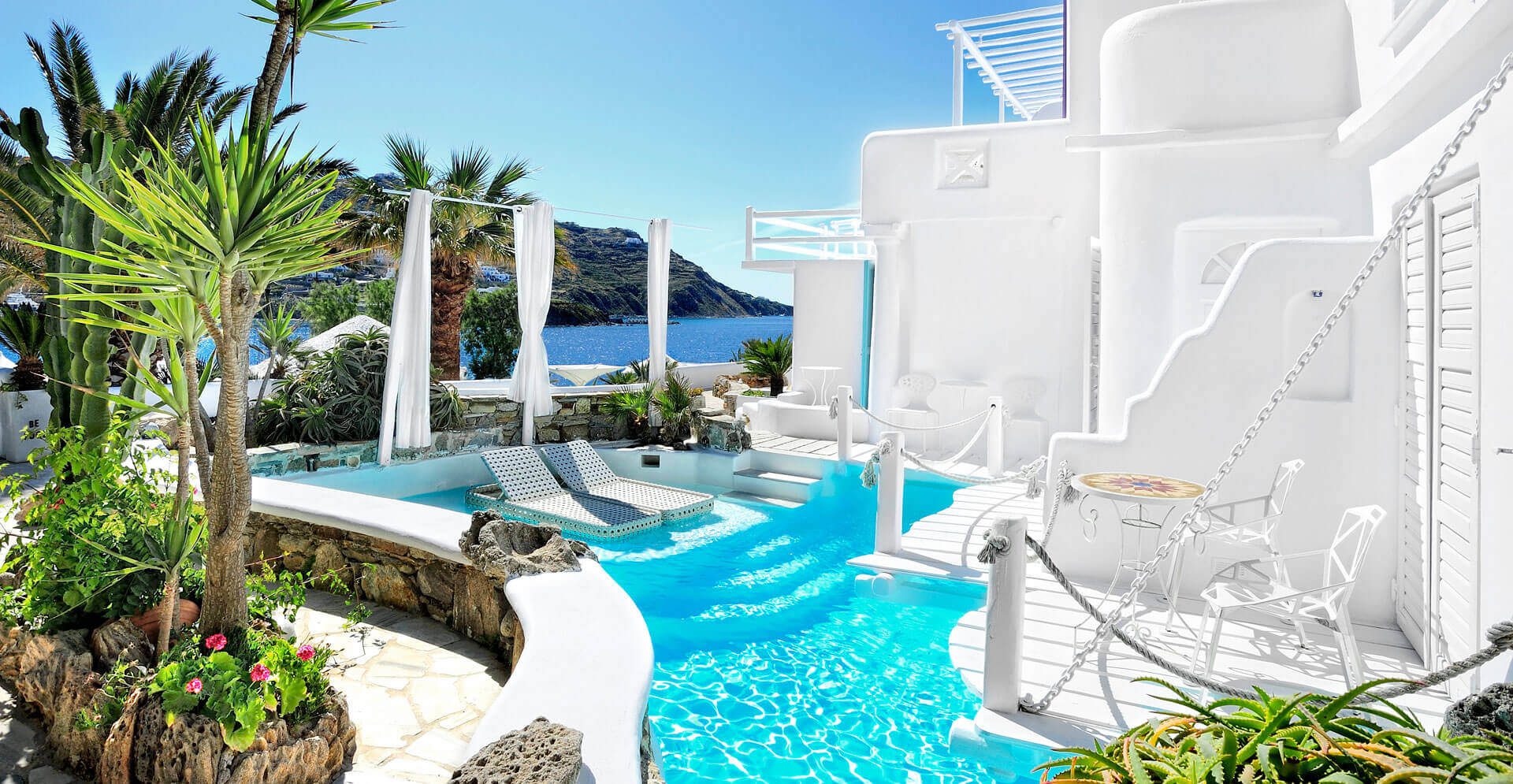 The suite has two beautifully appointed luxury suites, each with a Queen bedroom, living room, and bathroom- making it an excellent choice for two couples or friends vacationing together. Plus, it has its own private pool on a wooden terrace, from which you can gaze into the azure horizon.
Another distinguishing feature, evident throughout the entire hotel, is the furniture and décor. From the paintings to the linens and cushions- everything is remarkably tasteful and matched together in harmony.
The perfect combination of finesse and Mykonian magic- created to embrace you and amaze you!
Mykonos Superior Suite Sea View
When it comes to finding the perfect luxury accommodation in Ornos, this Mykonos superior suite sea view really stands out!
Precisely because this luxurious suite is embellished by a rare touch of style and marked by architectural mastery, it has been named the Signature Suite 130.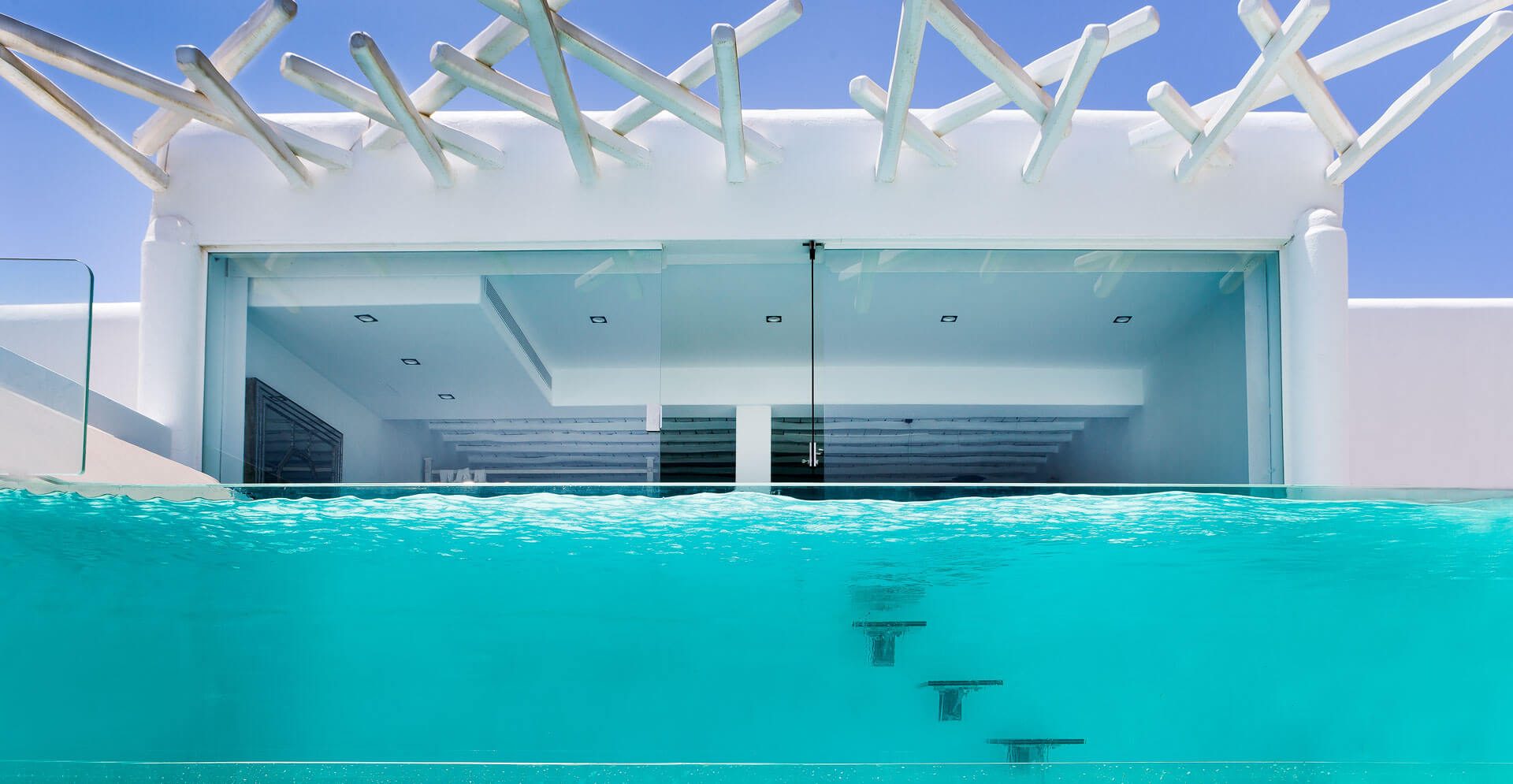 Picture yourself in a captivating private glass pool admiring the sea view while swirling underwater. Indeed, this is one of the most distinguishing features of this suite, making it an even more magical place. So, be sure to book it in advance!
White, gold, and ebony are the hues reflecting in this suite gem which has been shaped by an iconic keeper of luxury: Kivotos Hotel.
The design is out of this world! As you shall discover once you see it, sophistication, elegance, and luxury have never been blended so brilliantly.
Mykonos Junior Suite Sea View
A junior suite can be incredibly stylish and comfortable- that is, of course, if you are staying at Kivotos Mykonos Luxury Boutique Hotel.
The Junior Suites of this well-known luxury hotel in Ornos Mykonos are stunning in their effortless elegance.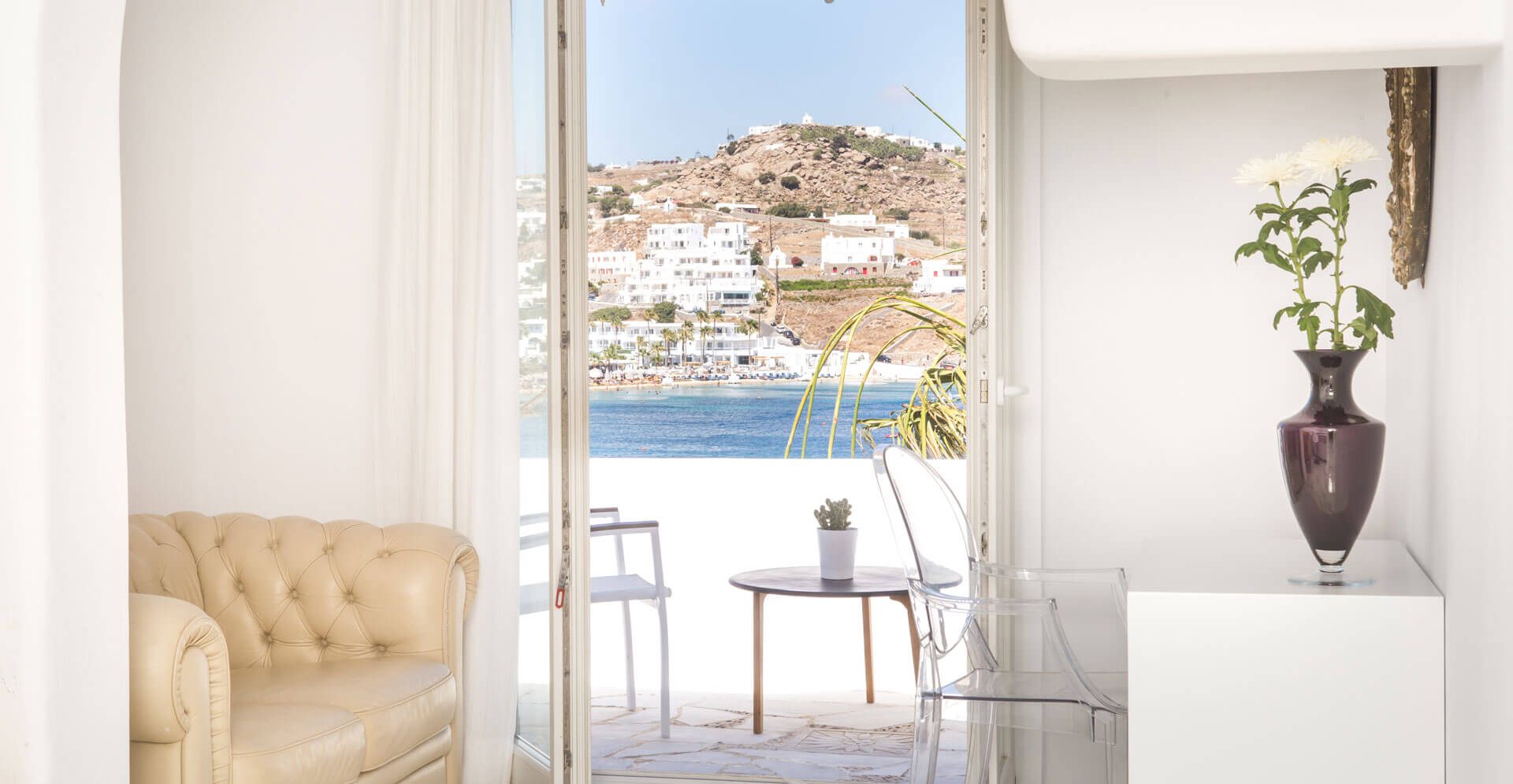 Impeccably designed down the very last detail, all Kivotos' sea view suites in Mykonos have all kinds of high-end amenities such as satellite TV, luxury toiletries, autonomous air-conditioning, and more surprises.
Fine touches of marble and earth tones carry discreet Cycladic vibes and bring in a carefree Mykonian flare. It almost feels as if Kivotos Mykonos Luxury Boutique Hotel is a palatial dwelling with a warm, homey feel to it.
Planning a vacation at one of the most prestigious luxury hotels in Mykonos is a rare gift you deserve to honor yourself with.
An escape to Kivotos ensures you will have full access to unmatched luxury throughout your stay. Everything your heart desires is right there in your lap!
Whether you are in the mood for a gourmet private dinner on the beach or a drink at a swim-up bar after a rejuvenating day at the spa, Kivotos Mykonos has it all.
Now that you know where you are heading, it is probably a good idea to start picking out some stunning swimsuits, beachwear, loungewear as well as eye-stopping evening attire to match your Mykonian mood!