Mykonos Wedding: The ultimate guide you need
April 26, 2021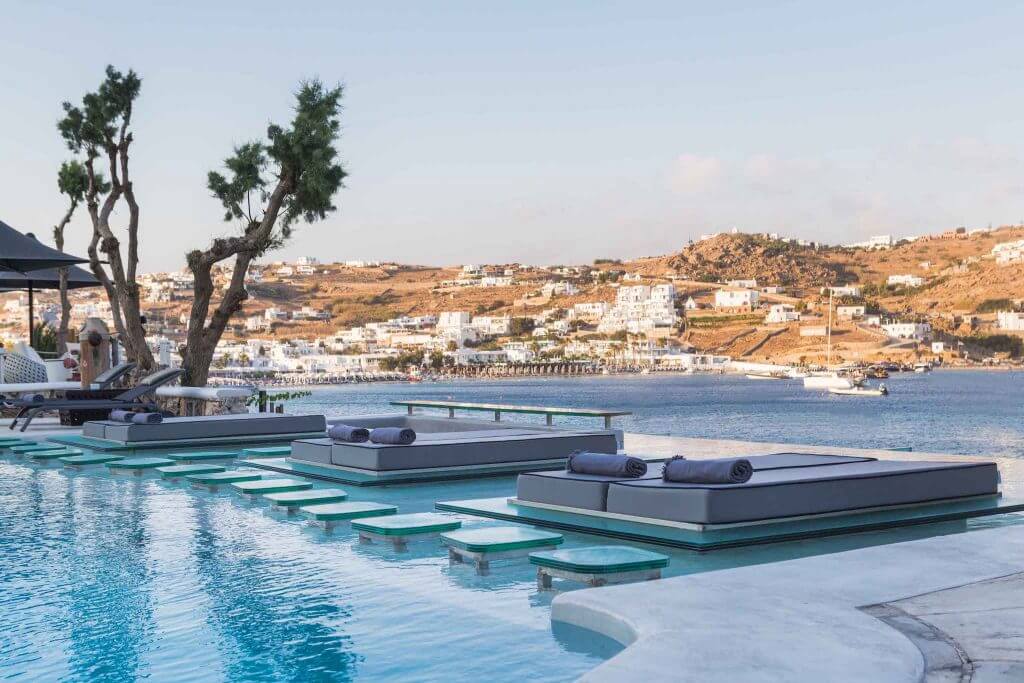 Whether you have always wanted to have a dreamy wedding or romantic honeymoon in Greece, chances are a Cycladic island like Mykonos is among the first options that pop-up, taking its place on top of your list with the most beloved destinations.
Can't blame you. Mykonos is, indeed, one of the most idyllic and picturesque Mediterranean islands that can host the perfect wedding experience, adorning it with all the glam, luxury, elegance, and exclusiveness such a special occasion deserves. Plus, the Queen of the Cyclades has this unique combination that makes it utterly charming, as it blends traditional Greek island allure and profound natural beauties with a cosmopolitan vibe and a vibrant night scene incredibly harmoniously.
So, if the time has come for that special moment in your life, let's see how you can ensure your wedding in Mykonos creates indelible moments of absolute happiness, joy, and heart-filing bliss and style.
Determining the look, style & feel of the wedding day
Will you be having your wedding outdoors or indoors? Formal, black-tie, or informal? What season are you planning on getting married? Do you want a rustic and romantic wedding? Wish to create a slight boho atmosphere or prefer something more eccentric? What colors does your ideal Mykonos wedding have? What patterns? Prefer something extravagant, traditional, fancy-chic, funky, or refined? Will you have a symbolic ceremony, orthodox wedding, Hindu wedding, or another? All these should be answered before you move on with anything else.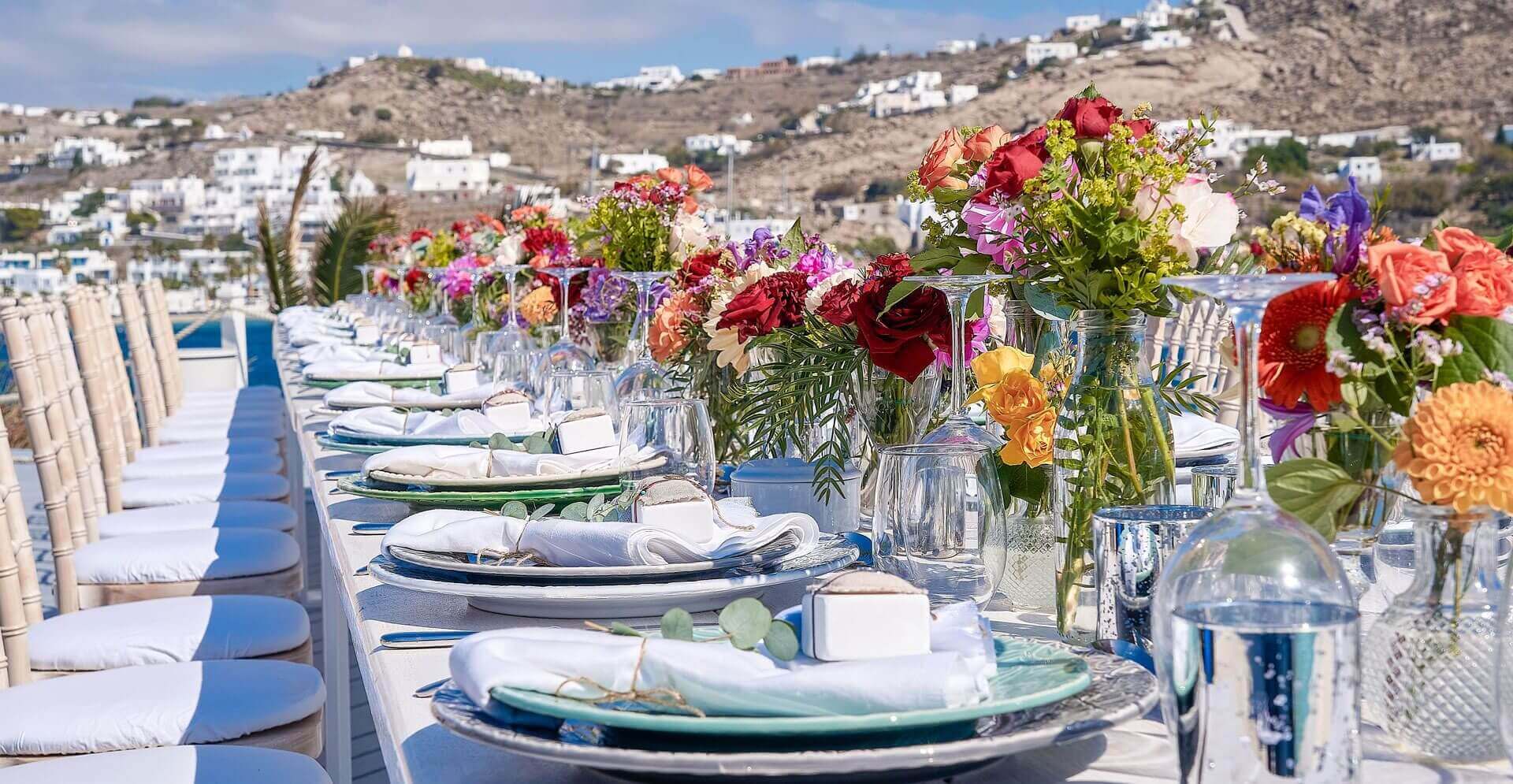 What to remember: Mykonos is quite crowded in the summer months. If you after a more private and relaxed wedding, perhaps you need to make arrangements for an off-season wedding in Mykonos. The weather is still pleasantly warm, the beaches remain inviting, prices drop on almost all things, including wedding venues and dining, and the island is on a more laid-back mode. Otherwise, feel free to join the overall party atmosphere of the hot-season!
Wedding Venues in Mykonos, Greece
You can choose between gorgeous outdoor gardens and sheltered whitewashed chapels to chic hotel ballrooms, elegant villas designed to host such events or even a pristine golden sand beach. Undeniably, you will be spoilt for choice as there are plenty of Mykonos, Greece wedding venues to choose from.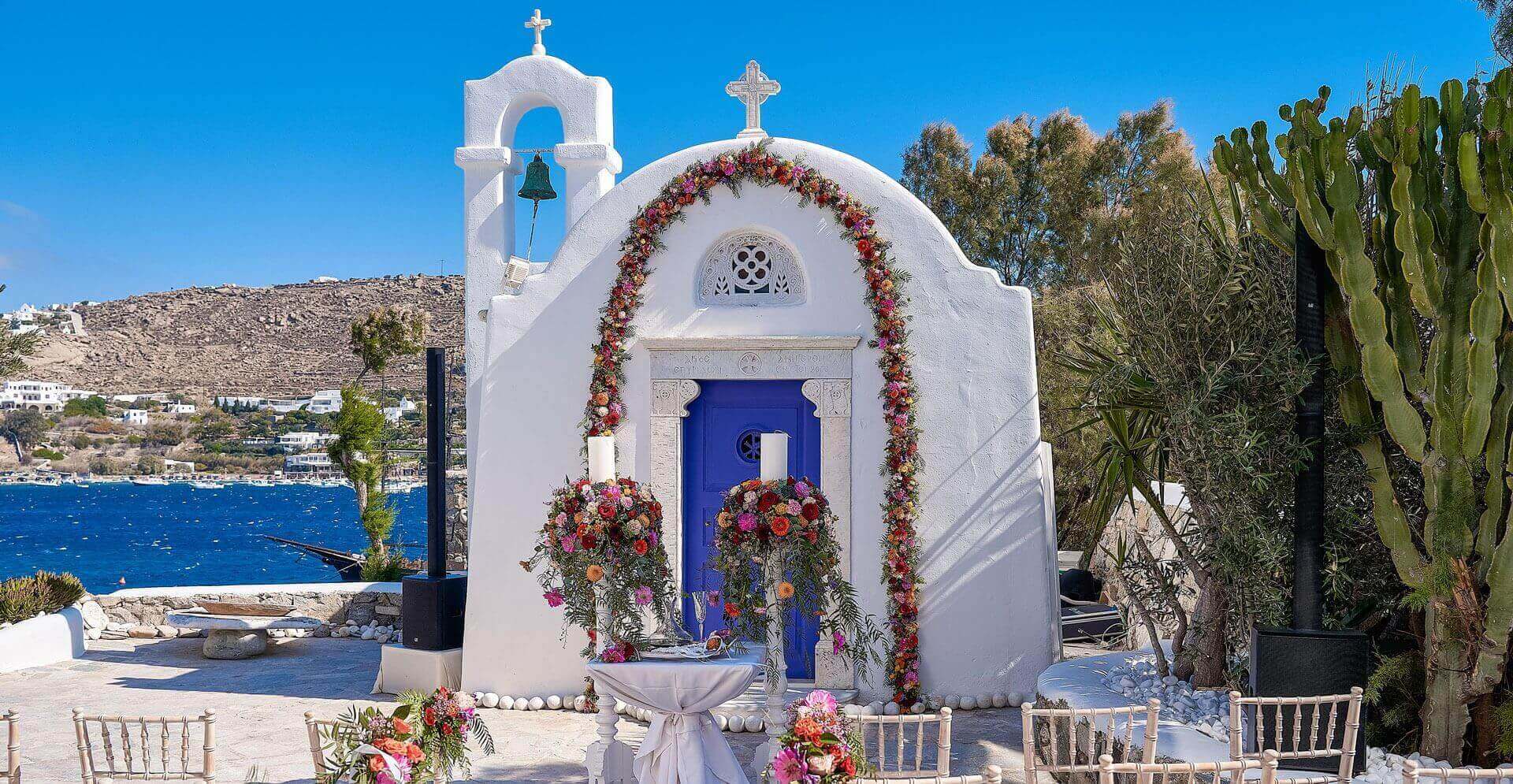 You may even consider the historic town hall of the enchanting Mykonos Town or signature local attractions, like Castle Panigirakis, Armenistis Lighthouse, Little Venice, and the Windmills. All these options come with unsurpassable views of the Aegean Sea and the most romantic sunset views ever seen by human eyes. Finally, let's not forget your more out-of-the-box alternatives, such as a luxurious yacht wedding ceremony.
Outsource or Plan Everything on Your Own?
It goes without saying that you can plan the whole thing from A to Z and create your dreamy Mykonos weddings. However, our experience has shown that this leaves the beautiful bride exhausted and unnecessarily stressed. With little time to recharge her batteries and enjoy her special day, she appears rather worn out.
Perhaps the most practical solution is to have the Kivotos Mykonos professional wedding coordinators make all the arrangements for your perfect Mykonos wedding. Whether you have decided to have an intimate wedding, beach wedding, grand wedding, or another, Kivotos will please you with its beachfront location, top-tier services, and world-class amenities.
These include an on-premises private chapel, a beautiful pool area in the lower level of the hotel (the most popular wedding reception venue among newlyweds), and the luxury villas that can accommodate the needs of a wedding with fewer guests. In this case, you only need to provide us with the wedding date, and everything will be arranged on your behalf, from marriage licenses, food, and music to decoration and guest welcoming.
Simply select one of the Mykonos wedding packages that suit your requirements to the fullest and enjoy a more stress-free wedding planning experience.
Guest Accommodation Options
The elegant, 5-star suites and villas of Kivotos have been designed to deliver maximum comfort, utmost convenience, ultimate privacy, and VIP experiences. Equipped with the most extensive range of 24/7 services and facilities, such as private pools, spa-like treatments, and Jacuzzis, you can rest assured that your guests are in good hands. Let them enjoy their morning cup of coffee or late afternoon cocktail pampered with captivating coastal or garden views, and dive into subtle luxury, grandeur, and refined sophistication.
Best Beaches for a SeaSide Wedding
Besides the private Kivotos Mykonos sugary beach with the crystalline waters, amazing views of the Mediterranean Sea, the private chapel, and the lux dining facilities, you could also set the ideal bridal scenery at beaches like Ornos, Elia, Platis Gialos, and Armenistis. Or, you may choose an even more intimate beach wedding and opt for one of the quaint, isolated coves, like Fokos, Kapari, and Ftelia beaches.
In the latter case, though, you will need to ensure your guests' transportation.
Mykonos Honeymoon in Greece
As newlyweds, there are ample options to celebrate your new chapter in life. In fact, every inch of Mykonos offers a different opportunity to share lovely adventures with your significant other. From watching picturesque sunsets and treating yourself to a glass of champagne in colourful Little Venice right next to the shimmering sea to setting off for an island-hopping adventure, your honeymoon can have the flair
and taste you choose. You may even savour private dining at the Kivotos beachfront setting or onboard the hotel's luxurious yacht.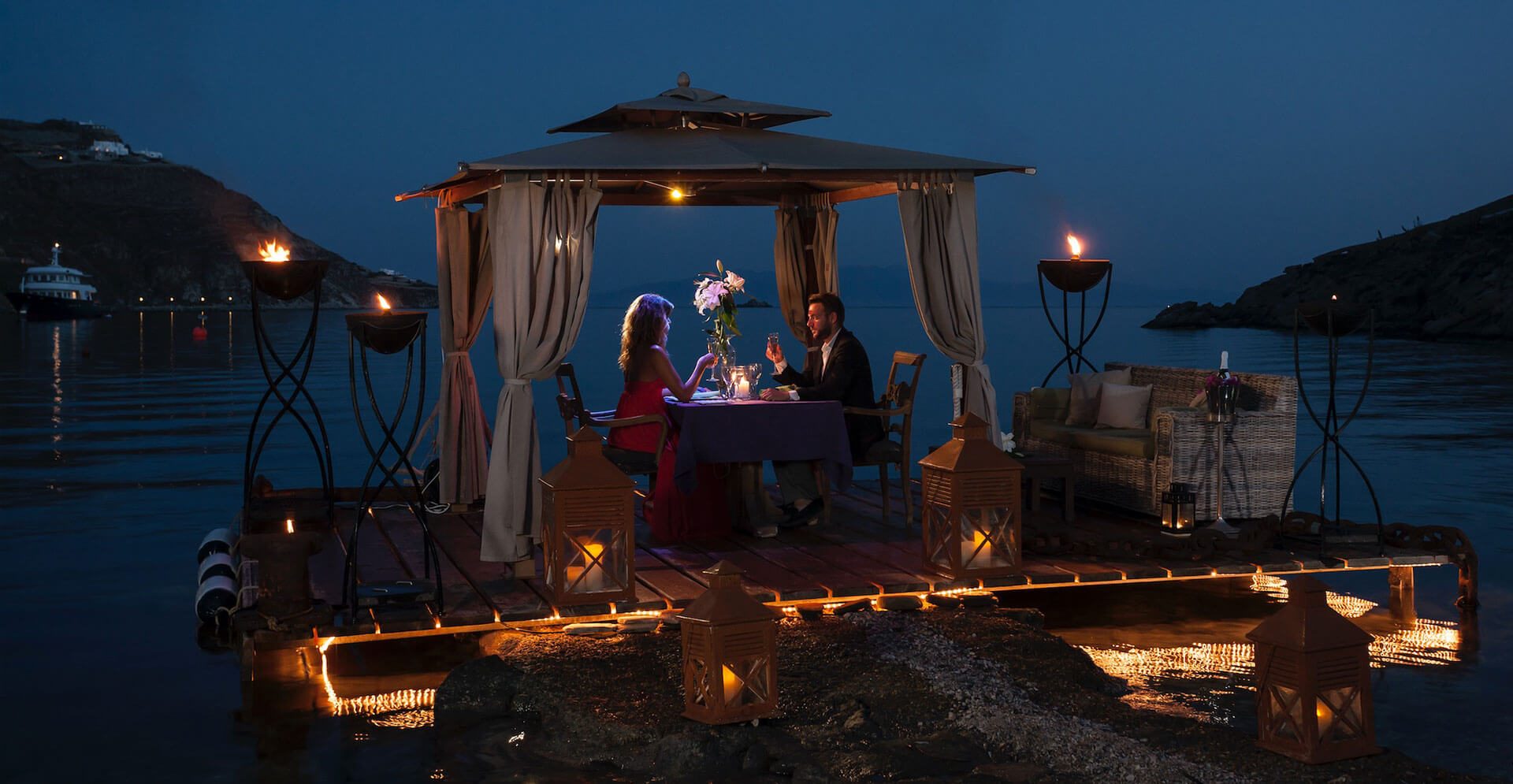 Want to add some history, culture, and mind-soothing delights to this honeymoon experience? Then, the neighbouring island of Delos, with its profound spiritual energy, will satisfy your needs for sure. Looking for shores away from the partying crowds? Do consider sailing towards the Small Cyclades complex.
Have something else in mind? Don't hesitate to ask the friendly receptionist at Kivotos Mykonos for some guidance and assistance!
Congrats on your wedding day!
We wish you a life filled with happiness, mutual trust, respect, love, and unity!