Luxury dining in the beautiful island of Mykonos
November 11, 2021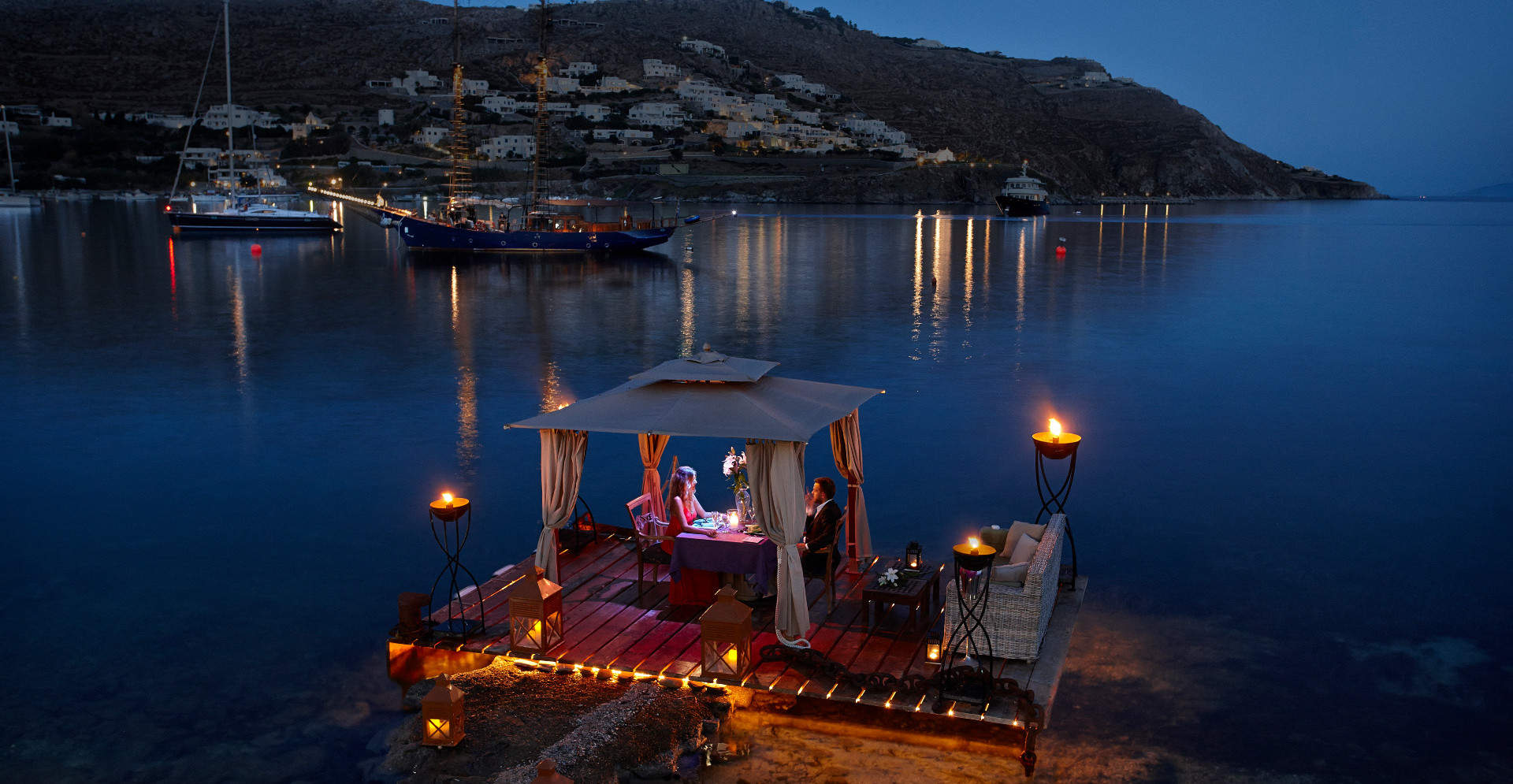 Luxury dining is an integral part of the island's refined and elegant lifestyle. Indeed, the Queen of the Cyclades offers a wide range of dining experiences to please your palate and caress your taste buds with anything from Greek cuisine and international dishes to fusion cuisine prepared by award-winning chefs. Combining authentic, pure Mediterranean flavours with the Mykonos cosmopolitan air, the chic restaurants and hip pool bars invite guests to an unforgettable culinary adventure infused with an irresistible Greek island tang.
Below, you will find a guide with some of the best places to eat in Mykonos, as well as alternative options for more exclusive and private fine dining Mykonos endeavours. Among the available options are dining with a view to the shimmering Aegean Sea, swim-up bars serving delicious cocktails, and even more private ways to share a heart-warming meal with your loved one(s) onboard a privately-owned luxury yacht.
Best places to eat in Mykonos
Luxury dining is not all about dinner and pampering yourself with palate-pleasing tastes in the evening hours. In Mykonos, it begins with a superb breakfast either by your private balcony at Kivotos Mykonos or the upscale Del Mar pool bar. Expect both local delicacies and choices from across the world made from the freshest local ingredients. Feel free to enjoy your morning cup of coffee by the pool while soaking up ravishing views of the Mediterranean Sea spreading below your feet in an inviting and relaxed ambiance with a contemporary vibe.
Other than Del Mar, and as the day progresses, you can try the sophisticated luxury dining scene of:
Exquisite Le Pirate Pool Bar & Restaurant
Le Pirate will probably sweep you off your feet instantly with its flavoursome and savoury Mediterranean fusion cuisine. This is a poolside venue offering unparalleled luxury dining tucked in a shaded patio. Provided unsurpassable views of the crystalline Ornos beach waters, Le Pirate will skyrocket your expectations for fine dining in Mykonos with its laid-back atmosphere, local specialities, fresh salads, tasty pasta, and other heavenly tastes from various corners of the Mediterranean. For grilled meat the Greek way, you are more than welcome to come on a Saturday and savour succulent meat dishes. Come day or night, and take delight in this vibrant social hub that excites not only with its luxury dining options and tastes but also its innovative drinks.
La Meduse for Fine Gastronomy
Gourmet dining in Mykonos has a name – La Meduse. Inspired by the ancient Greek mythological creature Medusa*, La Meduse hypnotises even the most discerning guests with its polished aesthetics, distinguished by fine marbles, awe-inspiring artworks, Cycladic architecture details, soft music, scenic vistas of the dashing Ornos bay, and, of course, the delectable seafood dishes with fresh fish and other Greek cuisine delights and an impressive range of Mediterranean dishes and tastes from global gastronomy.
* one of the three Gorgons, married to the God of Sea, Poseidon, and turned by goddess Athena into a creature that spellbound its victims with gazes that turned them into stone.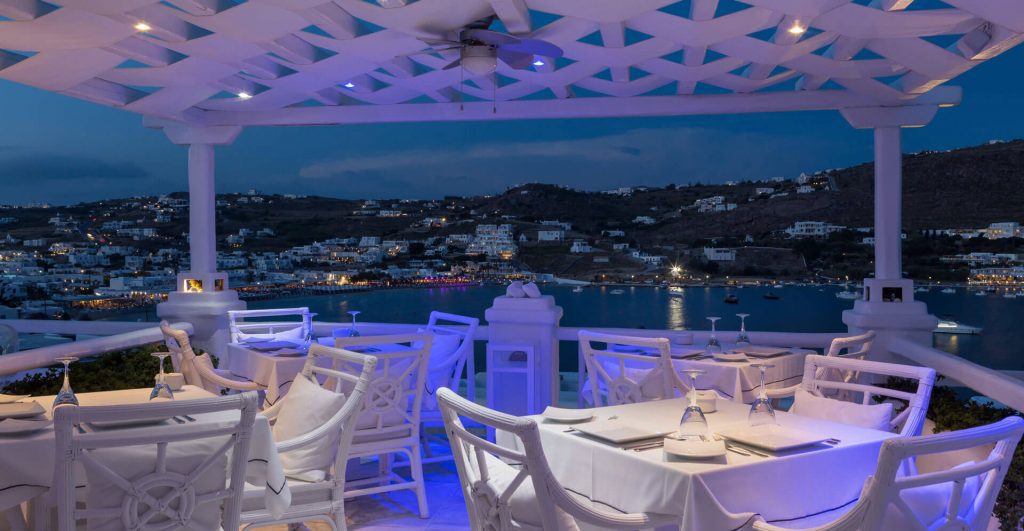 Private luxury dining at Nero Nero
Definitely one of the best places to eat in Mykonos, Nero Nero epitomises fine dining in Mykonos, offering a heightened sense of romance and seductive tranquillity. Explicitly designed for intimate star-lit dinners, this stylish on-the-beach venue enables you to take pleasure in an ambrosial meal with the sound of the waves creating a soothing and soul-filling sensation. Carve memorable experiences as the sun slips behind the horizon, and the soft sea breeze invites you to a tantalising culinary escapade for two. Without a doubt, at Nero Nero gourmet dining, luxury dining, and dining with an awe-inspiring view blend as one, providing indelible memories.
*Please note that Nero Nero is owned by Kivotos Mykonos and is tucked in a private beach-front area for all Kivotos guests.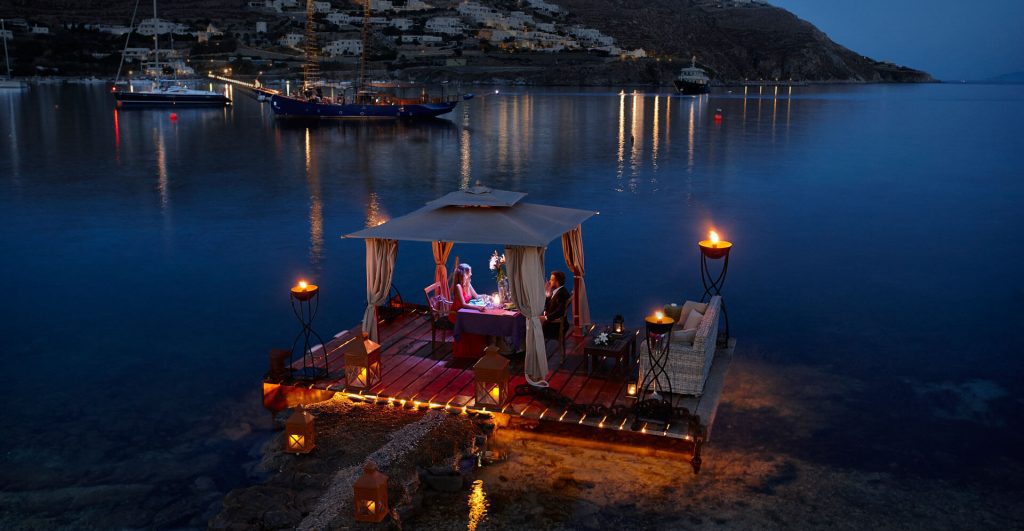 Luxury dining on board an elegant yacht
This is yet another fine dining Mykonos option, offering utmost privacy and an entirely different gastronomical experience. Kivotos Mykonos owns Prince De Neufchatel, a stylish yacht that can either remain anchored at charming Ornos Bay and provide magnificent private dining moments or sail off into the sunset while the renowned onboard chef treats your palate with delicious Greek cuisine. In the second case, you also get to admire heavenly places of pristine raw natural allure around Mykonos and allow yourself to dive into downright culinary euphoria.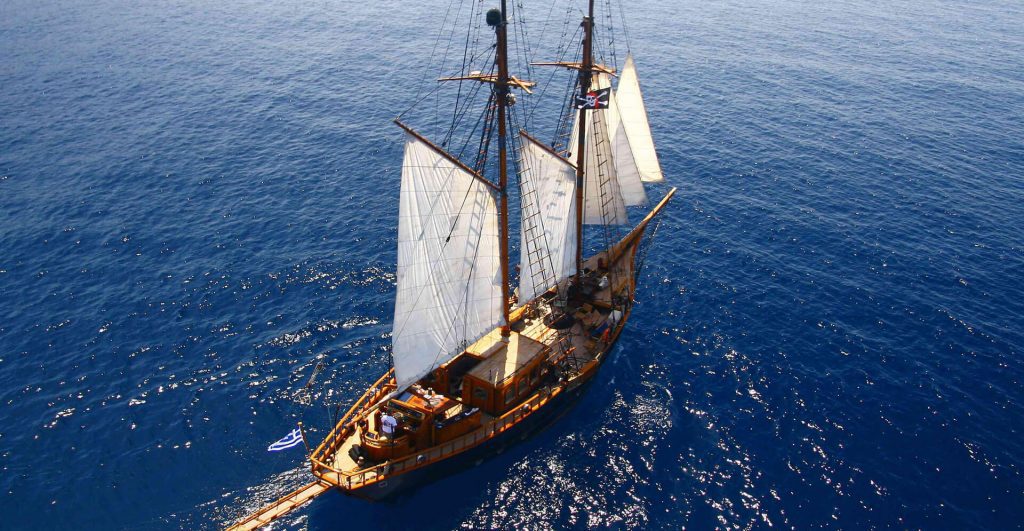 Everybody at Kivotos is fixated on catering to our guests' utmost satisfaction and gratification while embracing Greek hospitality. Our friendly and knowledgeable staff and receptionists are always more than happy to help address your needs and requirements so that you can live the dreamy Mykonos holidays you have envisioned before visiting the Island of the Winds. Therefore, please do not refrain from sharing your ideal dining experience with us, and we'll make everything possible to turn it into a tangible reality for you.