Gay Lifestyle in Mykonos
April 11, 2022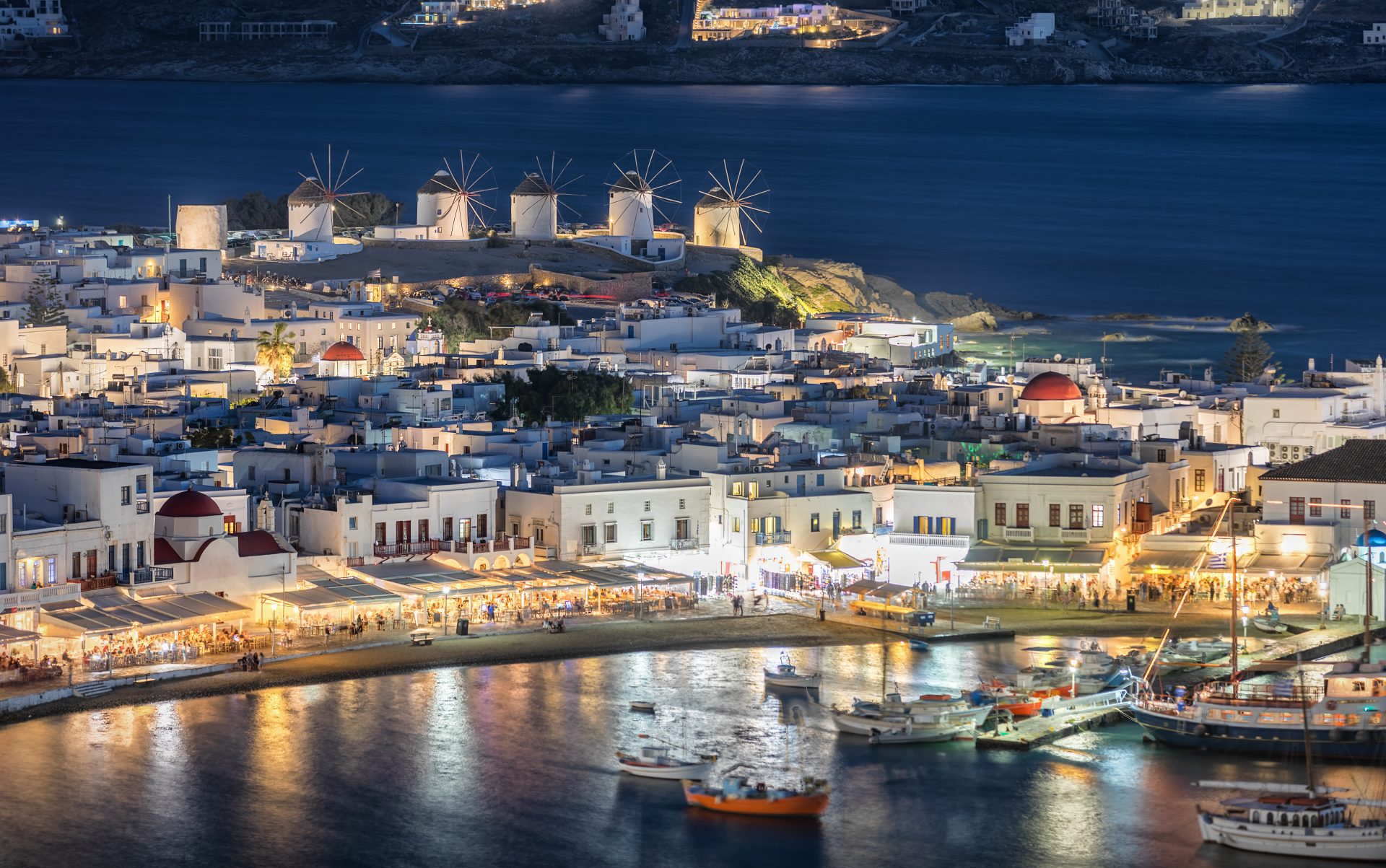 Every year, Mykonos opens its door to welcome everybody craving for its animated nightlife, cosmopolitan ambiance, endless parties, and/or its lively Mykonos gay lifestyle with the incredible range of options for maximum fun, entertainment, and luxury moments. Indeed, the Queen of the Cyclades has grown to become the land of utmost hedonism and self-indulgence, gratifying even the deepest wishes and fantasies of those who step on its land.
For the fascinating people in the LGBT community, the Island of the Winds is a dream land, with plenty of opportunities to share unforgettable moments with your partner or even solo (chances are you won't be solo for long here!), be it next to a sugary Mykonos gay beach or while partying the night away at one of the legendary clubs featuring from drag queen shows to gay events with champagne-showering prerequisites.
This guide will light some aspects of the island's gay lifestyle and introduce you to some of the most LGBT-friendly and incredibly rewarding and fulfilling spots and activities to enjoy your stay in the undeniable Queen of the Cyclades, besides sightseeing.
Best Mykonos Gay Beach – Elia Beach
On this list, Elia Beach waves from the top as it's the most LGBTQ-popular shore, with great quality shades, parasols, and sunbeds, fine sand, crystalline waters, and a stretch of sand on the righthand end (right after the water sports rental section) bearing a rainbow flag.
Beyond the rainbow flag and the rocky outcrop you'll find out that at the end of Elia lies another beach that's pure heaven, while also allowing some nudism. That would be Agrari Beach – a less crowded, yet equally well-organised shore with shades and sun beds, a popular beach restaurant, and a lifeguard.
If you walk a bit further, you'll come across a smaller cove with a sugary shoreline that is occupied by LGBT sunbathers almost in its entirety (the majority of whom enjoy the sun and the sea with their birthday suit).
As you soak up some warm sun rays, you may also take advantage of the food table and drinks services, which include a wide selection of snacks (i.e., pizzas, sandwiches, and salads) and drinks, delivered straight to your sun bed. Or you could order some cocktails and snacks from the beach staff and secure a sweet sun lounger reservation (we are talking about front-row comforts) for the next day.
Note: Elia Beach gets quite cruisy after 5 pm. In the morning, though, it is generally quiet
How to get to Elia Beach: You could hire a car or opt for a private chauffeur service and have a professional driver take you from your à la mode Kivotos Hotels suite or private villa. Alternatively, you may consider catching the taxi-boat from Ornos or Platis Gialos. The same applies to reaching the other shores mentioned here.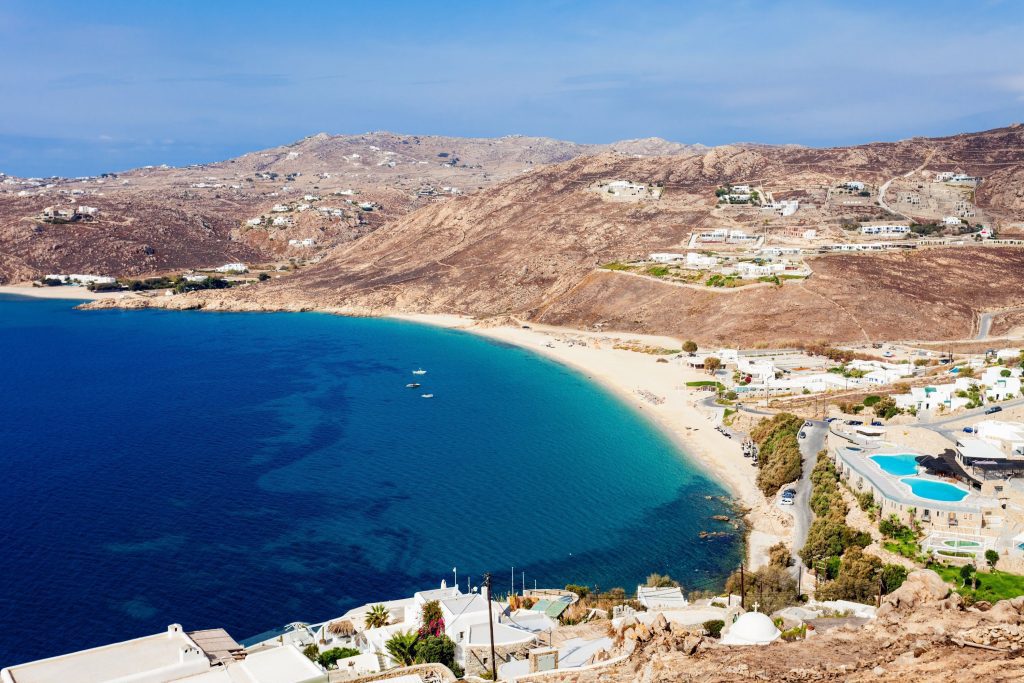 Other Stunning Beaches Worth Visiting
Super Paradise Beach – Back in the day, this was was exclusively a same-sex shore. Today, the gayest section is its righthand side (the part closer to the infamous Jackie O' club), while the rest of it is beloved by a mixed crowd of sun-worshipers and beach clubbers. Expect a lively vibe and a place that transforms into a party mecca after around 4 pm, with parties that last till the early morning hours. The beach also hosts a classy restaurant, champagne bar, and beach club. Plus, plenty of shades and sun loungers for rent.
Paraga Beach – Situated within walking distance from Super Paradise and Paradise beach, it attracts from nudists to younger sunbathers and welcomes them with calm, transparent waters and golden sand. For more intimate experiences, though, do head to the south side of the shore (around the rocks). This is also where the widely-known Scorpios Beach Club is situated, greeting visitors with stylish entertainment options.
Lia Beach – Nicely tucked on the south-east of the island, Lia Beach is a smallish, wind-protected, clean shore with fine sand and plenty of tourist facilities and comforts, such as an elegant beach restaurant, car park, and sun loungers. Although not strictly for same-sex partners, it is a superb option if you are looking for some peace and tranquility as you appreciate the Mykonos gay lifestyle.
Kalafatis Beach – Again, not a 100% gay beach, but definitely one of the longest stretches of sand on the island that deserve to be checked out, at least once. Lined with pine trees that shelter the beach from the strong northern wind that often blows, it is much preferred by windsurfers thanks to its exposed bay and nice waves. Kalafatis also offers a wide range of tourist facilities; in addition to a perfectly quiet spot in its central strip for those who fancy to lay their own towel and umbrella on the sand.
Mykonos Gay Lifestyle – Bars & Clubs
In Mykonos, the partying aspect is always there, regardless of the time of the year. However, during the high season (the summer months), there are more special events taking place for sure. It should be noted, though, that the island has an impressively wide range of nightspots that always find a way to surprise you, either with what happens behind their walls or who you find there!
A gay bar in Mykonos that has definitely stood out over time is stylish Jackie O's, below the picturesque Panagia Paraportiani church. Submerging visitors into purely hedonistic experiences, it serves from delicious shots and evening drinks to sunset cocktails, while pampering its colourful crowd with huge amounts of fun and mind- blowing drag shows.
Babylon is following Jackie'O in popularity, and is very close to its elegant counterpart, which, by the way, is the major same-sex cruising area on the island. Expect various styles of music, from ambient and acid jazz to progressive and house, nightly drag shows, and a ton of themed Mykonos gay events and parties that can be enjoyed under the starry sky as you take delight in your drink on the fab pier.
Another must-stop gay bar in Mykonos is Piano Bar, also known as Montparnasse, which sits nicely in the quaint Little Venice district and its amazing seafront. The bar has been serving cocktails and great entertainment since the 1980s and has been featured in the most well-known LGBT travel guides globally. Besides the lovely musical evenings, you can also come here for the stirring views of the shimmering Aegean Sea and to meet new people. After a short while, Piano Bar has a sweet sensation, as if it's a gathering between friends.
Of course, this list with the best gay attractions on the island is far from exhaustive, given the stunning plethora of different options provided. However, if there is room for one recommendation, that would be chic Lola Bar in the heart of the island's capital. It enchants visitors with laid back lounge music, a wonderful atmosphere, a lovely ambiance, and absolutely palate-pleasing cocktails. There is no way you can go wrong with Lola Bar!
Mykonos Gay Lifestyle – Best Mykonos Gay Events
The hottest, most grande, and most spectacular Mykonos gay festival with an international appeal is, undeniably, the XLSIOR. Every year, it welcomes more than 35,000 travellers and the crème de la crème of the gay world who fly from the corners of the earth to attend it and taste something different every single year. So, even if you have already joined the XLSIOR, you have definitely lots more to anticipate from this hugely popular Mykonos gay festival.
Launched in 2009 by Anastasis Kapetanias, it has now turned into a major summer event that offers a pleasurable getaway featuring international DJs, a careful selection of outdoor and open-air venues that are simply heart-stopping, an unimaginable setting, and unforgettable experiences with the company of the most renowned artists in the LGBT circuit scene.
Other than the XLSIOR, though, you can also spoil yourself with the many cabaret shows, parties, and live performances that are organised throughout the island at dreamy locations with astonishing views.
Privacy at its Finest
Want to take this a bit further? Why not have a private party for a select few friends at the comfort of your elegant Kivotos Hotels villa? That way, you can combine exclusivity, intimacy, sophistication, world-class services, unbelievable seascapes, and entertainment just the way you define it.
And, if you wish this to be an experience for two, let us know and we'll make the necessary arrangements so you can savour a romantic candle-lit dinner at our private stretch of sand at charming Ornos bay or even onboard the elegant hotel-owned schooner, accompanied by local tastes and idyllic vistas of the sea and the adorable coastline.