Are You Looking For a Private Mykonos Yacht Charter?
June 22, 2022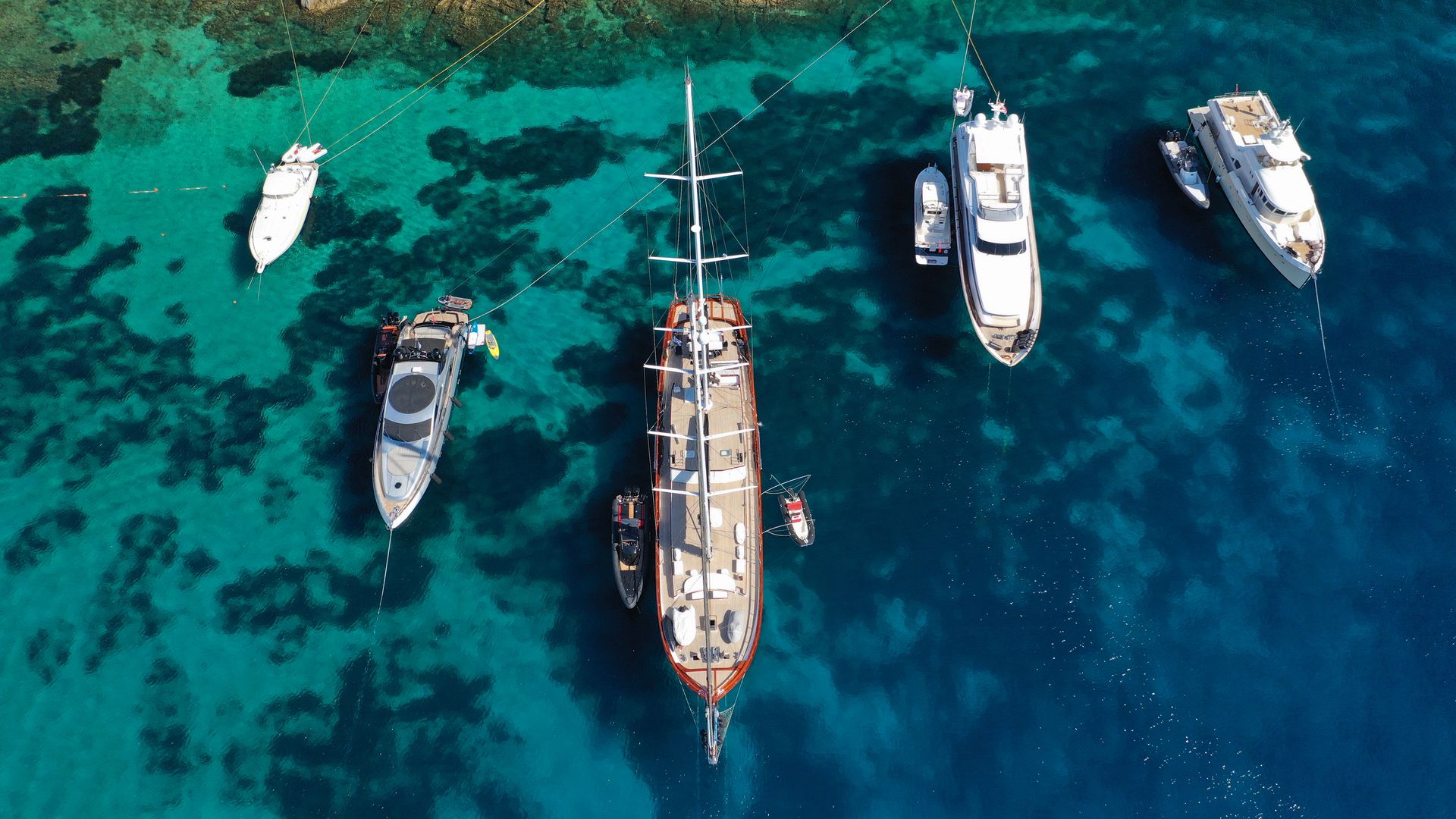 One of the most rewarding activities while holidaymaking on Mykonos is a sailing cruise. Indeed, it gives you the unique opportunity to see the bedazzling allures of the island, its beautiful natural surroundings, and the traditional Cycladic architecture starring cubic-shaped, whitewashed houses and blue-domed, chalky chapels from amidst the archipelago, which can be particularly enchanting, especially during sunset. Plus, you can make this part of a wider exploration of the islands in the Cyclades complex, and visit idyllic Santorini, charming Paros, mysterious Delos, isolated Rhenia, and other fantastic destinations on board a luxury yacht.
With a Mykonos yacht charter adventure, the list of things to discover, see, and experience is literally endless, particularly when considering that most of these ventures can be fully customised and tailored to your specific desires, tastes, and requirements. Below is a comprehensive guide containing all the key details you need to know and what to expect from a Mykonos yacht charter endeavour.
Sailing in Mykonos  - Your Options
From elegant sailing, motor, and mega vessels to stylish speed boats and RIBs, you'll be spoilt for choice for sure. It all depends on several factors, such as the type of sea-related experience you are after, your destination, the number of days of your trip, and the number of people you would ideally want to take with you. This is because you'll need a different vessel if you want to have a party or a beach tour from a Mykonos yacht day trip or a Mykonos yacht charter for a weekly tour. Besides the required vessel type, though, a different set of services is usually needed per event/travel reason.
For instance, organising a celebration, such as a birthday party, on a private yacht calls for party planning services and a specific package of services, which must bear elements like a DJ, hostess, waiters, wines, drinks, various champagne labels, finger food, and even live music (some bespoke  concierge agencies even offer a saxophone player as part of their luxury party yacht rental package).
A sailing tour to nearby Santorini, on the other hand, can be made exceptional with a sailing boat or chic cruiser that comes along with VIP services, such as table reservations, chauffeur, private tours, private transfers, and more. The same applies to a sea exploration that involves hopping on and off other adorable Greek islands in the Aegean Sea.
Needless to say, nearly all luxury boat charters available at the Island of the Winds can be combined with a variety of other luxury services, such as yacht provisioning, around-the-clock luxury concierge, private crew, onboard VIP services, security services, luxury event planning services, and more, for totally personalised luxury experiences with help from experienced lifestyle managers and travel experts who will help you pick the ideal itinerary based on your needs and tastes.
At the end of the day, keep in mind that yachting in Mykonos can have the precise shape, shade, aroma, feel, and flavour you wish, irrespective of your prerequisites. From hiring a day charter to visit the local attractions (i.e., the beach clubs along the Mykonos shores, more remote and secluded coves, Little Venice, the windmills, Rhenia, Delos, etc.) to enjoying sports, leisure, and adventure activities with a Mykonos luxury yacht charter rental, you can have it all and live it all in supreme style!
Insider's Tip: If there is room for a small recommendation here, we strongly suggest a private sunset sailing tour. The spectacle created when the sun is about to sink behind the Mediterranean sky is magical and best experienced from the heart of the Aegean Sea. Simply, give your eyes (and brain) a few moments to adjust to the unique and profoundly hypnotising swirl of colours and the waterfall of emotions and sensations that will definitely overwhelm the body, and you'll emerge from this a new person.
Mykonos Yacht Charter Options
There are several types of vessels to choose from, but the main ones usually available are as follows:
Elegant Speed Boats
For a quick, short, comfortable, and playful visit to neighbouring Delos and Rhenia islands (or even Paros and Antiparos, which are also close), you can consider a luxury fast cruiser. The majority of high-speed motor boats on the island are a 15-metre-(50ft)-long Alfamarine model that reaches a max speed of around 34 knots and can accommodate up to 6-10 guests.
They usually feature two or three guest cabins (the master suite typically comes with an en-suite bathroom and is the full width of the vessel) and an equal amount of baths, plus crew cabins, and are specifically designed to keep perfectly on course even if the sea gets rough. As for the type of beds inside, the guest cabins come with either bunks or single beds while the master cabin may have a queen bed (not a standard feature, though).
Stylish Super Yachts
This is where you will find larger, even more lavish RIVA yachts with superior specifications, facilities, and entertainment options, which typically include 21-metre (68ft)-long vessels bearing an autopilot, VHF Sailor, plotter, GPS, Depthsounder, full climate control, stabiliser, radar, SAT LCD TV, Wi-Fi Internet, private en-suite facilities, GMDSS, Hi-Fi stereo, BBQ on the flybridge, washing machine, and others.
Regarding the maximum number of guests that these boats can accommodate, it ranges from 10-12 (plus 2-4 crew members). When it comes to their speed, they usually reach 22-24 knots, and can either be flybridge, sportfly or open style vessels.
Finally, their typical sleeping arrangements offer a master suite with a king-size bed, alongside several double- and/or single-bed VIP en-suite bedrooms. As for extras, the majority of the Olympic-tender, luxury yachts available have snorkelling equipment, SUPs, kayaks, wakeboards, water-skis, and other equipment.
Luxurious Mega Yachts
It is the category that impresses the most with its colossal vessels of around 42 metres (or more) in length (138ft) that are perfect for longer (usually weekly) charters. Expect pared-down interiors designed by highly acclaimed artists and adorned with artwork by celebrity photographers, large windows that let natural light flood into the interior, and even things like an expansive deck space, glass dining tables, huge swim platforms, water toys (i.e.,inflatables, jet skis, etc.), zero-speed stabilisers to ensure smooth cruising no matter the sea conditions, a deck bar, a beach platform, alfresco dining, cinema rooms, multiple lounge and relaxation spots, and sunbeds (to name a few), and a top speed of 24-32 knots.
These vessels usually have a larger number of crew members (around 7-8) and can accommodate up to 22 guests in their extremely luxurious en-suite suites and elegant cabins with private baths. Also usually included in weekly charters are a butler, a chef, cleaning staff, waiters, complimentary transfer, welcome drinks and a delight basket, on-deck BBQ, soft drinks, snacks, fruits, spa staff, a guide, and more.
The Exclusive Kivotos Hotels Charter Option
Luxury sailing has a name on Mykonos – Prince de Neufchatel – and it's the privately-owned schooner that will take you to a unique and unforgettable sailing journey around the Queen of the Cyclades or to other destinations that speak directly to your heart. Provided exclusively to Kivotos Hotels guests, the 25-metre (82ft) elegant boat is a dreamy option for either short, daily cruises or longer trips to unexplored lands, pristine shores, remote bays, and other idyllic locations.
Prince de Neufchatel has plenty of space for up to 40 people (for daily excursions), while it can comfortably accommodate up to 6 guests in its three world-class en-suite cabins (for cruises with a longer duration). Whether diving into crystalline, azure waters, snorkelling transparent seas, exploring secret spots, discovering scenic fishing villages, or swimming is on your agenda this year, a sailing cruise with the Prince de Neufchatel will undeniably tick all of your boxes.
Needless to say, the Price comes fully crewed and skippered, and will most certainly please your soul with its sophisticated elegance, subtle luxury, undeniable comfort, unbeatable grace, sleek lines, and VIP facilities. Available for both private charter and island hopping ventures, it can also be chartered for private, even more special use. So, feel free to share a romantic candlelit dinner on board the chic ship or throw a private party away from the bustling capital and the party beaches.
All that aside, though, the magnificent Kivotos Hotels schooner is often preferred by our guests for fairy tale-like wedding ceremonies, either amidst the archipelago or with the Price anchored at the Kivotos-owned private stretch of sand!