5 ways to travel to Mykonos
April 2, 2021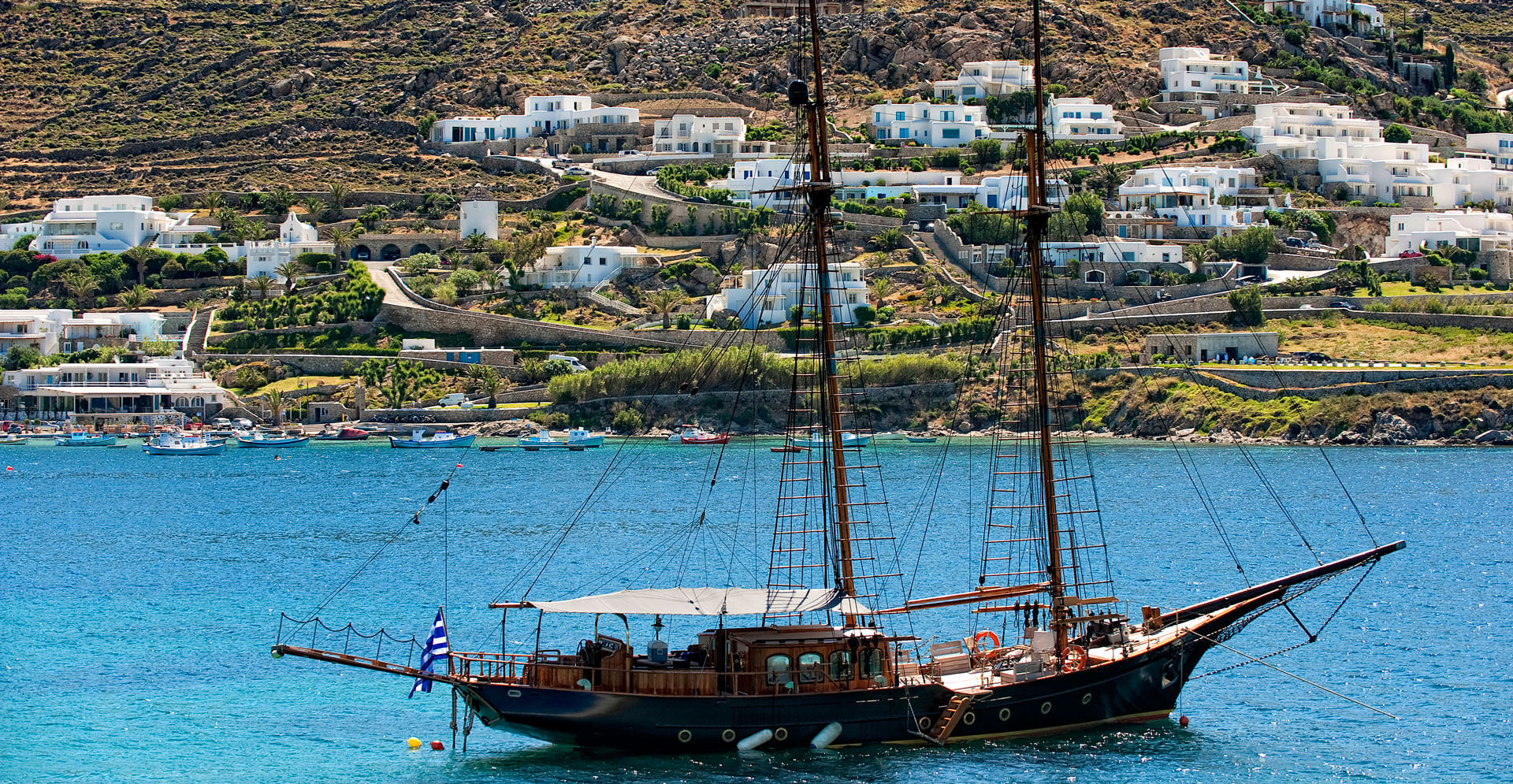 Traveling to Mykonos is a once-in-a-lifetime experience for all visitors, regardless of whether you come for the vibrant party scene or the natural beauties of the charming Greek island. This perfect getaway place, and many celebs' favourite destination, is connected to the rest of the world in various ways. In this guide, you will find details about direct flights to Mykonos, affordable and cost-effective solutions, as well as ferry trips and other alternatives to reach the dazzling Island of the Winds.
1. Direct Flights to Mykonos
This one is quite tricky at this given moment due to the Covid-19 pandemic that has changed many things around us, including flight schedules. At the time of this writing, some airlines have direct flights to Mykonos Airport. For example, British Airways has a few flights from Heathrow Airport (LHR) and City Airport (LCY) to Mykonos Airport (JMK). This is not the case with other airlines that also used to have direct flights to Mykonos, though.
A great place to start looking for flight schedules and prices is Skyscanner. As of now, budget airlines, such as EasyJet, continue to operate direct flights to Mykonos from major London airports, along with other European airports like the Milan Malpensa airport.
In the previous (pre-Covid-19) years, you could get on a plane and fly straight to Mykonos from almost any major European city. These included from Amsterdam and Zurich to Stockholm, Vienna, Paris, Venice, Munich, and many more. There were even direct flights to Mykonos from Larnaca and Istanbul. From what it seems, we will hopefully leave all this nightmare behind us shortly and be able to enjoy relaxed and fun holidays again to recharge our batteries! So, airlines will most likely be back soon with their regular flight schedules.
2. Connecting flights to Mykonos
Of course, you can also get to Mykonos from Athens or Thessaloniki. There are several flights from Eleftherios Venizelos Airport (ATH) and Thessaloniki Airport (SKG) year-round. Although these are not direct flights to Mykonos, you could consider heading to either one of the two big Greek cities and then jump on a plane or charter to Mykonos if you are on a tighter budget. This is because connecting flights tend to be a lot cheaper than direct ones.
Some of the airlines with flights from Athens to Mykonos are Volotea, Aegean Airlines, and Ryanair, with Aegean Airlines offering the largest number of daily flights, especially during the summer months.
3. Ferry trips to Mykonos
Another marvellous way to get to Mykonos is by sea. This option enables you to savour all the heart-stopping views of the shimmering Aegean Sea and the unbeatable sensation you get from being surrounded by cobalt waters and endless shades of blue on a sunny day.
A tool you could use to track all available ferry connections to Mykonos is GTP Ferry Connections. Just enter the required details and get a list of all direct and non-direct ferry trips to Mykonos. The non-direct schedules are great if you want to pay one or two Cycladic islands a short visit before you step foot on the popular Mediterranean party mecca (and not only). Each island has its own, unique charms so it might be worth considering a ferry trip with a stop or two!
Now, from Athens, you can get on a ferry to Mykonos from either the Piraeus or Rafina port, with the latter being the closest to the Athens airport (20 minutes drive vs. 60 minutes to get to Piraeus port from the Athens airport). From the city center, though, the distances reverse, which means that the Piraeus port is closer than the Rafina port (30 minutes drive vs. 60-90 minutes from the city center to the Rafina port). Of course, you can also use the Metro train line that connects the airport to Piraeus port. From either port, you can take a catamaran or ferry and get to Mykonos 4-5 later (with a ferry) or 2 hours (if you opt for a high-speed catamaran).
Some of the ferry companies with connections to Mykonos are SeaJets, Golden Star Ferries, Fast Ferries, and Blue Star Ferries.
4. Private yacht charters
Private yacht rides are also available from Athens to Mykonos. You only need to pick among a wide range of yachts and superyachts of varying ages, styles, and sizes (these reflect on the price of the yacht ride). This is also a superb solution for island-hopping endeavours and other sailing experiences.
5. Private jet charter or helicopter to Mykonos
Whether you choose to visit Mykonos by getting on a private jet charter or helicopter, you will be treated to spectacular bird's eye views of the crystalline Mediterranean Sea from above. Indeed, a soul-pleasing sensation! Private charter companies like LunaJets, PrivateFly, and NetJets are some of the options you could think of. However, there are plenty more to choose from and reach Mykonos within a few minutes. As for private helicopter rides, companies such as Greek Airtaxi Network, VIP Charter Service, and Icarus Jet can get you to Mykonos from Athens within 55 minutes or so. The best thing about private charter and helicopter rides is that they can be totally tailored around your travel requirements and itinerary.
Airport transfers to your hotel room
Now that you have arrived in Mykonos allow us to pamper you with high-end transfer services and take you straight to your luxury Kivotos hotel suite or villa. Available on a 24/7 basis, our friendly staff is ready to accommodate your needs, including your transfer and transportation desires. Let us know whether you require airport transfer services, and we will make sure your luxury air-conditioned car ride will be waiting for you at arrivals. We know. The sooner you can step foot in your suite balcony and lay eyes on pristine panoramas of the Aegean spreading below your feet, the better!
All in all, there are several ways to get to Mykonos, depending on your budget, your preferred means of travel, and the type of luxury you wish. We are looking forward to meeting you, irrespective of the option you select! We are certain that you will appreciate the VIP lifestyle that distinguishes Mykonos and leave with your luggage full of the unsurpassable Mykonos allure!