5 Traditional Mykonos Food Experiences
April 19, 2021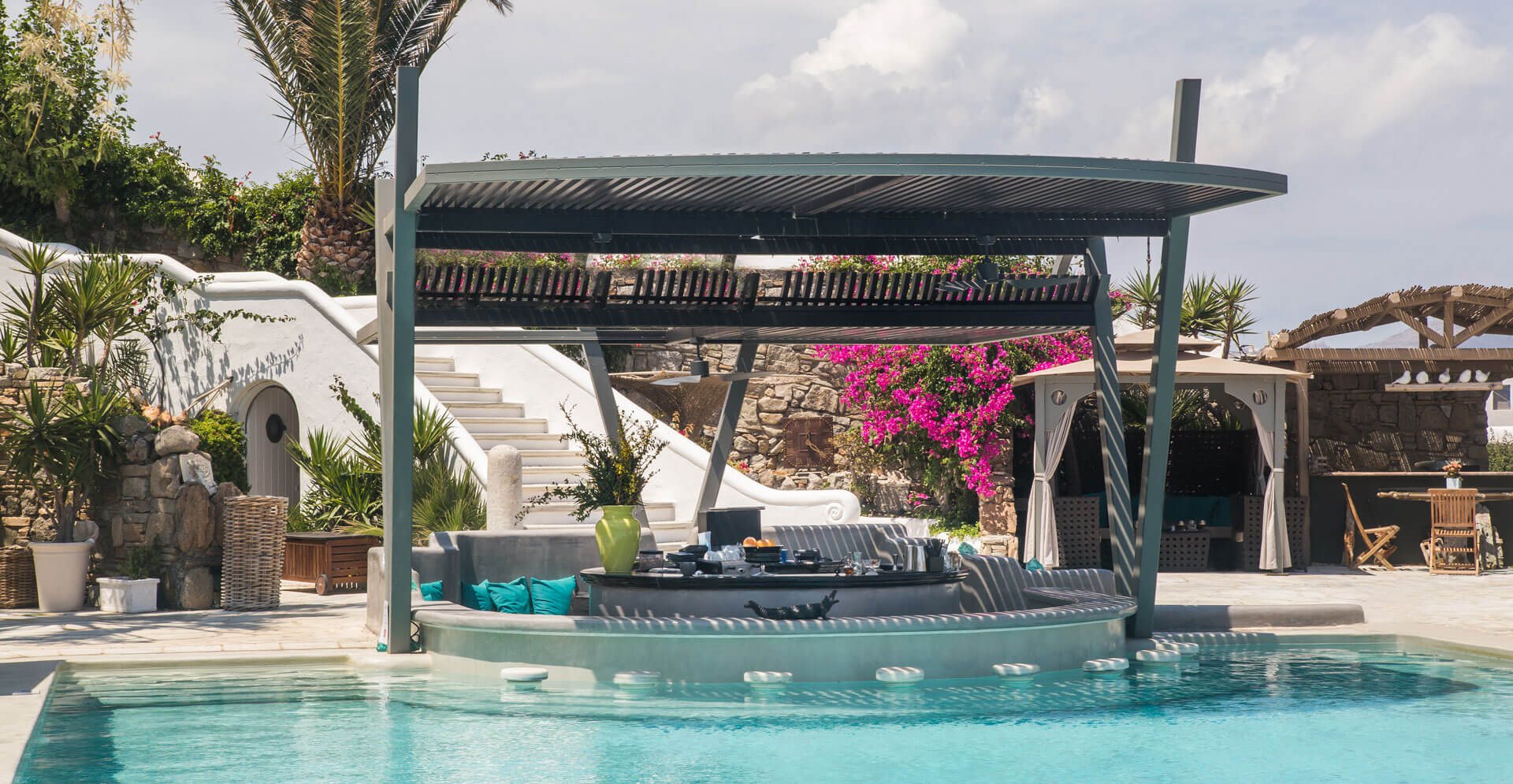 Taking a leisure walk through the cobblestone streets of Mykonos Town (and every other Mykonos town or village, so to speak) instantly becomes an utterly inviting experience. The smell of freshly-baked bread, the fresh seafood served at family-run tavernas, and the other local goodies everybody is so fond of swirls in the air, creating an appetite for the delicious foods made exclusively in Mykonos.
From Louza and Trivolia to onion pies and almond cakes, you definitely have many reasons to want to try the palate-pleasing local delights and enjoy a sophisticated yet downright toothsome Mykonos fine dining experience. Here is a list of the traditional Mykonos tastes served at Ornos Bay Mykonos restaurants that will give you a much-welcome feast of aromas and flavours.
1. Louza – Spicy and refined!
Made from the finest pork filet, louza is a type of sausage and a great meze (appetizer) to accompany ouzo, raki, or wine. At first, it sits in salt for around 24 hours and is then boiled for 30 minutes or so. The next stage involves spicing it with pepper, salt, and oregano and leaving it out in the sun to dry until it gets its characteristic deep red colour. Besides its explosive taste, which is why it is served in tiny slices, louza is more pure lean meat than other pork meat dishes. This makes it highly nutritious and healthy. What is even more exciting about louza is that you will find it at both tavernas and fine dining restaurants in Mykonos, including the best restaurants in Ornos, Mykonos, like La Meduse.
2. Kopanisti cheese – Creamy and peppery!
Feel free to pamper yourself with one of the three types of cheeses made in Mykonos, kopanisti, and be prepared for an incredibly tangy flavour. Kopanisti is an excellent side dish served in nearly every restaurant in Mykonos, Greece, whether meat or seafood is the main course. Made through the process of fermentation, kopanisti is a goat milk cheese with a particularly rich texture. All that aside, kopanisti can also be used as a snack, spread on a wet rusk and topped with extra virgin olive oil, oregano, and organic tomato!
3. Xinotiro – Fruity and palatable cheese!
If you have tasted traditional Greek feta or sour cheese, then Xinotiro will bring you back recognisable tastes. A tad more fragrant and fruity than Kopanisti, Xinotiro is made following the same procedure as Kopanisti. The fact that it is left in the sun to dry for much longer than Kopanisti, though, makes Xinotiro a tougher alternative to the other cheeses and a perfect accompaniment to pasta dishes.
4. Onion pie or Kremidopita – A burst of tastes!
Local housewives make their own pastry leaves for their pies. The same applies to the renowned chefs serving pies in gourmet restaurants. That, and the top-quality raw ingredients, is the secret behind the unbelievably delicious and mouth-watering pies one will taste in Mykonos.
Made with sweet onions, an impressive range of local aromatics, such as dill, and a type of cheese also made in Mykonos called Trivolia (soft, white cheese primarily used in pies), it creates a gratifying outpouring of flavours like no other. With their pastry leaves sprinkled with extra virgin olive oil to make them crunchy, onion pies also take centre stage on many cooking classes and Mykonos culinary tours. And, yes, you might be offered a piece of delicious onion pie when you visit a local's house – sharing with and treating guests like a family member is part of the Greek hospitality!
5. Almond cake or Kalathaki – Perfect if you have a sweet tooth!
Almond cakes are popular sweet cakes that you will find in many Mykonos traditions, including weddings and christenings. In the 1800s, when the island was much more barren and lacking a variety of ingredients, this local sweet was made with practically everything one could find on the land, from cinnamon to flowers. People just needed something to eat and had to make the most out of their island's resources to survive. The lucky ones that had a small farm with a few chickens or cows would add eggs or milk in the recipe and make something more tasty and nutritious. In any case, almond cakes are surprisingly finger-licking despite the short ingredients list.
Where to taste authentic local cuisine with a touch of privacy
Almond cake recipes, as well as other traditional Mykonos dishes and delights are now taken to the next level with chefs' creativity enabling guests and locals alike to enjoy extraordinary culinary adventures and exclusive private dining in Mykonos.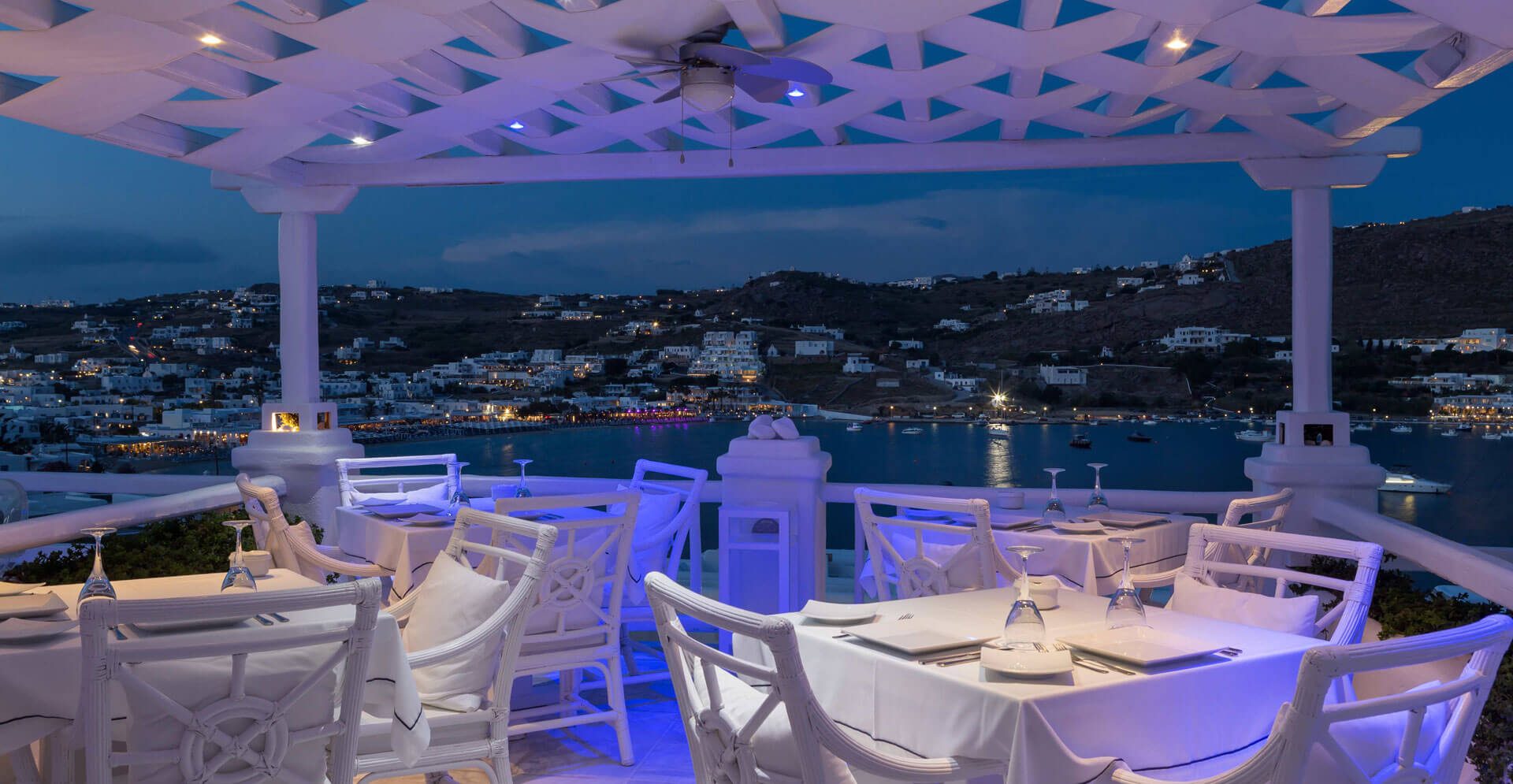 What a more fantastic way to close an exciting day than under the moonlight, overlooking the tranquil Aegean Sea and indulging in world-class candlelit gourmet tastes that include the best versions of traditional Mykonos cuisine! Welcome to La Meduse!