10 Reasons to visit Kivotos Mykonos
June 4, 2021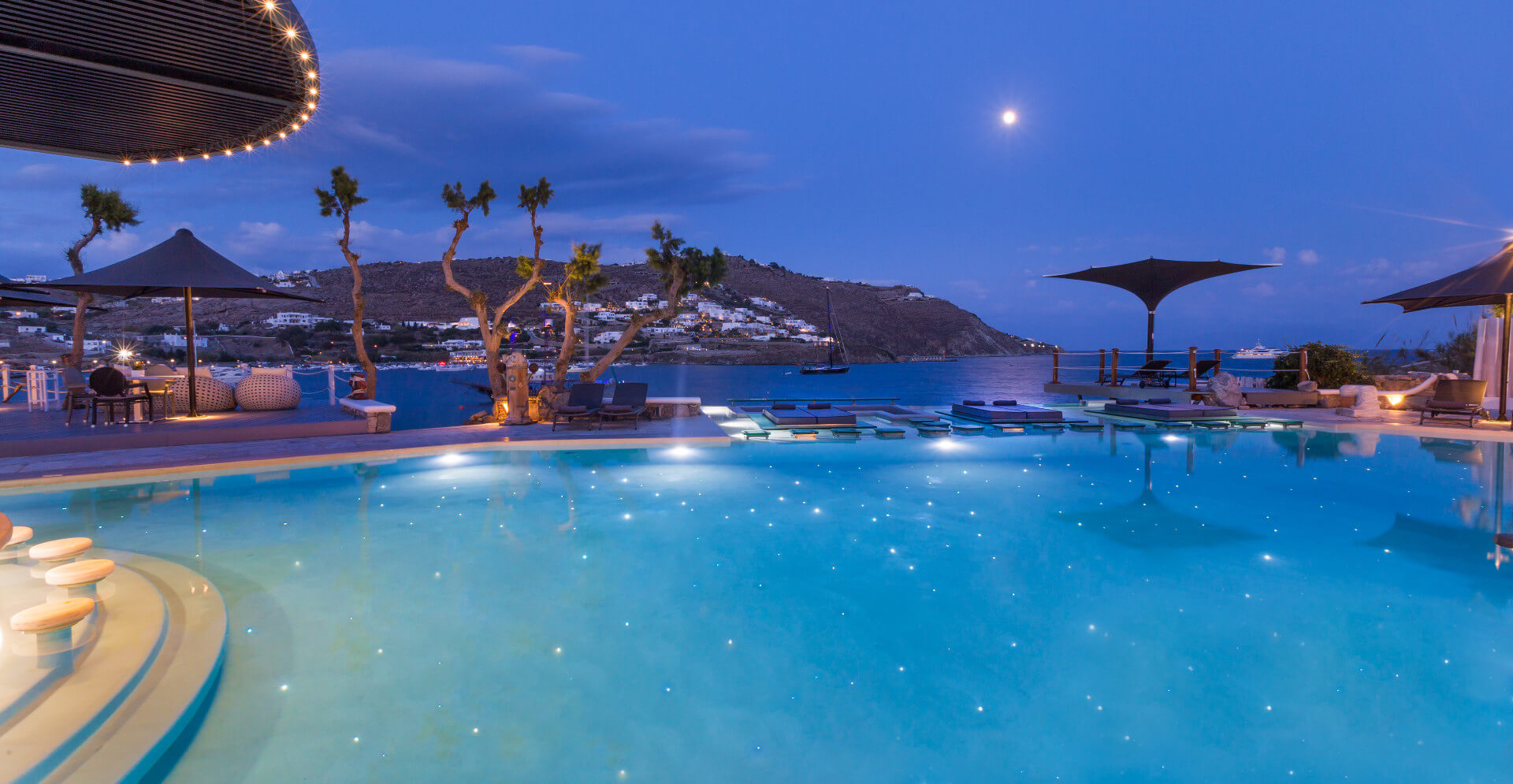 Kivotos Mykonos is a highly-rated luxury hotel in Mykonos that receives incredible levels of guests' love and preferences every single year. In return, it ensures you are pampered and spoiled with top amenities, leading facilities, and services like nowhere else. Here are 10 reasons that have made Kivotos Mykonos a synonym to exquisite holidays in Mykonos.
1. It is located in gorgeous Ornos Bay
Kivotos Hotels is a luxury beachfront hotel in Ornos, Mykonos – one of the most scenic locations on the island. The sandy shore is located right in front of the picturesque fishing village of Ornos, less than 4 km south of Mykonos Town. Besides its natural allure, Ornos beach is the closest shore to the island capital, featuring crystal clear waters, fine sand, and schools for diving, windsurfing, and sea-skiing. As for tourist amenities, they are provided in abundance here, including bars and restaurants. Of course, Kivotos Hotels also enables visitors to enjoy private and exclusive experiences, either by the sea or near it.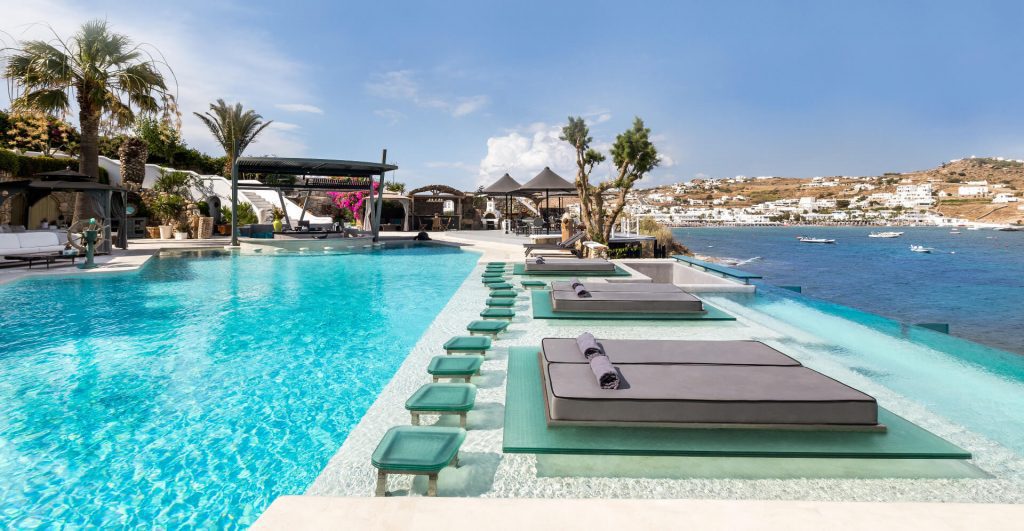 2. It offers luxury suites with heart-stopping views
Kivotos is a highly esteemed Mykonos boutique hotel that caters to the needs of its guests to the maximum with a wide range of deluxe suites and a plethora of facilities. Blending contemporary style with elements from traditional Cycladic architecture harmoniously, Kivotos has created spacious and atmospheric rooms equipped with high-tech appliances that pamper guests with soothing and incredibly captivating seascapes. This combination is difficult to find in Mykonos, given that there is usually a trade-off for heart-stopping views or luxury services. In this case, you get both without making any compromise.
3. It provides guests their very own stretch of sand
Despite being located in a particularly popular and crowded Mykonos region, Kivotos is one of only a handful of Mykonos hotels with a private beach. That way, visitors can enjoy utmost privacy away from the crowded shores of Mykonos while soaking up the warm rays of the Mediterranean sun and gazing at heart-stopping vistas of the glistering sea.
4. You can choose between multiple accommodation options
If you are not fond of hotel rooms, even the most lavish ones, and would prefer the privacy of an exclusive beachfront mansion, you can have your wish granted at Kivotos Mykonos. Part of its Mykonos luxury services is the ultra-modern villas with the magnificent architecture and interior design. Enjoying direct access to the Kivotos private beach area and their own private pool, these hypnotising properties epitomise luxury holidays in a cosmopolitan island the magnitude of Mykonos. A full range of amenities, such as a well-equipped kitchen, jacuzzi, glass floors, three different entrances, and private access to the Kivotos spa area, along with spellbinding views over the charming Ornos Bay, are some of the things that can make you fall helplessly in love with Mykonos.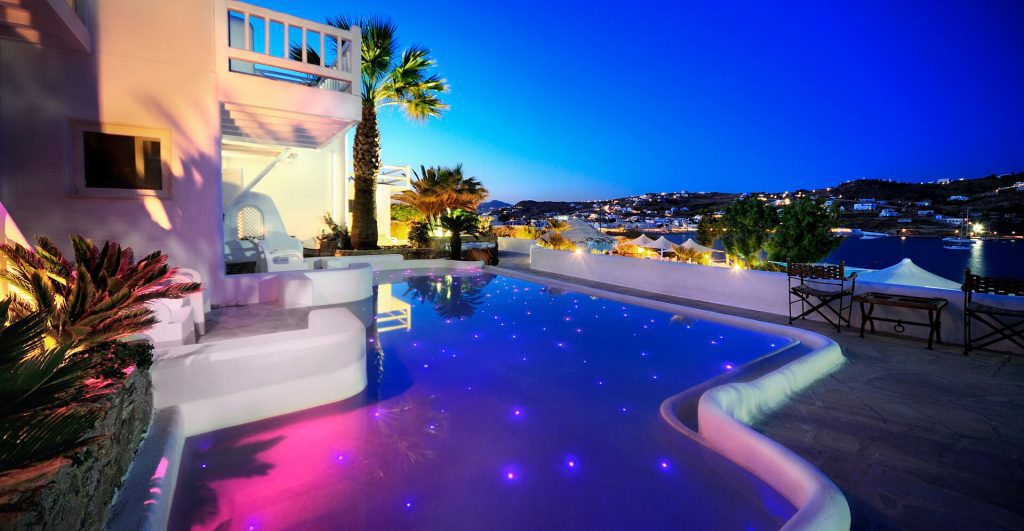 5. Opportunities to relax and rejuvenate the body & mind
Wellness is a fundamental piece of our well-being. Kivotos is a highly regarded Mykonos luxury spa hotel offering guests the chance to recharge their batteries and create internal balance through a steam bath (hammam), massage spas, and a wide array of treatments delivered in a soothing and calm space. Guests may also join one of the yoga classes on offer that take place on the privately-owned beach right next to the sea, meditate, or even exercise at the hotel's private fitness centre and the World Squash Federation-approved squash court.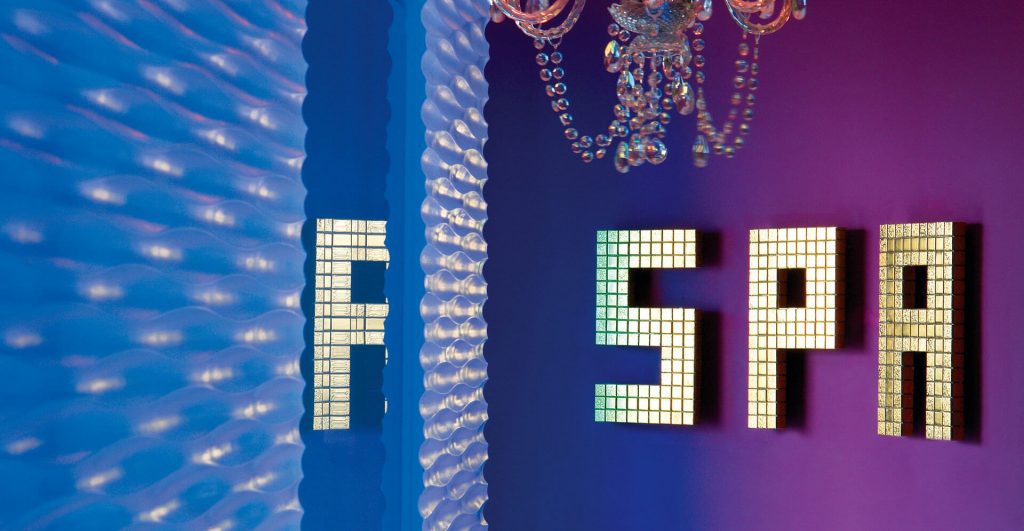 6. Infusing romance and setting the scene for idyllic moments
Whether a lover of gourmet dining, hearty energy-boosting breakfasts, traditional Greek cuisine, or delicious cocktails, you are entitled to them all at Kivotos Mykonos. Simply choose one or more of the dining options provided and spoil your taste buds with delectable tastes and flavours.
Want to share a romantic candle-lit dinner right where the waves gently splash to the sugary shore? Let Kivotos arrange a memorable VIP Mykonos private dining experience for you and your significant other. Note that the same exquisite encounter can be enjoyed aboard the privately-owned luxury yacht that is also an excellent option for a luxury sail excursion in Mykonos.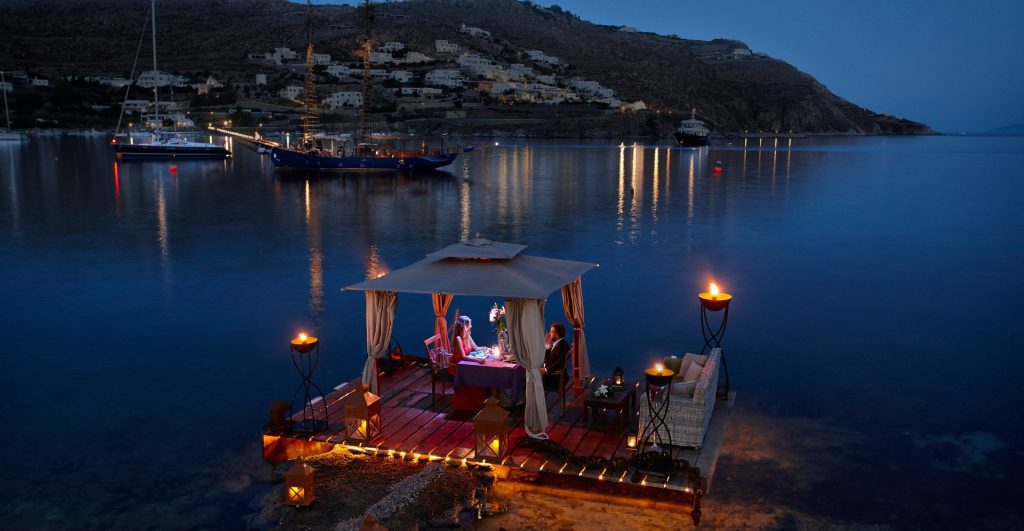 7. You have a dreamy wedding venue right there!
Kivotos Hotels hosts one of the most impressive wedding venues on the island featuring panoramic views of the island and exceptional vistas of the Mediterranean sea. In fact, the overwhelming majority of luxury weddings in Mykonos, Greece, are performed against the breathtaking scenery of the Cyclades that comprises of the distinct cubic-shaped whitewashed houses, the blue-dome chapels, and the azure waters - Kivotos Mykonos is, indeed, the perfect venue for fairytale-like wedding receptions and ceremonies.
Feel free to check out the privately-owned chapel within the Kivotos Mykonos premises and the private beach and let the specialised wedding coordinators at Kivotos make your dreamy Mykonos wedding exceed your expectations. They will handle all paperwork, as well as the food, music, decorations, and guest greeting, among so many others, so you have everything planned out down to the last detail and executed per your desires.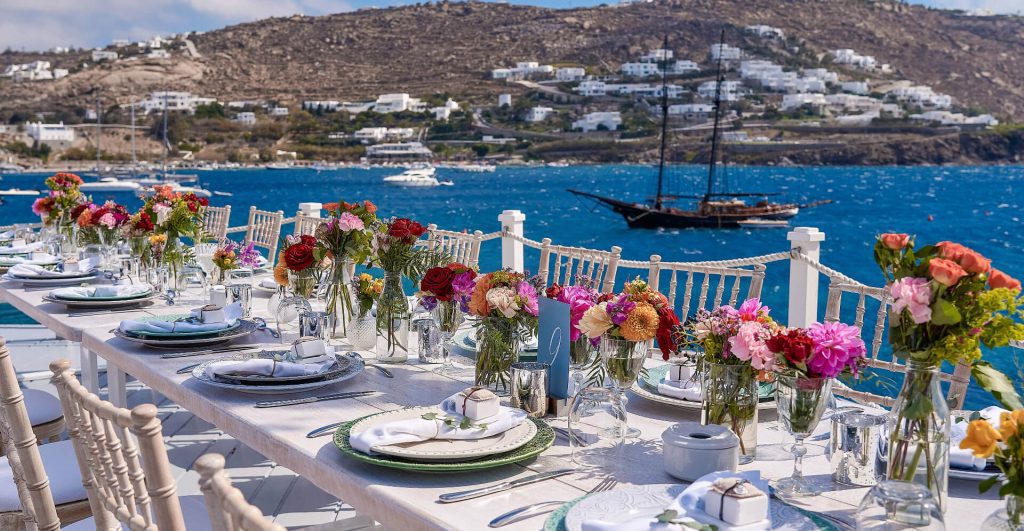 8. Perfect getaway for honeymooners
Even if you have not chosen to exchange vows in Mykonos, you can start your new life as a married couple on the island that never sleeps. In this case, Kivotos is the ideal luxury hotel in Mykonos for honeymooners, offering a stunning backdrop to their adventures and all the pampering and exclusiveness they want. Whether just the two of you or with friends or family, Kivotos Mykonos welcomes you to its ultra-lux Prince de Neufchatel schooner for a unique sailing tour to the Cyclades or umber-stylish and luxuriant suites overlooking the captivating Ornos bay and the Aegean Sea.
9. Chic suites with the broadest range of world-class amenities
There are many 5* hotels in Mykonos. However, only a handful of those is capable of offering the impressive plethora of amenities of Kivotos Mykonos. Besides a luxury hotel in Mykonos with a private infinity pool in most of its suites, it is also a VIP resort strictly focused on its guests' utmost satisfaction.
Apart from the well-appointed ensuite baths and the spacious living rooms, the Kivotos Mykonos suites also feature private furnished verandas or terraces with sea or garden views, maid service twice a day, 24/7 room service, a fully stocked mini-bar, welcome room amenities, in-room safe, 100% cotton linen, LCD satellite TV, luxury toiletries, and even writing desks and bathrobes.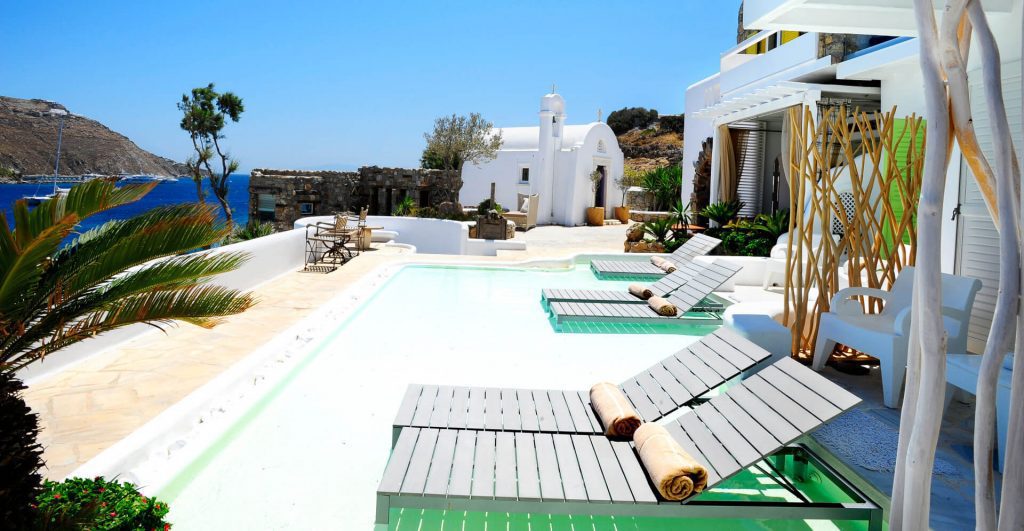 10. Follows the strictest health, safety, and hygiene protocols and practices
Kivotos Mykonos has consistently been implementing hygiene practices of supreme level. However, with the current condition the entire world is going through, the hotel management has decided on even stricter hygiene and health protocols. Always in compliance with the regulations set by the local and international health organisations, Kivotos Mykonos takes all necessary measures (and even goes the extra mile) to ensure high standard sanitisation at all times throughout its premises and in the suites and villas. That way, both the staff and guests are appropriately protected against the pandemic hanging over our heads for the past year or so.