Unwind in a luxurious Cave Villa in Santorini
March 26, 2021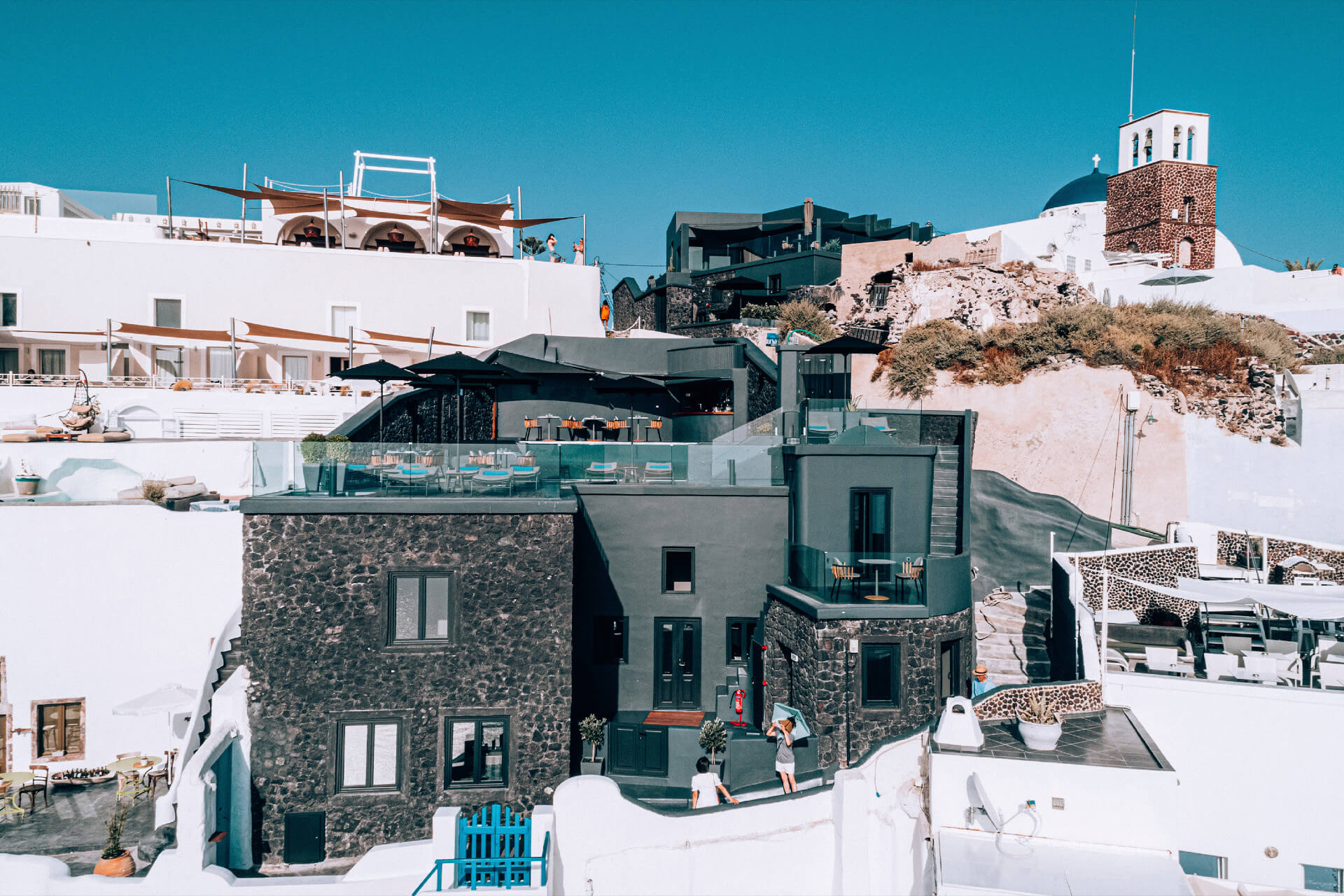 Why choose Kivotos Santorini Luxury Villas
If you dream of a luxury holiday with every comfort you can imagine, then Kivotos Santorini Cave Villas in Imerovigli is where you want to be.
The astonishing views, exclusive services, and carefree moments are what every visitor appreciates. Once you arrive at Kivotos Santorini villas, you shall instantly pause in awe to gaze at their picture-perfect architectural design.
As your eyes slowly travel across from one end of the hotel to the other, you will catch yourself wondering if this is real. And, then there is the endless view: it is so captivating it almost looks surreal.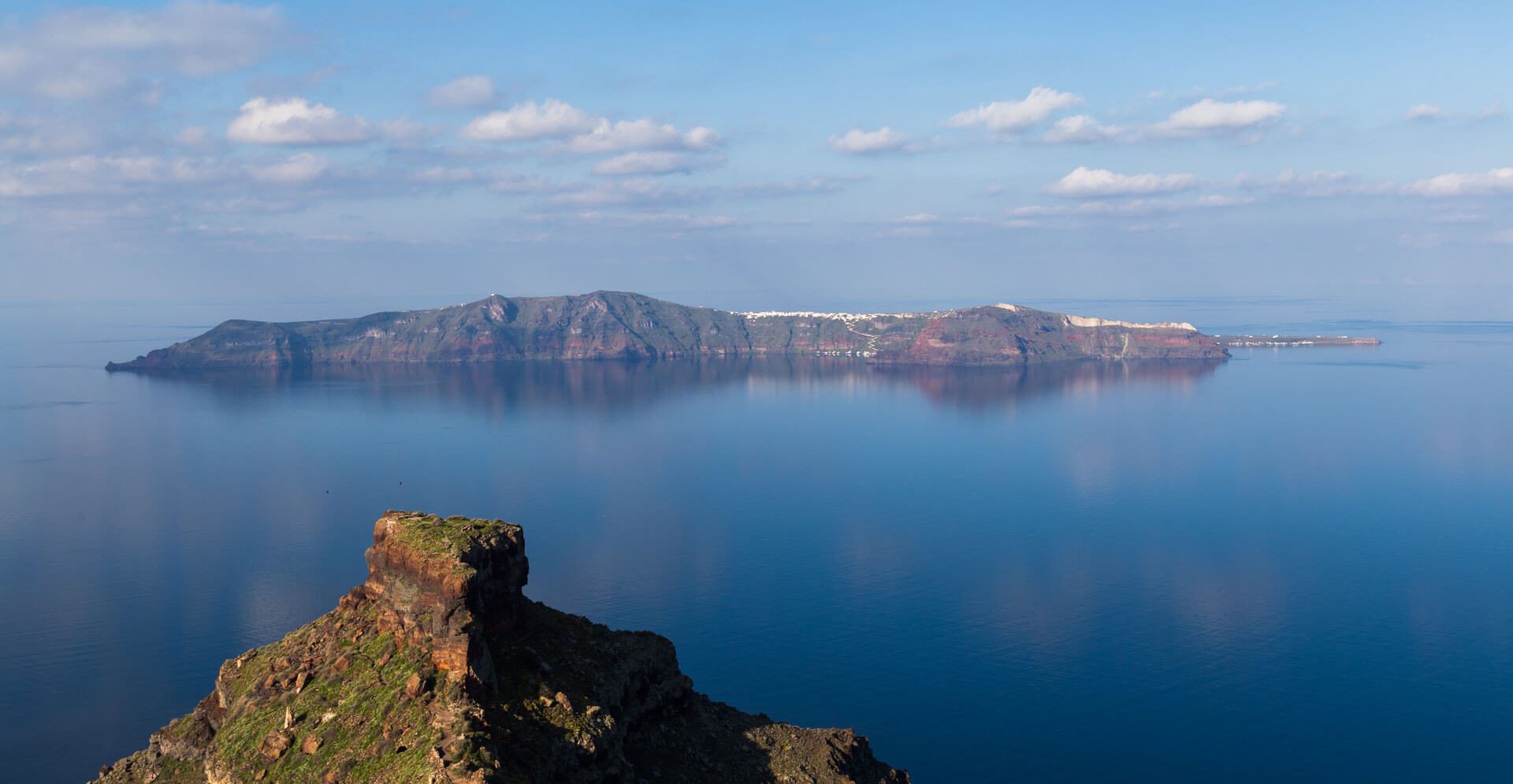 But the best part of it all is that you can enjoy all this beauty and serenity every day you spend in Kivotos Santorini Luxury Villas. Feeling excited? Of course, you are!
Even though the main reason you should escape to a dreamy Cave Villa in Santorini is that you deserve it 100% - here are few more special excuses to pamper yourself!
The Zzzs
How long has it been since you have woken up feeling completely rested, revived, and ready to seize the day without a care in the world? As it turns out, a good night's sleep in the Spa Villa of Kivotos Santorini is a gift to your wellbeing.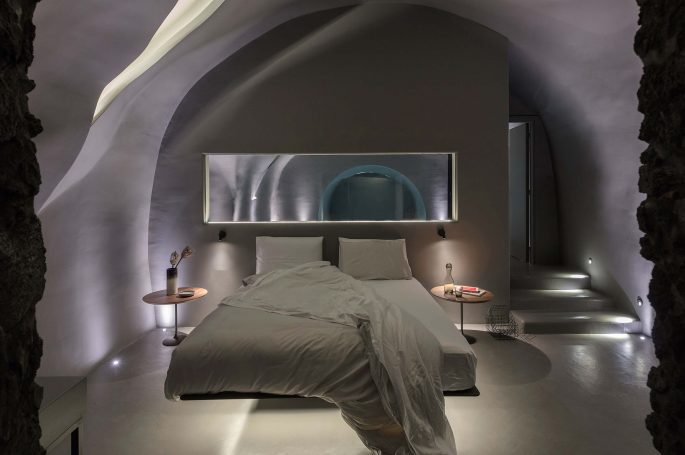 The soothing surroundings will bring you profound tranquillity and peacefulness while you are inside. In this 200m2 luxury villa, architectural mastery meets chic minimalism.
Ebony walls with curves and hidden lighting add a sense of romance and create the perfect atmosphere for a restful evening. Wrap yourself in luxury linen and feel like royalty in the King bedroom of the Cave Villa Santorini.
The perks
One of the most incredible perks of the Spa Villa is that you get your private SPA room right there in your cave villa.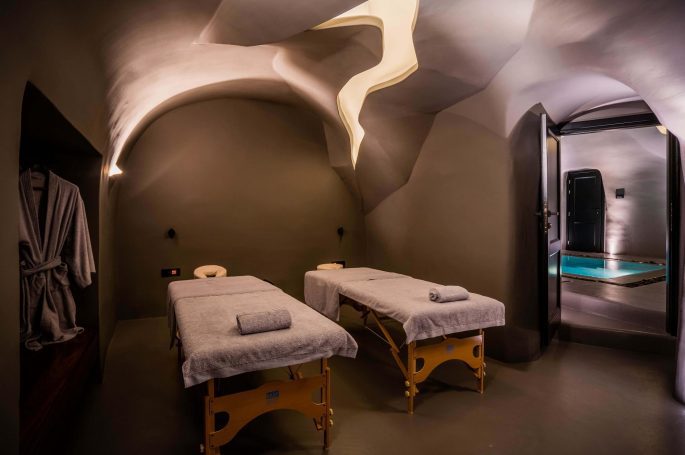 Relish in divine moments of pure relaxation while the hotel beauty experts pamper you with rejuvenating body and facial treatments. And, what comes after a facial and body scrub? A steam bath followed by a cooling shower or perhaps a leisurely dip in the 5-meter-long indoor heated pool?
Imagine having an indoor heated pool at your disposal, any time of day. You can swirl around before your morning coffee, float around with your cocktail nearby or soak your feet after a peaceful dinner.
The feels
Have you ever wondered how it feels to spend your vacation time at a romantic spa hotel in Santorini?
Just imagine what one day would be like: You would wake up in your idyllic Santorini three-bedroom villa, having a delicious late breakfast on your private balcony…
Then lounge in your private hot tub with a refreshing drink and the caldera at your feet. Later, you would enjoy a massage in the SPA room and then loosen up even more in the indoor heated pool.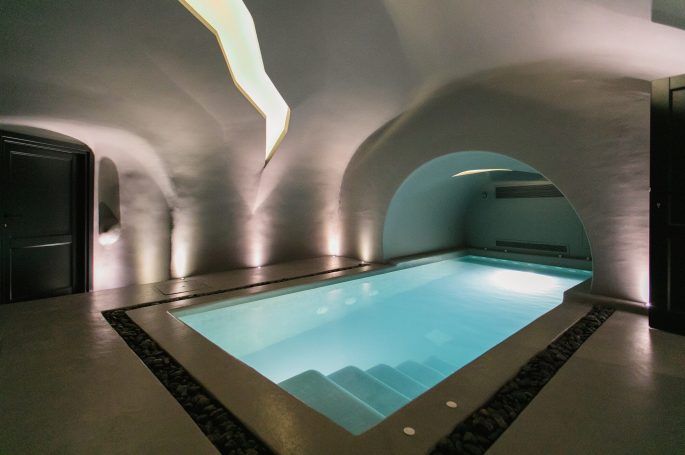 Surely, you will not want to miss sunset time! As the sky dresses up in its soft pink, gold, and orangey outfit and a feeling of bliss overwhelms you, your private butler shows up with champagne and delicious treats. Now that is a glorious day!
The warmth
At Kivotos Santorini Villas in Imerovigli, you will discover that genuine hospitality and top-notch services coincide in harmony.
Considered one of the best Santorini hotels with Spa, Kivotos is so much more than a holiday hideaway. Beneath the golden Santorini sun, this welcoming gem awaits anyone who longs to enter an exclusive world of luxury. Whether you book the Cave Villa Santorini or Santorini three-bedroom villa, you get to enjoy breakfast in your Villa every day, 24-hour room service, and even a butler service if requested.
Also, the hotel offers 24/7 in-room dining and honeymoon services plus private transfers (even by plane or helicopter), so you can get around the island fast and in style.
The views
Lastly, but surely not least, when you book one of the best luxury villas in Santorini with private pool, private jacuzzi, and private spa room, you also "book" the best views!
From the comfort of your villa, you can enjoy the world-famous Santorini Caldera: where blue is limitless. Relax on the private balcony of Kivotos Santorini three-bedroom villa, you can admire the majestic sunset views while sunbathing and enjoying a glass of something. It is magical to witness the sun as it smoothly fuses with the horizon.
Beams of light pierce through the clouds and brush upon the volcanic islets only to keep you in your hot tub for longer. You will understand once you see for yourself.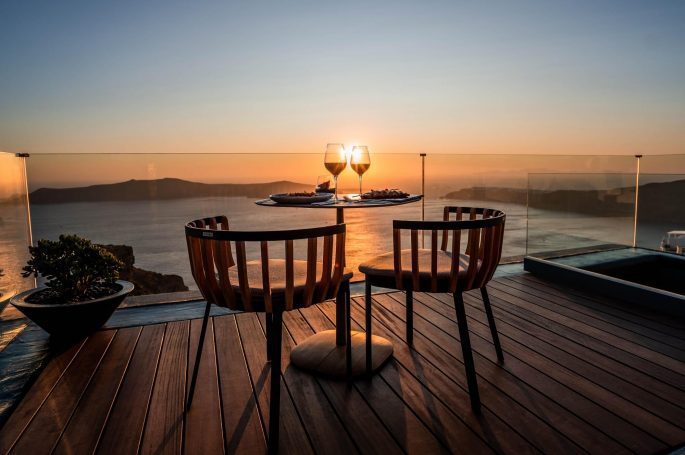 As the evening gets close, the view of the white rooftops and glistening town lights resemble a white starry sky. This is the perfect time to enjoy a romantic candlelit dinner on your Cave Villa's private balcony.
Everything is possible in Kivotos Santorini villas thanks to a rare touch of volcanic magic!
All you need to do is choose which of the Kivotos Luxury Villas in Santorini with private pool is ideal for you and book it in advance if you want to secure specific dates.
Time to start planning your escape to one of the most stunning Santorini Hotels with Spa - also known as the creatively designed romantic spa hotel in Santorini.