Traditional Food in Santorini
June 1, 2021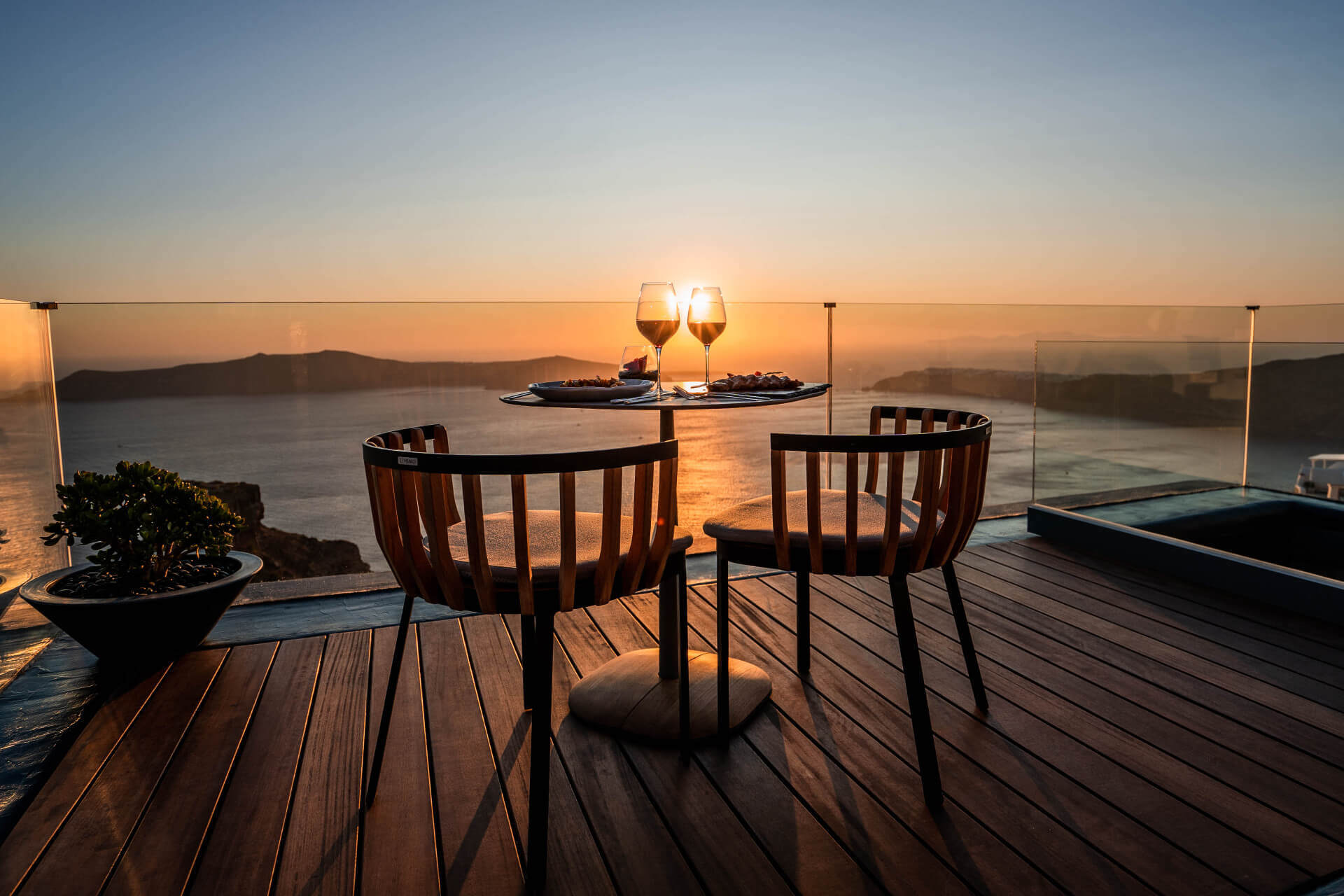 Besides enchanting landscapes, a unique morphology, and charming traditional Cycladic architecture, Santorini is also a beloved gastronomic destination offering mouth-watering tastes and flavours utterly addictive! Here are Santorini food specialties you should consider trying at least once before you pack your bags and fly back home. Your palate will thank you eternally!
Special Local Santorini Food Items
Santorini Greek cuisine is based on the agricultural products that grow on the island. Nourished by the Mediterranean sun, the Aegean Sea breeze, and the volcanic soil, they bewilder with unique tastes. No wonder they are the primary ingredients to healthy and incredibly delicious dishes served in Santorini, from the finest restaurants to family-run tavernas.
Some of the most characteristic Santorini food products are:
1. The Santorini Cherry Tomato
Referred to as tomataki by the locals, the Santorini cherry tomato is a high sugar content tomato variety that only flourishes on the island (been submitted for PDO certification). It was the most cultivated vegetable back in the 18th century and still is. It is distinguished by its hard skin and the really juicy and rich body. As for the aromas and flavours, they are simply divine and are believed to come from the fact that it grows with very little water while also being enriched by the minerals in Santorini's soil.
You can find cherry tomatoes in every grocery store in Santorini and in the majority of local recipes requiring the use of tomato, such as tomato fritters and tomato paste (will talk about that more extensively right below).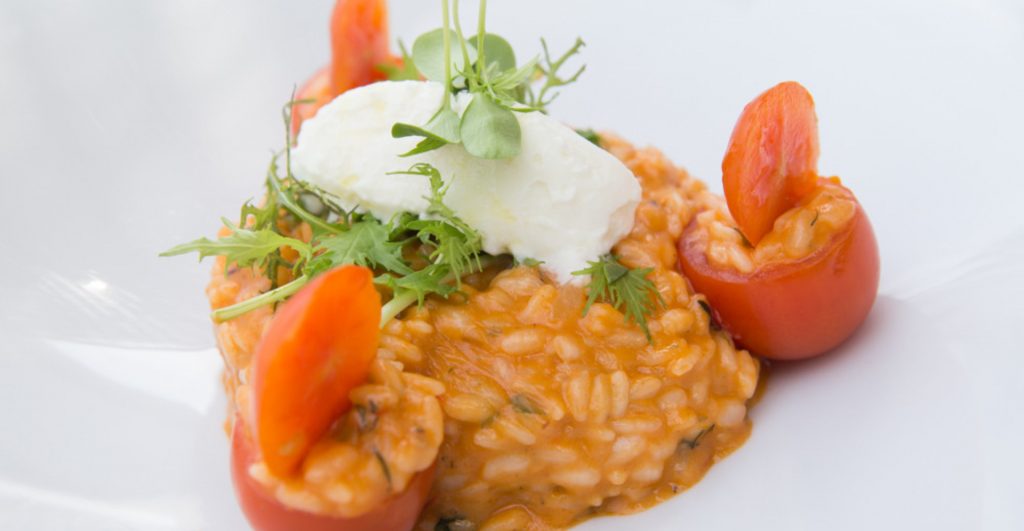 2. Santorini Fava Beans
These are a type of yellow split peas sold in every grocery store in Santorini. They are also served as a complete dish in Santorini's restaurants. Fava beans are harvested every June (sowed in December) and originate from ancient Greece (earliest references of fava beans growing here are from 3,500 years ago). Since they are only cultivated in Santorini, they are definitely an exciting dish to have.
Fava beans become quite mushy when cooked. Nevertheless, some cooks prefer them tighter and a purer aroma. They are part of several recipes in Santorini and you can see them paired with tomatoes, aubergines, small pieces of pork, and onion. They are even served in the form of soup.
3. White aubergines
Unlike with the rest of the world, the aubergines in Santorini are white, juicy, and sweet. They may look a bit strange to you since we are all used to the purple eggplants but their taste will compensate you for sure. White aubergines are served on every taverna in Santorini, either fried, in the form of salad (ask for eggplant paste – melitzanosalata – and combine with fresh bread)!
4. Santorini watermelon and courgette
They are both varieties not seen often. The watermelon has many seeds and is dark and small, with a delicious sweet taste. As for the cucumber, it entices with its round shape!
5. Santorini wild capers
The hills in Santorini are frequented by wild caper shrubs. Locals collect the leaves and the blossom of these wild capers and make palate-pleasing recipes with them. The Santorini capers have a distinct spicy taste and sharp aroma.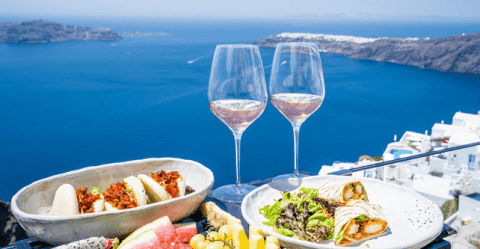 Santorini Greek Cuisine – Local dishes you MUST Order!
Number one would be anything coming from the sea! The seafood here is amazing. From stuffed squid and calamari to grilled octopus and fried sardines. How can it not be, after all? The sea is crystalline and the dishes are created with fresh herbs and olive oil from the island. Tip? Ask for the day's catch!
Other than that, ensure you spoil yourself with any (or all) of the following dishes:
Tomato fritters (tomatokeftedes) – These are deep-fried tomato balls from Santorini cherry tomatoes mixed with onions, herbs, and other ingredients. Each family-run taverna has its own yummy preferences!
Tomato paste - Before the destructive earthquake that took place in 1956 that reshaped the entire island, Santorini had 13 tomato paste factories! It is difficult to imagine given its small size. Although the island does not have that many tomato paste factories anymore, this does not mean that tomato paste is no longer produced here. In fact, many restaurants produce and mix it with local oregano, basil, capers, salt, and olive oil, creating a spread that tastes delicious over bread.
Melitinia – These are pastry leaves (hand-made) stuffed with local cheese (called mizithra or anthotyro) that are only made on this particular island. Melitinia is a favourite dessert served in most restaurants and is usually topped with honey and cinnamon.
Wine Tasting in Santorini? Definitely YES!
Even if you only want a small taste of the famous Santorini wines, a Vinsanto wine-tasting experience is a huge must. It is a wine produced with grapes of the latest harvest that are then sun-dried for up to two weeks before they are fermented. The carefully selected grape variety (49% Aidani and Athiri grapes and 51% Assyrtiko grape variety) and the traditional way it is produced are perhaps behind the appeal of Santorini Vinsanto wine. Plus, it is left to age for at least 24 months. In some wineries, you can find Vinsanto wine aged up to 45 years, which is impressive! This age variety is what also gives the local wine its different tastes.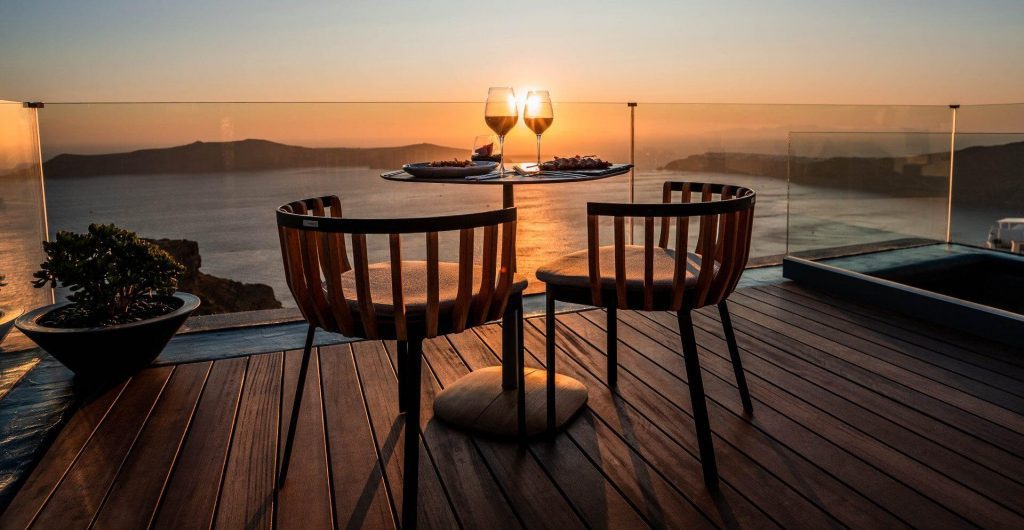 Santorini Red Donkey for beer-lovers!
Even if you are not much of a beer drinker, chances are this particular locally brewed beer will be a hit for you. You can get a few bottles from the Santorini Brewing Company that brews the specific beer or order it at a restaurant. Red Donkey is a special red beer with a tropical taste and aroma that pairs beautifully with grilled pork belly!
Where to taste local Santorini food specialties
Besides the many restaurants and tavernas on the island, you can even enjoy a more private dining experience with your significant other or family. Feel free to ask the friendly receptionist at Kivotos Hotels Santorini to arrange a Santorini romantic dinner for you and your partner or a dinner on the private beachfront for your loved ones. The top-rated luxury Santorini hotel with private dining services can even organise a culinary endeavour aboard its exclusive yacht where you can pamper your taste buds with appetising local dishes and the finest wines!
Enjoy!