The Best Fine Dining Restaurants in Santorini
March 1, 2022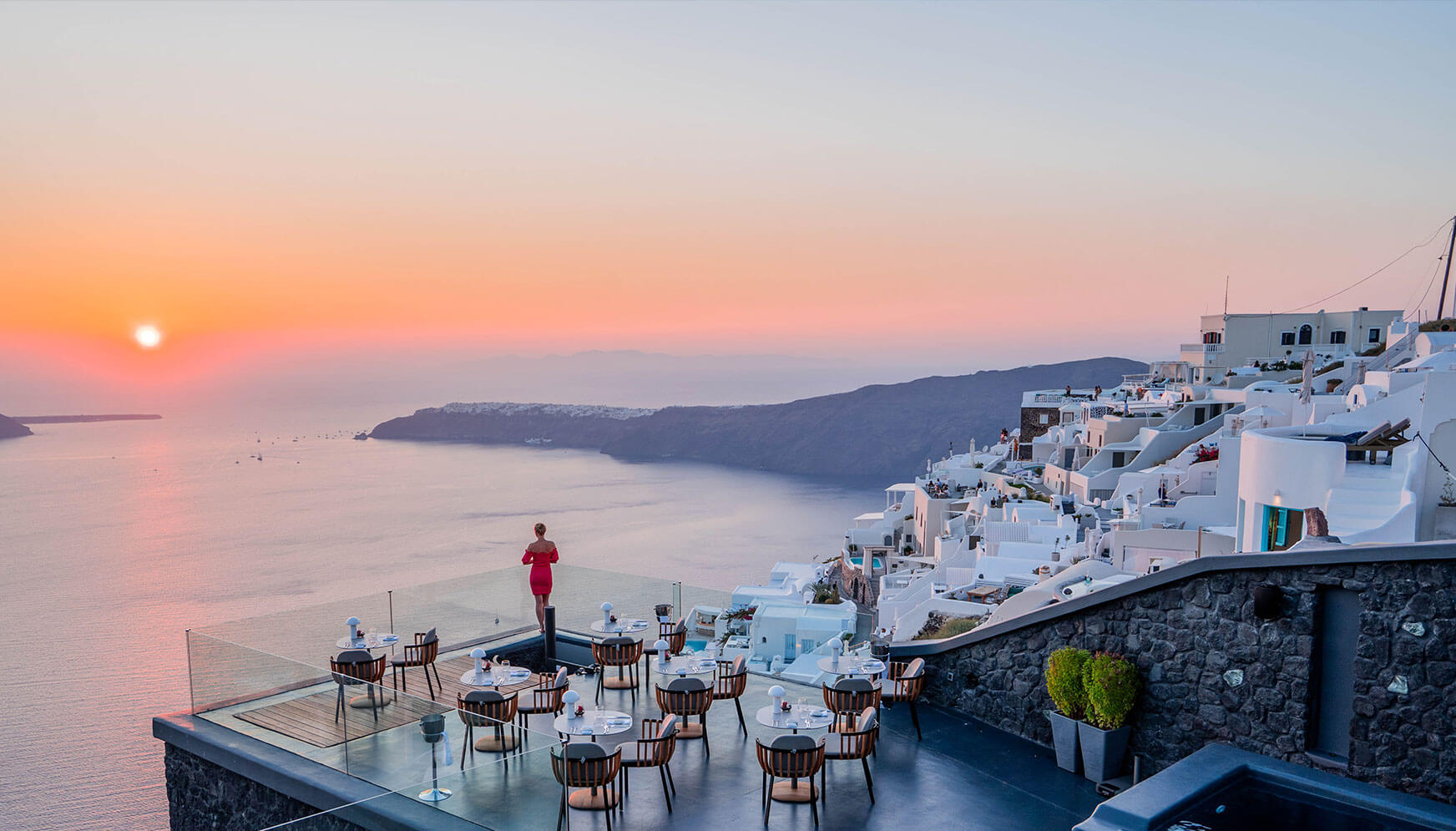 Besides a top summer destination for its idyllic sunsets and panoramic vistas of the Aegean Sea, Santorini is fast gaining a reputation as a supreme gastronomic centre in Greece and the entire Mediterranean. Indeed, visitors are treated with gourmet dishes, international and Greek cuisine paired with captivating sea views, delicious cocktails, mouth-watering breakfasts, Instagram-perfect brunches, and some of the most widely acclaimed local wines.
In fact, the catastrophic volcanic eruption that nearly wiped all life from Santorini and gave it its distinctive volcanic morphology and ecosystem is the reason for its rebirth as a haven for foodies and those with a sensitive palate.
From fine dining in Santorini to spoiling yourself with hearty street food, Santorini can wear many hats to please her guests with self-sufficient food traditions and absolutely appetising dishes that complement an unforgettable Santorini stay. Keep on reading to find out about the best places to eat in Santorini, the must-try local flavours, and the finest Santorini gourmet restaurants to give yourself an unforgettable gastronomic (and not only) experience.
Fine Dining in Santorini – Local Specialties to Seek Out
Not many people know that despite hosting a craggy landscape, Santorini is home to its very own varieties of vegetables and fruits. Take, for example, the "Santorini tomatoes", which are small and sweet tomatoes the size of cherries with an intense red colour. The uniqueness of this regional food is protected with a PDO food label. Below are some of these unique regional products that make the best plates to eat in Santorini, and tips on where to find them as part of a fine dining Santorini experience.
1. Ntomatokeftedes
The local variety of tomatoes (they only grow in Santorini) are ideal for making tomato paste due to their low water content and are the centrepiece of several recipes, such as the infamous and absolutely delicious Tomatokeftedes or Ntomatokeftedes. These are ambrosian tomato fritters or tomato balls fried in a thick batter and accompanied with aromatic herbs (i.e., mint), onions and peppers.
You can pamper your taste buds with the flavoursome tomatokeftedes in most tavernas and restaurants on the island. For the most succulent ntomatokeftedes, though, we suggest dining at one the Santorini gourmet restaurants, such as MAVRO restaurant, which is supplied with fresh produce daily and offers the classic and traditional version of the recipe, with fava, tomato paste, onion (both dry and fresh), basil, and feta cheese. However, there is also a pescatarians-ideal version with cod!
Tip: The Santorini Arts Factory (formerly known as the Tomato Industrial Museum) is the perfect place to visit if you love tomatoes! You will find it in Vlychada.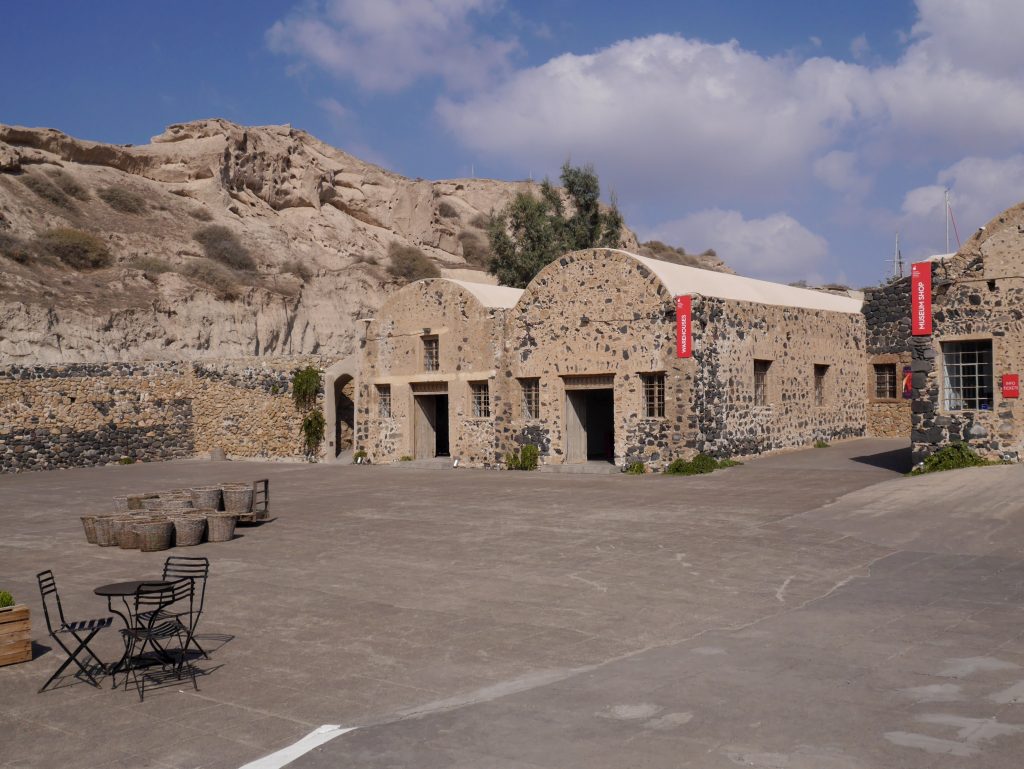 Fava 
Fava is yet another Santorini staple that is actually a puree from yellow split peas rather than fava beans. The little yellow split pea is a crop that has been cultivated in Santorini for nearly four millennia and creates a creamy dish that is traditionally served with lemon and olive oil, with grilled octopus, as a soup, or topped with chopped onions or capers.
And, as you may have guessed it, yellow split pea also bears a PDO status, protecting its authenticity and uniqueness from copycats. Many visitors (and locals alike) consider fava the ultimate comfort food and either include it as a side dish or a super healthy main dish. Again, MAVRO restaurant epitomises Greek cuisine and local gastronomy, serving one of the most toothsome fava on the island.
White aubergine
The list with the unique Santorini fruit and vegetable varieties keeps going. A specific variety of aubergines, called Solanum Ovigerum, is grown specifically on the lava lands of Santorini and is part of almost any taverna or restaurant providing fine dining Santorini experiences.
What is special about this rare product? The fact that it does not absorb as much oil as its other counterparts, it has fewer seeds than its purple cousin, and, of course, its white colour! Plus, it tastes sweeter than its siblings, which is why it makes heavenly melitzanosalata (traditional Greek puree or dip with smoked aubergine). It is also made into stews and matched with sauteed red peppers and/or feta cheese.
You can sample aubergine delights at the best restaurants in Santorini, as well as seafront and inland tavernas.
Other local specialties to try:
Capers – You can find capers all over the island and are superb accompaniments to fish dishes, including fried octopus, kalamari and cuttlefish. They are also used to adorn other savoury recipes, such as fava or as part of a sauce or salad ingredient or to give a slightly spicy flavour to a plate.
Apochti – This is a dish that offers an explosion of tastes inside the mouth. It is made from salted pork loin that is air-dried after being placed in vinegar. A few hours later, the meat is rubbed with cinnamon and pepper and is left to rest for 5-7 hours to cure. It's usually the most common food sampled during wine tasting tours.
Chlorotyri – In tune with the barren terrain, most foods here are salty. This includes the local cheeses, including the Santorini-made chlorotyri (white cheese made from goat's milk). Creamy, slightly sour, and made in limited quantities, it is used as a mix in a Santorini salad or a spread on rusks or freshly baked bread. It is also found in ntakos salads with olive oil, samphire, and Santorini tomatoes.
Kopania – This is one of the traditional Santorini sweets that no visitor leaves the island without tasting! It is a dough made of powdered barley rusks and combined with sesame seeds and raisins. The dough is rolled to create small balls, which are then sprinkled with sesame seeds (roasted). All the bakeries in Santorini have Kopania in display windows!
Melitinia – Another little treat with a Santorini signature that is actually a sweet cheese pie made with mastic powder, sugar, and fresh cheese (the mizithra variety). Most traditional bakeries in Santorini make Melitina, as well as many housewives on the island.
Exquisite Fine Dining Santorini Options
Santorini's gastronomy scene is, indeed, explosive and utterly delightful, and offers an impressive range of different experiences, depending on the culinary endeavour you are after. Although the island is home to a number of great places to sample local cuisine at its finest, MAVRO restaurant is undeniably one of the best restaurants in Santorini.
Its unconventional style and eccentric colour scheme blends with the creativeness of its award-winning chefs, who bring to life traditional tastes and flavours using the freshest local produce and the best raw ingredients, while respecting the traditional hundreds-of years-old recipes.
At MAVRO, you can enjoy all Santorini staples, including fava, tomatokeftedes, fried white aubergines, and baked kalamari at a scenic backdrop. Located right in the heart of this beautiful island, MAVRO offers heart-stopping views of the Aegean Sea and complements your dining experiences with a fine collection of internationally acclaimed local wines and champagne.
Speaking of sophisticated drinking, The BAR is a prestigious spot on the island to savour delicious cocktails and drinks, including craft beer from the Santorini Brewing Company and other renowned producers. Of course, its collection could not be complete without the most globally-known local wines, such as Assyrtiko, Aidani, and Mavrotragano, which get their distinctive taste and flavour from the unique components in the Santorini volcanic soil. And, all this is paired with superb views of the Mediterranean sea, the azure sky, and the magical coastline.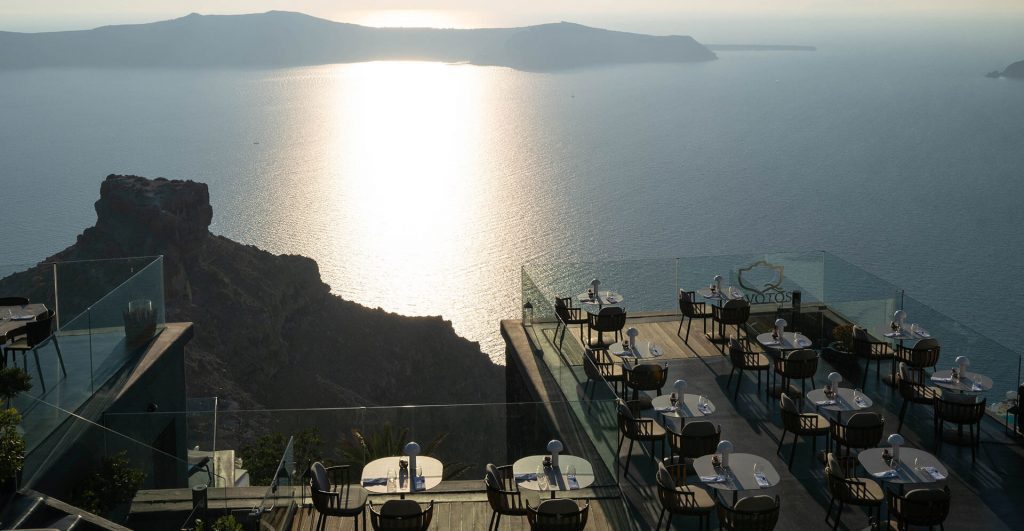 Private Fine Dining in Santorini
Kivotos Santorini enables its guests to opt for a Champagne breakfast in bed or a private dining experience (or even both). In the first case, you are being served your selected breakfast options in the comfort of your elegant suite or villa, supplemented by sparkling champagne and panoramic vistas of the caldera, the island, and the archipelago.
The same level of privacy and exclusiveness can also be enjoyed during a meal, with the second fine dining alternative mentioned above. Our talented chefs prepare a palatable meal for you to pamper your senses with (could be a romantic candlelit option or a meal for you and your friends or family), which, again, you savour in your stylish villa or suite and its sweeping seascapes.
It should also be noted that several tour operators in Santorini provide private food- and wine-based tours, where you can even learn about things like microbrewing, wine making, and the geography and history of the island.
Regardless of the way you choose to spoil yourself with the local cuisine, expect to feel like royalty – after all, Santorini IS the most celebrated Queen of the Cyclades!