Santorini Excursions: 5 Top Choices
June 22, 2022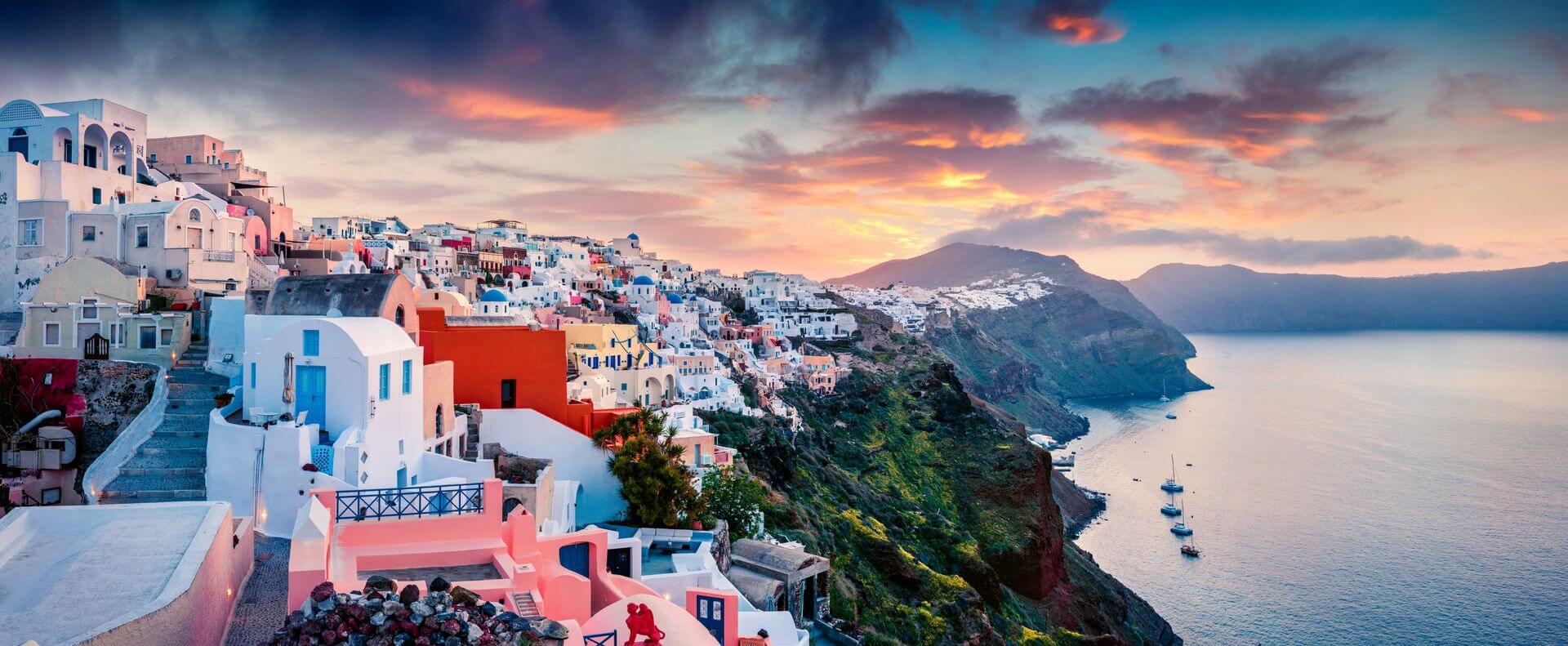 Beware when visiting the gorgeous Cyclades queen with the glorious whitewashed architecture and unbeatable appeal as the air here is not only fully invigorating, but also intoxicating and enticing! As for the list of things to do here, it can be as long or exclusive as you wish. In this guide, we will try to give you the top 5 Santorini excursions you should definitely try for the most fulfilling stay and the creation of indelible memories with your loved one or ones!
Choice #1: A Boat Tour 
A boat trip is undeniably one of the best Santorini excursions to think about if discovering the imposing caldera, swimming in healing springs, climbing the majestic volcano, or snorkelling in the most unique and alluring shores in the Mediterranean are part of your agenda this year!
You can start with a mini cruise that lasts several hours and takes you to the volcanic islands of the volcano, namely Palaia Kameni and Nea Kameni, and includes stops at Thirassia island, the Hot Springs, and the volcano. Or you may customise the itinerary according to your specific needs and desires. This means that you could add stops along the hypnotising shores of the island, especially the White Beach and Red Beach, which impress with their white and red volcanic sand, respectively, or ask for a candlelit dinner cruise just before the sun kisses the azure of the Mediterranean sky goodnight.
Another great idea is to opt for a romantic sunset Santorini boat tour and watch a magical spectacle taking place right in front of your eyes with your partner, family or friends. Of course, this could even turn into a multi-day experience where you'll be sailing towards other Cyclades islands, such as Mykonos, Paros, and Tinos, as well as smaller earthly heavens with pristine shores that dot the Aegean Sea within a few nautical miles from your base. It's totally up to you!
As for the level of privacy of each option, you could go with a semi-private catamaran excursion or a luxury Santorini yacht tour in a small group (no more than 15 people) or a private cruise, and benefit from VIP treatment and exclusive services, such as snorkelling equipment, BBQ, open bar, dinner options (usually grilled meat or seafood with Greek salad and/or snacks), drinks, and hotel pick-up and drop-off.
Sailing in Santorini could surprisingly be done in a traditional fishing boat, which you can rent and navigate through the shimmering archipelago, provided that you are over 18 years of age! Most of these sailing tours also pamper with fresh fish meals and other perks.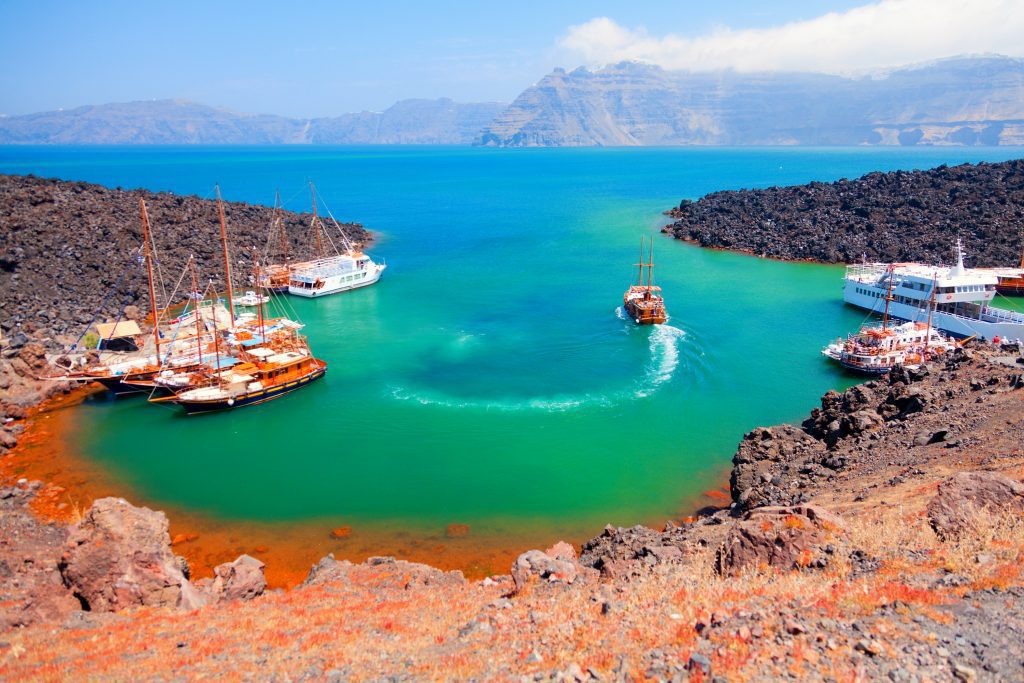 Choice #2: A Guided Tour 
Guided tours are ideal if you wish to discover the must-sees and learn more about the history of the island in the company of a knowledgeable, local, English-speaking guide. Such tours can be either private (by car) or be bus excursions with other people along. Most of them (the minibus tours) last around 10-11 hours and include visits to the most emblematic places of interest and the most touristic beaches and sites of the island, such as the ancient Akrotiri settlement (referred to as the Greek Pompei for being buried under tons of volcanic ash after a massive volcanic eruption of the past that destroyed the island almost in its entirety thousands of years ago). Other local attractions usually visited by guided tours are:
The Red Beach and its volcano-originated high cliffs.
The picturesque Emporio village and its charming chapels and mediaeval castle.
The Perissa Beach and its black volcanic sand.
Profitis Ilias Monastery and its sweeping views of the island and the sea.
Oia to watch the most amazing sunset.
A visit to a local winery.
Most of the time, the available bus tours combine several activities, such as a leisure walk to the Fira-Oia hike and short boat trips with stops at the hot springs and the volcano.
Now, if you would rather have a private guided tour, so that you can soak up the beauties of the island with your partner, family or friends, at your own pace and away from the crowds, a comfy air-conditioned vehicle will be part of the experience, taking you to all the local staples and tourist attractions.
In private tours, the itinerary is quite flexible and can even include wine-tasting ventures and visits to a vineyard. These are usually day-long endeavours, but can easily be made to last a few hours if you want to go to specific places only.
Tip: Want to elevate things even more? Consider a horseback riding excursion! It doesn't matter if you are an experienced rider or not. There are several different tours offered by professional and attentive guides that will make sure you have the time of your life while galloping the romantic shores of the island, such as Eros Beach and other scenic places, in complete safety.
Choice #3: Wine Tour 
Of all the available Santorini tours, a wine-making and/or wine-tasting trip is, perhaps, the biggest must-have, after a sailing cruise and a Santorini volcano tour. This is because the enchanting Queen of the Cyclades produces some of the best white wines in the world, most bearing international awards and world-wide recognition.
You will find plenty of estates on the island offering wine-tasting tours delivered in small groups of 8-10 people to guarantee the quality of the provided services and maximise your enjoyment. However, they do tend to be booked very early so please do make any reservations in advance. This applies to all other excursions on this list, of course.
Regarding your options here, you could plan a wine-making tour on your own or join a local company organising such experiences. In the latter case, you'll be able to visit 3-4 estates and sample up to 10-12 different wines, such as the infamous Assyrtiko, Nykteri, and Vinsanto.
Or you can go completely private and have a private oenology guide and other exclusive services, such as pick-up and dinner options. If you are lucky, though, you may visit a winery on your own and still get to spoil yourself with delicious Greek cuisine and mouth-watering dishes accompanied by palate-pleasing wines! Simply check what is included in the winery visit you are planning!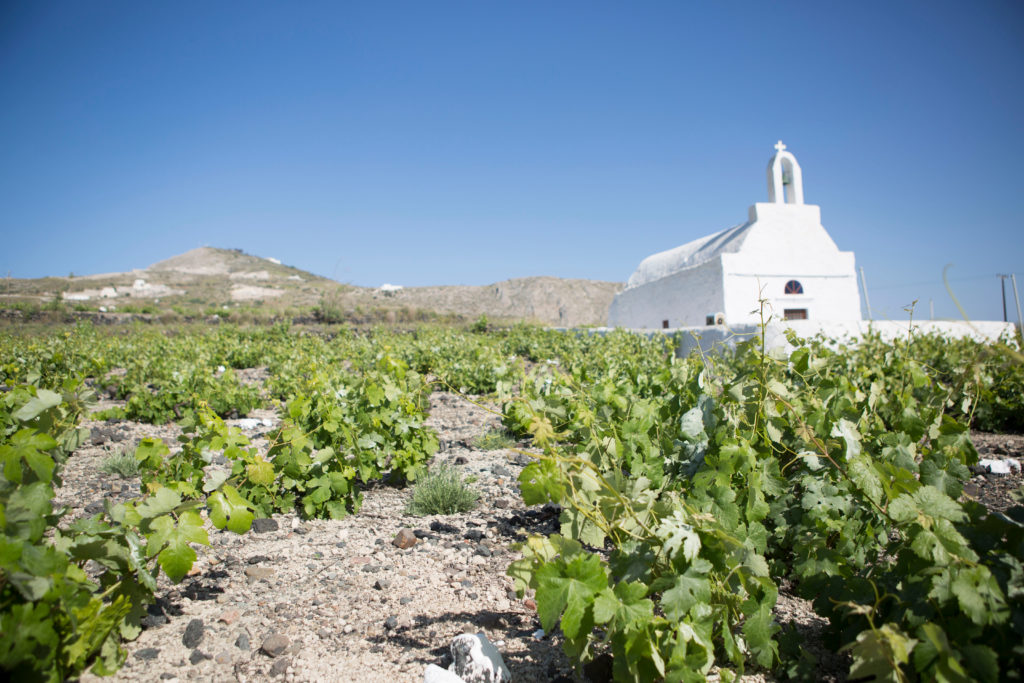 Tip: You can combine a wine tour with a food tour or a cooking class with a local chef (private or in a small group) and taste the most appetising local mezedes, participate in tasting of honey and olive oil, and sample local delights, such as tomato fritters and aubergine dishes, with unique tomato and aubergine varieties that only grow on the island.
Choice #4: A Quad excursion
Perfect for adrenaline lovers, a quad bike tour will allow you to explore the island in the most fun and exciting way for almost four hours (or for as long as you desire if you have opted for a private option).
In their overwhelming majority, quad Santorini excursions take you to remote places and coves, hidden villages, and isolated paradises only the locals know of, which can be accessed exclusively on foot or by quad, such as the idyllic villages of Megalochori and Emporio, and the black beach of Perissa. Word of advice? Try to pair a quad adventure with a food tour and/or a visit to the oldest vineyard on the island!
Choice #5: A Guided Photography Tour
Opting for a trip to the island (either as you the budding photographer or via a private photo session with a local professional photographer) will enable you to recreate all the wonderful photos you have seen on popular travel blogs and Instagram. Depending on the time you want to spend on this particular activity (and the time of the day you choose for it), a photo tour can last from as little as a couple of hours and up to 5 or 6 hours (and more, if that's what you desire).
The most highly sought after photography workshops are the shorter two-hour ones that take place around sunset, at sunrise, or in the evening hours and include a visit to Oia and Imerovigli (two of the most emblematic areas on the island) and other stunning places. Your photographer will also do some explaining of all the selected settings to immortalise breath-taking moments in front of captivating landscapes, with you (and your partner, friends, or family) in just the right mood!
And no worries – retouching the photos is also included in the price!
Final Thoughts
As probably expected, this is just a short list with the best outings you could opt for. Feel free to do some research on your own, and chances are you will find a tour to suit your specific requirements and tastes.
For example, there are lots of sea diving, snorkelling, parasailing, kayaking, windsurfing, Stand Up Paddling, kitesurfing, and jet ski courses available with professional instructors to introduce you to even more of the fascinating things you can do in Santorini, just before you return to the utmost pampering of your Kivotos Hotels luxury suite or private villa and its spellbinding seascapes and VIP services!