How to get to Santorini
April 9, 2021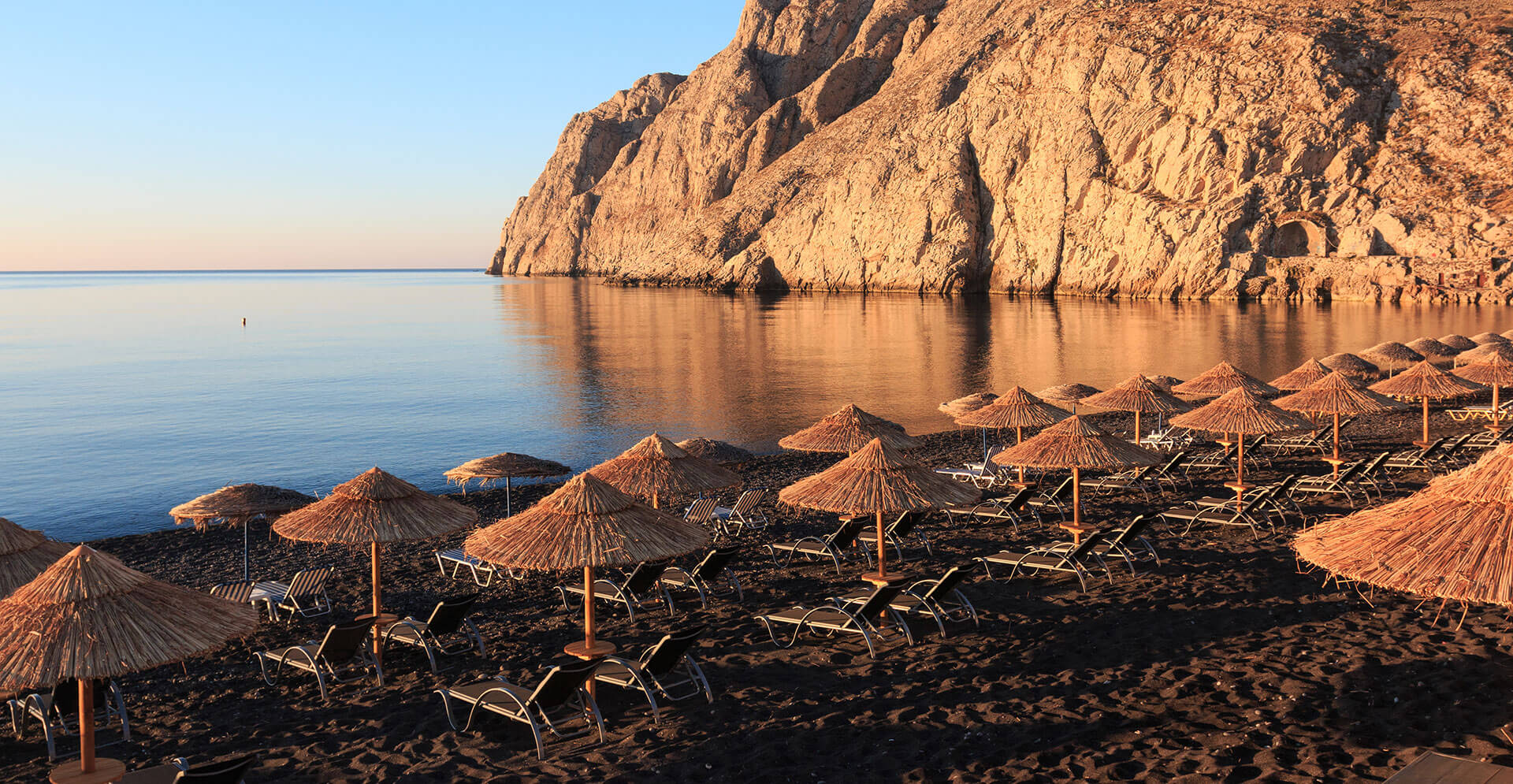 The bizarrely beautiful island of Santorini that strikes with its unique charm and appeal is a favourite destination for thousands of tourists annually. Rightfully so, considering the many ways it can steal one's heart! However, for your dreamy Santorini vacations to begin, you will need to get here first. Here is a comprehensive guide to help present your options so you can make more informed decisions when the time comes.
The Best Way to Get to Santorini - A Direct Flight
In a nutshell, that would be a direct flight to Santorini. Unfortunately, there are no direct flights to Santorini from the USA, Canada, or Australia. Also, according to Flight Connections there are only two direct flights to Santorini (except the ones from Athens), one departing from Dublin (DUB) and the other from Amsterdam (AMS), with the latter making up for a bigger part of monthly arrivals at Santorini Airport. So, your best alternative is to head to Athens and then fly to Santorini.
Important Note: Direct flights to Santorini are not offered on a daily basis. Also, the majority of direct flights to Santorini run seasonally - during the high tourist season, meaning between May and October. So, if the ones available at the time/dates you need them do not meet your schedule or requirements (i.e., you may want to visit Santorini in the low season – November to April), you will probably have to consider a flight through Athens. Remember that connecting flights tend to be cheaper than direct ones, most of the time.
Best Alternative to get to Santorini - Flight from Athens
The next best thing is to fly from the Greek capital, Athens. It is the single most comfortable and widely used way to reach the Cycladic island. Fortunately, given the island's popularity, there are plenty of direct flights to Athens from nearly all major European capitals in the summer months. These include Naples, Frankfurt, Rome, Milan, Amsterdam, Prague, London, Paris, and many others.
Once you reach the Eleftherios Venizelos (ATH) airport, you can take a plane to Santorini (JTR airport), which is the easy part. The flight lasts no more than 40-50 minutes. Airlines like Volotea, Aegean Air, and Ryanair offer low fare tickets and great deals almost year-round, especially if you book your flight well in advance. Overall, there are usually more than 20-25 flights from Athens to Santorini on a daily basis in the summertime to choose from.
Of the many online tools available that allow you to check out flight schedules and prices, some of the most used ones are Expedia and Skyscanner. Both apps also enable you to search for dates that offer more affordable tickets so you can plan your Santorini visit around more cost-effective options.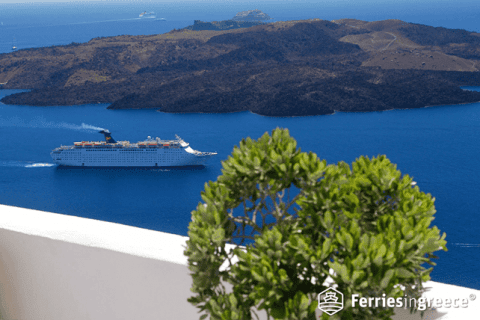 Ferry From Athens to Santorini
Once more, you have two solutions to get to Santorini by ferry:
1. Slow ferries
For first-time visitors, hopping on a ferry to reach Santorini might be the most fabulous idea as it gives you the chance to soak up the Mediterranean allure and sail the crystalline waters of the Aegean Sea. If you do decide to arrive by slow ferry, you will also have the opportunity to get a first view of the impressive Santorini Caldera and the famous volcano. It is definitely a rewarding experience so you will probably not regret the extra few hours onboard!
That being said, the ferry ride to Santorini takes more than 5 hours and up to 8 hours, with a slow ferry. This is a slower option than others available at this moment but it is also a cheaper alternative to all others. Most slow ferries depart from Piraeus port in Athens. One of the most popular ferry companies with ferries to Santorini are Blue Star Ferries, with ferries that run year-round.
2. High-speed ferry or catamaran
A high-speed catamaran is a more expensive solution than the slow counterparts but will get you to Santorini in around 5-6 hours from Piraeus port in Athens. You could also head to the Rafina port, which is the closest to the Athens Airport than Piraeus. However, you won't find many ferries departing from there. Nevertheless, the ones that do are super express ferries that will get you to the island in slightly less than 5 hours.
It should be noted, though, that with a high-speed ferry you will not have access to the deck, as there are no decks to walk into. Now, Hellenic Seaways and Sea Jets provide high-speed catamarans and ferries that usually run during the high season.
Of course, you can also use the services of an online tool called GTP Ferry Connections that will get you a list of all available ferry connections from Athens port to Santorini. These will include both direct ferry trips and ferry rides that require one or two changes before reaching Santorini (great idea for island hoppers).
Private Helicopter Rides
Many people seeking utmost pampering and comfort skip the ferry option and prefer a private helicopter ride from Athens to Santorini. This is, indeed, a fab way to visit the Queen of the Cyclades, as you get to enjoy heart-stopping views of the glistering Aegean Sea, the cloudless Mediterranean sky, and the raw natural beauties of an island that owes its current morphology to volcanic eruptions. Once more, VIP Charter Service, Greek Airtaxi Network, and Icarus Jet are some of the companies that can make this happen for you. The ride usually lasts around 60-70 minutes.
Airport Transfers to Your Hotel Room
Welcome to Santorini! Now that you have made acquaintances with our beautiful Cycladic island with the distinctive architecture and the most breath-taking sunsets, allow us to take you to your exquisite Kivotos suite or villa. If you so desire, your luxury air-conditioned car will be right outside Arrivals to pick you up and take you straight to Kivotos Santorini. So, don't hesitate to request our airport transfer services. We know how much you anticipate enjoying your first Santorini glass of wine gazing at the endless blue of the sea from the comfort of your well-appointed suite. Can't blame you. The views are truly magical, almost hypnotising!
Regardless of the way you choose to get to Santorini, rest assured that this will be a once-in-a-lifetime experience for you and your loved one(s).
Enjoy!