4 reasons you will love Kivotos Santorini
May 26, 2021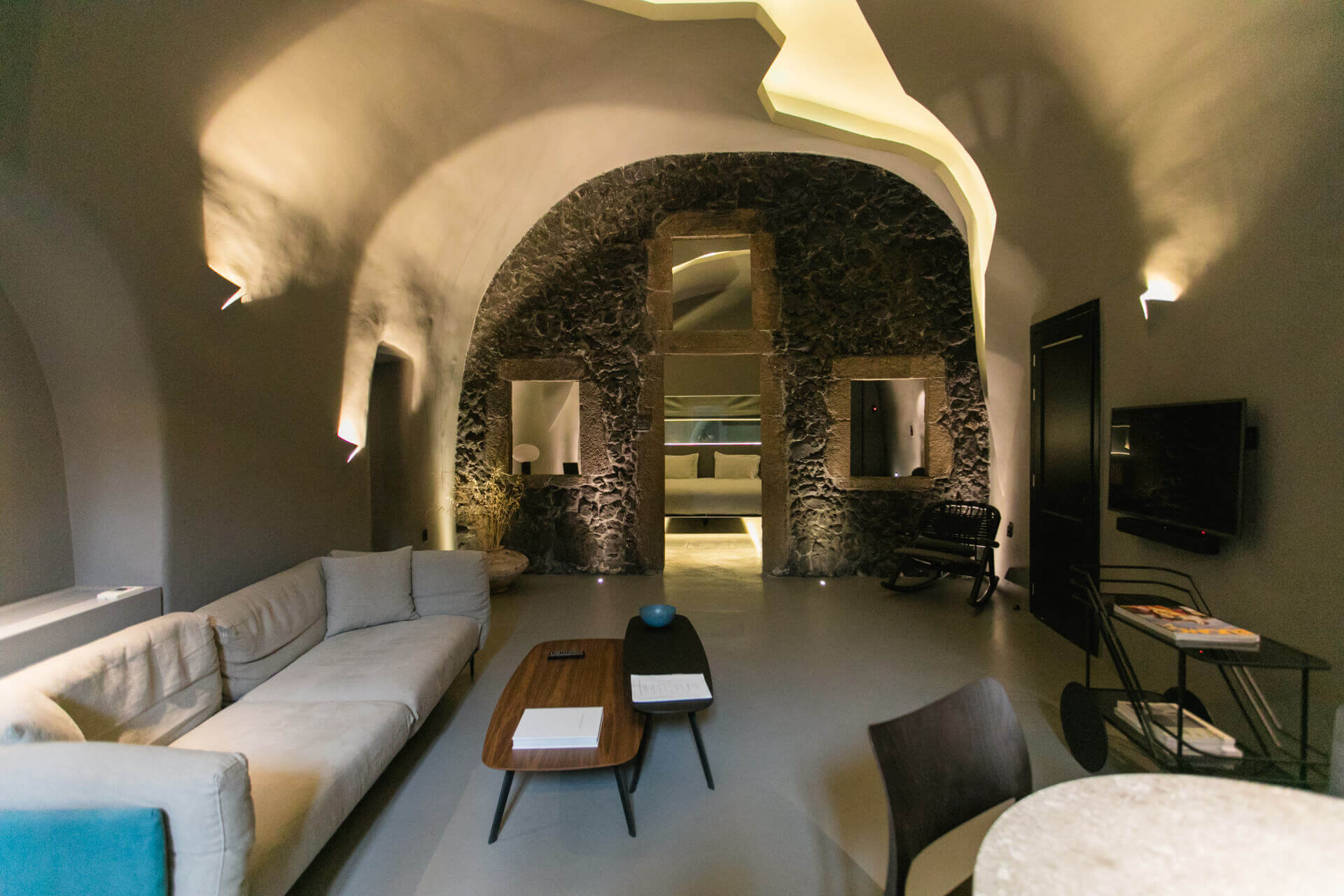 Finding the perfect luxury villa with breathtaking Santorini sunset views, exclusive services, and sublime surroundings is a necessity if you wish to experience a truly relaxing island escape this season.
If you have a passion for luxury travel, high-end design and are currently searching for the best place to stay in Santorini for sunset views, then our private villas in Imerovigli may very well take your breath away!
Not only are these villas the most peaceful place to stay in Santorini for sunset viewing in seclusion, but they are also the best choice if you appreciate top-class design along with original architecture and décor.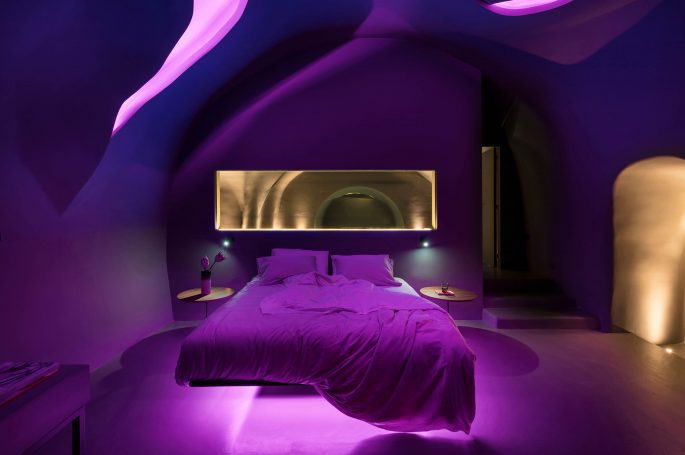 Even the lighting of these fabulous cave villas has been ingeniously planned out allowing you to create your own color themes depending on your mood. From calming blues after a long day in town to fiery reds and pinks that spark up some excitement for a memorable evening.
Feeling like you deserve a holiday on the island of romance and tranquility? Read on to discover the four villas- some like to call ebony treasures- of Kivotos Santorini.
Fantastic location
Imerovigli is considered the most peaceful area on the island. With fewer hotels and restaurants, it is the perfect spot if you are longing for some quality time away from the crowded world.
Kivotos is ideally located in this prized patch of serenity, offering you the option to hideaway in some of the most stunning private villas in Santorini.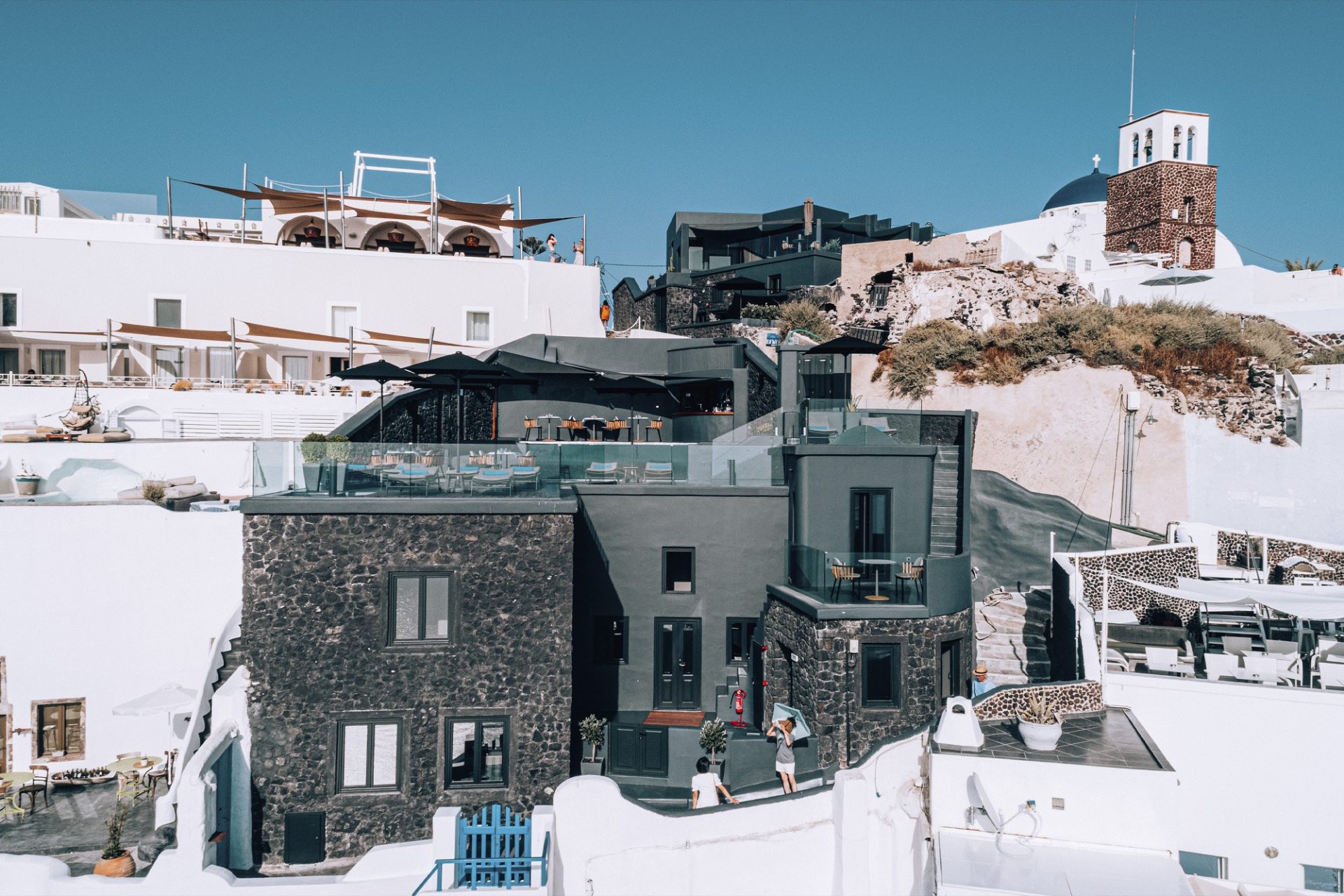 Kivotos Santorini villas in Imerovigli, are built into the volcanic hillside and feel like a secret little hiding spot, where you can let loose and grant your heart's desire for an indulgence-packed tonic for your mind and body.
Designed to capture the best sunset view in Santorini, Kivotos villas are perfect for those seeking an exceptionally relaxing and dreamy holiday home, in an ultra-convenient location. Take a closer look at one of the most fashionable luxury villas in Santorini with private pool- ideal for up to 4 people.
Unrivaled privacy
Kivotos Santorini luxury villas guarantee you absolute privacy in grand surroundings filled with elite amenities such as indoor heated swimming pools, hammams, hot tubs, and in-suite massages, facials, and treatments.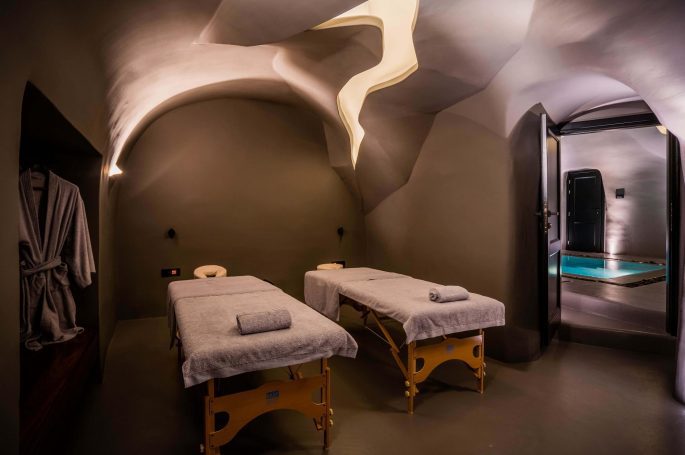 The areas are extremely spacious and masterfully designed with your every need and whim in mind. You can book a villa as large as 350 square meters that hosts up to 8 people or even a two-story property of 100 m² with a picturesque private terrace.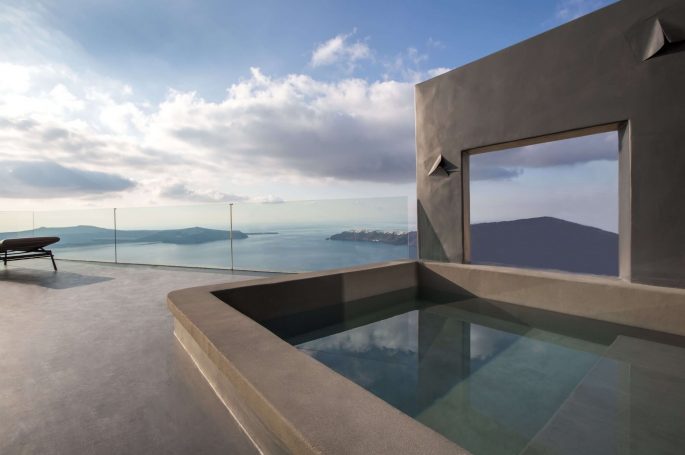 Lounge and unwind in the graceful comfort of one of the most sought-after villas in Santorini, Greece. These villas are the best place to watch the sunset in Santorini while feeling blissfully isolated. If you love soaking up sunlight and taking midnight dips opt for a villa with an outdoor heated plunge pool and hot tub.
Breathtaking views
Santorini is the island where blues, whites, and volcanic hues meet to bring you majestic views. Known as some of the most fabulously designed villas in Santorini Greece, the lavish lodges of Kivotos are perched high above the sea, offering you astounding 180-degree views of the famed Caldera and volcano.
Give your senses the profound pleasure of waking up to idyllic sunrises with twinkling waters and shiny rooftops. Then indulge your eyes with pure splendor as the sun begins to set. Either from the comfort of your villa or your sunset view terrace, Santorini shall openly show off its artful dusky shades as you enjoy sweet sunset drinks.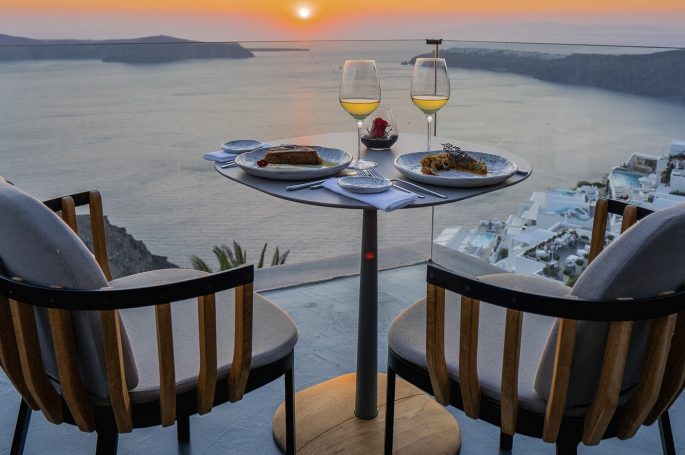 Evenings are a whole other chapter; savor a quiet candlelit dinner while gazing upon the evening deep blue waters and starry sky… With the Aegean Sea looming below and plenty of space, the three-bedroom cave villa of Kivotos is saving the best sunset view in Santorini for you.
First-class services
Kivotos private villas in Santorini offer a rare blend of sophistication and warmth. The coolest of atmospheres and the most inventive room design can only be paired with exceptional service.
With a discreet and helpful team making sure everything runs smoothly throughout your stay, and an array of exclusive perks, these sublime luxury villas in Santorini with private pool promise you endless moments enjoying exquisite cuisine, private massages and hammam sessions, romantic dinners with the Caldera as a backdrop or lazy days on a comfy sunbed beneath the Mediterranean sun.
From the Wellness Villa- which is the largest of all Kivotos Santorini luxury villas and ideal for a party of 8 persons- to the Solar two-bedroom villa which superbly accommodates two couples, you are bound to be awed by the ingenious facilities and quality services.
So, if you are one to favor perfectly planned out luxury hospitality, then it is time to find your ideal cave villa and escape to your private Santorini sunset paradise for a positively extraordinary experience of stay.