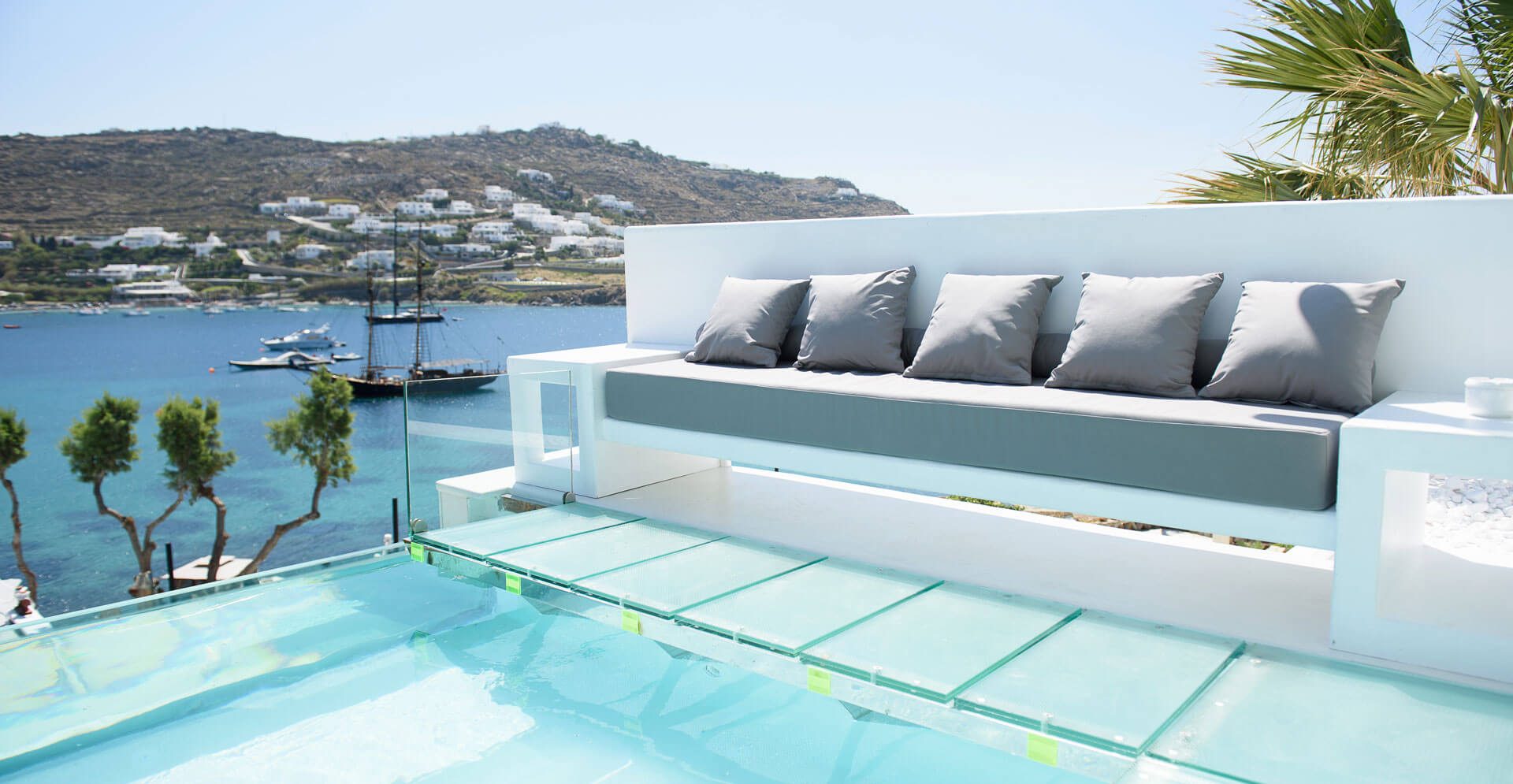 OUR STORY
Our story begins in 1993…

It was back then when the concept of Greece's first ever boutique hotel came to life on the mesmerizing island of the winds. The owner, Spyros Michopoulos, was so enchanted by the radiance and majesty of the Cycladic whites and island feels reflected in a French antique mirror, that he decided to create a purely innovative refuge of relaxation. An establishment with such a unique identity and aura, that would become the home of art, culture and unparalleled hospitality.

And so, one of the island's first 5-star hotels was born.

Ever since, the owner and, lately, his two sons, Philip and Jason, have continued to cherish and enhance that very first vision.

Today, Kivotos Mykonos is an award-winning boutique hotel which was masterfully planned over time by the cultured Michopoulos family. The unique design and charm of this beachfront hotel will instantly transport you to a chic, tranquil world.

The hotel's architecture beautifully combines the dreamy Cycladic hues with wood, stone and fine Pentelic marble that glistens like a jewel beneath the sun. Even the outdoor area resembles the picturesque alleys of Mykonos' unmissable Little Venice. Each room is inspired by the island's local flare and is tastefully decorated with handcrafted design elements while maintaining its own distinctive style. You'll be spoiled for choice with our awe-inspiring accommodation perched above a picturesque private beach. Set in a private and serene spot, Kivotos Mykonos offers breathtaking views of Ornos Bay.

But our story does not end here!

With an esteemed legacy of impeccable 5-star service and a thirst for innovative architectural design, the Michopoulos family decided to embark on yet another creative endeavor…

Hence, the unique concept of Kivotos Santorini came to life…

Located in the peaceful village of Imerovigli, Kivotos Santorini is the island's striking new addition that has artistically revisited the art of luxury accommodation. Drawing on Santorini's cosmopolitan feel and Kivotos' heritage, this majestic 5-star establishment represents the peak of modern architecture. Overlooking the island's prized views and overflowing with an irresistible sense of luxury, it raises the bar for even the most eclectic vacationer. The hotel's ebony colored structure- as if touched by Santorini's alluring flare- is inspired by the surrounding volcanic islets and proudly stands out due to its superb aesthetics.

For over 25 years Kivotos has been crafting exquisite moments for its prime guests, besides being a favored holiday abode for elite travelers and VIP personas. Throughout your stay at our family-run hotels, our experienced staff shall deliver nothing less than excellence, delicately tailored to your needs.

Our story is yours to experience.

Escape from it all and surrender to the rich heritage of Kivotos Hotels and Villas!


THE PROPERTIES